Blog
8 dry fruits you should include in your diet to stay healthy
by Shopify API on Nov 13, 2021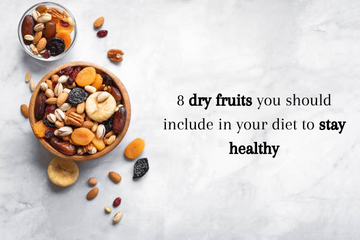 When we talk about the power of fruits, we forget that their dry form can also be very beneficial. Dried fruits are often eaten as snacks during the day just like you munch on chips. But dried fruits carry lot of nutrients which makes them super-foods. They are easier to carry and consume anywhere. When buying any fruit make sure it is 100% pure without any preservative or added sugar (natural sugars are fine).
They're a healthy and a convenient way to gain essential nutrients. Dry fruits and nuts have a long shelf life and last longer than fresh fruits, which makes them a good option for those who have busy schedules or just can't afford to go grocery shopping regularly. The vitamins, minerals, fiber and other nutrients in dry fruits help keep you healthy and fit, by protecting your heart from cholesterol and blood pressure diseases.
Dry fruits mix is delicious treats that offer numerous health benefits. While they've been used in Indian culture for centuries, this snack is now becoming popular worldwide. You can serve them fresh, or use them in desserts and various recipes. The low sugar count of the majority of dried fruits makes them great for dieters, though their high fiber content offers additional benefits to your digestive tract. Here are 8 different types of dry fruits you should include in your diet to stay healthy.
Almonds
Almond is very nutritious and has several medicinal properties. This superfood has a lot of health benefits, and it even helps you lose weight. They contain proteins, fibers, and carbohydrates, fats, vitamin A, Vitamin B, Vitamin E, and minerals which makes them a complete nutrition package.
Almonds are the only plant-based food that provides essential nutrients like vitamin E which is good for our heart. It helps in blood circulation and increases white blood cells function too. Consuming almonds helps to calm down the overactivity and also induces sleep. Almonds also contain phytosterols which help to reduce cholesterol absorption by blocking the enzyme that would otherwise convert cholesterol into bile acids for absorption.
Cashews
Nuts are a rich source of unsaturated fats. These fats bring a lot of health benefits to the human body, which includes a lower risk of getting heart diseases or any kind of cardiac arrest. According to a medical study, the presence of some specific types of fats in cashew nuts can lower the risk of developing gallstones in the body. In addition, unsaturated fats help to reduce the level of bad cholesterol in our bodies.
A little-known fact about cashew nuts is that it is rich in oleic acid, a healthier form of monounsaturated fat. Oleic acid reduces the risk of heart attack by 22 percent, improves memory retention, and prevents harmful LDL cholesterol from oxidizing or becoming rancid, thereby keeping blood vessels healthy.
Raisins
When choosing your daily diet you need to consider the nutrients consumed daily. It is important to consider the ingredients so as to avoid ingestion of harmful elements which can cause diseases. Raisins are naturally dried grapes that are packed with health benefits for human beings.
Raisins are rich in antioxidants that help eliminate free radicals, which can cause diseases like cancer. They also contain Iron, vitamins and fiber that are good for the body. Raisins are sweet in taste and come in several colors.
Walnuts
A handful of walnuts not only gives you sustainable energy to work throughout the day, but also keeps your body well nourished by including it in your diet. Walnuts are rich in essential fatty acids and they can help you manage your overall cholesterol levels.
Walnuts are super healthy and they can help enhance the flavor of your foods. Walnuts are antioxidant-packed, especially vitamin E. Apart from improving your heart health, it also keeps your brain healthy and provides relief from inflammatory disorders. It might lower the chances of developing breast cancer too.
Pistachio
Pistachio is one of the nuts, which can be eaten in moderation. It is low in calories and rich in health benefits. It is loaded with antioxidants, essential fatty acids, proteins, minerals, vitamin E and fiber. As it has no cholesterol content; hence good for people having heart problems.
Pistachios are an excellent source of vitamins B6, magnesium, manganese, copper, molybdenum and phosphorus. They are also a good source of fiber, protein, zinc, niacin and vitamin K. Pistachio is one of those dry fruits which you should consume to keep yourself healthy.
Apricot
Apricots are a rich source of iron and Vitamin A. They include phytochemicals like beta-carotene, quercetin and rutin which help prevent heart diseases and cancer. Apricots can protect against cancer by preventing the growth of the cells that cause cancer in the breast, lungs, liver, intestines and stomach. They also reduce chances of asthma attacks because they control the release of histamines in the body.
Anjeer
Anjeer (dry fruits) are tasty which helps remove moisture from the body. Some of the properties of anjeer are as follows, moistness is removed from the body, it prevents constipation, improves digestion, diabetes patient can also eat two fruits a day.
Anjeer contains good amount of cholesterol, fiber and minerals including calcium, magnesium, phosphorus and iron. It also contains vitamins B1, A, C and K. Anjeer contains high nutrition content that assist in burning fat faster, strengthening the immune system, improving the metabolism, reducing cholesterol levels, increasing libido, staying active and awake.
Prunes
Prunes are very good for your digestive, cardiovascular, liver and also the brain. It also helps to lower down LDL or bad cholesterol in the blood. You can eat prunes for breakfast with milk, boil them in water to drink during the day or cook them with raw rice to have as a dessert.
It can be stored up to nine months in a dry, dark place. They are packed with antioxidants which help keep the aging process at bay. Prunes have always been considered as laxatives and they do have the ability to ease digestion.