Blog
Why Should You Eat Ajwa Dates? - Healthy Master
by Bsocial Consultant on Apr 03, 2023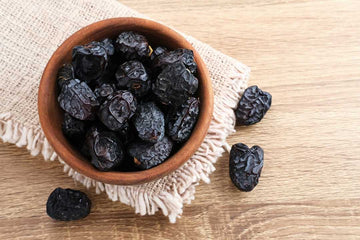 Dates, popularly known as pind khajoor in Hindi, have been a part of the Indian diet since time immemorial. Their nutritional facts and associated health benefits make them an important superfood. If you are eating dates every day, then you are providing your body with essential fibre, antioxidants, and other essential nutrients to live a fit life.
Do you know that India grows roughly 40 to 50 varieties of dates? Each has its own distinct flavour, texture, and taste. Eating the best variety of dates improves wellbeing in many ways. One of the prominent dates is Ajwa. In this blog, we will introduce you to the rich nutritional profile of Ajwa dates (khajoor) and why you should eat them to improve your health. 
Table of Contents
#1 What are Ajwa Dates?
#2 Nutritional Facts About Ajwa Dates
#3 Health Benefits of Ajwa Khaoor
What are Ajwa Dates?
Ajwa dates, one of the varieties of dates, are an amazing dry fruit. They are known for their sweet flavour and soft texture. Their colour varies from dark brown to almost black. From region to region, the taste of ajwa dates varies depending on the tree on which they are grown and the cultivation method. Eat 2-3 ajwa dates every day early in the morning to get the maximum health benefits of ajwa dates. 
Also Read: 7 Health Benefits of Dry Dates
Nutritional Facts about Ajwa Dates
Ajwa dates benefits stem from their rich nutritional profile. They are a great source of carbohydrates, fatty acids, amino acids, minerals, fibre, and vitamins.
Ajwa dates are packed with vital nutrients that improve overall health. They are a rich source of potassium, magnesium, and calcium. With no further delay, let's dive into the Ajwa dates benefits. 
6 Health Benefits of Ajwa Dates
When you are hungry, it is common to munch on unhealthy and fried snacks. After knowing the health benefits of a healthy munching snack, ajwa dates, we are sure that you will reach out for ajwa khajoor to satisfy your hunger pangs. 
1. Improve Heart health
There has been an increase in the number of heart attacks. When you eat Ajwa dates regularly, your heart gets stronger as the blood vessels don't constrict.
Moreover, the presence of Vitamin B confirms the benefits of Ajwa Khajoor for the heart. Vitamin B plays an important role in removing harmful homocysteine from the blood. Furthermore, the magnesium content in Ajwa dates helps maintain the rhythm of heartbeats. 
2. Promote Bones and Teeth Health
Ajwa dates are a rich source of calcium and phosphorus, which play an important role in maintaining the health of the bones and teeth. Eating ajwa khajoor every day helps overcome the deficiency of calcium.
Also Read: 14 Calcium Rich Foods
3. Manage Blood Sugar Level
Ajwa Dates health benefits include managing blood sugar levels. Ajwa dates have a glycemic index of 42, which makes them a safe superfood for diabetic patients. It means eating ajwa khajoor doesn't spike the sugar level in the blood instantly. 
Also Read: Best & Worst Food For Diabetes
4. Boost Immunity System 
In present times, when there is an increase in the number of H3N2 cases in India, it is becoming increasingly important to eat superfoods that strengthen the immune system. Ajwa dates are a great source of selenium and other essential nutrients that help fight infections and improve the body's immunity.
5. Boost Energy 
In our fast-paced lives, it has become important to stay on your toes. To keep yourself active from AM to PM, you need to eat energy boosting foods. Nothing can be better than Ajwa dates. Eating 2 to 3 Ajwa dates in the morning will keep you energised all day long. 
6. Treat Infertility
The poor lifestyle, stress, and unhealthy eating habits have contributed to the increase in infertility rates across men and women. Ajwa dates are the best natural solution to improve fertility. They increase the sperm count in men and improve the thickness of the endometrial lining of the uterus, therefore improving fertility in both men and women. 
Also Read: Are Dates Good For Pregnancy?
Conclusion
It is rightly said that health is a precious asset that needs to be taken care of. Healthy and conscious eating is one of the best ways to improve health. Healthy eating is incomplete without dry fruits like dates. 

Eat ajwa dates every day to maintain your blood sugar level and to build your immunity. You can enjoy the ajwa dates benefits to the fullest only when you consume the finest quality of dates. Healthy Master is a one-stop platform to order premium ajwa dates dry fruit online at affordable prices. 
Also Read: Dry Fruits & Nuts to Eat in Summer