Blog
What are the Almond Benefits for Skin? - Healthy Master
by Bsocial Consultant on May 22, 2023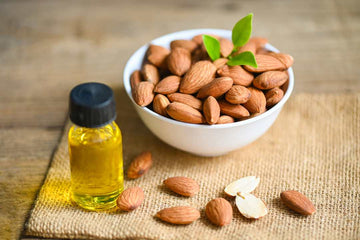 Can you guess the name of the dry fruit that is available in every household? This dry fruit becomes part of our daily diet the moment we start going to school. Yes, this dry fruit is almonds. 
The rich nutritional profile of almonds, which is defined by the presence of protein, fibre, vitamins, minerals, omega-3 fatty acids, and antioxidants, is known to keep many health problems at bay. But did you know this impressive nutritional profile benefits your skin as well?
In this blog, we will introduce you to the 5 secret benefits of almonds for the skin. Keep reading if you want to have healthy and nourishing skin naturally.
5 Almond Benefits for Skin       
#1. Act as an exfoliator
Almonds act as an effective exfoliator that helps remove dead skin and impurities. Do you know almonds have been used for ages as a natural cleanser? Moreover, almonds promote the circulation of blood and regenerate skin cells.
#2. Protection from Free Radicals 
Do you know that by eating 23 almonds per day, your body gets 50% of its daily recommended vitamin E requirement? Almonds are a rich source of vitamin E antioxidants, which play an important role in protecting cells from the damaging effects of free radicals. 
#3. Reduce Skin Redness
Another benefit of almond oil for the face lies in its antibacterial and antifungal properties, which reduce the redness and inflammation on acne-prone skin. 
Also Read: 5 Best Dry Fruits for Glowing Skin
#4. Prevent Skin Dryness
If you are struggling with dry skin even after using every suggested skincare product, then this is the time to incorporate almonds into your skincare routine. The presence of fatty acids, namely linoleic acid, helps in the prevention of skin dryness and keeps your skin moisturised. In fact, 23 almonds contain 3.5 grams of linoleic acid.
#5. Maintain Skin Elasticity
Vitamin E, an effective antioxidant that helps nourish, moisturise, and renew your skin, is found in almonds. Your skin needs collagen, an important protein, to maintain its elasticity. However, as you age, this collagen starts to deplete, causing fine lines and wrinkles. However, the high vitamin E content in almond oil helps provide your skin with the amino acids, it needs to produce collagen.
Also Read: Health Benefits of Almonds During Pregnancy
3 Ways to Add Almonds to Your Skin Care Routine
Natural Makeup remover

Badam oil for skin is used as a natural makeup remover that not only removes the makeup but also keeps the skin hydrated. 

Almond, Milk and Oatmeal Face Mask


This home-made almond face mask is highly effective for dull and dry skin. This face mask will nourish your skin and provide a natural glow. 
Method

Step 1. Soak 6-7 almonds overnight.
Step 2. The next morning, remove the skin from the almonds, followed by crushing them to make a smooth paste. 
Step 3. Add 1-2 tablespoons of oatmeal to the paste. Mix it well. 
Step 4. Now, add 3 tablespoons of raw milk to it. Mix it well so that there are no lumps. 
Step 5. Before applying the paste on the face, cleanse your face. Apply the paste on your face and leave it for 20 minutes.
Step 6. Wash it off with cold water. 
Apply this easy DIY almond face mask twice a week for better results. To learn more about DIY almond face masks, click here. 
Healthy Snack Option

Eat almonds raw as a healthy snack. It is advisable to eat soaked almonds in the morning. Healthy Master is your one-stop centre to buy premium-quality almonds online at a reasonable price.
Also Read: Health Benefits of Eating Soaked Almonds
Bottom Line

The nutritional profile of almonds makes them a great skincare product. From moisturising the skin to reducing dark spots, and preventing skin dryness, adding almonds to your skincare routine will make your skin healthy. Not just that, the health benefits of almonds also include improving digestive health, brain function, heart health, and controlling blood sugar levels. If your monthly shopping for groceries is around the corner, don't forget to order the best quality of
almonds online
from Healthy Master.