Blog
Best Dry Fruits in Winter
by Shopify API on Sep 03, 2021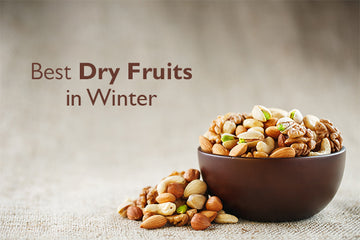 Winter has come, and we must be ready to face it. Winter is all about snuggling into blankets, enjoying hot coffee, and enjoying the foggy climate. But with these, winter is also home to various illnesses such as Fever, flu, cough, etc. One can fight these with proper diet and nutrition. And a proper diet is incomplete without dry fruits that are highly rich in nutrients and work as armor against winter illnesses by keeping our body temperature normal. Dry fruits are not only healthy but are the best alternative for fried and salty snacks. It is a delicious way to keep oneself healthy and happy. One must buy the best quality dry fruits to enjoy their various advantages. Dry fruits online availability has made it easy for lots of people to get dry fruits for winter at their convenience.
Certain dry fruits are best suited for the winter season, such as:
Almonds: Almonds are the most sought dry fruits in winter. Almond has antimicrobial properties that help to fight various infections and also keeps your skin healthy and soft. They are perfect for fighting hunger cravings during winter and thus keep a check on one weight gain. They are indeed the storehouse of proteins and other essential nutrients. They help in improving blood circulation and also keep the cholesterol level in check. Almond is definitely the king of all dry nutrients, and thus one adds them to a regular diet to live a healthy life.
Figs: Figs are rich in vitamins and potassium. They help maintain blood sugar levels, and therefore, it is the perfect snack option for diabetic patients. They are also rich in fibre and minerals and thus helpful in cold etc. Figs have proven to be a good source of treatment of diseases such as asthma, cough, etc., which are very common in winters. One is lazy in winter as sleep hormones are on a high during this phase and can cause various problems, one being constipation, but with figs' consumption, one can surely reduce this issue. So winter is a perfect time to increase the intake of figs in their diet.
Walnuts: Walnuts are the healthiest of all dry fruit snacks and must be consumed for long and healthy life. These brain-shaped dry fruits contain all essential nutrients such as proteins, fibre, vitamins. This tiny dry fruit is indeed the powerhouse of all the important nutrients. They are known for improving one's memory and also work as an anti-aging agent. They are warm and thus lead to better digestion, provide essential nutrients to lungs and kidneys, and also play a significant role in preventing cancer. But one must consume them within a limit as excess consumption can cause problems.
Pistachios: One tends to be lazy in winter as this leads to weight gain. But with pistachios, one can keep themselves full for a long time, thus keeping a check on their weight. Besides these, it also helps to improve stamina and immunity.
Hence, the above-mentioned dry fruits are your savior during winters and must increase their consumption. Dry fruits online order has further eased to enjoy the various benefits of them.