Blog
Innovative Corporate Diwali Gift Hampers Ideas for Employees
by healthy master on May 30, 2022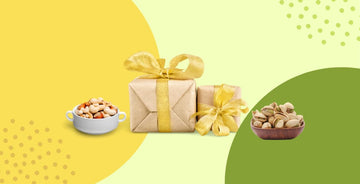 Diwali is a big festival in India. The festival of lights is celebrated all over India with great enthusiasm and spirit. Its importance lies in the fact that a special puja is conducted in the evening and new clothes are worn. An important Indian festival, Diwali allows people to visit each other's places, and exchange sweets and wishes. Diwali is celebrated with the same spirit in corporate organizations. The gift hampers are given to the employees and staff. Exchanging gifts on Diwali is not only a nice gesture, but it is also customary.
It is critical in the business environment to make employees feel valued and cared for. Occasionally showering them with presents and treats will foster stronger and more fruitful professional ties. And the auspicious festival of Diwali is a great opportunity to give a great corporate gift.
Corporate Diwali Gifting Ideas for Employees
In the market, you will find many Diwali gifting ideas for employees and staff under Rs. 500, Rs. 1000, and Rs. 2000/-. Some of them are –
Corporate Diwali Hamper Box: Chocolates, dried fruits, snacks, fresh fruits, and other goodies are included in the hampers, which will be greatly appreciated by all of your staff and clients. These bright hampers would make excellent Diwali gifts for business associates.
Corporate Innovative Personalized Gifts: Another wonderful Diwali corporate gift option would be personalized mugs, cushions, planters, keychains, or journals.
Statues of Deities: During Diwali, Lord Ganesha and Goddess Lakshmi are worshipped. Therefore, you can give deity figurines to your employees and staff.
Dry Fruits on Diwali: Dry fruits such as almonds, cashew nuts, pistachios, and figs are always appreciated as gifts because they are high in minerals and antioxidants. Dry fruits are packaged in innovative boxes that can later be used to store other things.
Why Are Dry Fruits Best for Corporate Diwali Gifting?
Covid-19 gave us two big lessons: the significance of being financially stable as well as emotionally and physically strong. Dry fruits are the best for being mentally and physically fit. It's an important part of a balanced diet. You won't find a diet plan that doesn't include dry fruits. As a result, it may be one of the greatest and healthiest gifting options available, outperforming all other options.
The finest approach to wishing your loved ones, employees, and staff good health is to send them a dry fruit gift hamper box. Why not provide good health to your staff or consumers, given their numerous health benefits and ability to avoid a variety of diseases? Dry fruits, rather than chocolates and sweets that are high in sugar and empty calories, are the purest form of goodness.
Dry fruits and nuts are reserved as royalties' signature gifts. This high-end gift is typically given to royal families and rulers. So why don't you express your love with this royal, opulent present? Giving this as a way of wishing your staff or clients prosperity and wealth is a great idea.
These nutritious gift packs come in a variety of stylish packaging options, making them ideal as gifts. Dry fruit packs are an excellent choice for corporate gifts, personalized gifts, and wedding presents because they are not only healthy but also come in attractive packaging, making gifting easier and more enjoyable.
Dry fruits, unlike sweets, pastries, and bakery products, have no expiration date. Fruits that have had their water removed become dried fruits, which stay far longer than fresh fruits. Because the majority of the water has been removed from the fruit, the flavor has been enhanced, storage has been simplified, and the shelf life has been substantially extended.
Dry fruit gift boxes from Healthy Master feature flexible combinations of nuts, including cashews, almonds, and pistachio, as well as dry fruits like raisins. At Healthy Master, you get a great variety of corporate gifting options to fit any budget. You will find a premium hamper box under the budget of Rs. 2000, Rs. 1000, and even Rs. 500. Apart from this, you can opt for customized corporate gifting options. Healthy Master is the one-stop solution for corporate innovative gifting options.
Healthy Master Corporate Gift Hampers
A dry fruit gift hamper is the best gift for your loved ones, employees, and clients to ensure they remain fit and healthy. It is a healthy substitute in place of sweets and makes a perfect snack companion for the festive season.
This gift pack consists of:
Quinoa coin khakhra - 170 gm
Almond – 125 gm
Cashew - 125 gm
Plain Khakhra - 200 gm
Baked chips - 100gm
Pan chocolate – 5
Badam chocolate – 5
Daily Power - 300 GM
Seeds and Berry - 200 GM
Jar Two – 1
Box with decoration – 1
Potali - 2
The dry fruit hamper makes for a vibrant and lovely platter, the perfect solution for Diwali gifting. It can be customised as per your budget and your choice of products. After COVID especially, healthy dry fruits & healthy snacks are always in trend for gifting.
This gift pack consist of :
Basket with decoration- 1
Potali- 4
Pista - 300gm
Almonds - 300gm
Kaju- 300gm
Kismis- 300g
For the special time when family and friends get together for fun. Now gift your loved ones a healthy festibal gift box and enrich the celebration even better this time with Healthy Master.
This pack contains:
Millet snack pudina - 160gm
Millet balls peri-peri - 130gm
Diwali is a joyful festival in which family, loved ones, neighbours, and friends exchange gifts. Diwali gifting is popular not only on a personal level, but also on a professional level, when you present gifts to colleagues, clients, employees, and others. Professional gifting, which is comparable to corporate gifting. This is the most effective technique to express your affection for or to treasure this joyful experience at the professional level.
Diwali is a festive occasion on which gifts are given to express and share love and gratitude. This frequently indicates the importance of corporations in your life! As a result, it's critical that you select the best present. And what could be better than dry fruits as a business gift?