Blog
Deepavali Breakfast Ideas Special Food for Special Mornings
by Mary James on Nov 05, 2023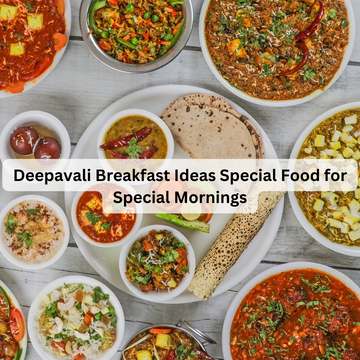 Deepavali Breakfast Ideas Special Food for Special Mornings
Deepavali, or Diwali, is a colourful celebration celebrated with great passion and joy in India and by Indians worldwide. While the celebration is famous for its wonderful light displays, symbolic ceremonies, and lavish feasts, the morning frequently sets the tone for a day full of celebration and tradition.
Deepavali mornings should be exceptional, as should the breakfast that begins this auspicious day. In this article, we'll look at various breakfast ideas for Deepavali that combine India's rich culinary legacy with a focus on nutritional content. 
These morning dishes are meant to delight your taste buds while at the same time filling your body with essential nutrients, setting you up for a healthy and cheerful day ahead. 
From the crunchy sweetness of Medu Vada to the warmth of Aloo Paratha, we'll explore a wide range of options to ensure your Deepavali begins on a memorable, nourishing note.
Importance Of Healthy Breakfast
A healthy breakfast is especially important during Diwali. The Festival of Lights, it's a time for celebrations, reunions among relatives, and delicious foods. A nutritious meal for breakfast becomes a vital source of energy as you prepare for a day filled with rites and festivities. 
It boosts your day by replenishing your energy reserves after a good night's sleep. This burst of energy keeps you alert and concentrated, which is essential for participating in Diwali rites and celebrations.
A well-balanced breakfast also promotes cognitive function, improving your ability to recall the events of the day. It keeps you nourished while you enjoy your celebration during this special occasion.
Top 10 Special Foods Ideas For Diwali's Breakfast 
Here are the top 10 breakfast food ideas to begin your Diwali: 
1. Masala Dosa
A South Indian delicacy, masala dosa mixes carb-rich fermented rice and lentil dosa with a delicious potato masala filling. The dosa batter is high in complex carbs and plant-based protein. Meanwhile, the spiced potato masala not only adds flavour but also increases the meal's vitamin and mineral content, making it a well-rounded and filling breakfast option.
2. Aloo Paratha
This North Indian favourite provides a complete meal by combining carbohydrates and important vitamins. Potatoes, which are high in vitamin C and potassium, play an important role in the filling, while whole-wheat parathas provide dietary fibre for better digestion and a longer feeling of fullness.
3. Mung Beans Sprouts Bowl
An amazing and healthy option for a Diwali breakfast is a salad made with mung bean sprouts. Full of nutrients and freshness, it's a satisfyingly light alternative to start your celebrations off right. 
A delicious explosion of flavours is created by adding colourful veggies, spices, and a dash of lemon to mung bean sprouts, which are high in vitamins and protein. This salad keeps your celebrations guilt-free while also providing your body with energy.
4. Idli Sambar
Idli Sambar is a South Indian favourite that provides a nutrient-dense breakfast Idlis prepared from rice and lentils provide a source of carbs as well as plant-based protein. Meanwhile, a medley of veggies in the sambar provides critical nutrients, minerals, and nutritional fibre. This combination produces a substantial and nutritionally balanced breakfast meal.
5. Rava Upma 
Rava Upma is a quick and flavourful breakfast dish that is appropriate for special occasions such as Deepavali. The main ingredient, semolina, is not only high in carbohydrates and plant-based protein, but it also contains critical elements such as magnesium, phosphorus, and B vitamins. It is also a low-calorie alternative, making it excellent for people watching their calories.
6. Millet Poha 
A healthy and filling Diwali breakfast option is millet poha. It gives the traditional poha a healthier touch thanks to the goodness of millets. Millets are a good source of dietary fibre and important elements that support better digestion and long-lasting energy. 
This tasty dish, which is seasoned with almonds, veggies, and strong spices, gives your morning meal a festive feel without sacrificing its lightness or nutritional value.
7. Ragi Dosa
Ragi dosa is a highly nutritious breakfast option. Ragi, also known as finger millet, is a whole grain that is high in fibre, calcium, and antioxidants. This breakfast option is ideal for individuals who want to enhance their calcium intake while enjoying traditional Indian cuisine.
8. Besan Chilla
Made from gram flour, Besan Chilla is a high-protein breakfast choice strong in plant-based protein. It's also gluten-free, making it acceptable for gluten-sensitive people. The spices and herbs used in the batter not only enhance flavour but also contain antioxidants.
9. Dal Ka Paratha
This breakfast idea is a healthy option during the Diwali celebrations. If you have leftover daal back at home, you can definitely roll it up with some dough and cook it up in the pan to make your whole wheat parathas with dhal a delicious experience.
This breakfast idea keeps you feeling full and energised throughout the day. You can also enhance the flavour by adding some turmeric and cumin and having the entire meal with some yoghurt.
10. Atte Ka halwa
Atte Ka Halwa is a sweet and filling breakfast. You can prepare this dish with basic ingredients that include ghee, wheat and jaggery. You can also top it up with some nuts and raisins for an enhanced flavour or crunch.
This sweet provides your body with generous doses of nutrients and fibre to keep you energised for the occasion ahead for the day without making compromises to your health.
Take Away
As we near the end of our culinary trip through these wonderful Deepavali breakfast dishes, it becomes evident that this festival is about much more than lights and gifts. It's a celebration of heritage and the flavours that unite us all. Each dish is a tale, an aspect of our cultural heritage, and a chance to connect with Indian culture's richness.
These breakfast selections provide a variety of flavours and textures, as well as necessary nutrients, that give you the energy and happiness you need to fully appreciate the spirit of Deepavali. It serves as a reminder that sharing food during this event is about more than simply fueling the body; it is also about nourishing the soul.
So, as you celebrate the festival of lights, keep in mind that every meal is a time to enjoy the joy of togetherness as well as your culture's heritage. You can explore more Diwali breakfast options to add to your culinary diet this Diwali by visiting Healthy Master