Blog
Diwali Gifting Guide 2023 - Top 5 Healthy Gift Pack Options
by Mary James on Sep 22, 2023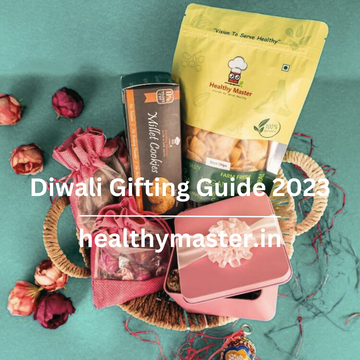 Diwali Gifting Guide 2023 - Top 5 Healthy Gift Pack Options
Diwali is definitely around the corner in India, and during this pleasant season, most of us are geared toward cleaning up our houses, decorating, and inviting loved ones over to craft incredible rangolis.
During this festive mood, gifts are one of the main drives, and it usually starts with a box of sweets. However, picking out the perfect Diwali gift can be quite intimidating and mind wrecking at times, as there are tons of options, that we are looking to choose from and we can't seem to find the right alternative.
A movement has emerged in modern society towards better eating, particularly in the wake of COVID-19. Those extra calories do, of course, seem wonderfully delicious, but we should be considerate enough to select healthy gifts for our loved ones in order to improve their health.
If you are not sure of items that fall within the vicinity of the term "healthy". You can start out by setting a new example by following up with this list of health-conscious gift choices by Healthy Master, which is great exposure for your tastebuds, transforms the lifestyle of those around you, and is also packed with nutrients that work great for your body.
Things to Keep in Mind When Choosing Your Preferred Diwali Gift Pack
1. Look into their Lifestyle and Interests
Everyone is aware that a package of nuts or dry fruits makes a safe Diwali gift for our wider social circle. Even though there is no harm in sticking with these options, gifting the same thing every year may come out as a bit unoriginal. Start by thinking about what you know about the person or family to get something unusual from the norm. 
Do they enjoy trying new foods? Next, seek gift packages accordingly. Is there a diabetic family member? If so, perhaps a gift pack of wholesome snacks might be a better option than candy. Perhaps the individual likes chocolate. Going for premium chocolate in this situation is a simple decision. 
2. Add in the variety
Today, there is no shortage of gift options because, around Diwali, everyone begins stocking a wide range of gift packs, whether it be bakeries, gourmet shops, or retail stores.
When it comes to providing a variety of their best items, offers for personalized gift packs, etc., companies like Healthy Master are fantastic.
You also try out new concepts, such as picking out nutritious snacks rather than conventional candy. Making sure you have enough time to buy gifts is an important factor. So get started early and look around for anything that will give your loved ones a special Diwali this year.
3. Your relationship with the individual
The kind of relationship you have with the recipient will have a big impact on the gift basket you choose. What you decide to offer your aunt and uncle will likely be different than what you select for a business colleague. 
It goes without saying that you should look for gift baskets that are a little bit more upscale and suited to the profiles of close friends, and family. Since you may know your friend's family better than other families do, you may decide on an option that is much more suitable for them.
4. Sign out with a note
It's excellent that you have chosen the ideal gift package to present on Diwali. A personalized note is a simple way to give your present a little extra meaning. Simply write a few sentences expressing your best wishes for a happy Diwali. Include an arrangement of flowers if you want to make the present stand out more. Its admiration will definitely grow as a result of such a wonderful deed.
Top 5 Diwali Festival Packs
Healthy Master offers a wide choice of Diwali Gift pack options that are also customizable. We shall have a look at the top 5 packs that are great picks for your family.
1. Divine Nutri Diwali 1
Contents
Almonds, Cashews, Kismis, Pista
Unique Features
Purchasing from Healthy Master Ensures Getting access to a nutritious snack selection at a premium quality. They look at carefully selecting and providing you with the best quality almonds, cashews, kismis, and Pista to see to it that only the finest and freshest nuts make it to this gift pack.
This gift pack contains a variety of nuts in different textures and flavors. It gives people a wide selection to choose from that definitely works well in complying with your tastebuds.
Benefits
This gift set contains a wealth of important nutrients. The combination of cashews, almonds, and pistachios has a buttery flavor and is high in heart-healthy monounsaturated fats. Contrarily, raisins provide fiber, natural sugars, and a hint of sweetness.
The combination of these nuts and raisins boosts energy right away, making them the perfect holiday snack.
2. Glittering Diwali Surprise
Contents
12 pieces of chocolates
Unique Features
The chocolates in the Glittering Diwali Surprise bundle come in a range of flavors and cocoa contents to suit every palate. From smooth milk chocolate to deep black chocolate, there is something for everyone.
Chocolates are frequently wrapped elegantly in festive packaging, lending your Diwali gifts a sense of sophistication. The presentation is a celebration of style and beauty in and of itself.
Benefits
A global favorite, it may instantly make you feel happy and indulgent during the Diwali celebrations.
Dark chocolate, in particular, is well recognized to have mood-enhancing properties due to its effects on serotonin.
3. Well-Being Wonders Hamper 
Contents
Flavored Almonds, Flavored Cashew
Unique Features
The Wonders of Health Nuts are distributed in an exciting variety of flavors in a hamper, making for a unique and enjoyable snacking experience.  It blends gastronomic delight with health advantages.
Because flavored nuts may have a gourmet flair, this gift set is a beautiful gift for people who enjoy culinary ingenuity. It celebrates both health and delectability.
Benefits
Almonds and cashews with different flavors add a delightful touch to traditional nuts, making them a tasty and enjoyable way to reap the health benefits.
Both cashews and almonds are excellent sources of healthy fats and proteins that promote overall well-being.
4. Happiness Hub
Content: 
Almonds, Cashews, Baked Chips, Energy Bar
Unique Features
The Happiness Hub offers a variety of meals to satiate a range of cravings, from the wonderful crunch of nuts to the chewy satisfyingness of an energy bar. You may get all of your snacking requirements met here.
Because of the ease of this gift package, recipients will always have a variety of snacks on hand to enjoy during the holiday season. It's the ideal Diwali snacking option.
Benefits
Indulgent delights and healthy alternatives are evenly distributed throughout this gift set. While baked chips and an energy bar offer a pleasing crunch and an energy boost, almonds and cashews offer nourishment.
The combination of protein, healthy fats, and complex carbohydrates helps curb hunger during happy occasions.
5. Wholesome Celebration Box
Content
Almonds, Cashews, Dry Fruits Laddu, Chocolate, Diya
Unique Features
The gift's cultural significance is increased by the inclusion of a Diya because lighting lamps is a significant Diwali tradition that symbolizes the triumph of light over darkness.  It's a thoughtful action that gives the gift additional depth.
With its diversity of offers, the Wholesome Celebration Box is a comprehensive gift that lets recipients experience the Diwali festival.
It's a complete combination of joy and festivity.
Benefits
To capture the spirit of Diwali, this gift basket mixes healthy and conventional components.  It includes a Diya for symbolic lighting, healthful almonds, a delicious laddu of dried fruits, and a sweet chocolate treat.
It offers a variety of healthful and delectable treats to satisfy both holiday cravings and health-conscious preferences.
Customizable Gift Pack
It is completely possible to alter your gift packs by taking out certain products and including other options. We can modify it to fit different family members' preferences since there will always be one who doesn't like a certain food item.
There are no requirements or restrictions on the items you can use to assemble this gift.
Nuts, Fruits, Seeds, Dry fruits—absolutely all types of healthy snacks can be included to make you feel that satisfaction when placing an order.
Bottom Line
Gift sets that promote wellness and good health are a nice and courteous way to enjoy the Festival of Lights. It is essential that we put our health and the health of the people we care about first when we gather with our loved ones to celebrate Diwali and revel in its warmth and excitement.
Due to their abundance of nutritious goods, these gift boxes provide a welcome alternative to the traditional sweets and fried dishes that have come to be associated with Diwali celebrations.
By selecting to choose health-conscious presents, we send a clear message about how important conscious choice is to our overall welfare.
These gift baskets are also a great way to promote healthy lifestyle changes.
They encourage recipients to learn more about how wise choices can lead to a happier and more fulfilled existence in order to foster a greater understanding of this 
Choose one of the aforementioned gifts that will enhance your friends' and family's celebration. If you do require extra Diwali gifts or gifts for other occasions, you can visit Healthy Master, where you can discover the best Diwali gift packs for family and friends,  colleagues, and also your everyday consumption of Healthy snacks.
Frequently Asked Questions
What makes healthy gift snack packs for Diwali a good idea?
Giving away healthy snack packs is a kind approach that shows your concern for the welfare of your loved ones. In a time when excess is common, it's a great alternative to traditional sweets and promotes wellness.
Can I customize the content in the Diwali Gift packs?
Of course, Healthy Master offers no restrictions on customizing gift packings for your Diwali celebrations. You can add as many items as you'd prefer and exclude those that won't be needed.
What should you keep in mind when selecting a gift pack for your Diwali celebrations?
A healthy snack gift set for Diwali should follow up with individual's dietary preferences and constraints into account. Snacks like nuts, dried fruits, and whole-grain alternatives are low in sugar, salt, and bad fats. You should aim to select snacks that support health and well-being first. Also remember, that the best results come from preparing the gift package well before Diwali.
Are people with dietary restrictions or allergies able to consume these snack packs?
A lot of wholesome gift snack packs are made to satisfy dietary needs. Look for vegan, gluten-free, or nut-free substitutes, and always read the ingredient list to stay away from allergens.