Blog
7 Foods for Fatty Liver: A Guide to Elevate Your Liver Health
by internal bsocial on Aug 10, 2023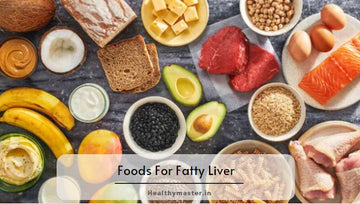 Fatty liver is a life threatening condition in which the liver stores too much fat. If you do not get the right fatty liver treatment or do not take preventive measures, the chances of liver damage increase. You can treat fatty liver with healthy eating habits and superfoods for a healthy liver.
What is Liver Functioning?
In a healthy body, the liver works to remove toxins from the body. It produces bile, a greenish-yellow fluid that breaks down fats into fatty acids and helps with digestion.
When a person has fatty liver and related diseases, it damages the liver and stops it from properly working. But lifestyle changes can prevent it from getting worse.
Thus, it is essential to know foods to avoid with fatty liver and which diet to reduce fatty liver need to follow.
Cause behind Fatty Liver
For healthy liver function, it is a must to know the root cause of its fattiness. Holding a bad lifestyle, excessive calorie intake, and less or no physical activity can mainly cause fatty liver. In such a situation, the liver does not process and break down fats as it usually does. The result is too much fat accumulation in the liver.
On the other hand, people who have other medical conditions like obesity, diabetes, or high triglycerides are more likely to develop fatty liver.
How to Treat Fatty Liver?
As per the facts, reducing 10% of body weight is desirable for fatty liver. But if you lose even 3% to 5% of your starting weight, you may begin to see improvements in risk factors.
To get the fastest way to cure fatty liver, you must follow lifestyle changes with proper medication guidance.
You need to make changes in your lifestyle and dietary habits.
Losing weight and being physically active is another option.
Cutting sugary diets, including a nutrition-full diet, helps reduce fatty liver.
You need to control your diabetes and cholesterol.
Avoid alcohol and other harmful substances.
Also, you can work closely with your doctor for personalized support.
7 Foods to Avoid with Fatty Liver
How to reduce fatty liver??? This question always comes to everyone who is suffering from this situation. Let's check 7 must-have foods for fatty liver that help the liver to cure.
Coffee
You can have a cup of coffee daily to overcome fatty liver issues. As per evidence, coffee can lower the risk of developing Non-alcoholic fatty liver disease (NAFLD)and reduce the number of abnormal liver enzymes. But you need to take it with less sugar content and also consume it in a controlled manner.
Green and Leafy Vegetables
Leafy vegetables like spinach have substances (possibly nitrate and distinct polyphenols) that help in fighting fatty liver related disease. In the same way, including broccoli in your diet is helpful for people with fatty liver disease.
Flax, Sunflower, and Chia Seeds
Sunflower seeds are high in vitamin E, and flax and chia seeds are rich in omega-3 acids. So, technically all three sources are recommended for nonalcoholic and alcoholic fatty liver. It helps in the reduction of liver fat content. It is advised to add these seeds to your daily meal.
Olive Oil
Olive oil is a rich source of unsaturated fat. To keep a healthy liver, switching to unsaturated fat options from saturated fats (butter, fatty cuts of meat, sausages) is necessary. These aid with satiety and lower liver enzyme levels.
Garlic
Garlic may help reduce body weight and fat in people with fatty liver disease. You can easily add this super food to your diet as it adds taste and health to your plate.
Turmeric
Turmeric contains curcumin, which is the best remedy to protect from liver damage. It gives the best treatment for nonalcoholic fatty liver disease. Also, it may help reduce inflammation, a key symptom of NAFLD.
Almond milk or low-fat dairy
Almond milk is rich in calcium and vitamins. As per the research,  adequate calcium and vitamin D intake may help prevent fatty liver disease development. So, adding low-fat or almond milk to your daily diet is advised to lower the risk of fatty liver adverse results.
Diet Chart for Fatty Liver
Breakfast:
Scrambled eggs + spinach and tomatoes
Whole-grain toast
A small serving of Greek yogurt
OR
Oatmeal topped + berries and a sprinkle of flaxseeds
A handful of walnuts
OR
Greek yogurt parfait + sliced bananas and granola
Lunch:
Grilled chicken salad + mixed greens, cucumbers, and bell peppers

Olive oil and vinegar dressing
OR
Lentil soup
Whole-grain roll
OR
Tuna salad + mixed greens, cherry tomatoes, and olives
Whole-grain crackers
Evening Snack:
Carrot and celery sticks with hummus
Or
Apple slices with a small amount of almond butter
OR
Mixed nuts (portion-controlled)
Dinner:
Baked salmon with lemon and herbs
Steamed broccoli
OR
Grilled turkey burger with lettuce wrap
Roasted Brussels sprouts
OR
Stir-fried tofu with broccoli, bell peppers, and snap peas
Brown rice
Conclusion
If you have fatty liver or are at risk of developing this condition, you should adopt a healthy lifestyle. For this, you have to make necessary changes in your daily diet. This change will smartly improve the health of your liver and reduce the risk of liver failure.
This article briefly explains the good foods for treating liver. Let's try these dietary tips and save yourself from fatty liver.