Blog
Best 9 Gluten-Free Foods in Market | Healthy Master
by Bsocial Consultant on Aug 07, 2023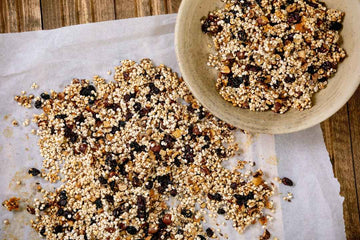 Among the most common food intolerances, gluten allergy is currently a major concern for many people. Most restaurants and fast-food chains have become accommodating to those seeking a gluten-free diet. However, when shopping for gluten-free foods to buy online, a great deal of caution is required, as many of these items are derived from grains that are rich in gluten.
Gluten-free has become the most popular diet of the century. Many people have started eliminating gluten from their diets due to numerous health benefits. Below is a list of top 9 Gluten-free foods to buy online in 2022 and also some helpful tips on how to live gluten-free.
Millet Snacks Chatpata
Millet snacks are the perfect snack. They are very delicious, healthy, and easy to store. Like other snacks, easily available in different flavors. It is an essential part of the weight loss diet and a key ingredient in creating a well-balanced meal plan. Millet was once known as "poor man's rice," but it is currently a hot topic in nutrition.
If you are new to gluten-free foods, the millet Snacks Chatpata will surely be a saviour. The millet Snacks are made up of millet, which is high in nutrients, protein, and fiber. Millet food is great for losing weight. These Millets are also a source of magnesium and potassium, which helps maintain good health.
Cashew Pudina
Need to reduce your gluten intake, either due to being diagnosed with Celiac disease or having discovered an adverse reaction to gluten? The Gluten-Free diet is gaining popularity as people understand the dangers of eating this grain. This means more and more people are looking for their favorite recipes and snacks, gluten-free. Cashew Pudina is a unique combination of Indian cashews and mint, which makes it a favorite in India.
Pecan Nuts
Pecan Nuts are a delicious snack to munch on. They are vogue for those who follow vegan or paleo diets. The nutty texture and sweet flavor are a perfect combination for those who love nuts. Pecan nuts are a great option for a gluten-free diet since they have no gluten in them at all. Pecan nuts are the best nuts that you can eat if you're looking for a low-fat nut snack. They're healthy and have far less fat than other types of nuts.
Soya Nuts Garlic
Soya Nuts Garlic is regarded to be very beneficial for health. These nuts are very rich in natural protein, carbohydrates and fat. Soya nuts have a cardio protective effect on the body. They help the body to fight against coronary heart diseases. These nuts absorb a lot of cholesterol. They are a decent source of protein and fiber, and they're a vegan source of complete protein. As someone who's allergic to legumes, this could prove handy.
Millet Balls Cheddar Cheese
You can buy some good gluten-free products online. Although there are a few of these products available at the local grocer's shop, there is a wider variety and more variety of options when you look for gluten-free foods online. The best part is that when you purchase gluten-free foods online, you have access to all the ingredients that are used in the preparation of those foods.
You can also find any food that is free from gluten, wheat, and soy. For hundreds of years, people enjoyed the goodness of millet balls made with cheddar cheese but nowadays because the taste and techniques have been changed, due to which people feel extremely happy about this dish.
Instant Ragi Upma Mix
Ragi or Finger Millet is one of the oldest cultivated cereal crops in the world that has now caught the attention of people all across the globe. This millet is gluten-free, nutritious and rich in fibre content. Ragi Upma Mix is a pre-mix that can be prepared instantly and consumed as such.
Instant Ragi Upma makes for a healthy breakfast option, especially when you are short on time. If you are on the lookout for a good gluten-free food, here's a readymade mix that you can start eating right away. The instant ragi upma mix is available on healthy master.
Makhana Peri Peri
Throughout history, the diets and preferences of people have played a considerable role in shaping who they were and ultimately how they lived their lives. One such dietary phenomenon is the taste of food. Food that is preferred by individuals may be healthy, tasty or tasty and nutritious at the same time. Makhana Peri Peri is one such food which can be classified under this rare category.
Makhana is a food rich in proteins containing calcium, iron and vitamins and it is also rich in dietary fiber. This food is extremely beneficial for pregnant women, breastfeeding mothers and old people. It also has anti-aging properties so it helps to heal skin.
Poha Chivda - Diet Chiwda
Poha Chivda has been a favorite snack of Maharashtrians for decades and is still one of their best-sellers in the food market today. Many years ago, Poha Chivda was one of the most easily available snacks you could pick up at your nearest cart on the street, but nowadays it is a rare delicacy made by only the most skilled bakers.
People are turning more and more health-conscious and looking for a method in their lives which will help them become fit and healthy without losing much from their pockets. The richness of the vitamin content is attributed to the fact that poha is made from flattened rice that has been dehydrated, making it easy for our body to absorb the nutrients.
Peanuts Pani Puri
They're chewy, delicious and full of nutritious fats. In fact, they contain so much protein, they can even help you lose weight. But the thing that we all love most about peanuts is how incredibly versatile they are. They can be eaten as a snack, incorporated into your favorite meals or desserts – and they even make an excellent addition to your favorite seasonings and spice rubs. These small nuts are an extremely popular source of protein that has often been linked to improving heart health.