Blog
Every Mom Approved 5 Healthy Snacks for Kids - Healthy Master
by Bsocial Consultant on Nov 29, 2022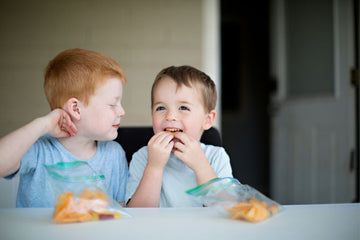 Sharing a list of 5 healthy and tasty Indian snacks that are easy to make and full of nutrition. Your kids will love these healthy snacks.
We all know that kids are more picky than adults when it comes to snacking. Every mother's concern is to provide nutritious snacks that their children enjoy eating. Finding such snacks is no less than a treasure hunt. End your search for tasty and healthy snacks for kids at Healthy Master, which has an exclusive range of kids' favourite snacks. 
If your kids are throwing lots of tantrums, then you must try these
5 easy-to-cook delicious healthy evening snacks for kids:
Quinoa Millet Noodles 

Kids and noodles are no less than best friends. Be it for breakfast, dinner, or everything in between, noodles are every kid's favourite. As a mother, you must have concerns about the nutritional value of noodles. Quinoa millet noodles will put an end to this worry. They are the best substitute for wheat noodles without compromising on taste. They are packed with fibre and essential amino acids. Your kids will love this delicious noodle, and there will be no looking back after that. You can order quinoa-millet noodles from here. 
Also Read: Is Maggi Good For Health? 
Dhokla

At the time of your kid's vacation, it becomes difficult for you to come up with an easy-to-cook dish that is loved by the kid at the same time. On this vacation, try dhokla. A traditional Gujarati evening snack made up of besan flour, dhokla is a powerhouse of carbohydrates, fats, proteins, magnesium, potassium, and phosphorus.  
Here is a quick and easy recipe of Dhokla:
In a bowl, take 1 cup of besan (gram flour), and add salt to taste. Add water to create a medium thick batter. 
Grease the hot tin with butter and pour the mix into the tin. Leave it for 20 minutes. 
To make the tadka. Take 1 tablespoon of olive oil in a hot pan and add a few mustard seeds, 5-6 curry leaves, and 1 dried red chilly. Pour this mix over the dhokla and cut it into pieces.
Cookies and biscuits 

A kid's lunch without biscuits is incomplete. However, at the same time, as a mother, you must be worried about the quality of biscuits, as many of them are not only made up of maida but also lack nutrition. But now, you can keep aside your worries as Healthy Master has come up with millet cookies and biscuits. As tasty as other biscuits, millet cookies are much better than maida-based cookies, which don't provide nutrition to kids. They are gluten-free with no artificial additives. They are the epitome of pure goodness, with no preservatives. At present, millet cookies are one of the best healthy snacks for kids in India. 
Also Read: 11 Healthy Travel Snacks
Oats Idli 

Another great breakfast option for parents who want to keep their children's weight under control is idli. Give a healthy twist to idli by making it with healthy oats. You can make them even more healthy by adding finely chopped vegetables. In this way, your kids are getting the nutrition of both veggies and oats. They are low in carbohydrates and calories.
Here is an easy, healthy snack recipe to make oat idli at home -
Roast 2 cups of oats on a tawa till they turn brown, and then grate them into a powder.
Take 1 tablespoon of mustard seeds, 1 tablespoon of udad dal powder, and 1/2 a tablespoon of chana dal powder and add them to 1/2 a tablespoon of oil and cook them. Add 1 tablespoon of turmeric powder, veggies of your choice, and cook for a few seconds. 
To form a batter, combine this mixture with 2 cups of curd and the oat powder. Steam for 20 minutes and serve with coconut chutney. 
Vermicelli 

If you're looking for easy-to-make healthy evening snacks for kids, try adding vermicelli to their dinner. Replace maida based pasta with delicious and high-fibre millet vermicelli. Add veggies like carrots, bell peppers, and others to make it colourful and tempting. Its delicious flavour will make them your children's favorites. Rich in protein and calcium, millet vermicelli keeps the cholesterol levels under check. You can order millet vermicelli from Healthy Master. 
Also Read: Top 9 Gluten-Free Snacks
Conclusion
Kids are very picky, especially when it comes to eating. After a long and exhausting day at school, all kids want is a good snack; nutrition is the last thing on their minds. It is your responsibility as a parent to make sure that your child doesn't eat any junk food. When it comes to kid-friendly snacks, end your search at Healthy Master. It offers a wide range of healthy snacks for kids. Explore here. 
Also Read: 6 Vitamin-C Rich Dry Fruits