Blog
How to Include Dry Fruits in Your Diet? Healthy Master
by Bsocial Consultant on Aug 09, 2023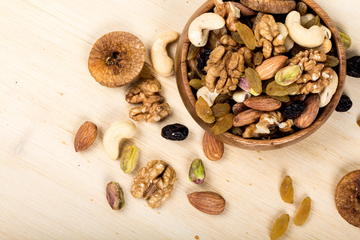 Dry fruits are mostly high in proteins, vitamins, minerals, and fiber alongside being yummy and mouthwatering. So if you add them to your diet, it will not only make you healthy but will also satisfy your taste buds. Nowadays, everything is available online, so are dry fruits. They are healthy and an excellent substitute for your daily snacks. Healthy Master is the best platform to purchase your most favorite and delicious Dry fruits online and get them on your doorstep in just a few days.
Benefits of Eating Dry Fruits
Dried fruits can boost your immunity and keep you fit. It is also beneficial in the prevention of some lifestyle diseases like diabetes and cholesterol. It has a longer duration of shelf life so it can be a nice fresh fruit alternative. In the absence of a refrigerator, drying is the best method to preserve any fruit. Such dried fruits add flavors in breakfast cereals, cake making, and baking product mixes. Few examples of dry fruits are raisins, dry dates, Pista, berries, cashew, almonds, etc.
Dry fruits as a Gift Box
We at Healthy Master believe in initiating our little efforts in gifting or giving a smile to our close ones through some innovative gift boxes packed with tasty and healthy dry fruits, nuts, millets, etc. We comprehend our customers' gifting needs and offer them consequently a package of customizable gifts. Our most lovable Dry Fruits Gift Box is suitable for many occasions like birthday parties, anniversaries, and festivals like Holi, Diwali, Christmas, Eid, etc. Great well-being and wishing for good health is an ideal present to give.
Our gift boxes are packed with creative designs and beautiful wrappers including tempting products inside created with happiness. You can conveniently place orders for your preferred Gift Box without any need to visit any stores. Your orders can get delivered to you in a minimum time of around seven business days. The most important part here is that you do not have to worry or think about the aesthetic appeal and quality of the gift boxes provided by us.
Some easy ideas for Adding Dry Fruits to your Diet
Almonds, raisins, and dates are used commonly in bread and muffins. For a pace change, you can also try peaches or apricots.
Dry fruits are great as a sweetly natural snack and are handy for kids as well as adults. You can have them with nuts also.
Your diet plan can get much more nutritious if you add dry fruits to your morning breakfast like cereals and with trail mixes.
Blend some dates mixed with hot water and create a date syrup which can be a healthy substitute for maple syrup.
Whenever you feel like eating Granola Mix, use some of our dry fruits at Healthy Master and experience new combinations of great textures.
If you are a cheese platter lover, you should know that it is incomplete without adding dry fruits to it. The cheese platter recipe filled with fresh dry fruits and nuts from Healthy Master is a delight to eat.
If you are looking for some variety and different texture in your embellished veggie and fruit salads, you can surely include our dry fruits like cranberries, raisins,

 

dry dates,

 

berries, etc.
Making a combination of sweet vegetables and fresh dry fruits such as chopped prunes, berries and dates can end up in a good sweet dish.
Desserts cannot be made if you do not add some tasty dry fruits to them at last. They are incomplete without our sweet dry fruits. They also contain some amount of natural sugar.
Apart from all of the above ideas, another significant way of using dry fruit can be in any savory dish to make it more healthy and yummy. Just by one click, our products will be delivered to you in minimum time.
Try our flavorful Dry Dates at Healthy Master
Dates are fulfilling, nutritious and sweet to taste. Healthy Master's topmost aim is to keep their clients healthy and fit by delivering them fresh products wrapped in colorful gift boxes at their place. Dry dates can be a good option for that. They also possess polyphenols which are highly beneficial for us and can help in the management of diabetes, prevention of cancer, brain cognition, and better digestion. They are considered a healthy snack containing a good source of minerals, antioxidants, and vitamins. Order them now and experience a proper balance of protein, fiber, carbohydrates, and sugar.
Some healthy advantages of consuming Dry Dates
They are beneficial for the cardiovascular system in our body.
Dry dates are highly helpful in the prevention of chronic disease.
They carry a good amount of calcium.
Dry dates are rich in potassium.
They contain a perfect source of iron.
They help you in strengthening your hair.
Dry dates also provide support in improving the appearance of your skin.
With the use of their instant energy source, sudden fatigue and severe tiredness can be aided in no time.
With a wonderful balance of vitamin B-6 and

 

vitamin C

 

present in our dry dates, our bones can get stronger.
Stay Healthy by exploring many options available at Healthy Master
If you are a snack lover and at the same time desire to stay healthy then you are at the right destination because with the availability of numerous options, Healthy Master will overwhelm you. We do not add any artificial color and any kind of preservations in our products. They are fresh as ever and are 100 percent edible naturally.
We are here to provide you with some mouth-watering alternatives to your not-so-healthy junk food. So by having us, Healthy Master at your side, do not waste your time to endure the sweetness of our healthy snacks. We are fully prepared to offer and deliver you wholesome nutrition in the form of some great products made by us which everyone should experience.