Blog
Karwa Chauth Sargi Food To Keep You Full The Entire Day
by Mary James on Oct 30, 2023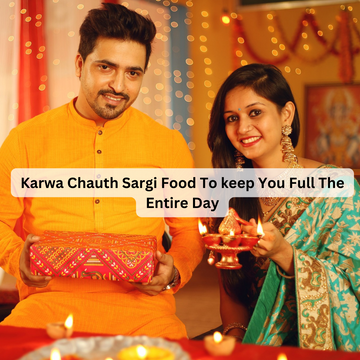 Karwa Chauth Sargi Food To Keep You Full The Entire Day
Karwa Chauth is quickly approaching. When it comes to the Karwa Chauth fast, novice concerns are typical. In reality, both experienced fasters and first-timers face anxiety during the 14 hours! Sargi, on the other hand, plays a crucial role in this feast.

Married women eat sargi in the early morning hours of Karwa Chauth. It's an early-morning meal. You may give your day a nutritious start by including healthy items in your Sargi Thali. Throughout the day, you only eat once. To avoid headaches and dizzy spells, it is critical to eat carefully.

Well, when the preparations for Karwa Chauth are in full swing, don't forget to include some healthy food products in your 'Sargi Thaali'.
Top 10 Food Items For Karwa Chauth Sargi
Suji Halwa
Suji Halwa, also known as semolina pudding, is a traditional and comforting food. It's included in the sargi since it's not only simple to make but also quite filling. Cooked in ghee and sugar, the roasted semolina is scented with cardamom and topped with almonds and cashews.

Suji Halwa fills your hunger and delivers a strong dose of energy, allowing you to stay active throughout your fasting day.
Parathas
Paranthas are a popular Sargi dish due to their delicious and hearty nature. These are hearty and healthy, with fillings like potato, paneer, or mixed vegetables. The carbs in paranthas keep you full and offer energy. The added nutrients from the fillings provide a well-balanced and tasty lunch.
Berries
Due to the substantial amount of water they contain, berries like blueberries and strawberries can help you stay hydrated during Sargi, the pre-dawn meal of Karwa Chauth.
Although the main goal of sargi is to fuel the day's fast, eating items high in water content, such as berries, might help you keep your body's water balance in check, particularly if you aren't allowed to drink water until the fast is broken in the evening.

Dry Fruits
Sargi contains nuts like almonds, cashews, and walnuts, as well as dried fruits like dates and figs, which are high in important nutrients. They are excellent for sustaining energy levels throughout the day and can be eaten as snacks to stave off hunger symptoms.

Coconut Water
Hydration is essential throughout the fast, and coconut water is a great option. It not only quenches your thirst, but it also contains electrolytes and natural sugars that keep you energized throughout the day. Its light flavor and moisturizing characteristics make it an excellent addition to the Sargi.

Sweets

Sweets like jalebi, barfi, and kheer are essential components of Sargi because they provide a sense of celebration and indulgence to the meal.

These delicious snacks will not only satisfy your sweet taste but will also provide you with instant energy, making you feel more festive and active during the fast. Always remember to consume these snacks in small portions, as they are high in sugar.
Sabudana Khichdi
Sabudana Khichdi is a traditional fast food featured in the Sargi because it is both delicious and filling. It is a lovely blend of flavors and textures and is made with tapioca pearls, peanuts, and spices. Its high carbohydrate content keeps you full all day, preventing hunger cravings.
Makhana

Makhana, also known as fox nuts, is a traditional fasting snack that is included in the Sargi. They are light and crunchy, and they can be seasoned with a variety of spices. Makhana is high in carbs, making it an excellent snack to keep hunger at bay throughout the fast. Its delectable crunch and mild flavor make it an ideal snack to keep on hand.
Conclusion
Although Sargi is a time for feasting, it is important to focus on eating well and staying healthy throughout Sargi. We are only allowed to eat and drink for one hour in the early morning on Karwa Chauth, yet far too often, we find ourselves too hungry or thirsty because we make the wrong food and beverage choices.
Follow the suggestions above to enjoy Karwa Chauth throughout the day with the same zest and energy. You can also visit Healthy Master to check out different snack options for Karwa Chauth Sargi.

Frequently Asked Questions
How can Sargi assist ladies in effectively observing the Karwa Chauth fast?
Sargi provides a nourishing start to the day and ensures that women have enough energy and sustenance to last the whole Karwa Chauth fast. It keeps hunger at bay and contributes to their overall well-being on this important occasion.
Can I add different dishes to my Sargi plate?
Yes, you can personalize your Sargi plate with a range of meals based on your preferences and dietary needs. The idea is to make sure the lunch is nutritious and offers enough energy for the day.
Can you give me some pointers on how to make a well-balanced Sargi Thali for Karwa Chauth?
A well-balanced Sargi Thali should include carbohydrates, protein, fruits, and water. To provide a well-rounded and nutritious start to the day, choose items such as paranthas, paneer, fruits, and coconut water.
What can we avoid during Sargi?
Avoid deep-fried meals during Sargi, the pre-dawn meal before Karwa Chauth fasting, as they can cause thirst all day. Choose healthy, light foods like fruits, nuts, and whole grains to maintain your energy and stay hydrated. It guarantees a successful and comfortable fast during the day.
What are the best practices to follow while eating Sargi?
To stay hydrated during the fast, start drinking water 20 to 30 minutes before eating sargi. Start with fruits to get vital nutrients and instant energy. After that, have a well-balanced dinner that includes dairy, healthy grains, and nuts to keep you full and help you fast comfortably.