Blog
Khakhra Chaat Recipe | Leftover Khakhra Delicious Snack
by Mary James on Nov 03, 2023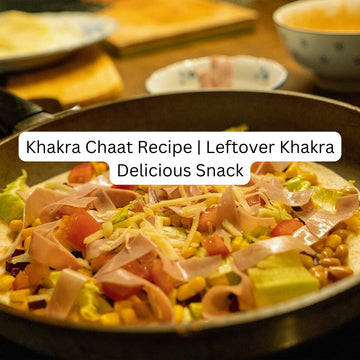 Khakhra Chaat Recipe | Leftover Khakhra Delicious Snack
A popular Indian snack called Khakhra is prepared using flour made from whole wheat and a variety of spices. Although it tastes great, this handy ingredient also has the potential to prepare a delicious chaat, an Indian street snack. 
There are various reasons why khakhra is a preferred food. It's a portable, light, crunchy, and adaptable choice that goes well with a variety of toppings. Additionally, it offers a pleasant crunch without sacrificing flavor as fried treats do, making it a popular option for snack lovers.
In this blog, we'll show you what it takes to make an easy and delicious Khakhra chaat recipe, emphasizing ways to transform plain Khakhra into a fun chaat that can be eaten as a light food or as an after-dinner snack.
Benefits Of Khakhra 
A popular and beloved Indian snack, Khakhra, offers a myriad of benefits that make it a great choice for a wholesome and convenient treat. Khakhra has a nutritional punch by offering fiber and complex carbohydrates. This not only provides an energy boost but also promotes digestive health and ensures a prolonged sense of fullness. 
Khakhra's appealing aspect is the calorie count, which tends to be notably lower compared to its deep-fried counterparts. For health-conscious individuals, Khakhra serves as an alternative to unhealthy foods and calorically dense foods. The low-fat content makes it a sensible option for those keeping a watchful eye on their fat intake, contributing to a balanced diet.
The Khakhra preservation period is especially useful. It's a non-perishable snack that can be stored for extended periods of time, making it a convenient option for people on the go or as a pantry staple. Khakhra is a pleasant alternative for individuals wanting both convenience and choice, as a range of flavors and variants are readily available to suit varied tastes.
Furthermore, because khakhra has a low glycemic index, it does not affect blood sugar levels, making it a good choice for those with dietary restrictions.
Let us now explore this lip smacking Khakhra Chaat recipe that you must definitely try out guilt free.
Recipe
- Khakhra Chaat
This recipe makes a delicious and simple chaat by fusing bright flavors with the crispy perfection of khakhra.
Ingredients 
You'll need the following items to make a tasty Khakhra chaat:
4–5 extra Khakhras

1 cup of chopped, boiled potatoes

1/2 cup onions, chopped finely

1/2 cup tomatoes, chopped finely

14 cups of freshly chopped coriander leaves

1/4 cup sev (crunchy chickpea flour noodles)

2-3 tablespoons tamarind chutney

2-3 tablespoons green chutney

half a teaspoon of red chili powder

half a teaspoon of chaat masala

Salt to taste

A small amount of cumin seed powder

A pinch of black salt
Instructions 
Prepare the Khakhra with a dough made of wheat flour and roast them until they are crisp. If there is no leftover Khakhra, keep it apart to allow it to cool. Once they have cooled, create a little Khakhra.
You can also check out the range of Khakhra options provided by Healthy Master 
To prepare the chutney, tamarind and green chutney are both required. They are available pre-made or homemade.
Tamarind Chutney:

Soak a small amount of tamarind in warm water for 15 to 20 minutes. By squeezing, you can remove the pulp. To add more taste to it, add salt and sugar, red chili powder, and roasted cumin powder. Cook this mixture till it thickens and turns into a tart-sweet chutney.
Green Chutney:

Blend fresh coriander, mint, green chilies, salt, 1 teaspoon black salt, and 1 tablespoon lemon juice till a smooth green chutney develops.
Assemble the Chaat
Place the broken Khakhra pieces in a mixing dish. Cut them into bite-sized pieces To avoid choking.
Include the diced, boiling potatoes. The potatoes can be microwaved or pressure-cooked until they are tender.
Top the Khakhra and potatoes with tomatoes and onions that have been finely chopped.

Top the mixture with tamarind and green chutney.

A zingy rush of spice is offered by green chutney, while the tamarind chutney adds a sour and sweet flavor.

To give the dish a true chaat flavor, season with salt, red chili powder, and chaat masala. These seasonings can be changed to suit your preferences.
To ensure that the chutneys and spices cover the Khakhra and vegetables equally, gently mix all the ingredients.
Garnish
Add enough sev to the Khakhra Chaat to finish it off. Sev, a crunchy chickpea flour noodle, gives the chaat a beautiful texture.
To add a burst of color and freshness, add freshly chopped coriander leaves.
To finish, top with a pinch each of black salt and toasted cumin powder for an additional kick.
Serve and Take Note:

Your Khakhra chaat is prepared for consumption! Khakhra can absorb moisture and become soggy over time, so serve it immediately. You can enjoy a variety of tastes and textures, including fresh vegetables, Crunchy Khakhra, and the sweet and spicy chutney.
Tips and Variations
Pomegranate seeds, cooked chickpeas, and grated carrots can be used to create a unique Khakra chaat.

You may modify spice levels to suit your tastes. Add extra green chutney or red chili powder if you like spicy food.

Try out several chutneys, such as a date-tamarind chutney, for a fresh flavor.

For a lively, informal meal, serve Khakra chaat in individual bowls or as a group dish.

To balance the flavors, serve it with a cold beverage like sweet or salty buttermilk.
Conclusion 
An enjoyable snack or light supper can be made from leftover Khakhras by making Khakhra chaat. It is the ideal illustration of how Indian food emphasizes not only flavors but also textures and innovation. The crunchy ingredients in the chaat are sweet and spicy. 
Your taste buds will love the combination. Give Khakhra chaat a try if you enjoy Indian street cuisine or are just looking for a fun and flavorful way to use up your leftovers. 
This dish is adaptable, fast, and certain to impress everyone. So, always remember to keep this dish in mind the next time you have some leftover Khakhras so that you can enjoy the kaleidoscope of tastes it delivers.
You can also check out Khakhra's snack items on the website: Healthy Master.