Blog
List of 9 tasty gluten free food & snacks that you can eat without any worries!
by healthy master on May 09, 2022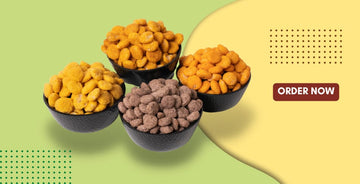 "Sharing tasty and delicious list of gluten-free foods and snacks that anyone who is trying to avoid gluten can enjoy without any worries!"
So you have decided to go gluten-free but nearly everything you have been eating every day consists of gluten so you can't decide what to eat anymore. Don't worry! Healthy Master will help guide you to a list of gluten-containing products that you should avoid, while also providing a list of healthy gluten free snacks that you can straightaway add to your diet and enjoy a ton of health benefits that come with it!
What foods contain gluten?
The real question should be - what food does not contain gluten? Nearly everything you eat in daily life is most likely to contain gluten. We start off with grains and barley that are very high in gluten. Every form of bread- white, brown and multigrain consists of gluten. Baked goods like cake and cookies contain gluten. Foods like pasta, noodles, candies, cereals, etc. contain gluten. You are surrounded by Gluten.
Now we know you might be thinking following a gluten-free diet is nearly impossible but we assure you, it is more than possible. There are a variety of ingredients that can serve as an alternative to making food that is 100% gluten-free.
A list of 9 gluten-free foods and snacks from Healthy Master that you can enjoy:
Though gluten is nearly present in everything, there are numerous gluten free snack options available in the Healthy Master shop that you can add to your gluten-free diet today! Let's get into it:
Makhana Balls
A tasty and delicious snack obtained straight from nature itself. Lotus Seeds or Flaxseeds, known as Makhana are a vegetarian, lightweight, low fat and low calorie snacking option for you. Makhana is gluten-free along with being keto-friendly and diabetic-friendly to eat. It is purely harvested naturally and is free from pollutants and preservatives. It is considered so pure that Makhana is considered an auspicious offering to Hindu temples in India.
Along with being gluten-free, Makhana is rich in magnesium, iron, phosphorus, carbohydrates, protein, potassium, fibre, and zinc. Replace your unhealthy junk food snacks with a nice bowl of Makhana to fulfil your cravings.
Makhana is available in a variety of flavours and textures that you can enjoy to your heart's will without any worries about consuming gluten or trans fats! Shop for this delicacy and buy Makhana online at Healthy Master shop today!
Almonds (Badam)
Ah yes, if there's one treat that you will find in every healthy nutritional diet then it's Almonds. Crunchy and delicious to eat, these superfood edibles are not only gluten-free but are packed with rich nutrients that are vital in boosting a person's immunity. Almonds are rich in high protein, fibre, complex carbohydrates, minerals, vitamins and zinc. Almonds are an essential part of a diet for diabetes and cholesterol patients. Badam are helpful in lowering bad cholesterol (LDL) in a body while raising the good cholesterol (HDL).
In India, Badam has a reputation for improving the neural system functioning of a person which is due to it being rich in antioxidants and anti-inflammatory components.
Almonds are a great snacking option to be a part of a gluten-free diet as they are high in fibre and calories that will help you feel full for a good part of the day and provide you with an abundance of energy to perform your tasks.
Add Almonds to your gluten by shopping for them at the Healthy Master shop today. Buy almonds online here!
Millet Balls
Do you know why gluten is so widely used? Because it is used to give a crunchy and bloated texture to a food that is soothing to eat. We know you are adamant on following a new gluten-free diet but then again, it is so hard to resist crunchy snacks. But with Millet Snacks, it proves to be a great gluten-free alternative to your daily junk food snacks. These Millet Snacks are not only gluten-free but they are extremely tasty to eat. They come in a variety of flavours like Peri Peri, Cheese, etc. that you can enjoy at any time of the day!
Millet Balls are made of healthy gluten-free millets that are low in calories, fat, low cholesterol and trans fats. With Millet Snacks, you can keep your cholesterol levels in control along with blood pressure levels.
Millet Snacks are a perfect and tasty addition to different diet plans like Keto, Diabetic, Heart, Gluten-Free, Weight-Loss and many more. Buy the best millet snacks online at the Healthy Master shop today!
Millet Jaggery Chikki
Moving on from salty and crunchy millet snacks to something on the sweeter side. Millet Jaggery Chikki, or popularly known as "Gajak" among the Indian population is one straight from our childhood. Millet Jaggery Chikki is a healthy combination of jaggery and peanuts that makes this whole snack option rich in protein and calcium that is also highly beneficial in boosting body immunity. Gud Chikki is rich in fibre and protein that will give you an instant energy boost for the day while making you feel fulfilled for a good period of the day.
This sweet and crunchy delicacy is 100% gluten-free and a great addition to a gluten-free diet. The additional benefits of eating Millet Jaggery Chikki includes healthy cholesterol levels, blood sugar levels, skin glow, smoother digestion and healthy heart and gut health.
Shop for this lovely snack and buy millet jaggery chikki online at the Healthy Master Shop today!
Baked Ragi Chips
While gluten is found in most of the grains, there are a select few that are completely gluten-free and among them is Ragi. Ragi is a healthy grain from which you can make a variety of delicious and healthy snacks. Ragi is considered the most perfect alternative to baking from which you can make- Baked Ragi Chips. These chips are the perfect replacement for not only you, but for your kids as well. Gluten free Chips will easily replace your everyday junk food options with a much healthier alternative.
Ragi Chips are perfect to be added to a gluten-free diet along and for diabetic patients as well. Ragi Chips are rich in protein and antioxidants that will help in boosting body immunity.
Baked Ragi Chips are lightweight, low in calories and don't contain any gluten or trans fats. They are vital in controlling your cholesterol and blood pressure levels. You can always have a nice bowl of Baked Ragi Chips while watching TV and fulfil your hunger cravings.
Buy Baked Ragi Chips online at Healthy Master today!
Dry Fruits Laddu
Like we said before, almonds are a common addition in nearly every single healthy diet plan so we thought, why not make it extra special? And so we bring you a delicious edible known as - Dry Fruits Laddu. It doesn't contain any sugar or gluten containing flour but is rather strictly made from the goodness of dry fruits and berries alone. With dates used as the base gum to give texture and crunchy aspect to this Laddu, it is further made using dry fruits like walnuts, cashews, pistachios, etc. This sweet delicacy is not only tasty to eat but contains various properties that help boost your body immunity.
Dry Fruits Laddu are rich in protein, high fibre, anti-oxidants, minerals and vitamins that help make your body's defence mechanism stronger against infections and diseases. Just 1 single piece of dry fruits laddu will provide you with a full day's energy and relieve your body of tiredness and fatigue.
It is fulfilling, it is nutritious and more importantly - It is 100% gluten free! Dry fruits laddu is one of the must have healthy gluten free snacks for a gluten-free diet that you simply cannot resist.
Shop for this lovely delicacy and buy Dry Fruits laddu online at the Healthy Master shop!
Seeds and Berries sprinkle
There's something about nature that is always providing us with healthy eating edibles that is highly beneficial for our health and that is exactly what consists of our next gluten free eating option - Seeds and Berries sprinkle. This sprinkling meal consists of seeds like watermelon seeds, flax seeds, pumpkin seeds along with berries like blueberry, strawberry, etc. Derived from nature itself, these seeds and berries are vegan friendly and gluten-free, also it doesn't contain any added preservatives or added flavours.
These seeds and berries are rich in essential vitamins, minerals, antioxidants and energy. They not only boost your physical health but mental health as well. Just a handful of these edibles can boost your mood and make you feel healthier and better.
You can eat these edibles as raw snacks or use them to add crunchy texture, thickness and taste to your meals. A sprinkle of these berries can also enhance the visual presentation of your food.
Shop for seeds and berries online here at the Healthy Master shop today!
Quinoa Coin Khakhra
Speaking about gluten-free grains, Quinoa is another grain that is considered a great substitute for gluten-free cooking and meals. You can make a great variety of meals and snacks with Quinoa and among them include a traditional delicacy known as Khakhra. Khakhra is initially made with wheat that contains gluten but by replacing it with Quinoa gives you a healthy gluten-free snack option to have with a cup of evening tea.
Quinoa Khakhra is as delicious as any normal Khakhra. It is crispy and delicious to eat that can be further embellished with seeds. Quinoa Khakhra is also rich in essential nutrients, minerals, vitamins and amino acids and with just a couple of pieces you can get rid of your evening hunger cravings without ever feeling bloated.
Buy Quinoa Coin Khakhra online at Healthy Master shop today
Poha Chivda - Diet Chiwda
Chiwda is something that everyone is familiar with but did you know that chiwda is another grain that is completely gluten-free and healthy to eat. Chiwda is rich in healthy carbohydrates that you can use to make meals like Poha or in some instances, eat it like a snack while adding various nuts and seeds to it.
Diet Chiwda is one such delicious snack option that you can enjoy as a part of a gluten-free diet. It is crispy and chewy to eat while it is extremely low in calories and fat while being high in energy.
Buy Diet Chiwda online on the Healthy Master Shop
Conclusion
Some people may find it hard to follow a particular diet because they simply cannot let go of the delicious treats they have enjoyed all along but gluten-free diet is one diet that is probably the easiest to follow because of the availability of gluten-free substitutes that you can use to healthify your meals.
With Healthy Master, we will make sure that you have no problems in following a healthy gluten-free diet without ever having to compromise on eating tasty dishes!
Frequently Asked Questions (FAQs) about list of gluten-free foods and snacks
Q. What kind of grains are gluten free?
A. Grains like Millet, Ragi, Quinoa, Buckwheat, Flax, Corn are completely 100% gluten free that you can enjoy in a gluten-free diet. You can make a variety of snacks or use them as substitute in a gluten consisting snack.
Q. Are oats gluten-free?
A. Yes! Pure oats and the meals made with them are completely gluten-free but make sure you buy them pure. Processed oats in the market might contain a good deal of gluten in them.
Q. Is Jaggery Gluten-free?
A. Yes! Jaggery is a more natural and purified form of a sweetener that is completely gluten-free. It is used to make gluten-free snacks like Peanut Jaggery Chikki.
Q. Is Upma gluten-free?
A. No, since Upma is made of white rice that contains gluten it is not considered a gluten-free diet. But you can always substitute the rava and white rice used in Upma with Ragi and Brown rice to make a gluten-free Upma that will still remain as tasty as ever!