Blog
Hair Care Guide: 4 Makhana Benefits for Hair
by Bsocial Consultant on May 09, 2023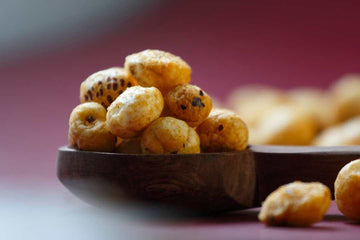 Hair is a big part of our personality, appearance, and identity. A good hair day adds confidence. For healthy, shiny, and voluminous hair, you not only require good hair products but also a healthy, nutrient-packed diet. After all, your hair needs nutrients to grow healthy and look luscious. 
Your well-balanced diet should have nutrients-rich vegetables and fruits, dry fruits, nuts, and seeds. Makhana, also known as fox nuts, is one such superfood that you should add to your diet for strong and lubricious hair. In this blog, we will introduce you to the 4 benefits of makhana for hair. However, at first, you should know the nutritional value of makhana.
Nutritional Value of Makhana for Hair Growth
Makhana, or foxnuts, is a rich source of nutrients and antioxidants such as vitamins B, C, and E, potassium, calcium, iron, magnesium, and omega-3 fatty acids. Moreover, it is packed with protein, fibre, calcium, potassium, and phosphorus.
4 Makhana benefits for hair
The rich nutritional profile of makhana benefits the hair in the following ways:
Promotes hair growth:

If you are tired of taking the expensive and time-consuming keratin treatment every few months to promote hair growth, then you should add keratin-rich foods to your diet to supply your hair naturally with the essential proteins and keratin. 
Makhana is one of the best superfoods as it is a rich source of protein and keratin, which help strengthen hair roots and promote hair growth.
Also Read: 6 Seeds That Promote Hair Growth
Provides nourishment for hair: 

A bad hair day spoils the day. Despite using every possible treatment for your dull hair, even if you are struggling with it, this is a time to amend your diet. 
A diet rich in amino-acid foods can do wonders for your hair because your hair needs amino acids for shine and smooth texture. Makhana is a rich source of the amino acids that provide nourishment to the hair, making it shiny.
Prevents hair fall: 


Do you know you are suffering from hair loss because your diet has a deficiency of iron and vitamin B? Yes, this is true. Because your hair is not getting enough nourishment, it weakens and tends to fall.
To reverse the hair fall problem, you must eat iron-rich food every day. Makhana is a great option for healthy munching every day as it is a rich source of iron. 
Also Read: 9 Dry Fruits & Nuts to Reverse Hair Fall
Prevents premature greying:

Is premature hair greying giving you nightmares? Are you looking for natural remedies to reverse it? Worry not, you are in the right place.

However, first of all, you should know what causes premature greying. An increased stress level and a deficiency of essential nutrients like iron, protein, copper, vitamin B, iodine, and omega 3 cause premature greying of the hair. Therefore, you need to pay attention to your diet. 
To reverse the greying problem, add makhana to your diet, as it is rich in magnesium, calcium, manganese, protein, and other nutrients which promote hair growth and prevent premature greying.
Also Read: Skin Care Guide: Dates Benefits for Skin
Conclusion
For healthy and voluminous hair growth, your hair care routine must include a healthy diet rich in hair-growth promoting nutrients. 
Simply by adding makhana to your diet, you can prevent hair fall, reverse premature hair greying, reduce dandruff, and promote hair growth. End your search for premium-quality
makhana online
at Healthy Master.
Also Read:
Health Benefits of Makhana