Blog
Navratri 2023 Fasting (Vrat) Rules: When To Start And End Your Fasts During Navratri
by Mary James on Oct 19, 2023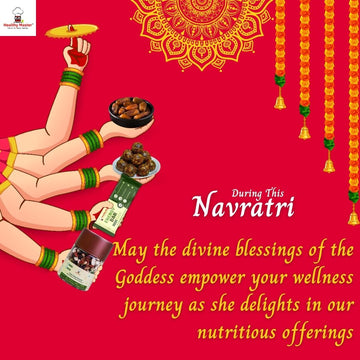 Navratri 2023 Fasting (Vrat) Rules: When To Start And End Your Fasts During Navratri
Navratri is a Hindu festival that has a celebration span of about nine nights and ten days; this occasion is dedicated to Vrat in focus of cleansing your body, soul, and spirit from sins and also in adoration of Goddess Durga and defeating evil over good. As an act of devotion, people practiced Vrat during this period to mark their self-discipline and devotion.
However, the rules followed during this occasion can be different in various regions and individuals, although there are some general Navratri Fasting Rules which can be followed as a whole and are quite common.
Navratri 2023 is set to begin this October 15th and Last until October 24th. During this occasion, many people prefer to practice Vrat which means that they will have to abstain from consuming certain food items. 
Traditionally, many people steer clear of certain foods around this time, such as garlic, onions, and meaty dishes. Some people even adhere to rigorous fruit and water diets, while others may only eat plain meals devoid of the forbidden components.
The period between the first day and the ninth day of Navaratri all sums up to the final battle between Goddess Durga and Mahishasura the demon. This period is also known as Mahavani. The fasting is then over by the 10th day which is celebrated as Dussehra. 
Keeping all of this in mind, it is crucial to recognize that fasting during Navaratri is a personal choice and that rules may differ depending on a person's history, including their culture and geography.
Navratri Vrat Rules
Before you begin the fasting occasion this year here are some Navaratri 2023 Vrat Rules to keep in mind and understand what you should avoid and can consume.
1. Flours And Grains
During Navaratri, you must abstain from eating all grains and flours, including wheat and rice. However, there are substitutes that you can use during this time, such as buckwheat flour or water chestnut flour.
2. Fruits
During this occasion, you are more than welcome to consume all types of fruits and dry fruits. The best part is that you get to enjoy seasonal fruits like mangoes, watermelon, and apples during Vrat. You can consume yours by having a bowl of salad or you can prepare a simple Fruit Chaat. Some people consume only milk and fruits during these nine days.
3. Spices And Herbs
During the Navaratri function, it is essential to refrain from consuming salts. However, you can stick with alternatives like rock salt also known as Sendha Namak. This particular salt is made by evaporating the sea water and doesn't contain high amounts of sodium chloride that you would find in your normal table salt. 
In Ayurveda, you will find that Rock salt is the purest form of salt available as it symbolizes purity without being processed.
When you are looking at spices; certain spices like cinnamon, green cardamom, black pepper powder, tamarind, and kokum can be consumed. Some devotees also go with mango powder, fresh coriander leaves, and red chili powder. Of course, it all depends on the beliefs and traditions of the devotee.
However, you should keep in mind to avoid spices like Hing, Garam Masala, and Fenugreek seeds as they are known for their heat-inducing properties within your body.
4. Vegetables
During Navaratri, some vegetables are given more preference than others. This includes sweet potatoes, yam, lemons, and raw pumpkin. Spinach, tomatoes, and carrots can also be consumed during Vrat.
5. Milk Products
You can definitely consume milk and dairy products during Vrat. Items like paneer, ghee, white butter, and cottage cheese are all preferred. People prefer to make cottage cheese at home as it symbolizes purity. Buttermilk and Lassi are great options to keep you hydrated through Navaratri.
Do's And Don'ts
This table may vary as different people have different backgrounds and cultural preferences. However, the main concept of this occasion is to practice discipline and receive blessings while being devoted to Goddess Durga.
| | |
| --- | --- |
| DO'S | DON'TS |
| You should Maintain Vrat From the 15th of October till the 24th of October | Avoid grains including wheat flour, rice, and legumes |
| You can consume Vrat Friendly Foods dry fruits, vegetables, milk, and much more. | You must strictly cut out onions and garlic as they are considered to represent negative energy. |
| You can stay hydrated with Yoghurt, Buttermilk, and water. | You should strictly avoid meat and eggs. |
| You should engage in Pujas, temple visits, and prayers dedicated to Goddess Durga. | You should avoid consuming alcohol or tobacco. |
| You should utilize this time for self-purification, discipline, and seeking blessings. | Avoid the use of strong spices in between meals. |
Conclusion
Navaratri Vrat is celebrated as a Hindu festival for 10 days during which this period focuses on personal growth, purification, and self-discipline where people seek the blessings of Goddess Durga by following specific guidelines that have been passed down across generations in regards to this celebration. 
While you follow these basic guidelines it is also important to note that these guidelines may vary in terms of different cultural backgrounds and preferences.
The first day of Navratri, which happens on October 15, 2023, marks the start of the fasting period, which lasts until Vijaya Dashami or Dussehra, which falls on October 24. People who observe this fast refrain from eating certain foods, usually avoiding grains like wheat and rice. Instead, vegetarian foods like produce, dairy products, specific flours, and fruits are encouraged.
The Navratri fast is a comprehensive strategy for spiritual development; it involves more than simply eating limitations. Daily pujas, pilgrimages to temples, prayers, and the singing of bhajans honoring Goddess Durga all contribute to the development of a strong sense of appreciation and devotion.
Navratri fasting is ultimately a period of self-purification and regeneration during which devotees work to synchronize their bodies and thoughts with pure ideals. The core of Navratri is found in the spiritual connection, the celebration of the divine feminine energy, and the quest for inner transformation, even though the rules provide guidance. 
May all those who choose to follow these holy Vrat norms experience deep devotion and self-discovery as Navratri 2023 draws near!
If you are looking to explore some delicious Navratri Vrat options do check out some recipes here. You can also order from our extensive collection of delicious and healthy snacks from healthy master here