Blog
Nourishing Diwali Delights: The Ultimate Guide to Healthy Snack Gift Hampers
by Mary James on Oct 06, 2023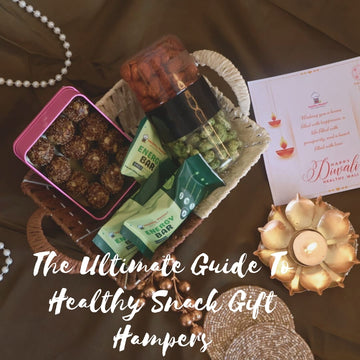 Nourishing Diwali Delights: The Ultimate Guide to Healthy Snack Gift Hampers
The festival of lights known as Diwali is a time for excitement, camaraderie, and celebration. It's a lovely opportunity to give and receive gifts while celebrating with close friends and family.
Consider taking a considerate and health-conscious approach this year by making or giving Diwali baskets stocked with wholesome and delectable goodies.
When you put thought into these hampers, you're not just giving a gift; you're showing that you care. These hampers' contents can be modified to meet dietary restrictions and personal preferences. 
A range of dried fruits with high nutritional characteristics, including almonds, cashews, and figs, can be included. In addition to being delicious, these snacks also include important vitamins, minerals, and good fats.
The appeal of giving healthy snacks to loved ones is that you're encouraging their well-being. Additionally, a healthy snack option can be a pleasant change during Diwali, when sweets and indulgent treats are in abundance. You are providing a guilt-free means of nourishing the body and sating appetites.
Diwali hampers can also be a chance to introduce loved ones to healthier snack options. Baked Bhakarwadi, roasted chickpeas, and even dark chocolate with a high cocoa content are examples of things you may add. These meals not only have outstanding flavor but also offer sustained energy and healthy nutrition.
A gesture in line with the spirit of the holiday is to make or give healthy food packages for Diwali. It's about bringing light, happiness, and health to others. 
A Nutritious Gift Hamper Selection
When you embrace nutritious food over the holiday season, you may enjoy the joy of celebration while simultaneously promoting your health. Making wise decisions and distributing these nourishing treats to your loved ones can help you make Diwali a holiday of health and joy.
Why Opt for Healthy Snacks?
When you choose healthy snacks for Diwali, you consciously choose to put your health and the health of your family and friends first. You're saying, "I want you to take part in the celebrations without jeopardizing your health." 
Numerous advantages of eating healthy snacks include longer-lasting energy, improved digestion, and a lower chance of overeating. They can also make a delicious addition to the Diwali spread, demonstrating that flavor is not sacrificed in favor of health.
The continuous energy that healthy snacks offer is one of their main benefits. Fruits, veggies, and whole grains are nutrient-dense choices that release energy gradually, preventing the energy dumps that frequently occur after eating sugary or processed snacks.
Your alertness and attention are maintained throughout the day by this consistent energy source, increasing productivity and reducing mood swings.
Snacking sensibly can help develop healthy eating practices. You're more likely to practice mindfulness during your main meals if you choose your snacks carefully. This may result in an overall diet that is more wholesome and well-balanced, which will ultimately be good for your health.
Top 3 Perfect Gift Hamper Ideas
Contents: Almond (250 gm), Cashew (250 gm), Dry Fruits Chocolate (250 gm)
This wonderful hamper is made to nourish your body while pampering your taste buds. It's more than just a present; it's a genuine joyous experience. It contains a sizable quantity of crunchy, heart-healthy almonds that will keep you energized all day.
Additionally, there is a selection of creamy, decadent cashews that offer a delicious contrast of tastes and textures if that weren't enough.
This hamper also includes Healthy Master's renowned Dry Fruits Chocolate. For a treat that is guilt-free, it blends the satisfying, scrumptious flavor of chocolate with the advantages of dried fruits. You won't believe how fantastic it is until you experience how lovely and healthful it is.
Content: Almond (100gm), Cashew (100gm), Flavored Cashew (100gm), Flavored Almonds (100gm), Seeds & Berries Sprinkle (100gm), Mixed Berries (100gm).
You'll find a lovely assortment that suits every snacking preference inside this alluring hamper. You get to eat creamy cashews and heart-healthy almonds, giving you a balanced dosage of natural goodness and nutrition.
But the flavor-infused nuts and cashews are when the real fiesta starts. These aren't your typical nibbles; they're waiting for a flavor adventure.
You would also find Seeds & Berries Sprinkle, a delicious blend of healthy seeds and berries that may enhance your salads, yogurts, or pretty much any dish you like, is an extra that Healthy Master includes.
Additionally, Mixed Berries are available if you're in the mood for something sweet and tangy to satiate your needs.
Content: Energy Bars (3pcs). Baked Chips (100 gm), Chocolates (10pcs), Flavored Cashews (100 gm), Flavored Almond (100 gm), Diya (1pcs)
You'll discover a variety of foods that are good for your health and taste buds inside this amazing hamper. There are three scrumptious and nourishing Energy Bars to get your energy flowing. These bars are the ideal party companions for a quick and wholesome pick-me-up.
However, the pleasures don't stop there. Healthy Master is skilled at finding the ideal harmony between enjoyment and well-being. You may satisfy your hunger for crunch without feeling bad when you eat Baked Chips.
There are10 pieces of chocolate that are also added, providing a sweet retreat without sacrificing quality or health.
Flavored Cashews and Flavored Almonds are also included in the Shimmering Delights Hamper. These snacks combine taste and nutrition to elevate your snacking experience to new heights.
Healthy Master adds a Diya to this gift hamper to give it an extra festive touch for the Diwali holiday. It is a representation of light, optimism, and the holiday's communal spirit.
The Pleasure of a Mindful Diwali Celebration
It is incredibly satisfying to celebrate Diwali while putting your health and well-being first. By promoting light, optimism, and good health, you are embracing the festival's spirit.
You can nourish your body and soul by spending a peaceful moment with a nutritious snack or by sharing nourishing packages with loved ones.
Diwali is all about appreciating the bounties in life and strengthening bonds with the people you care about. You may enjoy the festivities while also improving the health of your loved ones by making healthy decisions and spreading the joy of healthful snacks, making this Diwali truly unique and memorable.
So go ahead and fill your Diwali with the light of good health and joy!