Blog
Ragi Chips: Benefits & Ways to Include in Diet
by Bsocial Consultant on Aug 09, 2023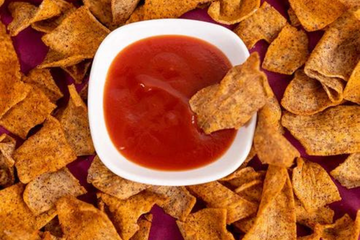 Ragi is a very famous cereal prepared from finger millet. Due to its unique health benefits, it has been called a "miraculous food" that should be consumed regularly. In today's world, almost everyone is looking for tasty yet healthy snacks. Ragi chips are one such healthy and tasty snack recipe. They can be served in tiffin or during snack time. You can enjoy these chips with your friends and family members particularly your kids in order to fulfill all essential nutrients required for their body during various stages of growth without compromising on taste and quality.
What is Ragi?
Ragi is a nutrient-rich, non-traditional superfood. Since ancient times, Ragi has been used in Ayurveda to maintain a healthy digestive system and increase longevity. Ragi is basically a cereal grain that you could use as an alternative to your regular cereal. It can be used in bread, sweets, and most other recipes.
Ragi Chips Nutrition Content:
Loaded with all the essential macronutrients - carbs, fibers, fats, and proteins - as well as excellent levels of vitamins and minerals like calcium and magnesium, it's surely a health-friendly superfood.
Health Benefits of Ragi
Anti-microbial properties
Ragi has anti-microbial properties and is richer in minerals with higher levels of protein, iron, and calcium content as compared to other grain types. It contains a great amount of iron and phosphorus. Ragi is anti-microbial. It fights Bacteria, Fungi, and Viruses.
Ragi Chips Are a great source of minerals
Ragi is an excellent source of minerals to support your body to fight the growth of cancer cells. Research has shown that ragi is low in fat, calories, and cholesterol-free, making it ideal to be included in a weight-loss diet or a diet for persons suffering from high blood pressure or diabetes. Ragi is best consumed as whole grains rather than ground as the grains are high in fiber.
Ragi Chips Contains High Protein
Protein is always the part of our food that is required to gain Muscles and build our body. Ragi (finger millet) is rich in protein and contains all nine amino acids essential for good health making it almost as good as soybean and milk protein. Ragi is another wonderful food item full of nutrients and easy to digest.
Ragi is Natural Weight Loss Agent
If you are willing to lose weight, Ragi is one of the best. It not only gives you dramatic changes in your appearance but also offers you a strong immune system. Ragi is the most commonly used natural weight loss agent. It is prepared from finger millet and has a variety of health benefits. Ragi is a grain that provides you ample amount of protein and a lot of necessary nutrients. Ragi helps in weight loss because it regulates your blood pressure, making you feel full for longer periods of time. It improves diabetes and overall induces good health.
Ragi prevents your Skin from Ageing
Ragi is considered one of the best natural anti-aging ingredients which effectively prevents skin aging and regains the freshness of your skin. It is also used as a powerful treatment for several other skin conditions such as psoriasis, eczema, and dry/dehydrated skin. Ragi is actually an Ayurvedic medicine that promotes healthy aging and prevents skin aging by keeping the skin elastic and soft.
Ragi is Good for your Hair
Ragi has nutrients and antioxidants that strengthen the immune system and make it more efficient against toxins and other harmful agents in the environment. The ragi has also been said to aid in preventing hair loss and provide nutrients for the long-term growth of hair. It also has other benefits including, being good for bones, helping with constipation, aiding with digestion, and helps to fight diarrhea.
Ragi contains loads of Calcium
A significant amount of calcium has been found to be essential for strong bones and teeth, as well as fighting osteoporosis, hypertension, skeletal fluorosis, calcium deficiency diseases, etc. Ragi contains loads of calcium. It is also a good source of protein and iron. This tiny grain is packed with rich nutrients that will tackle the deficiency of minerals in your body. Ragi helps to improve bone health, glycemic control, and blood cholesterol levels.
Ragi Chips Prevents Diabetes
The ayurvedic way of preventing diabetes is by increasing your insulin sensitivity. The more sensitive to insulin the cells are the more sugar they can use and less sugar will be converted to fat for storage. Ragi is a highly nutritious Indian food that is used as a preventive cure for diabetes in India. According to research, the consumption of ragi is equivalent to prevent diabetes. Diabetes decreases your life span and health.
Ragi is used for Good Digestion
Ragi contains a host of nutrients like proteins, carbohydrates, vitamins, phytonutrients, etc., that are essential for improving gut health. Ragi is rich in fiber and hence to improve digestion it is very useful for those who have poor digestion. Regularly consuming ragi can help alleviate many health problems and make you feel healthier.
Ragi Keeps you Relaxed
The Ragi plant is well known for its healing properties in Ayurvedic medicine. One of the unique characteristics of this plant is its ability to restore balance and harmony to the body, mind, and soul when upset by stress or negative emotions. One of the best-known benefits of ragi is the effect it has on your blood pressure. It's not just anecdotal; there's proven research for this. Ragi also provides sustained energy throughout the day so you don't crash around 3 pm and it is rich in essential fatty acids which are important for brain health and development.
Ragi Prevents Colon Cancer
Colon cancer, one of the most commonly diagnosed forms of cancer, has claimed a large number of victims in the last few decades. It is so much on the rise that it has become the second leading cause of cancer death in both sexes. Recent studies are now showing that chemicals in ragi may be effective in preventing colon cancer. Ragi contains fiber, vitamins, and minerals. Ragi Flour is rich in these nutrients that help to prevent colon cancer. Ragi contains soluble fiber which helps to reduce the risk of colon cancer because it undergoes fermentation in the colon, thus changing its chemical properties and increases fecal mass, which also prevents bowel carcinogenesis by decreasing the contact time of carcinogens with bowel cells. So, the addition of Ragi to your diet can prevent colon cancer.
Ragi Supplies Essential Amino Acids
Ragi is perhaps the most widely consumed, the most nutritious, and the most easily digestible cereal. Ragi supplies essential amino acids as glucogenic and non-glucogenic sources. These Essential Amino Acids contain high-quality protein that occurs naturally. These proteins consist of all the requisite amino acids. It's the best form of protein offered by Ragi Supplies. It is revered for its role in treating various health issues because it has all the essential and non-essential amino acids needed by our body.
Ragi is gluten-free
Ragi is an ancient Indian food made from finger millet. Ragi is healthy, gluten-free food. It is light, non-sticky, and has great taste. It goes well with tea or coffee while also making a great accompaniment to meals.
Ragi Increases Bone Density
Ragi is a nutrient-dense food that not only contains more calcium and magnesium than milk but also Vitamin C which is essential for a healthy bone. In India ragi and jawar (sorghum) is consumed both as staple foods and also used as ingredients in cooked items. They improve the immune system, control diabetes, facilitate digestion, boost metabolism, help burn body fat, and their ability to lower cholesterol levels makes them superb food for heart health.
Ragi Treats Anemia
Ragi is an Indian cereal grain grown mostly in the southern parts of the country. It is a staple food in many parts of the country and a major source of nutrition for millions of Indians. Ragi is naturally gluten-free, high in fiber content and is rich in several B vitamins like thiamine, riboflavin, and vitamin B6. Research proves that ragi is very effective to treat Anemia. The full potential of this ancient super grain may not be discovered to this day due to a lack of awareness in society.
Ragi Boosts Nervous System Function
Ragi boosts nervous system function. Nerve cells are made of proteins, and these proteins have a long chain of amino acids that can be affected by the iron content of the body. The majority of the body's protein is in the form of enzymes, which require adequate levels of iron to function properly. It boosts the nervous system and is a rich source of energy. Ragi or finger millet contains lysine, an essential amino acid that is needed for muscle growth.
Ragi Augments Heart Health
Ragi is a traditional food of India which is considered to be one of the best foods for building a healthy heart. Research has found that consuming foods containing Ragi can ward off heart ailments, reduce blood levels of cholesterol, and help in the proper functioning of cell tissues. Ragi or finger millet is heart-friendly giving you full protection against heart diseases.
Ragi is good for Lactation
Ragi is very good for lactation. It helps to produce sufficient breast milk in the mother. Ragi is rich minerals are needed to produce lactation. Ragi is also rich in protein and vitamins especially Vitamin C which the body needs to convert lactose into lactic acid.
Ragi is rich in antioxidants
Ragi is rich in antioxidants which are vital for our body to maintain its health. Ragi helps to fight off many diseases and infections which we get exposed to on a day-to-day basis. Ragi is rich in antioxidants and carries the goodness of both roots and grains. It has been used as a traditional medicinal food for thousands of years.
Ragi benefits in endurance
Ragi is also known as Finger millet is beautiful, nutritious, and has many benefits in endurance training. It contains complex carbohydrates, protein, and fiber which are essential for energy. This reserve is used slowly as compared to glucose reserve and hence prevents frequent hunger pangs. It helps to stabilize blood sugar during your workout session. It improves stamina and endurance levels.
Ragi is a Natural antidepressant
It includes such as iron, copper, magnesium, selenium, and calcium. It helps in improving the situation as it addresses the depression. Ragi consists of a lot of nutrients and is quite good when it comes to losing weight. This grain can be consumed on its own or mixed with other grains.
Ragi is helpful in treating liver disorders
The effects of food on our bodies are directly proportional to their properties and nature. Ragi is a traditional Indian food product that has some incredible physical and mental health-related benefits. It keeps the digestive system healthy and treats liver disorders in an effective way.
Ragi provides Anti-Dandruff Solution
Ragi is rich in zinc that helps relieve skin irritations like dandruff and boost scalp health. Zinc is good for hair growth as well. You can see a lot of products in markets with zinc content but most of them fail to show long-term effect because they do not have ragi in them, says research. Ragi is a natural remedy that helps combat dandruff. Ragi contains zinc which helps maintain a healthy scalp. Zinc provides nourishment to your scalp and hair and also promotes hair growth.
Ragi Fights deficiency
Ragi (finger millet) is a wonder grain that can beat the deficiency of iron in your body. Nearly two billion people are anemic. Iron deficiency is caused by a number of factors including heavy blood loss or poor diet. The symptoms include fatigue, difficulty breathing, and dizziness.
Ragi benefits for irritable bowel syndrome
Ragi is an ancient Indian cereal, better known as 'Finger millet' or 'Kodo Millet' in English. It's a very good natural source of calcium and iron that offers numerous health benefits. Health benefits depend on the brewing procedure and slight variations can result in different ragi benefits. Irritable bowel syndrome (IBS) is where people experience time-limited diarrhea, constipation, or both. In a recent research study, participants with IBS have shown improvements in symptoms after consuming ragi for 60 days.
Ragi is good for toddlers
Ragi is good food for toddlers and persons with weight issues since it is mild on the stomach, easy to digest, very high in nutrition, and easily available. It can be used instead of rice or wheat in idli, dosa, etc. in place of maida in preparation.
Ragi Prevents obesity
Obesity is a global health concern that affects millions of adults and children. This weight gain which can lead to cardiovascular diseases, diabetes, cancer, and death has led to the public's interest in the search for healthy and natural solutions for preventing obesity. Ragi is a healthy Indian whole grain that should be consumed by everyone to boost health. It will help you gain lean muscle mass and lose fat, get healthier skin and protect your heart as well.
Ragi prevents chronic disease
Ragi (finger millet) is a staple food of tribals in India, and it has been found to play a preventative role against chronic disease. Recent studies prove that ragi have large quantities of phytochemicals, dietary fiber, and minerals. It also contains some vitamins like riboflavin, niacin, thiamine, vitamin B6, folic acid, and pantothenic acid.
Ragi Risks and side effects
Ragi is rich in nutrients and is usually very well tolerated in healthy people, even those with weight problems or diabetes. Ragi must be consumed very moderately by people with kidney complications.
Buy Ragi Chips from Healthy Master
Not eating favorable foods and mostly consuming foods rich in carbs is one of the main causes of becoming obese. Here at Healthy master, you will find all the tasty and delicious ragi chips not only for your consumption but also to offer to your loved ones. The healthy master is a pioneer organization that provides organic food that is rich in omega 3 acids, fibers, and other nutrients that are essential for good health. It has a range of ragi foods available such as ragi balls, ragi chips, ragi noodles, and many more. The products offered by the company are excellent to keep the body strong and healthy and it also makes it easy to serve healthy food to members of the family. Ragi chips might be the next big thing when it comes to healthy eating. It is nutritious and has all the necessary nutrients that your body needs.
Conclusion
Healthy Master is a pioneer in the manufacturing of healthy processed food products particularly Ragi chips and other snack products. These products have gained widespread consumer acceptance across many regions in India. We provide authentic grade Ragi chips that are made using organic matter. The offered chips are highly demanded among our customers due to their best taste and longer shelf life. The entire range of Ragi chips Online is hygienically packed for safe transit.