Blog
Raksha bandhan letter for brother 2023
by Bsocial Consultant on Jul 14, 2023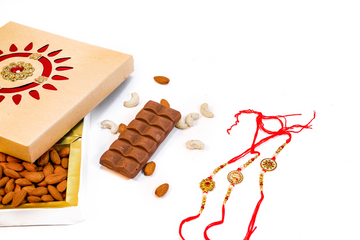 Raksha Bandhan is an important festival in India. It celebrates the unique and sacred bond between sisters and brothers. On this day the sister ties Rakhi on her brother's hand to show her love. The brother promises to protect her throughout their lives.
If you want to make this rakhi extra special then you should write a raksha bandhan letter for your brother. This will show him how much you love and appreciate him. Trust us he will keep this letter with him forever.
Raksha bandhan letter for long distance brother
Sometimes not all of us can be with our siblings on rakhi.But that doesn't mean that you cannot celebrate it. Rakhi is a festival that breaks the boundaries of distance. It is celebrated worldwide. Sisters often post their rakhi's along with a beautiful letter to their brother's on this day.
You must be wondering why a letter when one can simply video call them these days? It is because letters hold memories. It will be kept safely and will always remind your brother how much you love them. 
So, this raksha bandhan if you are looking for a raksha bandhan letter for your long distance brother then we have got it covered for you. We have shared 2 sample letters in this blog. 
You can pick any one from two, add your personal touch and love and send it to your beloved brother.
Raksha Bandhan Letter 1 for brother 2023
Dear Brother,
Raksha Bandhan is nearby and my heart fills with joy as I can express my love and appreciation for you. But it is also a bit sad because you cannot be here with me. 
So I am writing this letter to express my love for you and I am also sending rakhi with it. I hope this will make our bond even stronger. 
As I am writing this letter, I have flashbacks of our childhood. Ever since childhood you have been there for me. You have cared for me and been like a second father. Although that was a bit irritating sometimes, I always knew you were there to protect me.
I was going through our pictures as well and I came across one from our childhood when I was just a newborn. You are holding me in your arms in that picture. Maa tells me that you used to pray to god to give you a sister.
I have attached that picture as well with this letter and rakhi. Do reply to this letter and send me a picture of you with the rakhi tied around your hand. Do buy your favorite Ras Malai. I know you love it.
Have a great Rakhi Bhaiya!! Hopefully we will be together in the next Rakhi.
Raksha Bandhan letter 2 for brother 2023
Pyaare Bhaiya,
I hope you're doing well. How are bhabhi and kids? This letter is to wish you a very happy raksha bandhan. This Raksha Bandhan doesn't feel the same without you.
I am sending the rakhi as well with this letter. When you tie this around your wrist, I want you to feel my love and appreciation for you. 
Ever since childhood you have been there for me as my shadow. You have guided me in all the important decisions of my life. 
I miss you a lot on this Rakhi but it's okay. We will celebrate it together next year. Till then, I wish you and the family health and happiness.
Your Loving sister
Xyz
5 Raksha Bandhan message for loving brother 
If you don't want to write a Raksha Bandhan letter for your brother then we have got another option. Here are some Raksha Bandhan messages that you can send your brother. They will help you express your love and appreciation for him - 
1) On this Raksha Bandhan, I tie this knot to express my love and appreciation for you. This is a reminder that you will forever be my protector.
2) To my handsome brother, wishing you a very happy Raksha Bandhan!!
3) I hope this Raksha Bandhan brings joy and happiness in your life. Happy Raksha Bandhan Bhaiya!!
4) You have always been my guiding light through thick and thin. I wish you a very happy Rakhi Bhaiya. May you be healthy and happy.
5) To my guardian angel - Happy Raksha Bandhan!!
Beautiful raksha bandhan gift to your long distance brother
Raksha Bandhan is a great opportunity to pamper your brother with gifts. But it becomes a bit difficult to do so when he is away from you. It's a good thing we have got facilities like online delivery. They make it a lot easier for us to express our love.
If you are looking for gifts that you can give your long distance brother this rakhi, then you are at the right place. We have 3 unique rakhi gifts that you can give your brother this raksha bandhan.
Also read: 11 Best Raksha bandhan gift ideas for brother
This rakhi, surprise your brother with a dry fruits gift pack. They are delicious and nutritious.
If you want to show your brother how much you care for him, then this is the best rakhi gift.
You can buy dry fruits packs then visit healthymaster.in. Here you will get 50+ options at an affordable price.
2) Rakhi Gift Hampers
Rakhi gift hampers are another good rakhi gift idea for brother 2023. At healthymaster.in we have 6 varieties of these gift hampers that you can choose from. 
They are perfect for special occasions and are a perfect blend of health and taste. So what are you waiting for? Check out these rakhi gift hampers now!
Snacks can be a great gift for someone who is foody. But they should be healthy as well. It is difficult to find a healthy and tasty combo to find out there. 
But you can buy these snacks from Healthymaster.in. We have made it our mission to deliver healthy products that are tasty. You can choose from 40+ varieties of healthy snacks that are made of natural ingredients.
Conclusion
In conclusion, even distance can't stop you from celebrating Raksha Bandhan. There are ways in which you can still make it special. 
You can write a Raksha Bandhan letter for Brother. You can also write a heartfelt message for him. You can also give him rakhi gift hampers and other gifts with the help of online delivery options.
So what are you waiting for? Don't be sad anymore and start preparing for Raksha Bandhan today!! We at Healthmaster, wish you and your family a very happy rakhi!!