Blog
Vrat Ka Khana | 5 Navratri Vrat Recipes for Fasting and Weight Loss
by Mary James on Oct 19, 2023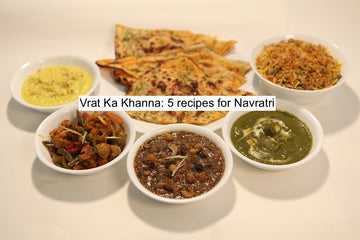 Vrat Ka Khana | 5 Navratri Vrat Recipes for Fasting and Weight Loss
Navaratri is a glorious nine-day celebration of Goddess Druga where people practice fasting also known as Vrat. This occasion reflects people's devotion to the Goddess and the time period during which they cleanse their bodies and souls of sin using Vrat. 
Fasting during this occasion is not just specifically depicted towards religious acts but is also an encouragement for those to pursue their desires of a healthy lifestyle by losing weight.
Navratri Vrat Recipes are designed to be lightweight and easy on our stomachs, which indirectly helps us feel full and is beneficial to our bodies. There are many Vrat Ka Khana options out there that are both delicious and help with your weight loss journey. 
These Vrat diet recipes are protein-rich to help you get more fit. They specifically avoid the use of legumes, grains, and meaty items; they instead contain diet recipes that contain a lot of nuts and fruits to help maintain your energy levels during Vrat and also contribute to your weight loss journey.
In this blog, we shall explore the different Navaratri Vrat Recipes from Healthy Master that will help you on your spiritual journey of Vrat and support your weight loss efforts.
The Connection Between Weight Loss And Vrat
The whole connection between weight loss and Vrat also known as fasting is a whole composition of spirituality, health-conscious options, and dietary restrictions. Navaratri is a 9-day celebration focused on cleansing the body, soul, and mind of sins in the devotion of Goddess Durga and is also an avenue for weight loss-driven people to benefit from while fasting.
Navaratri in general encourages people to cater to diets that are light on their stomach and low in calories which eventually promotes both physical and spiritual well-being. Vrat Ka Khana recipes usually include dried fruits and nuts and exclude grains, legumes, and meaty items. T
his reduces the intake of calories which is the primary principle of weight loss as it triggers the body to start utilizing stored fat energy since you are not calorie deficient. This whole process is what causes weight loss reduction.
Vrat Ka Khana often incorporates food types that are rich in nutrients, minerals, and fiber which boosts the healthy lifestyle of the individual and aids them in their journey during Vrat by keeping them energized.
Fasting during Navratri encourages attentiveness when it comes to food. It motivates people to choose sensible, healthful foods and manage portion amounts. Because of their increased awareness, overeating, and mindless snacking; these two frequent barriers to successful weight management can be avoided.
There is a spiritual component to fasting. It stands for a sacrifice, a way to be cleansed, and a way to improve one's relationship with God. This spiritual commitment can be a strong incentive for people who are trying to lose weight since it adds another level of resolve and resolve.
The secret to a fruitful and fulfilling Navratri fasting experience is a holistic approach to health, covering both physical and spiritual well-being.
5 Vrat Ka Khana Recipes 
1. Sabudana Khichdi
Nutritional Facts: Per 100g: Calories: 199kcal; Fat: 7.91g; Carbs: 30.19g; Protein: 2.72g
This snack is one of an excellent choice for your Vrat Ka Khana Recipes this Navratri since they are made by soaking tapioca pearls and also provide your body with the energy boost as its high in carbohydrates. This dish should definitely be your go to as it is easy to prepare.
Recipe
Wash Sabudana in pure water after about an hour of soaking.

Spread over a thick cloth for about an hour after draining. 

Thoroughly combine the sabudana,

peanuts

, salt, and chili powder to coat it.

Add jeera, lal mirch, and kadhi patta to heated ghee. 

Add the saboodana mixture and stir over low heat until thoroughly cooked when the mirch begins to brown. This requires a few minutes.

Remove it from the heat, then stir in the lemon juice.

Serve with coconuts as garnish.
Nutritional Facts: Per 100g: Calories: 347kcal; Fibre: 14.5g; Protein: 9.7g
Fox nuts, also known as makhana, are the ideal Navratri Vrat dish for weight loss and fasting. These unsalted, lightly roasted seeds are abundant in vital nutrients and low in calories. 
They provide a delicious crunch and are a fantastic source of dietary fiber, encouraging satiety while fasting. 
The anti-inflammatory and antioxidant effects of makhana are also well known. Due to these characteristics, it serves as a good option for individuals following Navratri as well as those looking to control their weight. 
During this holy season, munching on plain makhana might keep you energized and support your weight loss objectives.
3. White Peas Sundal
Nutritional Facts: Per 115g: Calories: 212kcal; Fat: 8.3g; Carbs: 26.9g; Protein: 7.6g
In order to balance the traditions of fasting and the desire to lose weight, white peas Sundal is a wonderful addition to your Navratri Vrat dishes. This is a well known South Indian Dish which is made by using made using white peas, carrot, coconut, raw mango, some common spices and a classic South Indian tadka of curry leaves, mustard seeds, dry red chili and asafetida.
This dish is a great option for you as it helps maintain your energy levels and also helps control your cravings. Topped with fresh coconut garnishing, this dish makes another excellent option for Navaratri.
4. Arbi Kofta With Mint Yoghurt Dip
Nutrition Facts (Arbi Kofta): Per 100g: Calories: 226.3kcal; Fat:17g; Carbs: 3.7g; Protein: 14.7g
This dish makes a smart option for Navratri Vrat since it supports weight loss and fasting objectives. For those of you who are bored of potatoes for breakfast, lunch and dinner, then this snack is an excellent prep idea. 
Recipe for Arbi Kofta
The Arbi should be boiled in a pan or a pressure cooker until it softens.

Peel them completely, then combine with the remaining ingredients.

Combine everything thoroughly and evenly.

Because the mixture is sticky, you can rub some oil on your palms before forming the kofta.

Now mold it into cylinders and cook in a pan with a little oil until golden brown.
Mint Yoghurt
Yoghurt can be hung by draining extra water. 

Combine the yoghurt with the chopped mint and cucumber. 

Provide hot Arbi Kofta and a mint yoghurt dip.
5. Kuttu Ka Dosa
Nutritional Facts: Per Kuttu Dosa: Calories: 45kcal; Fat: 1.7g; Carbs: 6.1g; Protein: 1.4g
If you enjoy eating dosas, try something new this Navratri instead of the traditional kuttu puris. A crisp dosa recipe made with buckwheat flour and stuffed with potatoes.
Recipe- Potato Mix
Once the potatoes are crushed, you can heat the ghee

Combine ingredients (red chilli powder and chopped ginger)

Stir the potato mixture for a few minutes, or until it turns light brown.

Remove it and set it away.
Dosa
Arbi

should be mashed and combined with flour, and salt in a bowl.

Mix in the ajwain, red chilli powder, ginger, and green chillies, and add water

Ensure that the batter has the consistency of smooth flowing honey.

Pour a ladle of the batter onto a hot flat pan, sprinkle it with a little ghee, and cook.

After a few minutes of cooking, add extra ghee to the edges to make them crisp.

At this point, turn it over to cook the other side. Next, top the dosa with some filling and fold it over.

Serve hot with coconut and mint chutney.
So these were our top 5 picks of foods or recipes to consume during Navratri Vrat. If you are looking for more delicious navratri snack ideas then do check out Healthy Master Products which are sugar-free, gluten free, millet based which not only make them super healthy but truly delicious as well!