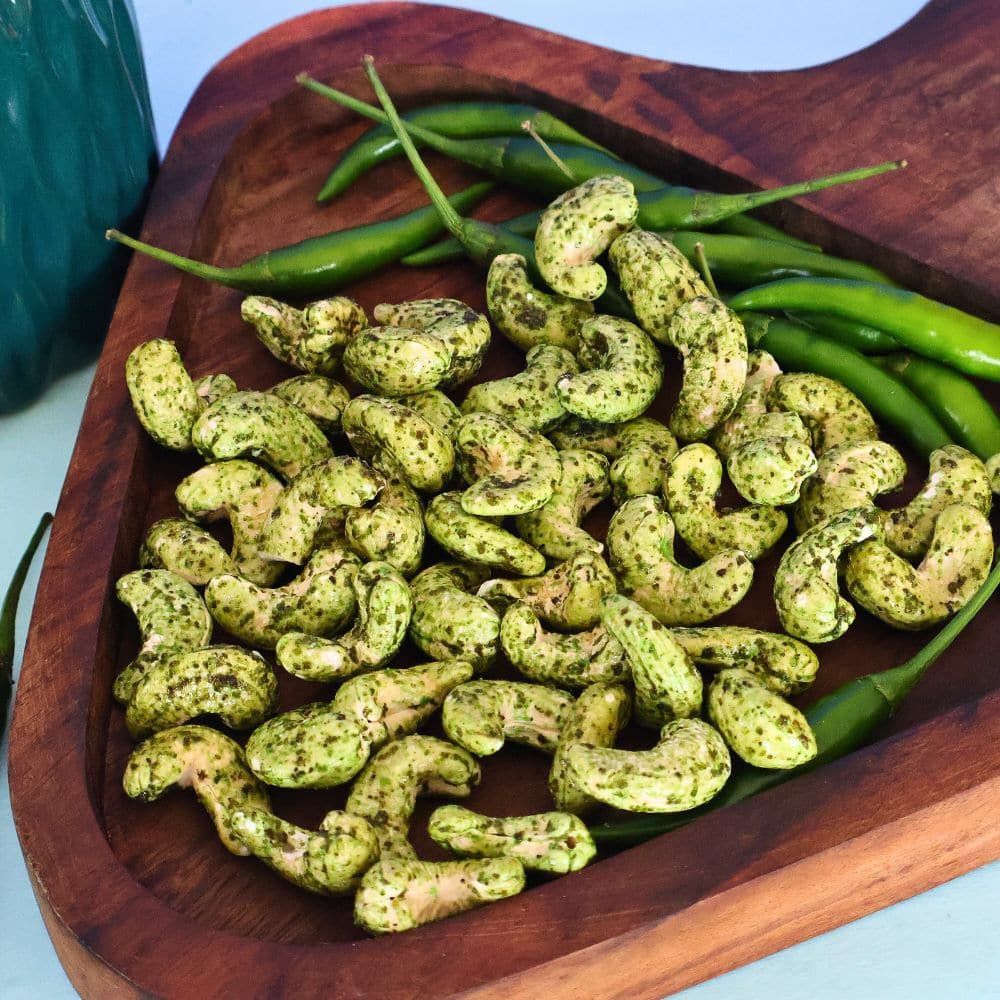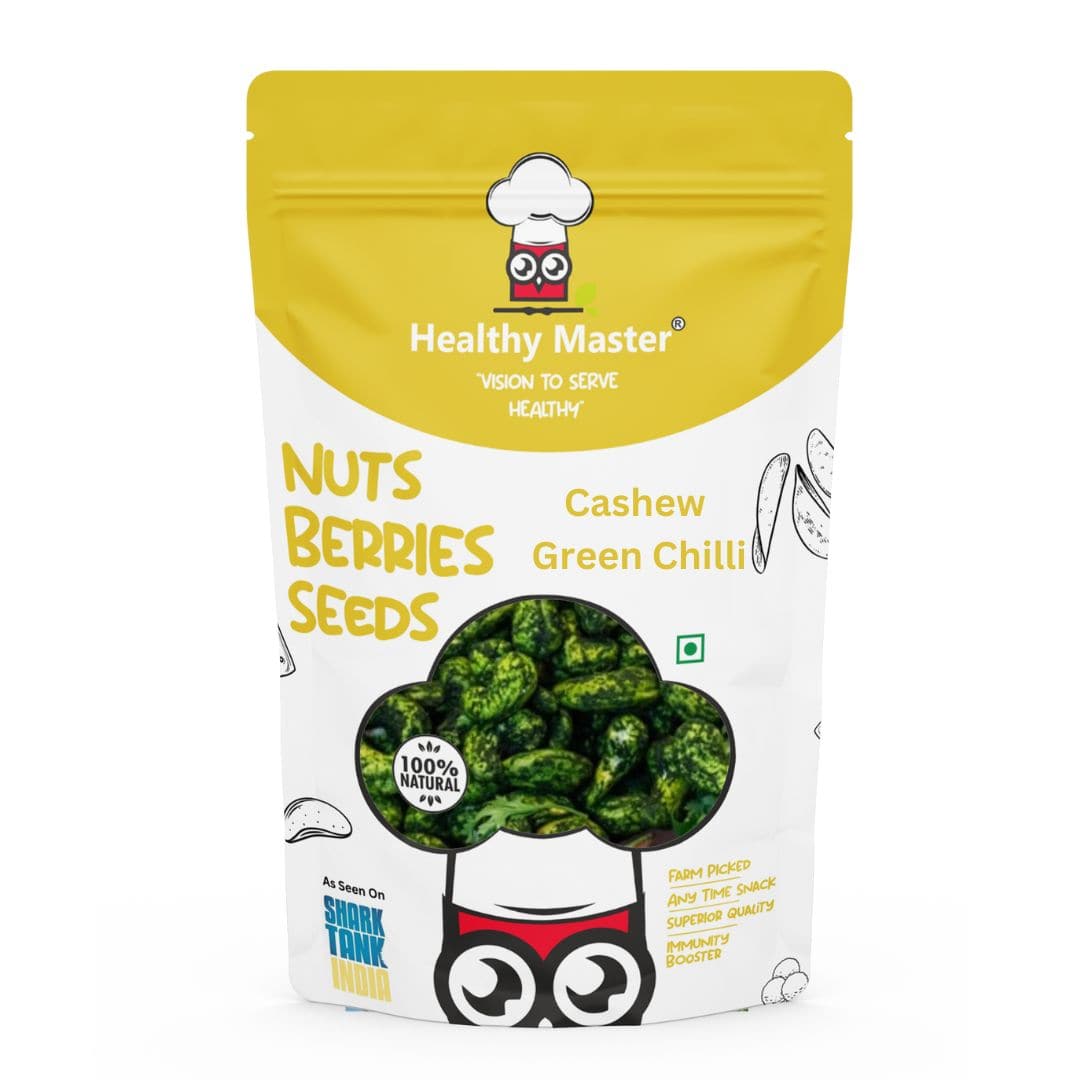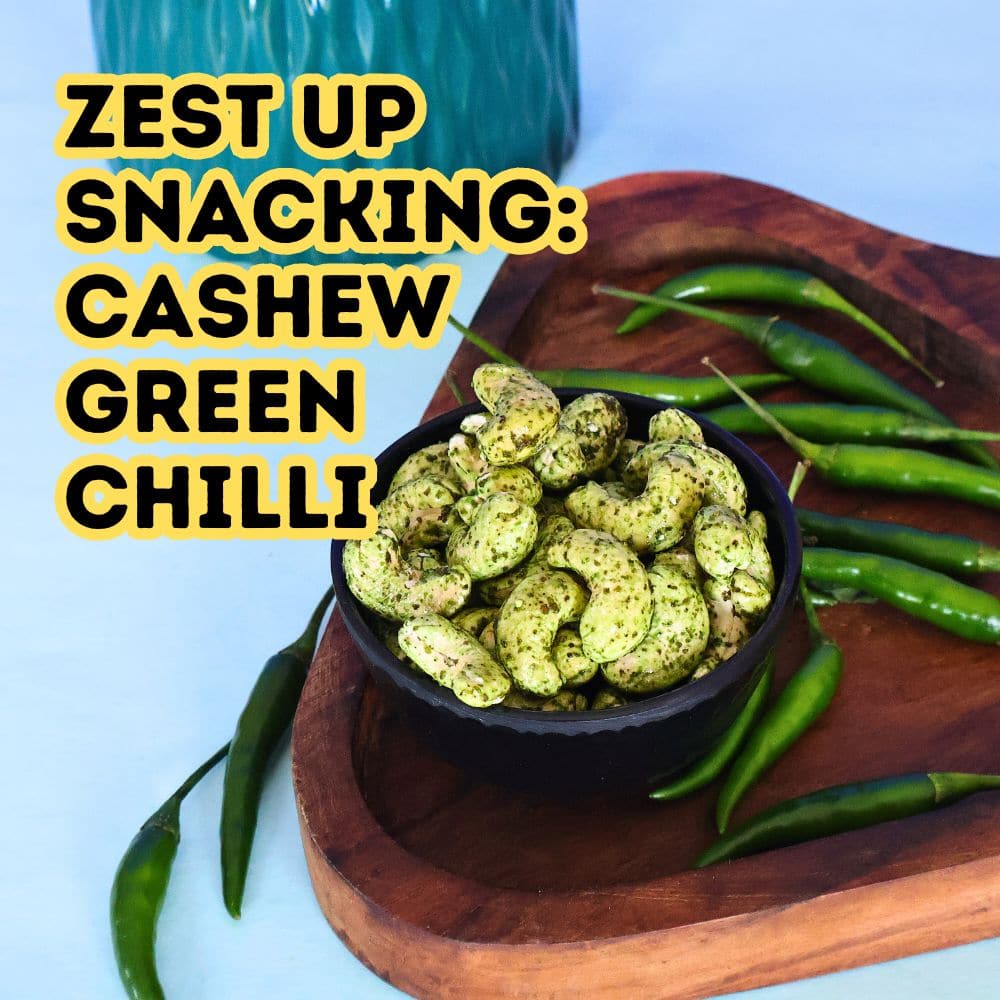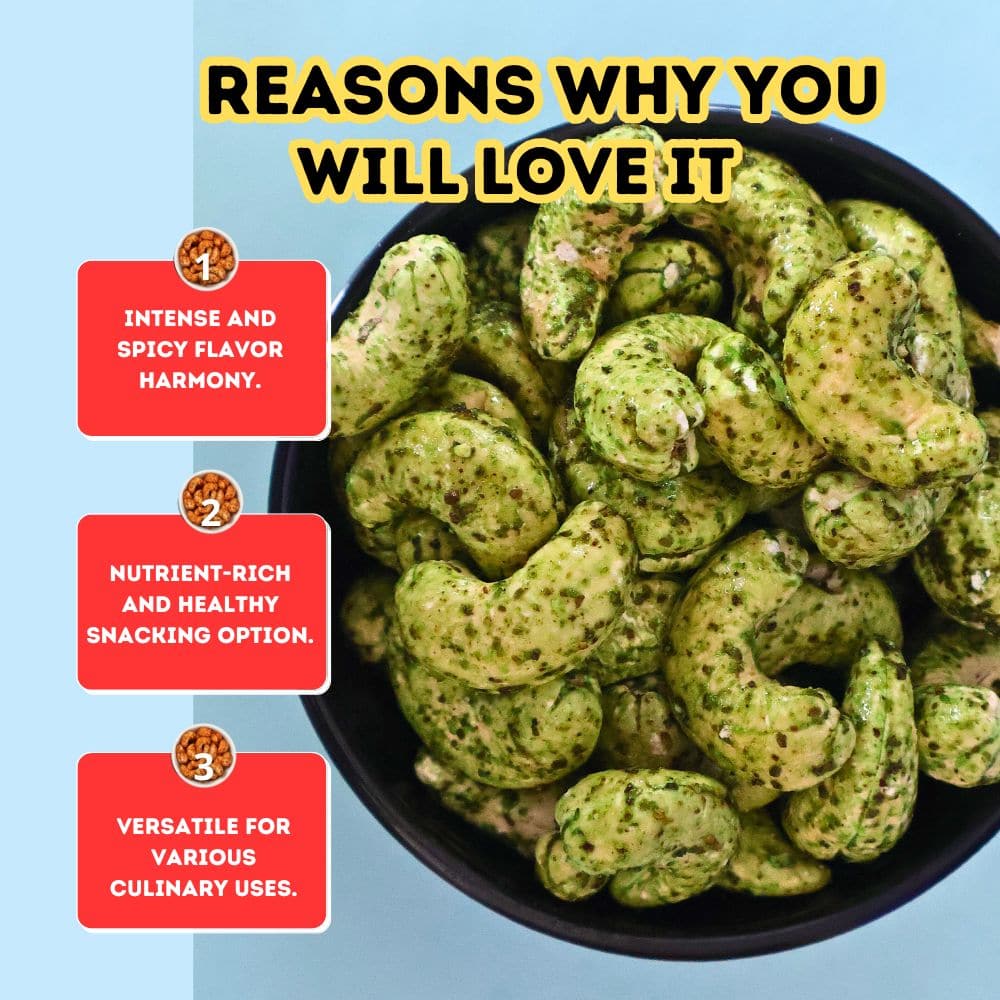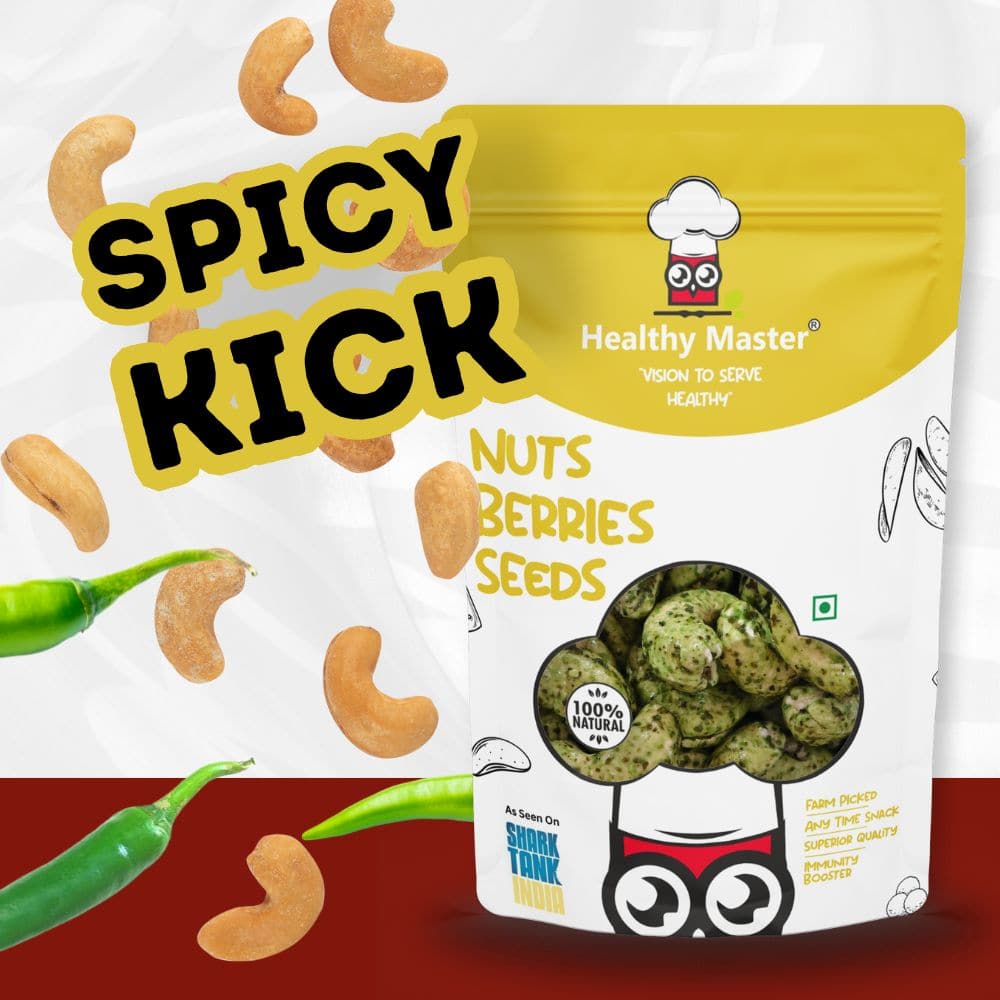 144 people are viewing this right now
Sale price
₹ 410.00
Regular price
₹ 480.00
Tax included.
Get 25% Off upto ₹300 on Flavoured Nuts, Min. Order Value ₹699
10% discount on first order using code HELLO10, Min. Order Value ₹699 *Not Aplicable in Dryfruits and Gift Boxes
Freebies on orders above Rs. ₹700
Free delivery on all orders above ₹699

Guarantee safe & secure checkout
PAN India Free Shipping : On all orders over 699
Our Cashew Green Chilli is a spicy and delicious all-rounder. With a slight kick, this product will spice up any family mealtime or can be taken with lunch. Cashew nuts contain lots of essential nutrients. They are a great source of Vitamin E, copper, and selenium. And not only that but they are also filled with unsaturated fats that aids in fighting body fat. Cashews are extremely popular for their taste and health benefits. You can make tasty desserts with it or even a savory side dish. Get a dry fruits gift box online from a healthy master.
There are some amazing health benefits that cashews nuts can have on your body. They are packed with magnesium and antioxidants, both of which are essential for the healthy functioning of our body cells. The magnesium helps reduce the risk of heart attacks and strokes while the antioxidants keep fighting free radicals that cause aging. In addition to these vitamins, cashews also contain a good amount of protein and iron. Cashew nuts are probably the most convenient and versatile source of nutrients. Actually, cashews are such a versatile nutrition source because in addition to that they are also easy to process and store. Get dry fruits gift packs online and avail of great offers.
<p><strong>&nbsp;H</strong><u><strong>ealth Benefits Of Cashew :</strong></u></p>
<p>&nbsp;</p>
<ul>
<li>&nbsp;<strong>Good for eye &amp; hair health. </strong></li>
<li><strong>&nbsp;Helps the body form and use red blood cells. </strong></li>
<li><strong>&nbsp;Keeps blood vessels, nerves, bones.</strong></li>
<li><strong>Rich in Nutrient</strong></li>
<li><strong>Rich in Fiber &amp; Protein&nbsp;</strong></li>
<li><strong>Promote Weight-Loss.</strong></li>
<li><strong>It may also help improve your overall health.</strong></li>
<li><strong>Easy to add to your diet.</strong></li>
<li><strong>Immunity booster.</strong></li>
<li><strong>Help strengthen bones.</strong></li>
</ul>

<p><u><strong>Ingredients:</strong></u></p>
<ul>
<li><strong>Cashew kernel</strong></li>
<li><strong>Lime</strong></li>
<li><strong>Mint powder</strong></li>
<li><strong>Green chilli Powder</strong></li>
<li><strong>Natural&nbsp;&nbsp;identical flavour</strong></li>
<li><strong>Salt</strong></li>
<li><strong>Spices &amp; Condiments.&nbsp;</strong></li>
</ul>
<p>&nbsp;</p>
<p><strong>&nbsp; &nbsp; &nbsp;N</strong><u><strong>utritional Values : Per100g</strong></u></p>
<table border="1" cellspacing="0" cellpadding="0">
<tbody>
<tr>
<td><strong>Calories</strong></td>
<td><strong>553</strong></td>
</tr>
<tr>
<td><strong>Total fat</strong></td>
<td><strong>44g</strong></td>
</tr>
<tr>
<td><strong>Saturated Fat</strong></td>
<td><strong>8g</strong></td>
</tr>
<tr>
<td><strong>Polyunsaturated Fat</strong></td>
<td><strong>8g</strong></td>
</tr>
<tr>
<td><strong>Monounsaturated Fat</strong></td>
<td><strong>24g</strong></td>
</tr>
<tr>
<td><strong>Cholesterol</strong></td>
<td><strong>0mg</strong></td>
</tr>
<tr>
<td><strong>Sodium</strong></td>
<td><strong>12mg</strong></td>
</tr>
<tr>
<td><strong>Potassium</strong></td>
<td><strong>660mg</strong></td>
</tr>
<tr>
<td><strong>Carbohydrate</strong></td>
<td><strong>30g</strong></td>
</tr>
<tr>
<td><strong>DietaryFiber</strong></td>
<td><strong>3.3g</strong></td>
</tr>
<tr>
<td><strong>Sugar</strong></td>
<td><strong>6g</strong></td>
</tr>
<tr>
<td><strong>Protein</strong></td>
<td><strong>18g</strong></td>
</tr>
<tr>
<td><strong>VitaminA</strong></td>
<td><strong>0%</strong></td>
</tr>
<tr>
<td><strong>VitaminC</strong></td>
<td><strong>0%</strong></td>
</tr>
<tr>
<td><strong>Calcium</strong></td>
<td><strong>3%</strong></td>
</tr>
<tr>
<td><strong>Iron</strong></td>
<td><strong>37%</strong></td>
</tr>
<tr>
<td><strong>VitaminD</strong></td>
<td><strong>0%</strong></td>
</tr>
<tr>
<td><strong>VitaminB12</strong></td>
<td><strong>0%</strong></td>
</tr>
<tr>
<td><strong>VitaminB6</strong></td>
<td><strong>20%</strong></td>
</tr>
<tr>
<td><strong>Magnesium</strong></td>
<td><strong>73%</strong></td>
</tr>
</tbody>
</table>
<p><strong>1)What is the storage and Shelf life of Flavoured Cashew</strong></p>
<p>Once it is opened pack it in an airtight container and refrigerate to store for a longer time up to 6 months</p>
<p>&nbsp;</p>
<p><strong>2)Are these Cashews&nbsp;roasted?</strong></p>
<p>YES and flavored with black pepper.</p>
<p><strong>3)How many Cashew nuts can be consumed per day?</strong></p>
<p>4 to 5</p>
<p><strong>4)Is this available for wholesale?</strong></p>
<p>YES</p>
Best
Nice flavor. Very well packaged .Very tasty and filling
Good one
crunchy , fresh , taste good
Good Quality
Really amazing taste and crispy cashew...my kids loved it a lot. Awesome must have party snack for all parties
Worth Buying
My favorite product from healthy master. nic taste