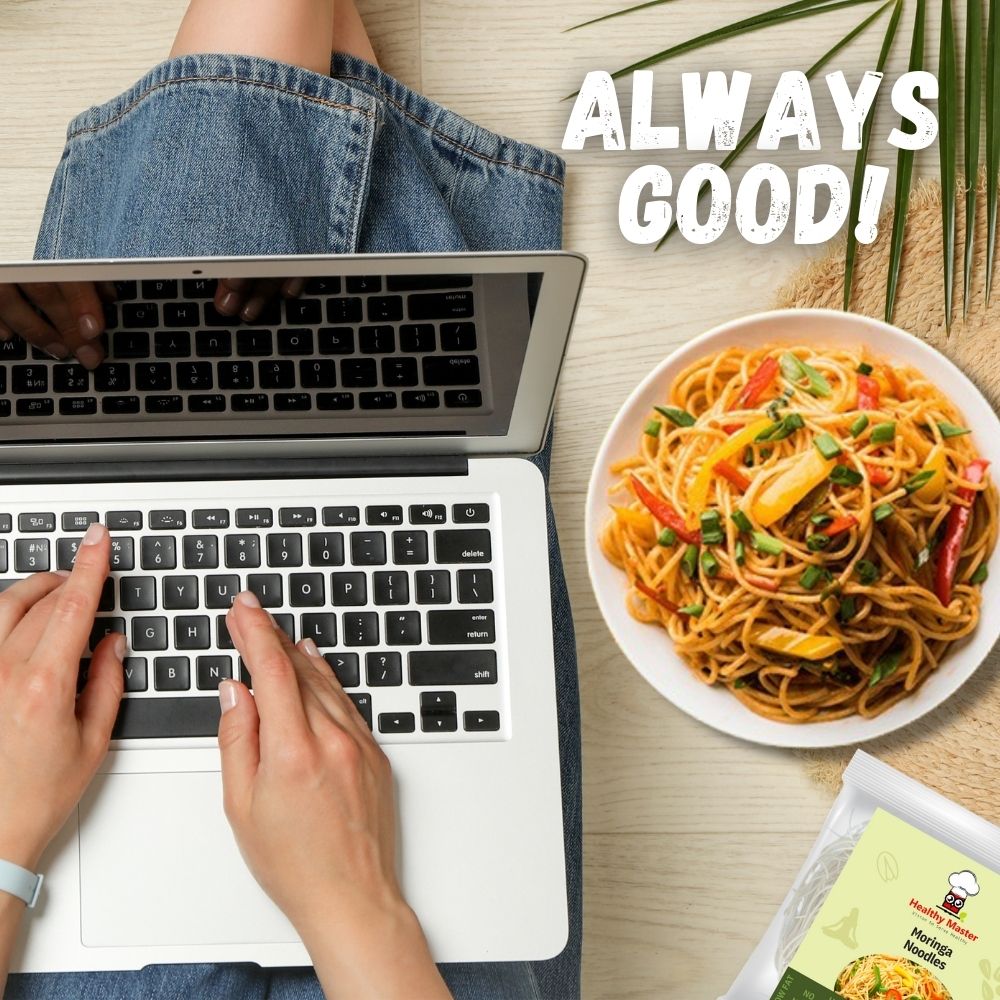 Healthy Millet Noodles and Vermicelli Combo
165 people are viewing this right now
Sale price
₹ 415.00
Regular price
₹ 540.00
Tax included.
Get 25% Off upto ₹300 on Flavoured Nuts, Min. Order Value ₹699
10% discount on first order using code HELLO10, Min. Order Value ₹699 *Not Aplicable in Dryfruits and Gift Boxes
Freebies on orders above Rs. ₹700
Free delivery on all orders above ₹699

Guarantee safe & secure checkout
PAN India Free Shipping : On all orders over 699
Healthy Millet Noodles and Vermicelli Combo
Sale price
₹ 415.00
Regular price
₹ 540.00
Millet Noodles are a healthy alternative that tastes delicious. These noodles not only taste good but also have many health benefits. There are many reasons why millet is gaining popularity. One of the most notable ones being it's gluten-free and actually a healthier alternative for wheat-based noodles. Millet is a functional food. It has been proven to reduce cholesterol, lower blood sugar and it contains all essential amino acids. Some obvious benefits of millet are that it is gluten-free, high in fiber, and a good source of vitamins and minerals. It can also be an excellent alternative to wheat if you have a sensitivity to gluten or flour. Buy Millet Noodles from the healthy master.
Millet vermicelli is a delicious, high-fiber alternative to your everyday pasta. It can even help lower cholesterol levels and blood pressure making it a true superfood. Like other grains, millet contains all of the essential amino acids and is rich in B-complex vitamins, especially thiamin, niacin, and folic acid. Buy Millet Vermicelli Online at Best Price India from the healthy master.
All our produced noodles are 100% made from non-genetically modified (non-GMO). Our vitamin-rich noodles contain no preservatives, additives, or colorings. Our product is suitable for people who have gluten sensitivity and also for those individuals who are health conscious. Buy online Ragi Noodles from the healthy master. 
This combo is high in fiber

Good for kid's health

Millet-based noodles & vermicelli also serve better for diabetic patients

Helps in weight loss.

Good source of antioxidants.

This combo is also good for Low in calories and high in dietary fiber and reaches in Iron.
<p>Millet Noodles &amp; Vermicelli Combo&nbsp;consists of</p>
<p>1. Millet Noodles- 200 gm</p>
<p>2. Ragi Noodles- 200 gm</p>
<p>3. Moringa Noodles -200 gm </p>
<p>4. Quinoa Noodles - 200 gm </p>
<p>3. Millet vermicelli- 190 gm</p>
<p><strong>1)What is the storage and shelf life of&nbsp; Millet Noodles?</strong></p>
<p>It can be stored in an airtight container and the shelf life is 4months</p>
<p><strong>2)What is special about Healthy Master's Millet Noodles?</strong></p>
<ul>
<li>No Maida</li>
<li>No Preservatives</li>
<li>No Artificial Flavor &amp; colors</li>
<li>No MSG</li>
</ul>
<p><strong>3)Is it Vegan?</strong></p>
<p>Yes</p>
<p><strong>4)Can this be given to kids?</strong></p>
<p>YES It is easy to digest, ideal for 3+ years kids and above &amp; suitable for all age groups</p>
<p><strong>5)Is it Diabetic Friendly?</strong></p>
<p>YES</p>
<p><strong>6)Does it include Taste Maker?</strong></p>
<p>YES without any added colors or preservatives</p>
<p><strong>7)Is it Ready to Eat?</strong></p>
<p>No. But It can be easily cooked in 10minutes</p>
great alternative for fast food noodles
With great high quqlity of ingredients that we can feel while tasting purely no maida
Tastes good
This is different type of millet noodles which tastes so good and our whole family likes it
An healthy option
Bought these combo which is again added to my shopping list.An easy way to add millets in our kids diet
Eat healthy stay healthy
As we know health is wealth nowadays we all addicted to junk food now we got best product without maida