Blog
A comprehensive review of Healthy Master's product range
by Mary James on Sep 22, 2023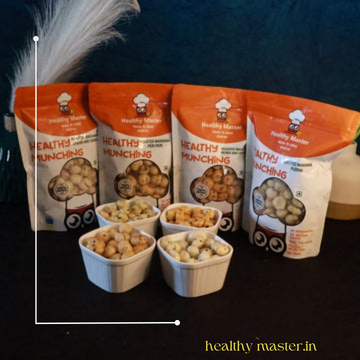 A comprehensive review of Healthy Master's product range
In the fast-paced environment of today, maintaining a healthy lifestyle may be difficult.
It's critical to locate scrumptious and wholesome food selections that satisfy your own dietary requirements. On the other side, Healthy Master fights against this because it is a well-known brand in the health food industry with a large range of goods designed to meet these needs. 
The delectable and healthy items offered by Healthy Master include breakfast cereals, organic sweeteners, ready-to-cook food packets, and healthy snacks. In this article, we'll take a close look at the products that Healthy Master offers, focusing on things like their flavor, nutritional value, and suitability for different dietary needs.
Top 15 Products By Healthy Master
The typical fried Mathri is replaced by this healthy snack. These corn-based baked crackers provide a fair amount of protein and are a good source of carbohydrates. They have low saturated fat and a pleasant crunch. In addition to improving flavor, spices provide certain antioxidant advantages.
The snack also has a fantastic fusion of savory and spicy ingredients. They make a great snack because they are delicious and crispy.
Without dominating the corn's inherent flavor, the spice deepens the flavor.
These vegetarian mathris are acceptable for the majority of diets. However, because they include maize flour, people with gluten sensitivity should use caution. Overall, they are a fantastic substitute for conventional fried snacks and a perfect option for anyone looking for a tasty yet healthy snack.
Nutrient-rich, the black pepper peanuts are. Popular food that has healthy fats, protein, and fiber is peanuts. Black pepper may provide other health advantages, including as improved digestion and antioxidant properties, in addition to its flavor-enhancing properties.
A lot of black pepper is included in these crunchy peanuts. They have a somewhat spicy kick along with a naturally occurring nutty flavor. Because of the evenly distributed flavor, they make a good and full snack.
Try black pepper and peanuts if you're a vegan looking for plant-based protein. Additionally, they are gluten-free, which makes them a fantastic choice for anyone who are gluten intolerant. Whether you need a filling pick-me-up or a high-protein snack, these peanuts are ideal.
As an alternative to normal potato chips, a packet of baked soy chips would be preferable.Due to their high protein content, they are a fantastic high-protein snack choice.
These chips offer important nutrients like calcium and iron while being low in saturated fat. These chips' peculiar soybean flavor is not for everyone.
Despite how crunchy they are, some people might not enjoy the flavor.
Some people may adore the peculiar soy flavor of these crunchy chips.Since they are suitable for vegans and vegetarians, these chips make a great addition to plant-based diets.
They are excellent for anyone with a gluten intolerance because they are gluten-free.
Due to their high protein content, they are a fantastic choice for people looking to improve their protein intake in a snack.
Goji berries are tiny, crimson fruits with potent anti-inflammatory and antioxidant effects. They're not only excellent and flavorful, but they also provide a splash of color to your meal.
They have been used in conventional medicine for many thousands of years and are renowned for their sweet, somewhat tart flavor, as well as for their vivid red color. In fact, they are believed to strengthen your liver, kidneys, and lungs as well as reduce the effects of ageing and maintain eye health. 
These berries are naturally vegan, gluten free, and work great with most diets. They are all great snacks to add to your diet.
A Millet Ball The major component in this unique cuisine, called peri peri, is millet, which has the outstanding properties of being high in fiber and vitamins. Due to the addition of Peri Peri flavor, which creates a wonderful mix, these millet balls make a perfect snack.
This snack ought to be your go-to choice if you enjoy a little extra heat in your food.
The Peri Peri flavor works well since it preserves the snack's essence while introducing variation. Due to its vegetarian and gluten-free status, this snack is suitable for any dietary requirements.
However, if you can't handle a little extra spice then there are other options that include the Millet Balls Cheddar Cheese which aren't hot on your tongue. This snack does great by combining mouthwatering flavor with nutrition.
When compared to its fried counterpart, the Baked Bhakarwadi is unquestionably a healthier option. They do include some fibre and less saturated fat as well. Despite having little protein, they nonetheless delight your taste buds while using the least amount of oil.
The baked Bhakarwadi has the same authentic flavour as the fried snack, without a doubt. Spices and flavours are used in moderation without being overdone. It works well for the great majority of diets.
However, if you are a person that preferes gluten free snacks, you should know that there is wheat flour included. Other than that you can definitely give this snack a try as its a great and a health conscious selection. 
A healthy alternative to conventional potato chips is baked ragi chips. Ragi, sometimes referred to as finger millet, is a grain that is incredibly nutritious and full of fiber and minerals. These chips have a satisfying crunch and have little saturated fat.
The flavor profile of baked ragi chips is unique thanks to the ragi grain.
Since they are crunchy and have a delectable earthy flavor, they are a unique and healthier substitute for conventional potato chips. Because they are vegetarian and gluten-free, these chips are perfect for a range of dietary requirements.
Millet Snacks Pudhina is a delicious snack that contains a fair amount of minerals, fibers, and vitamins. The mouthwatering twist is accomplished by the pudhina spice or the mint spice which is quite a welcoming flavor that is pretty unique in the taste.
If you are the type that prefers some minty coolness with your snack while having your crispy moment, then this snack is definitetly for you. It also is quite nutritional and has a unique flavor that gives you a baggage of tasty and healthy in one take.
A combo snack called Makhani Peri Peri combines the rich, creamy flavor of makhani sauce with the heat of peri peri flavor. These snacks contain a moderate quantity of fat and carbohydrates.
A distinctive flavor profile is produced when makhani and peri peri are combined. A savory and somewhat tangy flavor is produced by balancing the peri peri's heat with the makhani sauce's smoothness. The crisp texture improves the whole eating experience.
Despite being vegetarian, the peri peri seasoning in Makhani Peri Peri snacks may not be suitable for those who are sensitive to specific spices. These snacks stand out from typical snacks thanks to their distinctive flavor.
The flax seeds coin khakhra is a nutrient-packed snack made with whole wheat and flax seeds. Due to their high levels of fiber, omega-3 fatty acids, and other minerals, flax seeds make a fantastic food source.
Khakhras are famous for having a mild and crunchy flavor. These coin-shaped snacks have a somewhat nutty flavour and crunch from the flax seeds that have been added. They may not have a lot of flavour on their own, but pairing them with dips or spreads will give them more flavour.
Flax Seeds Coin Khakhra is a vegetarian food that also has a lot of dietary fibre. Given that flax seeds taste like nuts, it might not be acceptable for people with nut allergies. However, they provide a fantastic way to incorporate the health benefits of flax seeds into your diet.
A great gluten-free substitute for regular wheat noodles is quinoa millet noodles. With a good dose of protein, dietary fiber, vitamins, and minerals, these noodles blend the nutritional advantages of quinoa and millet. Despite being vegetarian, the peri peri seasoning in Makhani Peri Peri snacks may not be suitable for those who are sensitive to specific spices.
These snacks stand out from other kinds of snacks because of their distinctive flavor.
They are a fantastic option for anyone who has to avoid gluten or wants to eat more whole grains. Due to their flavorful and well-balanced texture, quinoa and millet noodles can be added to a variety of dishes.
Since they rapidly absorb the flavors of sauces and seasonings, they are ideal for a number of culinary applications. These noodles are a great choice for vegans, vegetarians, and people who are gluten intolerant.
If you aren't into cooking much or you are quite busy for the day then a great addition to your list of products to buy would be the Instant Quinoa Dalia Mix which is a practical and a rewarding selection. 
The two ingredients Quinoa and Dalia are abundant in fiber, minerals and protein. This combination makes a great idea for a nutricious supper, breakfast or lunch since it is also rich in carbohydrates. You can also add in your own ingredients and vegetables to enhance the flavor depending on your preference.
This mixture is gluten free and works  alright with most of the diet plans. It is a great and nutriitious substitute for those who are really occupied or have certain dietary restricitons.
This snack is packed with tons of nutrients. The nuts work by supplying your body with healthy fat and protein, while the oats offer healthy fiber and energy that lasts for a long time. 
The berry additions boost the concentration of antioxidants and are a natural sweetener.
As you eat this granola, you could find yourself experimenting with a delicious combination of flavors. Whether you choose to eat it with milk or on its own is up to you.
Granolas also work great, as they can fit into a number of diet plans. If you are lactose intolerant, only eat gluten free foods, and follow a plant based diet, then this definitely is a flexible and healthy option for you.
The benefits of oats and the decadence of chocolate are combined in oat chocolate granola.  It provides whole grains, beneficial fiber, and a touch of chocolate's deliciousness.
In comparison to the typical sugary cereals, it is a better choice.
This granola's chocolate flavor gives breakfast or snacking a sweet and delicious touch.
It's a wonderful way to get the health advantages of oats while still eating something delicious.
This granola mixture can be modified to meet different dietary needs.
It may be combined with milk or yogurt, or it may be used as a garnish for desserts and smoothie bowls.
An extremely nutrient-dense snack and ingredient in food preparation, sunflower seeds.
They are a great source of essential vitamins and minerals like magnesium and vitamin E, as well as good fats, protein, fiber, and fiber.They are well known for their potential health benefits, which include improved skin and cardiovascular health.
Sunflower seeds have a lovely flavor and a light nutty texture.
They can be used as a garnish for a variety of foods, including salads and baked goods, or consumed on its own as a snack.
Sunflower seeds are great for most diets because they are naturally gluten-free and vegan.
They are versatile ingredients that can enhance the flavor and nutritional value of many meals, making them a must-have for diners who are concerned about their health.
Verdict
The product line from Healthy Master has a wide variety of healthy and delectable snacks to suit various palates and dietary requirements. Whether you're looking for a protein-rich snack, a spicy and delectable replacement, or a superfood boost, Healthy Master has a lot to offer.
These snacks are a significant choice for health-conscious persons searching for tasty and nutrient-dense snack options despite the fact that tastes may vary due to their nutritional value and suitability for a variety of dietary requirements.
In a society where healthy eating is becoming more and more important, it also stands out for its commitment to providing dietary-specific, properly balanced alternatives to snacks without losing taste.Whether you desire to eat healthier or have certain dietary restrictions, the Healthy Master product range provides a simple and delectable way to do it.
Whether you desire to eat healthier or have certain dietary restrictions, the Healthy Master product range provides a simple and delectable way to do it. Products from Healthy Master show their dedication to promoting healthy living by providing enticing and nutritious snacks with an emphasis on premium ingredients and cutting-edge flavors.
Frequently Asked Questions
Does Healthy Master provide gluten free products?
The nutritional needs of those who are gluten intolerant or follow a gluten-free diet are, in fact, known to Healthy Master. People with unique dietary needs can consume delicious and secure options without sacrificing nutrition or flavor thanks to their wide selection of gluten-free products.
What are some of their nutritionally superior standout products?
A wide range of goods from Healthy Master stand out in terms of their nutritional content. Their Goji Berries stand out among them. These berries are packed with vitamins, minerals, and antioxidants and could have a range of positive effects on your health.
Additionally, because they offer a gluten-free, high-protein substitute for conventional wheat noodles, their quinoa millet noodles are a terrific supplement to nutritious meals.
Another remarkable item is sunflower seeds, which are a superb source of protein, healthy fats, and various other nutrients.
Are Healthy Master's snacks appropriate for managing weight?
Yes, Healthy Master works great when it comes to maintaining your weight since they give you abundant product options tailored specifically towards health-conscious snacks. These products are calorie efficient and they help balance your diet plan making them a great remedy when it comes to maintaining your weight without cutting out flavor.
You can also add these items to your diet that focuses on minimizing calories to encourage a favorable snacking behavior.
Can I find snacks with distinctive flavors?
Absolutely! Snacks with distinctive and alluring flavors are something Healthy Master takes great satisfaction in giving. For example, their Makhani Peri Peri snacks mix the rich, creamy flavor of makhani sauce with the spiciness of peri peri flavor to produce a singular snacking delight. 
A delicious combination of flavors, textures, and natural sweetness distinguishes their Nuts & Berry Oats Granola and Oats Chocolate Granola from other types of treats.
Do they have kid-friendly snacks?
Yes, healthy Master provides kid friendly snacks that are a great option for those parents looking out to purchase a healthy snack for their children. However, as a parent you must take your kid's nutrition, preferences, and dietary requirements into mind before purchasing.
You should ensure that you check on the product information before making a purchase to confirm that it aligns with your kid's preferences. There are numerous nutritious options provided by Healthy Master specifically for your kid.