Blog
Allergen-Friendly Foods And Healthy Dinner Ideas
by Mary James on Nov 20, 2023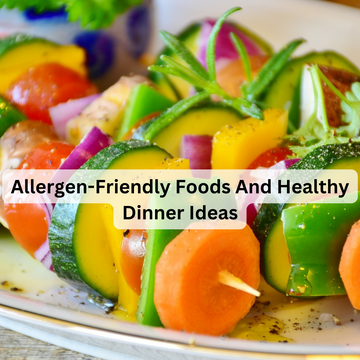 Allergen-Friendly Foods And Healthy Dinner Ideas
It can be difficult to navigate meal choices when one has allergies, but fortunately, there is a vast array of allergen-friendly foods available. There is an abundance of delicious, secure options available, regardless of the dietary restrictions you face, such as nut allergies or gluten intolerance. 
These dishes are a celebration of various flavours and textures, carefully prepared so that everyone can enjoy eating without concern. In this blog, we shall look at the different options of allergen-friendly food that you can consume.
What Is A Food Allergy And How Does It Affect You?
An abnormal immune response to specific foods is known as a food allergy. It results from your immune system misinterpreting certain food proteins as dangerous. Your body then initiates a series of defence mechanisms, such as the release of inflammatory chemicals like histamine. 
Even a very tiny exposure to the violating food can trigger an allergic reaction in someone with a food allergy, such as vomiting, diarrhoea, an itchy rash, or even low blood pressure.
Top 6 Allergen-Friendly Foods
Meals
Chana masala 
In addition to being a delicious and allergy-friendly Indian dish, Chana Masala is also highly flavorful. Typically, common allergies like dairy and gluten are absent in this savoury dish, which consists of chickpeas in a spiced tomato-based sauce. 
Chana Masala is a satisfying option for people on a restricted diet because it is full of fibre, plant-based protein, and a variety of aromatic spices. Furthermore, it offers a heart-healthy choice that promotes digestion and offers an appealing way to include important nutrients in your diet.
Idli with Coconut Chutney
Eating idli with coconut chutney is not only a delicious Indian meal, but it's also very easy to prepare for allergy-conscious diets. Made from fermented rice and urad dal, idli is naturally gluten-free.The flavour is enhanced by coconut chutney, which doesn't contain any common allergens. 
This pair ensures a delicious and safe experience by accommodating a range of dietary requirements. Also, remember to avoid the inclusion of peanuts when preparing the chutney, as some people do have peanut allergies. 
In addition, Idli's fermentation process makes it more nutrient- and digestibility-rich and gut-friendly. Idli with coconut chutney, which is full of probiotics and low in allergens like gluten is a healthy and welcoming dish. 
Snacks
Makhana (Fox Nut) Snack
Makhana, also known as Fox Nut, is a game-changer for people looking for foods low in allergens. Makhana provides a guilt-free snacking experience because it is free of gluten, nuts, and allergenic proteins. 
Nutrient-dense, high in protein, fibre, and antioxidants, it's a favourite among those who are health-conscious. It is also ideal for both savoury and sweet cravings due to its light, airy texture and adaptability. 
Makhana is the perfect snack for people on a restricted diet because it can be served with honey or spiced up with chaat masala, making sure that everyone can enjoy the pleasure of allergy-friendly snacking.
Sesame Seed Laddu
You can enjoy snacking on the delicious Indian snack called sesame seed laddu, which is suitable for those with allergies. Made without common allergens like ghee and nuts. These bite-sized treats are made with roasted sesame seeds and jaggery.
Sesame seeds, which are naturally sweet and nutty, complement the natural sweetness of the jaggery. These ladoos have advantages in addition to being delicious, which means they are rich in calcium, iron, and good fats. Sesame seeds promote bone health and give you a boost of energy. 
Drinks
Coconut Water with Mint (Nariyal Pani)
You can savour the pure refreshment of coconut water with mint, which is a traditional Indian beverage that is safe for those with dietary allergies. It is made by combining naturally sweet coconut water with the energising power of fresh mint.
It's a tasty treat free of common allergies. This refreshing drink is a great option for people who have dietary sensitivities because it replenishes electrolytes while also satisfying your taste buds on a hot day. 
Masala Chai (Spiced Tea)
Masala Chai is a warming Indian beverage that is free of allergens. This spiced tea, brewed with warming spices like cardamom, cinnamon, and ginger, is made even more amiable by using soy or almond milk substitutes, which are great plant-based options, especially for those who are lactose intolerant.
Masala Chai not only meets a variety of dietary requirements, but it also exudes cosiness and familiarity. It provides benefits beyond just its mouthwatering flavour, which provides your body with stronger immunity, better digestion, and a calming effect on the senses.
For that reason, allergen-friendly Masala Chai is a delightful option for any tea lover. This tea is  a great option for people with lactose intolerance issues.
Takeaway 
The emphasis on inclusivity in the world of allergy-friendly cuisine has made eating out safer and more pleasurable. These options redefine the culinary experience by providing a seat at the table for everyone, from wonders that are gluten-free delights to diary-free options. 
These choices demonstrate a thoughtful and accommodating attitude towards food. Visit Healthy Master for a wide range of healthy snack products.