Blog
Healthy Food for Kids: A Guide to Balanced Food for Kids
by internal bsocial on Aug 11, 2023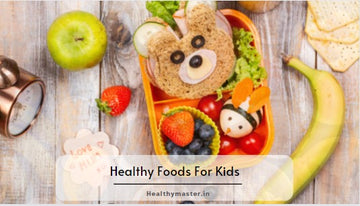 Food for Kids. As easy as it sounds, it is equally challenging to know, make, and feed it to the kids.
As children grow up, there are many changes in their food habits. They need something or the other between meals, and it becomes difficult to provide them with nutrients.
Being a parent, you need to know about healthy nutrients for kids. You need to know which food is healthy for them and which is not. You should also know when and how much you can give to your kids.
You will get this information quickly in this article. Let us first know the importance of healthy food for kids.
10 Healthiest Foods for Kids
Milk
Milk is essential food for kids' growth and development. It is rich in protein, vitamin D, and calcium. It contains less saturated fat making it healthier choice for kids and people for all ages. Some facts on milk are as follows:
Babies below age 1 shouldn't have cow's milk.
A regular cow's milk includes both A1 and A2 beta-casein.
It is recommended that children over two years of age drink low-fat milk. Full fat milk contains extra kilojoules (energy) and saturated fat, which is harmful.
If your kid doesn't like plain milk, you have option for flavored milk. But, you need to check its nutritional value, sugar used, low/high fat and more.
People who suffer from lactose intolerance can use dairy alternatives such as soy, rice and almond milk.
Children and teenagers do not get enough calcium, according to the Australian National Children's Nutrition and Physical Activity Survey. Therefore, encouraging drinking milk—even flavored milk—is crucial.
According to a study conducted in the United States, kids who drink plain or flavored milk get more essential nutrients without increasing their body mass index (BMI).
Nutritional value of 1 Cup Milk
 

Nutrients​

 


Low-Fat Milk ​

 


Full-Fat Milk​

 

Calories

102 

146

Fats

2mg 

8 mg

Cholesterol 

12mg 

24 mg

Sodium 

107mg 

98 mg

Proteins

8 mg

8 mg
Beans
Beans are a high source of protein. As we know, proteins are the building block of our body, thus, playing an essential role in a child's growth. Some facts on milk are as follows:
Also, beans are good sources of Vitamin C, A, folic acid, dietary fiber, antioxidants, and minerals.
It takes a little time to prepare. So it is an excellent option to add to your kid's food.
It prevents your child from the common cold, cough, and similar health ailments.
It helps in regular bowel movement that promotes good gut health.
Nutritional value of Bean ( 

347 Calories /

100 Grm)
| | |
| --- | --- |
| Nutrients | 347 Calories / 100 Grm |
| Total Fat | 1.2 g |
| Cholesterol | 0 mg |
| Sodium | 12 mg |
| Potassium | 1,393 mg |
| Carbohydrate | 63 g |
| Protein | 21 g |
Boiled Eggs
One large egg delivers a high-protein snack with vitamin D, B12, and iron benefits. Many parents need clarification about when to start feeding their babies whole eggs. So, it is recommended to give well-cooked entire eggs into your child's diet in the first year of their life. It is after six months of age but not before four months. It keeps children away from allergies.
Protein and essential nutrients help support a child's growth and development.
Nutritional value of 1 Hard Boiled Egg 
| | |
| --- | --- |
| Nutrients | Value of 1 Hard Boiled Egg |
| Calories | 72 |
| Total Fat | 5 grams |
| Saturated fat | 1.6 grams |
| Cholesterol | 206 milligrams |
| Sodium | 65 mg |
| Carbohydrates | 0.5 gram |
| Sugar | 0.1 gram |
| Protein | 6 grams |
Banana Oat Cookies
Kids may enjoy a healthy snack that tastes like a treat with homemade banana cookies. When it combines with oatmeal, it adds more dietary fiber to the food. It offers kids long-lasting energy keeping them full for long periods. Instead of using refined sugar, mashed bananas give these cookies their sweetness. Thus, it reduces the health problem associated with refined sugar, like chronic heart disease, childhood obesity, and type 2 diabetes.
Oatmeal Banana Cookie - 1 medium (3" diameter) 149 Calories
Oatmeal Banana Cookie - 1 small (2" diameter) 94 Calories
Baked Sweet Potato
Sweet potato benefits kids with constipation and comes immunity boosting foods for kids category. Thus, it considers the required nutrient for their growth. Sweet potato is fiber-rich, containing beta-carotene, Vitamin A, and many calories.
You can start feeding sweet potatoes to your baby when he turns six months old. Also, it is great for making snacks. Thus, you can make baked chips and fries for your babies.
Nutritional Value of Sweet Potato
| | |
| --- | --- |
| Proteins | 1.6 grams |
| Omega 6 | .01 grams |
| Fibre | 3 grams |
| Carbohydrates | 20.1 grams |
| Calories | 86 |
| Calcium | 38 mg |
| Iron | 0.7 mg |
Nuts and Seeds
Nuts and seeds can be considered crunchy and nutritious snacks for your kids. It contains fiber, protein, and healthy fats. Mixing it with your kid's daily meal will give him the necessary nutrients for their growth, saving them from allergies. Add cashews, walnuts, almonds, sunflowers, chia seeds, and more.
Whole Grains
Whole grains are full of nutrients, complete kids' daily fiber needs, and make them real. High-fiber whole-grain foods for kids include oatmeal, whole-wheat snack, brown rice, whole-wheat tortillas, and whole-wheat bread.
Fruit Smoothie
Fruits are a healthy option to meet the nutritional needs of your kids. Fruit smoothies are a great way to pack a lot of nutrients in a small snack. Due to the sweetness of the fruit, your child will easily consume it and get complete nutrition. Use fresh fruits and avoid packed fruit juices high in sugar.
Tips for Parents Getting Kids to Eat Healthy Foods
Schedule Meals and Snacks
Kids require three meals, two snacks, and plenty of fluids every three to four hours. If you make preparations for these, your child's nutrition will be much more balanced, and they'll be less irritable.
Plan Per Day Menus in Advance
Plan your daily diet two or three days before so you can add better options for food every time. A balanced meal should include whole-grain bread, rice, or pasta; a fruit or vegetable; and a protein source such as lean meat, cheese, or beans. A good meal should be fancy or complex. Thus, you need to work on healthy food chart for kids.
Snack Smarter
Snack is an essential part of the kid's whole day meal. It satisfies his mid-meal cravings. Thus, parents need to choose snack wisely, which is full of fiber, proteins, calcium, and other healthy ingredients.
Make Healthy Food Fun
If your child doesn't eat vegetables, experiment with sauces and dips and try making them bloom. This will help in making their food tasty.
Get Your Kids Cooking
If your kids get involved in choosing or preparing a meal, they'll be more interested in eating what they've made. Take them with you to the grocery store, let them help you prepare meals, and allow them choose what they want to eat.
Get Creative with Meals
The more creative the food, the more the child will be interested in eating various food. You can make smiley-face pancakes and other food items by combining different nutrients.
Conclusion
Every parent worries about what to feed their children between meals when they are hungry.
For this, choosing healthy snacks is the only solution. Also, you should aware of food pyramid for kids. From this article, we got information about the essential nutritious foods that give the kids the required energy.
We recommend choosing foods high in fiber and made from whole grains as snacks. By making these smart choices, you can aid your child's growth and well-being while controlling their appetite.