Blog
Detailed Dry Fruits Guide: How Many Dry Fruits and Nuts to Eat in a Day - Healthy Master
by healthy master on Jul 31, 2022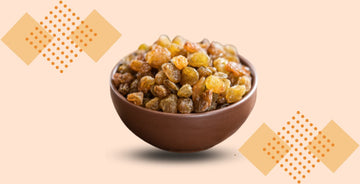 Dry fruits are a good source of essential vitamins, minerals, fibre, and proteins. Their incorporation into a daily diet has many health benefits, like preventing lifestyle diseases, boosting immunity, strengthening bones, reducing cholesterol levels, and improving skin and hair health, among others. Dry fruits are the perfect substitute for daily unhealthy snacks. That's why they are popularly known as "superfoods". Though it is true to include dry fruits in your diet, it is equally important to know how many dry fruits one should eat in a day to reap the maximum benefits and to lower the side effects of overeating dry fruits.
If you are looking to know how many dry fruits to eat daily, then this blog is for you. We have compiled everything under one umbrella.
Healthy Master offers an impressive range of nuts and dry fruits like almonds, raisins, apricots, figs, and berries, among others. They contain zero preservatives and zero added flavors.
Raisins
Raisins are a rich source of soluble fiber, thus aiding digestion and reducing stomach-related issues. Additionally, raisins have tartaric acid protein, which has anti-inflammatory properties. This protein helps in improving intestinal function and helps in regulating the balance of bacteria in the gut.
If you are looking to gain weight, then it is recommended to incorporate raisins into your diet. As kismis are rich in fructose and glucose, they help in gaining weight without increasing the level of bad cholesterol. To gain weight, it is recommended to eat 100 grams of raisins (kishmish).
However, on the other hand, if you want to lose weight, complement your exercise with the intake of raisins. Kishmish is a good source of antioxidants like phenols and polyphenols. These antioxidants help in fat breakdown and increase the level of good bacteria, which supports digestion. Additionally, they reduce your calorie intake. In short, if you want to lose weight, add raisins to your diet.
How many raisins (kishmish) to eat in a day?
The daily consumption of raisins should be roughly 8-10. As raisins are high in sugar and calories, excessive eating of raisins would result in weight gain, besides hampering digestive health.
The best way to incorporate raisins is to eat soaked ones. The best time to eat soaked raisins is in the early morning on an empty stomach.
Nuts
Incorporating nuts as a part of a healthy diet helps improve heart health. They contain most of the minerals and vitamins that your body needs. They are a rich source of Omega-3 fatty acids. The fat in the nuts is majorly unsaturated fat, which keeps you satisfied and full, therefore lowering your cravings with time. Nuts are beneficial for those who are working hard to lose weight. Incorporate a rich range of nuts like almonds, pistachios, cashews, walnuts, hazelnuts, and more into your diet. Shop for the Daily Powder Booster from the Healthy Master, which has a mixed variety of nuts.
It is important to note that nuts are high in calories, so it's important to know the right portion of nuts to eat daily.
How many nuts to eat in a day?
As per the experts, the daily consumption of nuts should be 30 grams.
However, the consumption of nuts varies from person to person depending on the condition. For example, a pregnant woman should take 60 gm of nuts in the first trimester, 90 gm in the second trimester and around 100-120 gm in the final trimester daily. If you have type 2 diabetes, eating nuts five days a week lowers your risk of heart disease.
Apricot
Apricots, known as khumani (in hindi), are low in fat but rich in vitamin A and beta-carotene. They can help with digestion, constipation, earaches, fever, skin conditions, and anaemia, among other health issues. Apricot is also said to be beneficial for the skin. Besides being rich in fibre, they're high in polyphenol antioxidants, which protect against illnesses, including diabetes and heart disease.
How many apricots to eat per day?
Apricots are a good source of fiber, potassium, and vitamin C, which help lower blood pressure. It is advisable to eat 4-7 pieces of apricots daily to reap their benefits completely. If you have high cholesterol levels, it is advisable to include apricots in your diet as they keep cholesterol levels low.
Also Read: 8 Benefits of Eating Apricots
Figs
Also known as anjeer, figs are packed with vitamin A, vitamin C, vitamin K, potassium, magnesium, zinc, copper, manganese, and iron. Yes, you can eat figs (anjeer)daily due to their immense health benefits. As figs contain fibre, they improve digestion. Due to the presence of antioxidants, figs help in managing skin problems.
How many figs to eat daily?
It is advisable to eat 2-3 figs per day. The best way to eat anjeer is to soak them overnight and eat them in the morning on an empty stomach. Especially for pregnant women, anjeer is recommended. As it is packed with nutrients, incorporating figs into a healthy diet helps in the development of the foetus.
However, if you eat anjeer (figs) in excess, you might face issues with bloating and an upset stomach.
Also Read: 5 Benefits of eating Soaked Figs
Berries
Berries are delicious and healthy snacks that are a perfect substitute for unhealthy fried chips and maida noodles. They are loaded with antioxidants that minimise free radical injury in the body. They are a perfect weight-loss snack as they are rich in fibre. Since almost all berries contain around 85% water, they are a perfect breakfast snack.
How many cranberries to eat in a day?
The serving size that is recommendable for cranberries is 1/4 cup. The overconsumption of cranberries might result in stomach upset and diarrhea.
How many Goji berries to eat in a day?
Goji berries contain high levels of zeaxanthin, an antioxidant that helps in improving vision. The presence of vitamins A and C improves immunity. Additionally, Goji berries contain beta-carotene, which promotes healthy skin.
Though they are small in size, you have to be mindful of how many berries are you eating. It is advisable to eat 20 to 30g of goji berries per day.
Takeaway
Healthy Master offers a wide range of healthy snacks, dry fruits and nuts. They contain no preservatives and are rich in fibre. While dry fruits and nuts should be a part of a healthy diet. However, the right amount of consumption is very important, or else excessive eating of dry fruits and nuts does more harm than good.