Blog
Diabetes Diet - 7 Must-Have Super Healthy Indian Snacks  
by healthy master on Oct 30, 2022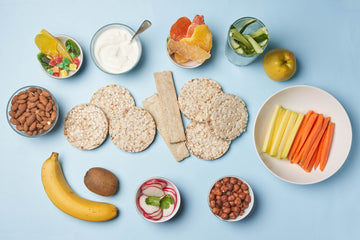 Have you recently found that you have diabetes? Don't worry, you can lead a normal life too. All you have to do is tweak your diet and eating habits. Make your diet more protein and fibre rich, and incorporate evening snacks that have a low glycemic index.
Since diabetes is a life-threatening condition, it puts a person at risk of many serious diseases like obesity, cardiovascular issues, kidney failure, etc., to name a few. You have to be conscious of what you are eating.
We have curated a list of the 7 best Indian snacks for diabetic patients like you. These snacks are packed with nutrients, rich in fibre, keep you full for a long time, and help you curb your sudden hunger pangs. Furthermore, they are delicious.
1. Baked Quinoa Chips
Being a foodie and a diabetic patient is a nightmare combination. You have to be conscious of what and when you are eating. If you have been compromising on the taste to keep the sugar level under control, then there is good news for you. Baked quinoa chips are your new go-to chips to satisfy your hunger pangs without compromising on your health.
Quinoa chips at Healthy Master are prepared with the oven-baking method, so they are baked, not fried. Furthermore, the dietary fibre and protein content in quinoa keep blood sugar under control. You can order the delicious and diabetes-friendly quinoa chips here.
2. Idli
With diabetes, you have to be very choosy about what you eat. The perfect South Indian diabetic snack for your late evening cravings is Idli. Yes, you read it right. You can either go for the fenugreek seeds idli or the moong dal idli.
Fenugreek seeds are rich in fibre content, which means fenugreek seeds take time to digest. There is a slow release of sugar in the bloodstream, thus preventing a sudden spike in blood sugar levels. Moong dal idli is an equally diabetes-friendly south Indian dish. Moong dal is rich in protein, which keeps you full for a long period of time, thus preventing regular hunger pangs.
Moong dal idli and fenugreek seed odli are two of the delicious and light evening snacks for diabetic patients in India.
3. Millet Vermicelli
If you have been neglecting your breakfast for a long time, then you must worry about your blood sugar level. For your diabetes, it is important to have a proper breakfast as it helps control blood sugar for the rest of the day.
Millet Vermicelli from Healthy Master, apart from being sumptuous, is a perfect diabetes friendly breakfast for you. Milet is a perfect combination of protein and healthy fats, thus balancing your sugar level. Furthermore, milets have a low glycemic index, which means that your blood sugar level doesn't spike suddenly after breakfast. You can order the millet vermicelli here.
Also Read: 5 Best Millets for Weight Loss
4. Dhokla
How many times have you avoided eating dhokla at a get-together because you were afraid of a blood sugar spike? If you have not been eating dhokla for a long time, now is the time to change this habit. To your surprise, Dhokla, a famous Gujrati snack, is among the best evening snacks for diabetic patients.
Dhokla, made of fermented rice and chickpea flour, is beneficial in many ways. Aside from being low in calories, it is high in dietary fibre and protein, both of which aid in blood sugar regulation. As the cooking method involves fermentation, the nutritional values of the flour are preserved, which in turn is good for gut health.
5. Instant Ragi Upma Mix
Another wholesome and nutrient-rich Indian breakfast for diabetic patients is Ragi Upma Mix. Ragi upma mix is a perfect blend of taste and health. It is gluten-free and high in protein and fibre. It keeps you full for a longer time, thus cutting your sudden hunger pangs.
Ragi is known for its nutritional values like anti-microbial, antioxidant, and anti-diabetic. Furthermore, it is a rich source of protein, vitamin A, B complex, and phosphorus. You can replace white rice and wheat with ragi because ragi regulates blood sugar levels. Ragi keeps you fuller for a long time, thus cutting down on your munching on unhealthy snacks, which in turn helps in weight loss.
Also Read: Why Should you Add Ragi to Your Diet?
6. Barley Paratha
Controlling yourself from eating paratha must be a challenging task. What if we told you that you could incorporate paratha into your diabetes-friendly diet? Yes, you can have barley paratha with your favourite chutney. Don't worry, your glucose level won't increase as the barley has a low glycemic index and it is full of fibre. Thus, barley paratha digests slowly, so there is no sudden spike in the blood sugar level.
As winter approaches, add barlet paratha to your breakfast menu of your diabetes-friendly diet. It is one of the best Indian vegetarian snacks for diabetics.
7. Multi Millet Cookies
Being a diabetic patient, it might be difficult for you to decide the best diabetic-friendly evening snack to enjoy with tea. Now grab the multi-millet cookies for your evening tea break. Multi-millet cookies are healthy for you as they are made from multi-millet and palm sugar. Palm sugar has less glucose and a lower glycemic index as compared to that of table sugar or honey. This in turn helps in stabilising blood sugar levels.
On the other hand, millets are gluten-free and have a low glycemic index (GI) compared to other grains. Multi-millet cookies at Healthy Master are baked and free from artificial flavours and preservatives. You can order this delicious and nutrient-packed evening snack from here. They are one of the best sugar-free snacks for diabetic patients in India.
Bottom Line
Medication itself doesn't help in managing glucose levels. You have to supplement diabetes medicines with healthy diets and snacks. It is the right time to substitute fried chips with millet chips, wheat paratha with barley paratha and much more. A conscious decision taken today will increase your life span. Healthy Master has an exclusive set of diabetes-friendly products that help you to manage your blood sugar level without compromising on taste. Explore here.
Also Read: Dry Fruits for Diabetic Patients