Blog
Top 7 Healthy Indian Millet Recipes: Super-Grain Foods
by Mary James on Nov 17, 2023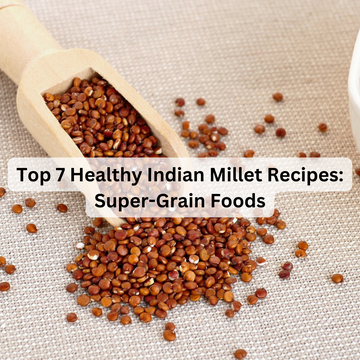 Top 7 Healthy Indian Millet Recipes: Super-Grain Foods
Millets are a healthy substitute for refined grains and an excellent source of nutrition. They naturally increase energy levels, help with digestion, and support heart health since they are high in fibre, vitamins, and minerals.
People are gradually incorporating various grains into their eating habits to create a diverse range of nutritious foods in their daily diets as the trend of healthy eating spreads quickly throughout the world. A variety of grains fall under the broad category of millet. 
Because they are so full of fibre and nutrients, millets can be a nutritious addition to your daily diet. Here are some easy millet recipes (Indian) you can try with different types of millet.
1. Ragi Laddu
Ragi Laddu is a delicious Indian dessert that combines the benefits of ragi, a super grain, with ghee and jaggery. Being nutritious and guilt-free, it's a healthy treat that enhances general well-being.
Ingredients 
1 cup ragi flour

1/2 cup powdered jaggery

1/4 cup ghee 

½ teaspoon cardamom powder
Process 
In a skillet over low heat, roast the ragi flour for around five to six minutes. 

Once the flour has roasted, combine it with ⅓ cup of ghee. 

Give it a 5-minute roast. Turn off the flame now.

Add 3/4 cup of jaggery powder and 1/2 teaspoon of cardamom powder after this step. 

For one to two minutes, thoroughly combine the ingredients. 

If there are any little jaggery lumps, break them up with a spoon or spatula. 

After removing the pan from the heat, allow it to cool down a bit.

Grease your hands and use the mixture to form little laddus. 

You can now serve your ragi laddus.
2. Foxtail Millet (Navane) Burfi
You can savour the deliciousness of Foxtail Millet (Navane) Burfi, an Indian dessert that combines heritage with well-being. This super grain delight is a tasty, guilt-free celebration that is loaded with nutrients. 
Ingredients
Foxtail Millet Grain, ½ cup

Groundnuts  ½ cup

Jaggery – 1 cup

Grated dry coconut – 1 teaspoon

Cardamom powder – ¼ teaspoon

Ghee- ½ teaspoon
Process
Foxtail millet should be stirred and allowed to dry roast for a few minutes before being ground into a fine powder.

In a pan, heat the jaggery. Stir in the flour, roasted groundnuts, and remaining ingredients when it melts and turns into a syrupy single-thread consistency.

Combine and pour onto a dish that has been lightly oiled.

Cut into preferred shapes and serve after it cools.
3. Kuttu Fusion Dosa
Enjoy Kuttu Fusion Dosa, a delicious fusion of traditional dosa with the nutty flavour of buckwheat. It's your delicious pass to a nutritious, supergrain feast, packed full of nutrients. 
Ingredients  
½ cup ragi flour,

 ¼ cup wheat flour, 

¼ tsp black pepper powder,

 ¼ tsp coriander powder, 

½ tsp cumin powder, 

½ tsp red chilli powder 

salt as per taste.
Process
Fill a bowl with ragi and wheat flour.

Add all the spices at this point, mixing thoroughly, including the salt, black pepper, coriander, cumin, and red chilli powder.

To make a runny batter, combine the ingredients and add water in small batches.

Simply preheat a tawa and brush it with oil. 

To create a thin layer of dosa, distribute a serving of batter in a circular motion.

Cook until both sides are golden brown, then serve. 
4. Ragi Idli 
Ragi idli is a nutritious South Indian treat that combines classic idli batter with ragi, a super grain. Being rich in nutrients, it's a tasty and wholesome option for breakfast.
Ingredients
Whole Finger Millet grain – 1 cup

Idli rice (parboiled) – 1 cup

Black gram (urad dal) – ¾ cup

Fenugreek seed -1 tablespoon

Salt to taste
Process
For a day, soak the finger millet.

Drain, then soak for three to four hours, or leave it for another day till you notice little white sprouts.

After soaking the rice and urad dal separately for five hours, drain the water and set them aside.

All of the wet ingredients should be ground until fluffy and light. 

Toss in a little salt to taste, and let it ferment overnight.

The following morning, oil the idli moulds and steam them for 12 to 15 minutes in a pressure cooker.

Warm up and serve with sambar or chutney.
5. Jowar Bhakri
Made from nutrient-dense jowar millet, jowar bhakri is a hearty Indian treat. This super grain creation provides your body with energy and wellness while also delighting the taste buds.
Ingredients
2 cups Jowar (sorghum) flour

Water (approximately 1 cup)

Salt to taste
Process
Mix the Jowar flour with a small teaspoon of salt in a mixing dish.

To get a smooth, flexible dough, knead the flour and gradually add the water.

Cut the dough into pieces the size of golf balls.

Preheat a flat griddle, or tawa, over medium heat.

Using your hands, take a bit of the dough and form it into a round shape.

After flattening the dough, place it on the hot tawa and cook it until little bubbles start to form.

When golden brown on both sides, flip and continue cooking.

Continue with the remaining parts.

Serve hot Jowar Bhakri with your preferred side dish.
6. Millet Bhel
A colourful Indian delicacy called millet bhel turns millets into a super-grain treat. It's a crunchy, healthy substitute that combines flavour with health in every bite, and it's loaded with nutrients.
Ingredients
1 cup mixed millets (foxtail, barnyard, little, and pearl millet)

1/2 cup finely chopped onions

1/2 cup finely chopped tomatoes

1/4 cup finely chopped cucumber

1/4 cup roasted peanuts

2 tablespoons chopped coriander leaves

1 tablespoon sev (crunchy chickpea noodles)

1 tablespoon tamarind chutney

1 tablespoon mint-coriander chutney

1 teaspoon chaat masala

Salt to taste

Lemon wedges for garnish
Process
Prepare the mixed millets and allow them to cool.

The cooked millet, onions, tomatoes, cucumbers, peanuts, and coriander leaves should all be combined in a big mixing basin.

Add the salt, chaat masala, mint-coriander chutney, and tamarind chutney. Blend thoroughly.

Serve the millet bhel right away, garnished with sev and a squeeze of lemon. 

Savour the tasty and nutritious take on the traditional bhel.
7. Millet Pasta
A delicious take on classic recipes, millet pasta combines the comforts of pasta with the deliciousness of Indian millets. It's a super grain food, full of nutrients, and perfect for a hearty meal. You can check out the millet pasta offered by Healthy Master which is a vegetarian option.
Ingredients
1 cup millet flour

1/2 cup tapioca flour

2 large eggs

1/2 teaspoon salt

Water (as needed)
Process
Mix the tapioca flour, millet flour, and salt in a mixing bowl.

Crack the eggs into the well that you made in the centre.

Stirring constantly, slowly mix the flour into the eggs. 

Water should be added gradually until the dough comes together. Blend until silky.

Roll out the dough into thin sheets after dividing it into smaller sections.

Cut the sheets into the pasta shapes that you choose.

After bringing a pot of salted water to a boil, cook the millet pasta until it is all cooked, about 2 to 4 minutes.

After draining, combine with your preferred sauce, like white sauce or tomato sauce. Savour your nutritious millet pasta.
Takeaway 
Including millet in your diet is more than just following the latest fashion; it's a tasty path to a healthy lifestyle. These nutritious Indian millet recipes transform the way we eat, providing not only taste but also a nutritional boost. 
When we choose millets, we uplift our cuisine, honouring the vibrancy of these supergrains and the richness of our culture. Visit Healthy Master for a wide range of healthy snack products.