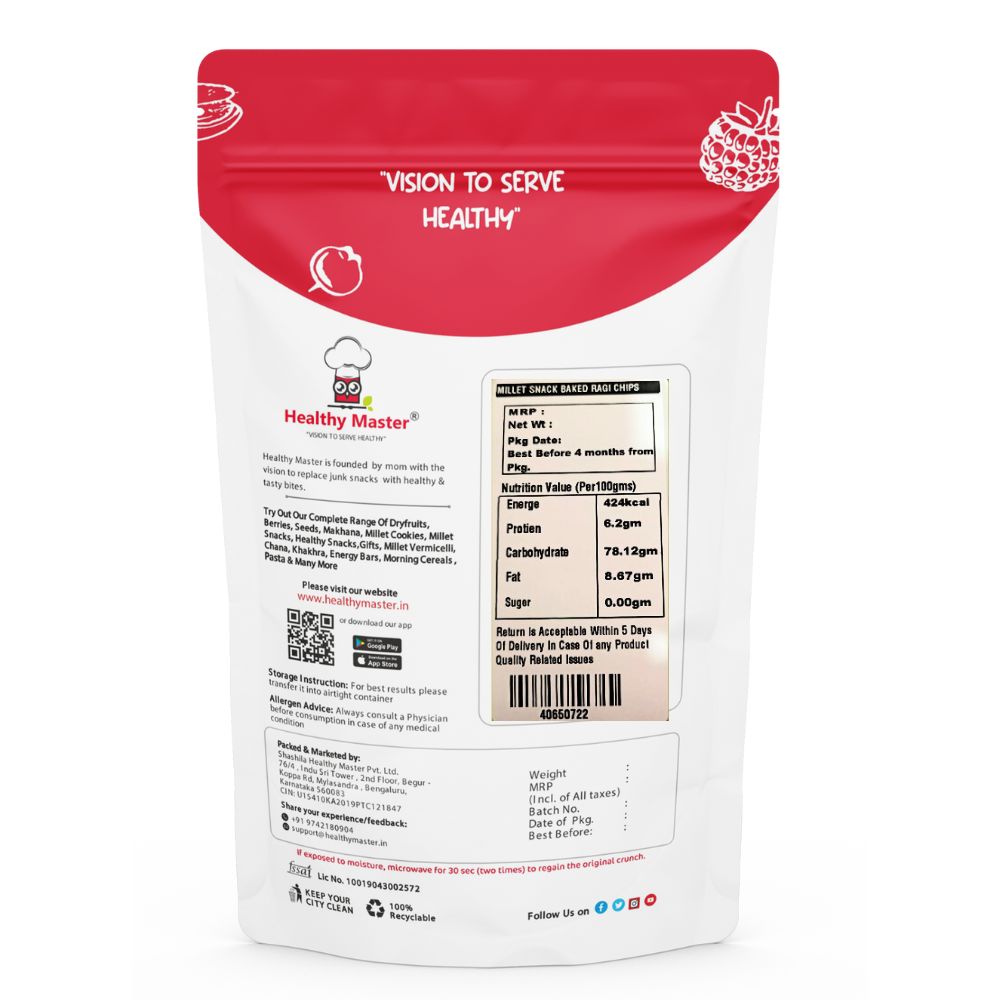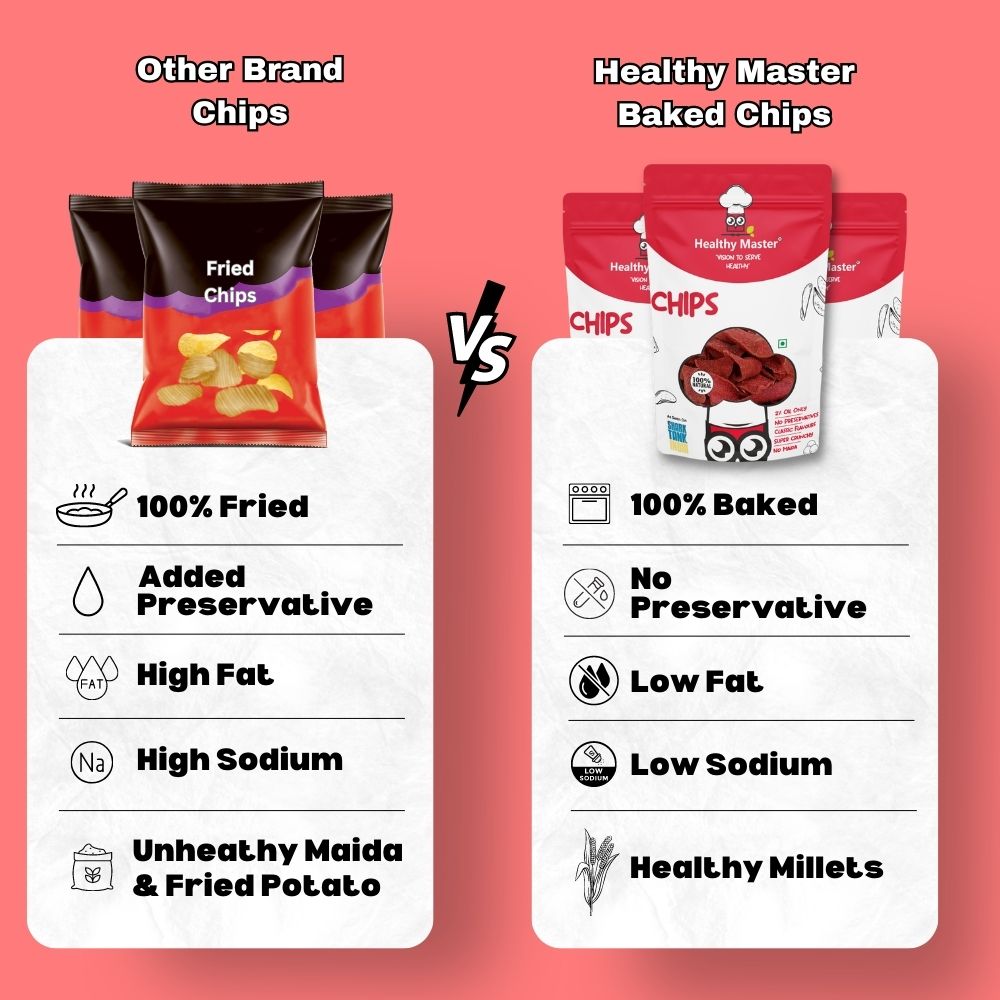 160 people are viewing this right now
Sale price
₹ 110.00
Regular price
₹ 150.00
Tax included.
20% OFF on first order with code HELLO10
Freebies on orders above Rs. ₹700
Free delivery on all orders above ₹699
Extra Flat 5% OFF on online payment
Refer and Earn Rs. 100

Guarantee safe & secure checkout
PAN India Free Shipping : On all orders over 699
Ragi Chips: Include this healthy nutrition in your kids lunch box
Baked Ragi Chips are an awesome way to enjoy the amazing benefits of the extremely nutritious ragi grain. These chips are made with all-natural ingredients and baked oven-fresh. These chips are delicious, crunchy and make the perfect healthy snack for you and your loved one. These baked ragi chips make a delicious munch while watching your favorite movies. It is a quick week night snack for kids after school or something to pack in their lunch box. 
Some sources claim that Millet Baked Ragi Chips can also help lower your blood pressure, improve kidney function and act as an anti-fungal agent among many other things. With these incredible health benefits baked ragi chips are the perfect snack for you. Baked ragi chips are a wholesome snack that can curb hunger pangs, and it does all this without leaving you feeling guilty about the health benefits you have just eaten. Buy Baked Ragi Chips Munchies from Healthy Master.
<p><u><strong>Health Benefits Of Ragi Chips:</strong></u></p>
<p>&nbsp;</p>
<ul>
<li><strong>These healthy baked ragi chips are filled with natural proteins. </strong></li>
<li><strong>Helps in weight loss.</strong></li>
<li><strong>Good for anemia.</strong></li>
<li><strong>Reduces cholesterol.&nbsp;</strong></li>
<li><strong>It has no maida and no trans fat. </strong></li>
<li><strong>Perfect tea time snack for all ages.</strong></li>
<li><strong>High in protein.</strong></li>
<li><strong>Good for diabetes.</strong></li>
<li><strong>Regulates blood sugar levels.</strong></li>
<li><strong>Perfect for the growth of children.</strong></li>
</ul>
<p><u><strong>Ingredients:</strong></u></p>
<ul>
<li><strong>Ragi flour -85 %</strong></li>
<li><strong>Tapioca starch -10%</strong></li>
<li><strong>Edible Sunflower Oil (sprayed to induce flavour)&nbsp;</strong></li>
<li><strong>Red chilli</strong></li>
<li><strong>Salt &amp; </strong></li>
<li><strong>Selected spices.</strong></li>
</ul>
<p>&nbsp;</p>
<p>&nbsp; &nbsp; &nbsp; &nbsp; &nbsp; &nbsp;&nbsp;<u><strong>Nutritional values (per 100gm):</strong></u></p>
<table border="1" cellspacing="0" cellpadding="0">
<tbody>
<tr>
<td><strong>Energy(kcal)</strong></td>
<td><strong>424</strong></td>
</tr>
<tr>
<td><strong>carbohydrates(g)</strong></td>
<td><strong>78.12</strong></td>
</tr>
<tr>
<td><strong>fat(g)</strong></td>
<td><strong>8.67</strong></td>
</tr>
<tr>
<td><strong>protein(g)</strong></td>
<td><strong>6.2</strong></td>
</tr>
<tr>
<td><strong>sugar(g)</strong></td>
<td><strong>0.00</strong></td>
</tr>
<tr>
<td><strong>sodium(g)</strong></td>
<td><strong>0.380</strong></td>
</tr>
<tr>
<td><strong>fiber(g)</strong></td>
<td><strong>5.6</strong></td>
</tr>
</tbody>
</table>
<p><strong>1)What is the storage and shelf life of&nbsp; Ragi chips?</strong></p>
<p>It can be stored in an airtight container. Once the pack is opened it should be consumed within 7days</p>
<p><strong>2)What is special about Healthy Master Ragi chips?</strong></p>
<p>It is baked,non-fried, no preservatives.</p>
<p><strong>3)Is it gluten-free?</strong></p>
<p>Yes</p>
<p><strong>4)Is it Vegan?</strong></p>
<p>Yes</p>
Great taste
Healthy eating. Best product