Blog
10 Best and Affordable Raksha Bandhan gift ideas for sister
by Bsocial Consultant on Jul 12, 2023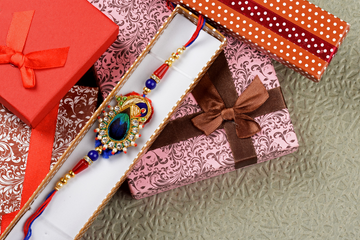 Raksha Bandhan celebrates the special bond between brother and sister. It is a festival that celebrates love and protection between a brother and a sister. Every year sisters tie rakhi on their brother's wrists. The brothers then promise to protect them by giving them gifts.
Raksha Bandhan 2023 is less than a month away. You all must be looking for raksha bandhan gift ideas for your sister. That is why we at Healthymaster present this blog so that you can find the 10 best unique rakhi gifts for your sisters.
10 best Rakhi gifts for sister 2023
The best raksha bandhan gifts are those that show how much you care for your sisters. That is why we have come up with this list of 10 amazing rakhi gift ideas.
a) Greeting cards - 
If you are someone who believes that the best gifts are handmade ones, then this idea is for you. Take those colors and sketch pens and express your love for your sister. Turn it into a greeting card. We guarantee you that it will make her smile.
b) Chocolates - 
If your sister has a sweet tooth then chocolates are the best rakhi gift for her. If you want to make them extra special, go with handmade chocolates. They are delicious and show your love and care for your sister.
c) Healthy Snacks - 
This is one of the best Raksha Bandhan gift ideas for your sister. It says that you care for your sister and her health. If it worries you that healthy gifts will not be tasty then we have got you covered.
At Healthymaster, our mission is to deliver healthy products without compromising on taste. You can choose from 50+ varieties of our snacks.
They are all vegan and have 100% natural ingredients. They are the best way to showcase that you will keep your promise of protecting your sister and her health.
If you have got a foody sister, then these rakhi gift hampers are the best options. Healthymaster's Rakhi gift hamper has six options. 
They are curated to offer a perfect blend of health and taste. All six gift hampers have delightful options. 
Some have baked chips rich in protein. Others have sweet offerings like fruits, nuts, energy bars, and chocolates. Surprise your sister with this unique rakhi gift this season.
e) Keychains
In personalized gifts, keychains are a good Raksha Bandhan gift idea for your sister. You can get your sister's name engraved on it. You can find them in wood, metal, plastic, and glass. Personalization makes them even more special.
f) Mugs
Personalized mugs can be a good rakhi gift option. You can personalize them by adding quotes or messages. You can also take up designs related to Raksha Bandhan. They are practical and helpful on a daily basis. They are even more useful if your sister loves to drink coffee. 
g) Dry fruits
Dry fruits are a delicious and healthy gift option for your loved ones. They have low calories and high nutrient content. This makes them a perfect choice to give to someone who is on their weight loss journey.
The most common dry fruits to gift are - almonds, cashews, raisins, Pistachios, etc. You can also mix them up. Gift this to your loved ones and they will thank you for it.
Also read: Why dry fruits gift packs are the perfect gift for every occasion?
h) Potted plants
Potted plants are another great Raksha Bandhan gift idea for your sister. They are small and can fit everywhere. They also act as room decorators. If you take care of them, they are everlasting, and caring for them can become a part of their daily activities. This will remind them of you.
You can choose from a variety of plants. Every plant has its own use. For example, if you go with a money plant it will bring good luck and prosperity. 
If you choose lucky bamboo it will help in bringing good fortune and happiness. They all will add natural beauty to their home and provide them with essential oxygen as well.
i) Mobile cases and covers
Another rakhi gift idea is mobile covers and cases. Nowadays mobile covers and cases are available in all colors and designs. You can have them made as per your choice. You can even get your pictures on them. 
You can also get your sister's name or cute Raksha Bandhan cartoons as well. You can also opt for funny cases that will make them laugh.
j) Personal care hampers
The best form of love is self-love. This makes personal care hampers one of the best Raksha Bandhan gift ideas for your sister. This will help them to focus on themselves and their body's needs.
Conclusion
Raksha Bandhan is a sacred festival. It is the best opportunity for brothers to showcase their love to their sisters. That is why it is important to choose the right gift.
The best raksha bandhan gift idea for your sister is one that is based on her choices, preferences, likes, and dislikes. Only then it will convey to her that you actually care. Choose the gift that resonates with her most and make this Raksha Bandhan a memorable one.
We wish you a very happy raksha bandhan from Healthymaster!!