Blog
Best Millet Snacks & How to Include Millets in Your Diet | Healthy Master
by Bsocial Consultant on Aug 08, 2023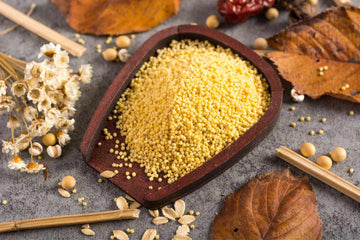 Lifestyle changes have caused a major transformation of food habits among people. People are shifting from junk to healthier options. The staple food for any person plays a significant role in providing adequate nutrition. The staple food varies from one region to another and from one culture to another. Whatever the culture or region is, the staple food is that which acts as the main source of energy. Rice, for instance, is the staple food for many regions in India and is a rich source of carbohydrates that provides energy to our body. However, certain health issues like Type-II diabetes and obesity are directly associated with rice consumption owing to its high Glycaemic Index.
Why go for Millets?
Millets, on the other hand, are the grains that are cultivated and used as an alternative staple food in many regions. Millets like jowar, ragi, bajra, and foxtail are some of the popular millets used as food grains. The lower Glycaemic content of the millets as compared to rice has potential health benefits. Apart from an energy-giving component, the millets have a high concentration of protein, calcium, and folic acid content that makes them a complete staple food. Hence, ordering some millets snacks online and help to initiate a healthy start.
How to Include Millets in Your Diet?
Make Your Tasty Breakfast- The healthy way to start your day is to have a wholesome and healthy breakfast. The best way to get the nutritional value of millets is to use the powder of millets and whip it up with water or milk. You can either make pancakes out of it or have them with some milk. This would be a complete breakfast that will help to keep you going throughout the day.
Junk with Nutrition- Pizzas are often labeled as junk food that increases your calorie intake. You can enjoy pizza but with nutrition. All you need to do is make use of a millet base for the pizza instead of the regular bread base. The toppings can be added as per your taste. You can add seasonal vegetables to it or some animal protein or both as per your calorie requirement.
Try Some Mughlai- Another alternative to include millets in your diet while enjoying the heavenly taste of spicy food is with biriyani. Although it seems impossible, the whole grains of the millets can be fried with some onions, tomatoes, and vegetables, along with some whole spices, which will give a treat to your taste buds.
Evening Snacks- Having some baked ragi or jowar murukkus or chakli can serve as the best tea-time snack. This will also reduce the consumption of deep-fried junk food that people often tend to have as an evening snack.
Conclusion- You can start a new healthy beginning with some healthy millet snacks. The exceptional nutritional values of the millets can make them the most popular alternatives to many other foods. Forget all your junk food and stop worrying about your health. All you need to do is add some millet products to your everyday diet. That will work wonders.