Blog
Corporate gifting made easy with Healthy Master
by Shopify API on Sep 27, 2021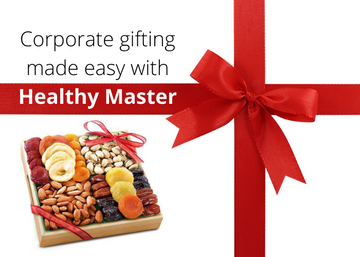 Diwali is among the largest Indian festivals where most of the countries in the world are decorated with bright and colorful lights. On this special occasion, people exchange gifts and sweets with their relatives and friends. Gift boxes play a vital role in Diwali as a token of showing love and care. For leaving a great impression on your corporate people, every organization is required to be fully prepared with attractive gift hampers. Corporate Gifting for Diwali can also support improving the professional relationship between the employers and employees.
Corporate Gifting with Healthy Master on Diwali
On this Diwali festival, show your gratitude and concern for your employees by exploring the Healthy Master's personalized corporate gift section. Every firm, no matter medium, large, or small functions on the foundation of their staff member's commitment, dedication, and contribution. Thus, the successful business force of your company is definitely required to be nurtured on time with care. So what else can be a better time than Diwali to have your workforce take your caring nature's glimpse.
Our customized Diwali Gift boxes for the employees, affiliates, clients, associates and business partners of your organization is an investment actually so that you can earn a great return on them in the near business future. Corporate Gifting is a unique way of showing the special place of your staff members in your heart. With much concern, Healthy Master has introduced a wide range of wonderful gift ideas to select healthy Diwali dry fruit hampers from our online website to spread happiness among your company. Our gift packages are not only attractive but also nutritious.
A Corporate Gift Idea
Presenting Corporate Diwali Gifts is a superb method to increase your enterprise's goodwill among your colleagues. A great gift idea for the festival of Diwali can involve sweet nuts, dry fruits, and millet snacks available at Healthy Master. People provide another type of gifts also to their employees but this time you should opt for something healthy and tasty. In this way, along with providing gifts, you can also take initiative in providing good health to your valuable workforce. Corporate gifts on Diwali can be given directly or by courier services.
A gift box related to health can surely bring joy with it. It is among the great blessings that you can share with your friends, family, and corporate folks. Healthy Master believes in presenting the best quality gifts in the form of some healthy and nutritious snacks and dry fruits for you. Healthy Master created a broad scope of elite gift items for the auspicious Diwali festival, especially for your beloved ones. You can buy them anytime from our official website with some easy steps and can enjoy and celebrate such occasions with so much fun and love.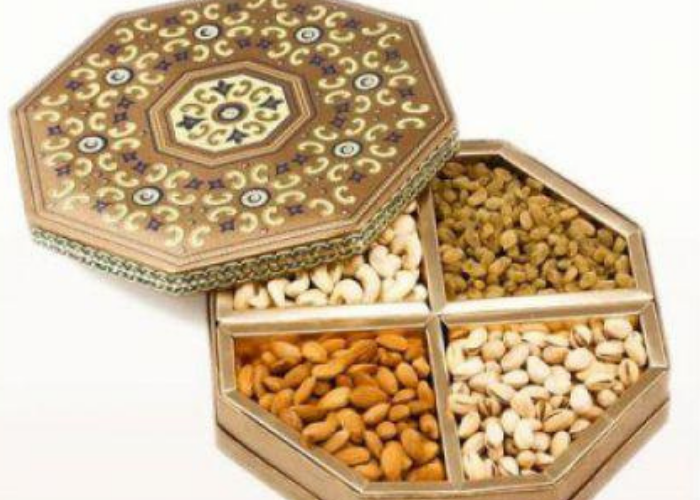 Healthy Dry Fruits in Decorative Gift Boxes
To promote equality within the corporate firms, the focus should be on presenting the same type of gift to every employee. That is one of the reasons to choose a Dry Fruits Gift Box for Diwali corporate gifting. We provide Dry fruit combo as well that is perfectly assorted and can also be delivered in bulk for you. These gift boxes come in handy and look very intriguing and delicious with some creative packaging. Apart from this, personalization and customization of gift hampers are also one of our popular services in the corporate sector for Diwali.
Gifts packed with essential antioxidants and nutrients in the unique form of Diwali Dry Fruits Gift Boxes such as Cashew, Pista, Almonds, Raisins, etc. are always recognized by everyone. Our dry fruits at Healthy Master are packed in cute little sturdy boxes that can also be useful for storing knick-knacks later. Buying gifts from various stores is a bit hassling these days as we hardly get much time due to our busy schedule, but with our easy and simple user interface that can help you get Diwali Corporate gifts with less difficulty. We deliver high quality as well as healthy Dry fruits at a very economical cost for gaining higher customer satisfaction.
Healthy Master presents some amazing Dry Fruit Options
Regular Almonds Big
Cashew Medium
Walnut Giri (without shell)
Cashew Jumbo
Daily Powder Booster
Cashew Tukda
Dry Fruits Pack Combo
Dry Fruits laddu
Anjeer fine- fig
Munakka Premium Kismis
Pista peeled and salted
Apricot Turkel, White, and Red
Indian Mamra Almonds
Buy our Best Diwali Corporate Gifts Online at Healthy Master
Sending precious gifts during any festive occasion can be the most suitable way to give blessings to your close ones and to nurture your bond with them. It gives you a great opportunity to connect with your extended relatives and family members at a deeper level. In the same way, different domain organizations send Healthy corporate Diwali gifts to their customers, clients, and employees who work for them and are an important part of the corporate family. Nowadays, you don't need to look anywhere for amazing corporate gifts because Healthy Master with unique online shopping features has come up with a new and improved gift range.
By browsing through the Healthy Master's Diwali Corporate Gifting in Bangalore section, you can now easily purchase Dry Fruits Online with other essential and nutritious products. In addition to this, you don't have to spend an extra penny on anything as we have made everything within our significant customers' reach. So by exploring Healthy Master's unique gift sections for every occasion online, a perfect selection can be made by you as per your preference and your budget. We have excellent delivery services as well for sending a healthy and vitamin-rich corporate gift to many different places across India.
Apart from the above all, a personalized note can also be sent within the gift boxes on Diwali can be a great idea and initiative to maintain long-term professional contacts including your message of valuing association with them along with the appreciation of their commitment and loyalty towards your company or brand. So go and order our personalized Diwali gifts today from the Healthy Master's portal so that you can enjoy easy gifting with comfort at home.