Blog
Shop Decorative Diwali Gift Boxes From Healthy Master
by Shopify API on Sep 27, 2021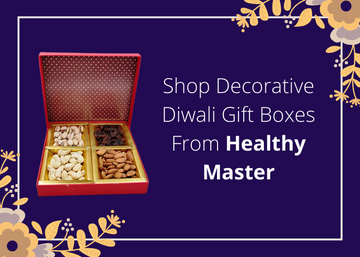 Diwali is a holy light festival celebrated and cherished in many parts of the world. Diwali is a wonderful occasion to admire relationships with our beloved ones by presenting them with beautiful gifts and adding pleasure to the celebrations. This is that precious time of the year when all the organizations provide valuable gifts to their staff members, prospects, clients, and business partners. It is a sweet way to show your gratitude to them for their support, loyalty, and hard work towards the organization.
There are a lot of gift ideas in the market for the Diwali occasion but the best hampers you can get are from Healthy Master. We give utmost significance to corporate gifting in Banglore and believe in 'Gifting a smile'. Healthy Master prepared a wide collection of healthy gift boxes that is appropriate for everyone and is budget-friendly as well. Check out the fabulous variety of Diwali gift boxes full of nutrition and select the best option possible.
Corporate Diwali Gifting
Giving gifts at any occasion or festival with extra thought and love can make it even more special for the people who receive them. Packaging of the gift also plays an important role in making a good impression of the corporate gift. We believe that the good health of every employee should be taken into consideration while deciding the gift idea. Healthy Master is the best place for such initiatives as we deal with many fruitful and favorable variety products that can be a great corporate gift. Apart from this, corporate gift boxes can be a good thing for promoting any product of your company. In our industry of business to business, it can be used as strengthening the bond between the company and its employees.
Creative Diwali Gift Boxes
Corporate Diwali gifts are a little appreciation token for our valued employees and other related people and a way to deliver a caring message to them. You can make your staff happy by contacting Healthy Master in the form of presenting them customized health-oriented boxes of various gifts. There are many varieties available for you at our online platform from which you can select any snack, nuts, or Diwali dry fruit hampers for your close ones. Such personalized gifts can keep your workers healthy all the year. We manufacture unique items for every unique occasion.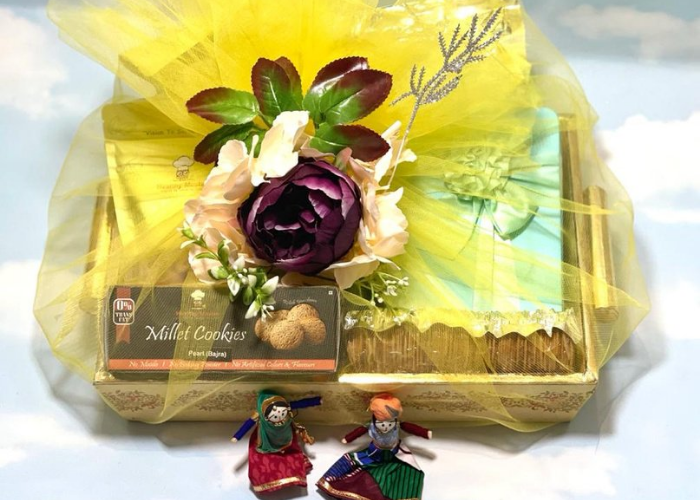 Healthy Master offers the best quality services to their clients and delivers you some great superb offers at an affordable rate and with no delay in time. Our gift hampers possess all the essential nutrients and vitamins that are needed to remain fit. In addition to this, our professional team can also assist and guide you in choosing the best gift possible for your employees as per your preference and according to the occasion so that you cannot get any confusion in your suitable decision making. Grab the Diwali Dry Fruits Gift boxes from Healthy Master and make your Diwali unforgettable.
Some of our Dry Fruits Product Options are given below:
Almonds
Cashew
Walnuts
Mixed Dry Fruits
Pista
Anjeer
Kismis - raisins
Apricot
Gond Katrika
Chironji
Prunes
Benefits of Dry Fruits at Healthy Master
Our products can help you in numerous ways apart from bringing a pretty smile to your employee's face. They can help you boost your immunity so that you can stay fit for a long time. If you are suffering from heavyweight issues then consuming our dry fruits can help you in reducing some extra weight. On Diwali, everyone would want to look beautiful and by eating our dry fruits daily, your skin can get improved and will glow perfectly.
Dry fruits are also rich in fiber that can support you in making a happy gut along with your digestive system enhancement. People who suffer from high cholesterol can give our specialized gift items a try and can enjoy their merits. Also, our nervous system can remain healthy if we eat nutritious food daily. So on this Diwali, be ready to celebrate good health as well by adding delicious dry fruits to your diet.
Order your Personalized Dry Fruit Gifts Anytime at Healthy Master
If you plan to purchase dry fruits online as a corporate gift on the auspicious occasion of Diwali then there is no better place than Heathy Master for you as we provide you with some mind-blowing options that will be healthy too. Our cheerful gift hampers can be a superb Diwali Present for your corporate folks. Our products are not only super yummy but can also result in boosting your health in many ways. Dry Fruits have a good source of vitamins, fibers, and protein that is highly beneficial for a nutritional body. The Dry Fruit Gift Boxes from Healthy Master not only come with happiness and excitement but also with some great health advantages.
Delivering happiness online in the form of Corporate Gifting
We all wait for Diwali all year to celebrate with our special ones and when we think of them, we think of their good health as well. Healthy Master aims at delivering premium quality dry fruit gift boxes at your place under your budget. Now you don't need to depend on unhealthy junk food to extinguish your hunger and can grab mouth-watering products, snacks, and dry fruits from us by browning now. This year Diwali Corporate gifts for your employees, clients, partners, and other staff will be a complete package of energy boosters.
Our website is easy to use and our delivery services are all set to reach your doorstep. We have some fantastic innovative ideas to decorate and pack your gift boxes so that your employees can remember your corporate gifts for a long time. Our 100 percent natural products without any additional chemicals contain a good amount of carbohydrates and fats. As Diwali is around the other corner, do not waste your time in ordering our personalized gift hampers from a variety of options made available at our Healthy Master Portal. Grab them now and enjoy our services.