Blog
Is Khakhra Healthy Snack for Weight Loss?
by Shopify API on Oct 11, 2021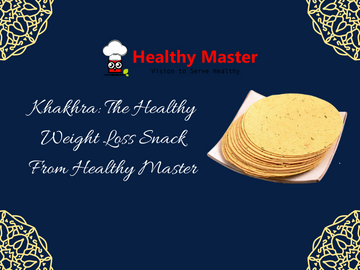 Khakhra is a traditional Indian snack. It is made from whole wheat flour and roasted over an open flame to give it a distinct smoky flavor. The way in which they are roasted makes them crispy on the outside and soft on the inside. Spices add a delicious flavor to khakhra which enhances their taste further.
How is khakhra healthy?
Indian snacks are a big hit these days. They not just quench your hunger but also curb your desire for more food. When it comes to Indian snacks khakhra is an ideal choice. It is a crispy, crunchy, low-calorie snack that goes well with both spicy and non-spicy meals. In fact, unless you say that you do not like khakhra, nobody would even think of thinking what is so impressive about this small humble Indian snack. But the real truth is that "the value of khakhra" lies in a lot of things that you can easily miss while gobbling down a handful of these crunchy bite-sized chips.
So let's find out why this Khakhra from Healthy Master is a healthy Snack.
It provides vitamins
Talk about flour and it is flour in its organic form; And we know that it has a variety of nutrients such as carbohydrates, proteins, carbohydrates, fibers, and many others. So, if you want to know how does khakhra healthy then the answer is that it gives all your body carbohydrates and thus it can be said that it is healthy for those who do not want excessive intake of carbohydrates and it also provides you with energy and at the same time prevents the disease of diabetes.
Khakhra is a finger food that provides you with all the important minerals and vitamins. It is highly beneficial for pregnant women as it contains all the necessary nourishments required to support fetal development. It offers you loads of health benefits. It offers protection to our body against arterial blockages, heart diseases, cancer, bone problems, blood pressure, etc.
Controls diabetes
Khakhra is a popular traditional food made of pulse-based ingredients, primarily moth beans. It was originally made in western India but now it is also made in many other parts of the country. Gujarati khakhra online is healthy not only for its ingredients but also for its nutritional value. It is particularly high in carbohydrates, folic acid, and potassium. Moreover, the presence of various fibers makes it a really healthy snack to have with your morning cup of tea or any time during the day.
A khakhra has a significant amount of soluble dietary fiber and is a very good source of silicon. Silica, which is contained in the khakhra, helps develop the connective tissue in your body. It provides structure to connective tissues such as those located under the skin as well as those located inside muscles, tendons, and ligaments. It also helps with calcium absorption and contributes to stronger bones.
Khakra is good for weight loss
Khakhra has many health benefits, but before knowing about them you must be clear about its nutrients. It contains flour and spices that act as filler keeping the price of khakhras lower than the other flat-bread snacks. The empty starch absorbs water easily turning doughy consistency into a hard crisp texture. Khakhra is a rich source of dietary fiber, minerals, Vitamins, and iron which makes it a very essential part of the daily diet. It helps to reduce cholesterol in our body and prevents heart stroke.
Gluten-Free
This gluten-free version of khakhra is made with quinoa instead of wheat to make it healthier, but nutritionally it will not be any different from regular khakhra. Quinoa is a gluten-free ancient grain packed with a range of vitamins, minerals, and fiber. Quinoa is considered a good source of cholesterol-free protein and complex carbohydrates. It is also considered a very good source of dietary fiber, magnesium, manganese, and phosphorus. It also has both soluble and insoluble fibers that help in regular bowel movement and the formation of stool.
Good for digestion
Khakhra is an integral part of Gujarati cuisine, where it is regarded as fast food along with various spicy snacks. Its popularity has spread among people of different religions and regions, irrespective of religion and culture. Khakhra is healthy even for digestion due to the fermentation process that requires no bound of hands to knead the mixture of flour and spices.
Khakhra comes in different flavors and tastes which makes it popular among kids of all ages and adults alike. This refreshing and healthy taste of khakhra is attributed to the use of quality and fresh ingredients and techniques of making them. Cholesterol has always been a concern since it is one of the most important biomarkers of cardiovascular disease. High cholesterol levels are known to increase the risk of heart ailments. Before you plan to buy this dried-up snack, it is important that to know that Khakhra has multiple health benefits like its good for cholesterol.
Khakhra From Healthy Master
At Healthy Master, we make khakhras using the best quality ingredients. This healthy and tasty snack is very popular in India and enjoyed by everyone at any time of the day. For making this khakhra, one needs to use the best quality ingredients for achieving the desired taste and flavor.
We make traditional Indian flatbreads in different shapes and sizes for all occasions. We use healthy ingredients to make our khakhras. We do not add any color or preservative into our khakhras to keep them safe for consumption. People love our lower-carb khakhras for their daily snacking. They are tasty crisp savory snacks. Eating these khakhras will save your calories, improve heart health and even level your blood sugars. So grab some Healthy Master's Khakhra online today!
Frequently Asked Questions on "Is Khakhra Healthy Snack for Weight Loss"
Is it healthy to eat khakhra?
Yes, it is healthy to eat khakhra as it is a rich source of dietary fibre, vitamins and iron. It is beneficial for weight loss and also helps in reducing cholesterol.
How many khakhra can I eat in a day?
Khakhra is one of the favourite Indian snacks to satisfy cravings. Two khakras are enough to eat in a day.
Is khakhra a processed food?
Khakhra is a thin cracker, a delicious Indian snack. From oats coin khakhra to whole wheat methi khakhra, you can find a variety of non-preservative khakhra foods online.
Is khakhra made of Maida?
At Healthy Master, the main ingredients in the khakhra are oats, whole wheat, and quinoa, to name a few.
Can we eat khakhra at night?
Non-preservatives khakhra is a great snack for late-night cravings.
Is khakhra good for breakfast?
Khakhra makes up the great breakfast option due to its nutritional values. It is a great source of fibre, vitamins, minerals to name a few.
Can I eat khakhra for weight loss?
On your journey to losing weight, it is recommended to compliment your exercise regime with healthy snacks like khakhra. Khakhra is a great source of proteins, which enhances its nutritional value. The presence of dietary fibre content in weight reduction. Healthy Master offers you baked khakhra with a variety of taste options.
How many calories are there in 2 khakhra?
One whole wheat Khakhra gives 119 calories.