Blog
Top 11 Raksha Bandhan Gifts for Sister-in-Law
by Bsocial Consultant on Jul 13, 2023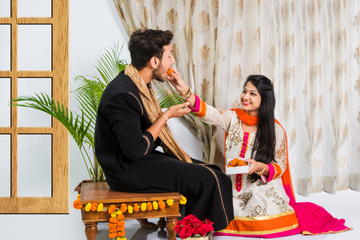 Raksha Bandhan is a popular festival in India. It celebrates the love between a brother and a sister. On this day, the sisters tie rakhi on their wrists. The brothers promise their sisters to protect them from any harm.
In some Indian households, brothers get rakhi from their sister-in-law as well. In this blog, we will cover the top 11 Raksha Bandhan gifts for sisters-in-law in detail.
11 Raksha Bandhan Gifts for Sister-in-law
If you share a bond with your sister-in-law and are looking for a gift to give her this rakhi, you have come to the right place. We have added diverse gifts keeping in mind the different preferences and choices.
Check out the rakhi gifts mentioned below and pick the one that you find to be most perfect.
1) Flowers
All women love flowers. Gifting flowers shows that you appreciate them in your life. They have a good smell and add joy to the space they are in. That is why flowers can be a good option as rakhi gifts for your sister-in-law in 2023.
You can choose from different varieties based on the preferences of your sister-in-law. The best part is they are available. You can also pair them with a heartfelt note to make it memorable.
This Rakhi, surprise your sister-in-law with a dry fruit gift pack. They are delicious and nutritious. They show that you have the best for his health in your mind.
This is because they have a lot of healthy benefits and a great taste. If you want to show your sister-in-law how much you care for her, then this is the best raksha bandhan gift for sister in law.
If you are looking to buy dry fruit packs then visit healthymaster.in. Here you will get 50+ options at an affordable price.
Also read: Dry Fruits – Dry fruits and their Health Benefits
3) Chocolates
Who doesn't like chocolates? They are the most delicious food and popular gifting option. If your sister-in-law craves sweet food then chocolates will satisfy her taste buds. These are one of the best rakhi gift ideas.
Chocolates come in a wide range of flavors, tastes, wrappings, fillings, and textures. You have a lot of options to choose from.
If you want to make it more special then you can go for personalization. You can personalize Chocolates by using names, messages, or even photographs. You can also pair a classic box of chocolates with a note to make it extra special.
4) Home Decor
In India, sisters-in-law are always associated with homemakers. If your sister-in-law has a knack for decorating the house then this can be a unique rakhi gift idea for her. She can express her personality with home decor items.
In these as well you can choose from a vast range of variety. You can go for functional or aesthetic home decor such as candle holders, or paintings. These are one of the best Raksha Bandhan gifts for sister in law.
5) Rakhi gift hamper
Rakhi gift hampers are another good Rakhi gift idea for sister-in-law 2023. At healthymaster.in we have 6 varieties of these gift hampers that you can choose from.
They are best for such special occasions and are a perfect blend of health and taste. So what are you waiting for? Check out these Rakhi gift hampers now!
6) Bracelet
Gifting a bracelet can be a great way to express your love for your sister-in-law. It will also be a symbol of your commitment to her protection as a brother.
Bracelets also hold sentimental value. You can choose from a wide variety but the best ones are the gold bracelets. They are the best rakhi gift for your sister-in-law.
You can personalize them by engraving her name on them. You can also choose bracelets with her initials on them. Another option is to get a special message engraved on it for her. This will remind her of you.
7) Ethnic Clothing
Indian traditional and ethnic clothes are the best in the market. No other style can give them competition. The colors, the brightness, and the designs are exquisite. That is why it can be the best Raksha Bandhan gift for your sister-in-law.
She will love it. You can choose them as per her favorite colors and designs. You can also select suits, saree, and traditional gowns. Make sure the gift is comfortable for her to wear and compliments her complexion.
If your brother is foody and likes to munch on snacks between meals, then this could be a great rakhi gift.
You can buy snacks that are healthy and tasty from Healthymaster.in. Our mission is to deliver healthy products without compromising on taste. You can choose from 50+ varieties of healthy snacks with 100% natural ingredients.
Also read: 5+ Healthy Indian High Protein Snacks - Healthy Master
9) Brooch
Brooch is an elegant raksha bandhan gift for your sister-in-law. It will compliment her clothing style. You can choose from a variety of options like intricate and ornate to modern and minimalist.
10) Kitchenware
If your sister-in-law loves to try out different kitchen wares then this can be the best rakhi gift for her. This will help her to decorate her kitchen and make it more efficient.
11) Perfumes
Looking for a gift that is charming and classy? Then this option is for you. Perfumes are unique rakhi gifts. They will improve her personality and will remind her of you. The best thing is that there are a variety of options to choose from.
Choose the perfume that matches her personality. Keep in mind her taste and style. It could be classic, stylish, fresh, soft, etc. Keep in mind that it should leave a good impression.
Conclusion
Rakhi is a great festival to celebrate the bond between brother and sister-in-law. Putting thoughts and effort into choosing a gift for her will make her feel special. She will feel loved and cherished.
That is why we have selected each of these Raksha Bandhan gift ideas for sister-in-law. From flowers to healthy snack options, we have covered everything for all kinds of people.
There's a unique rakhi gift for every sister-in-law that will make you the best brother for her. So what are you waiting for? Pick yours now!! Happy Raksha Bandhan from Healthy Master!!