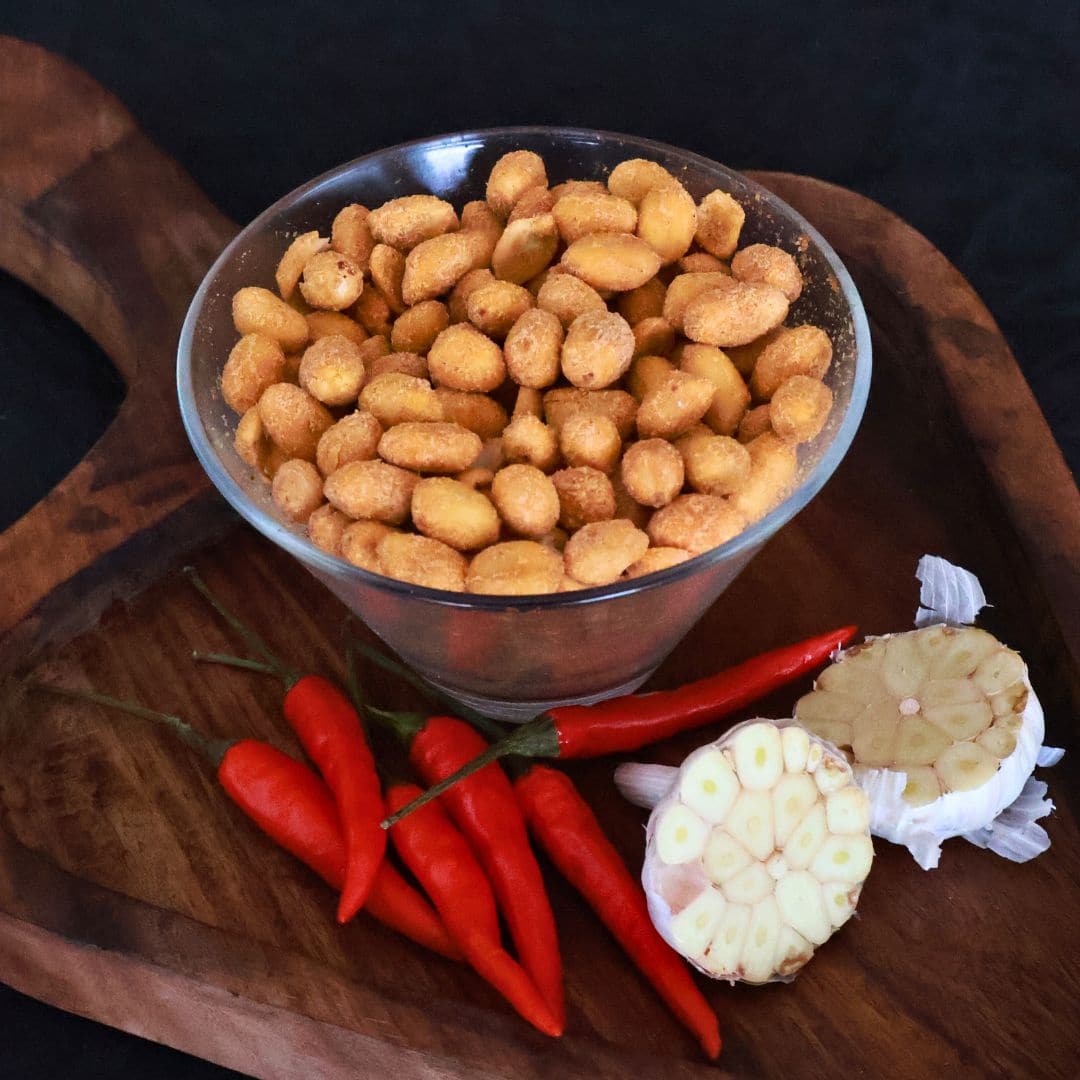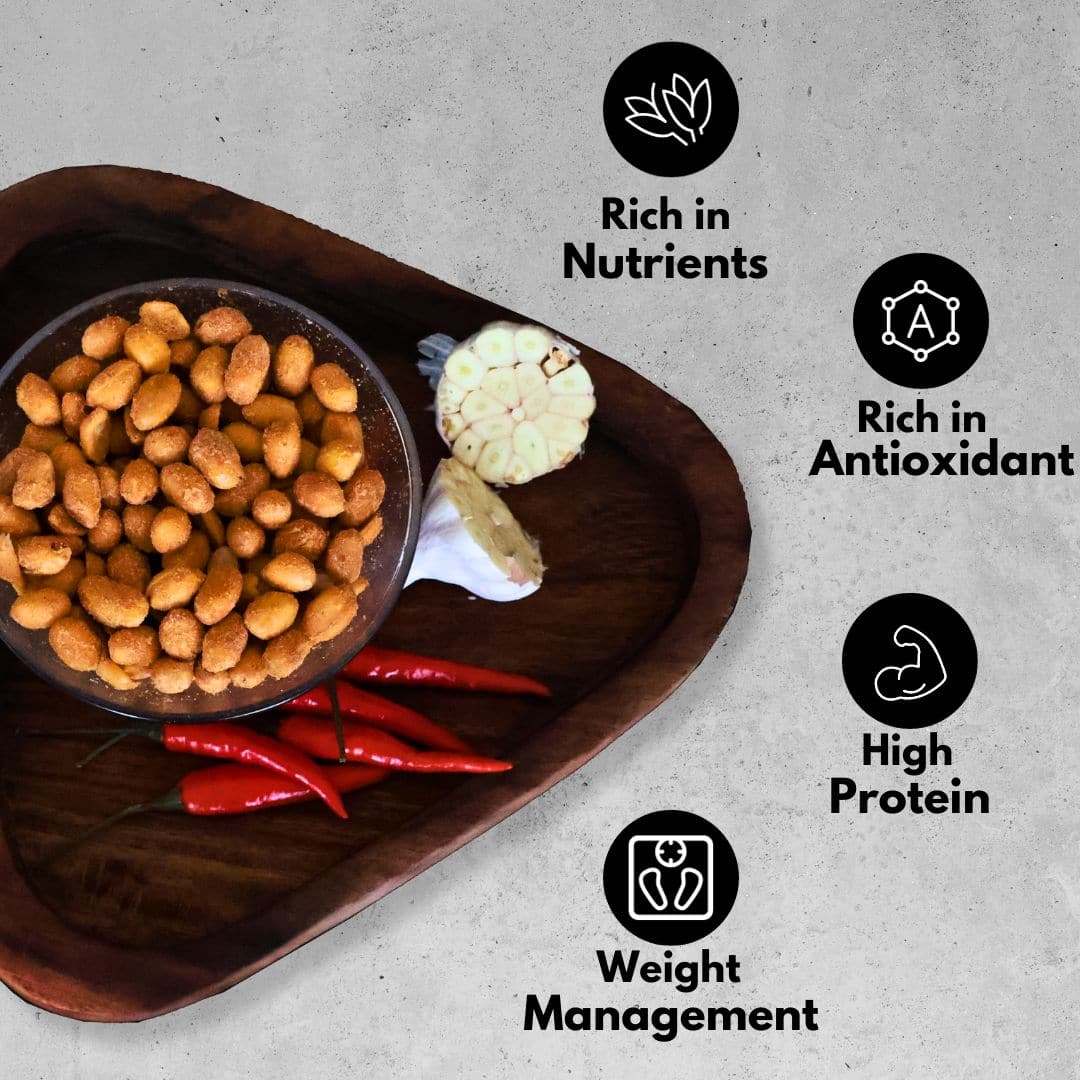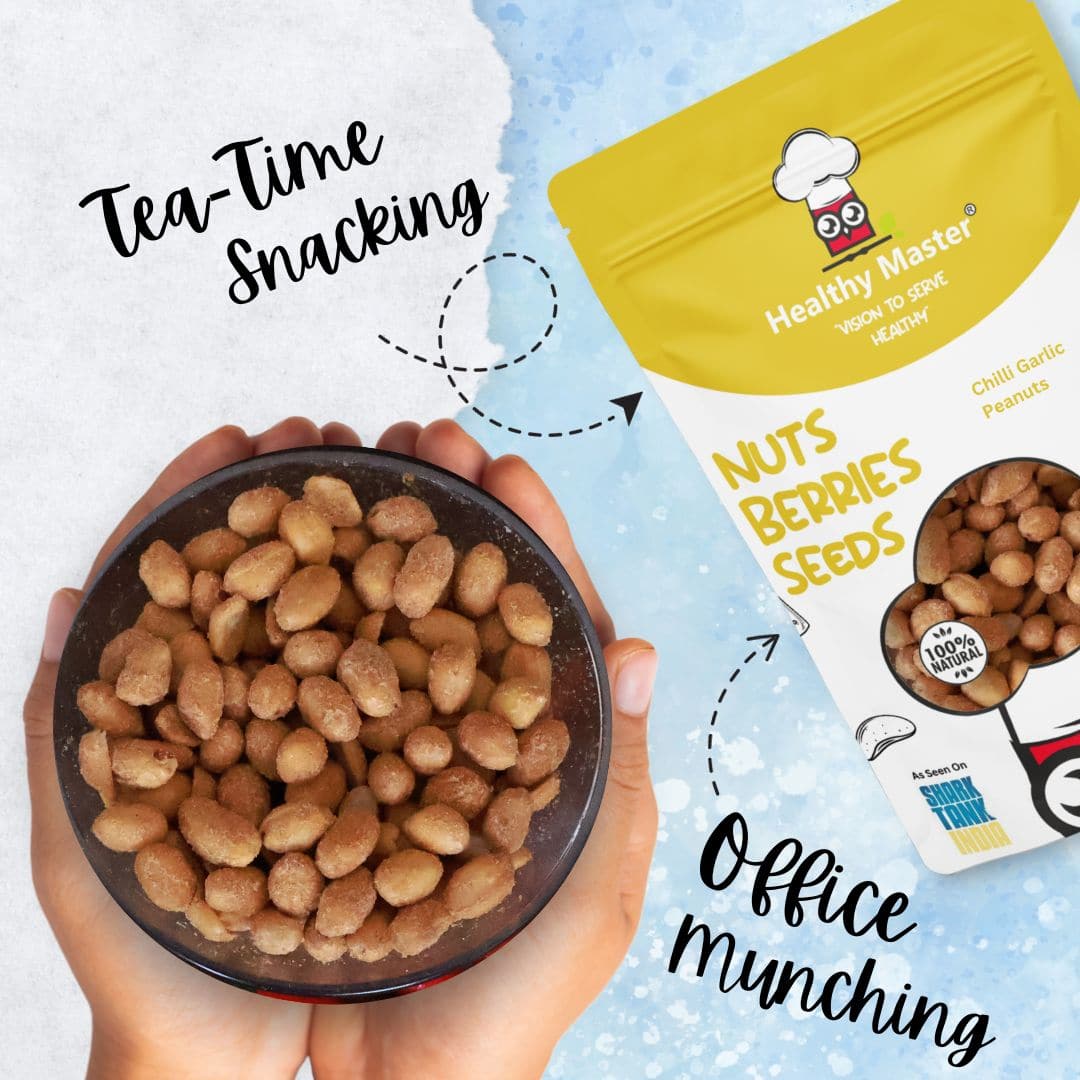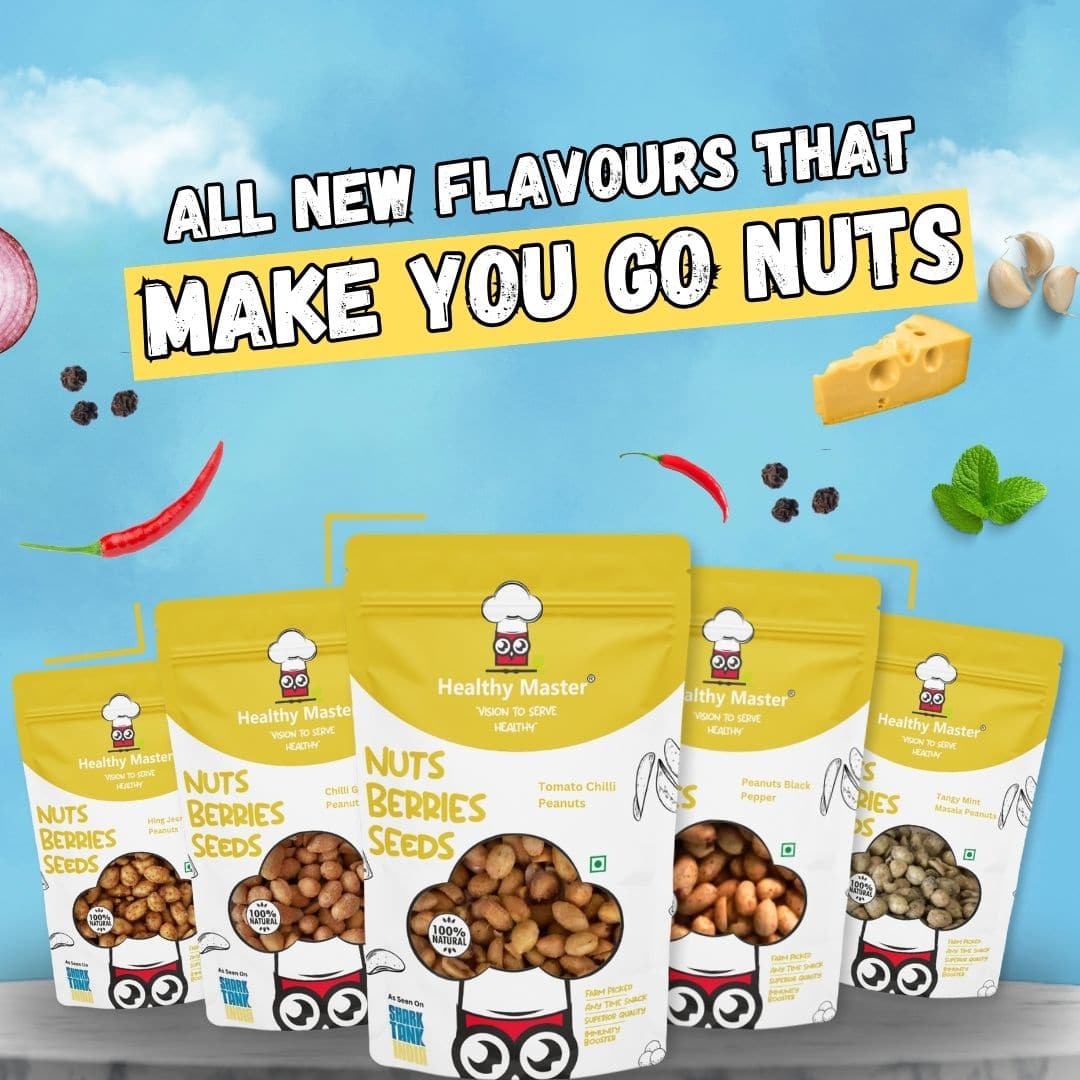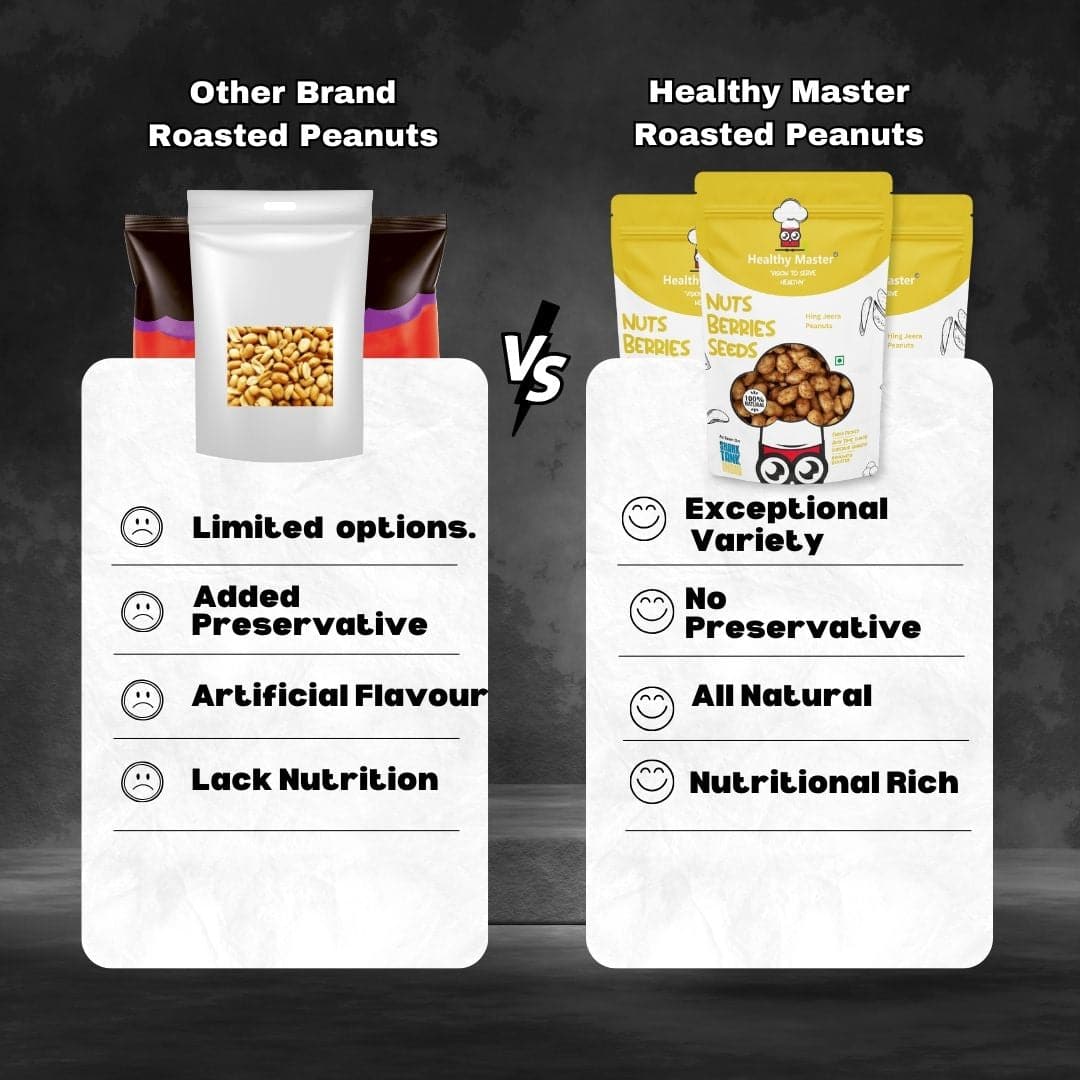 141 people are viewing this right now
Sale price
₹ 140.00
Regular price
₹ 210.00
Tax included.
20% OFF on first order with code HELLO10
Freebies on orders above Rs. ₹700
Free delivery on all orders above ₹699
Extra Flat 5% OFF on online payment
Refer and Earn Rs. 100

Guarantee safe & secure checkout
PAN India Free Shipping : On all orders over 699
Spice up your snacking with Healthy Master's Chilli Garlic Peanuts! These peanuts combine nuttiness with fiery red chili and aromatic garlic for a flavor explosion. Enjoy protein-packed, fiery goodness in every bite.
Healthy Master's Chilli Garlic Peanuts – the perfect fusion of spice and nutrition, designed to ignite your taste buds and nourish your body. Order your pack today and embark on a spicy snacking adventure!
1. 🌶️ Bold Flavor Fusion
2. 🥜 Nutrient-Rich Snacking
3. 🚫 Gluten-Free & Additive-Free
4. 🍽️ Versatile & Zesty
5. 🥇 Quality Assurance
ul>
<li>
<strong>Bold and Fiery Flavor:</strong> Experience the intensity of red chili and the aromatic essence of garlic for a spicy and flavorful snack.
</li>
<li>
<strong>Nutrient-Rich Snacking:</strong> Packed with protein, fiber, and essential vitamins, these peanuts offer a satisfying and nutritious option.
</li>
<li>
<strong>Gluten-Free & Additive-Free:</strong> Enjoy a wholesome snacking experience with no artificial additives or preservatives.
</li>
<li>
<strong>Versatile Usage:</strong> Whether straight from the pack or as a spicy topping, these peanuts add excitement to your culinary creations.
</li>
<li>
<strong>Spice Enthusiasts' Delight:</strong> Perfect for those who love a kick in their snacks, these peanuts deliver a bold and fiery flavor.
</li>
</ul>
<h2>Ingredients:</h2>

<ul>
<li>Peanuts</li>
<li>Cottonseed oil</li>
<li>Garlic powder</li>
<li>Mixed Spices</li>
</ul>
<h2>Nutritional Facts (Per 100g)</h2>

<table>
<tr>
<th>Nutrient</th>
<th>Amount per 100g</th>
</tr>
<tr>
<td>Energy</td>
<td>584.4 Kcal</td>
</tr>
<tr>
<td>Total Protein</td>
<td>17.3 g</td>
</tr>
<tr>
<td>Total Fat</td>
<td>42.6 g</td>
</tr>
<tr>
<td>Saturated Fat</td>
<td>20.4 g</td>
</tr>
<tr>
<td>Trans Fat</td>
<td>0 g</td>
</tr>
<tr>
<td>Cholesterol</td>
<td>0 mg</td>
</tr>
<tr>
<td>Total Carbohydrates</td>
<td>32.9 g</td>
</tr>
<tr>
<td>Dietary Fiber</td>
<td>6.3 g</td>
</tr>
<tr>
<td>Sodium</td>
<td>858.8 mg</td>
</tr>
</table>

<ol>
<li>
<h3>How spicy are these Chilli Garlic Peanuts?</h3>
<p>Our Chilli Garlic Peanuts offer a bold and fiery flavor, with the intensity of red chili and the aromatic kick of garlic. They provide a satisfying heat that spice enthusiasts will appreciate.</p>
</li>
<li>
<h3>Are these peanuts gluten-free?</h3>
<p>Yes, our Chilli Garlic Peanuts are gluten-free, making them a suitable snack option for individuals with gluten sensitivities or dietary restrictions.</p>
</li>
<li>
<h3>Do these peanuts contain any artificial additives or preservatives?</h3>
<p>No, we are committed to providing a wholesome snacking experience. Our Chilli Garlic Peanuts are free from artificial additives or preservatives, ensuring a natural and flavorful taste.</p>
</li>
<li>
<h3>How can I enjoy these peanuts?</h3>
<p>These Chilli Garlic Peanuts are incredibly versatile. You can enjoy them straight from the pack, use them as a zesty party snack, or add a spicy twist to your favorite dishes by using them as a topping.</p>
</li>
<li>
<h3>Can I purchase these peanuts in bulk for special events or occasions?</h3>
<p>Yes, we offer bulk purchasing options for our Chilli Garlic Peanuts. Whether you're planning a special event, corporate gathering, or simply want to stock up, we can accommodate your bulk order needs. Please contact our customer support for pricing and details.</p>
</li>
</ol>