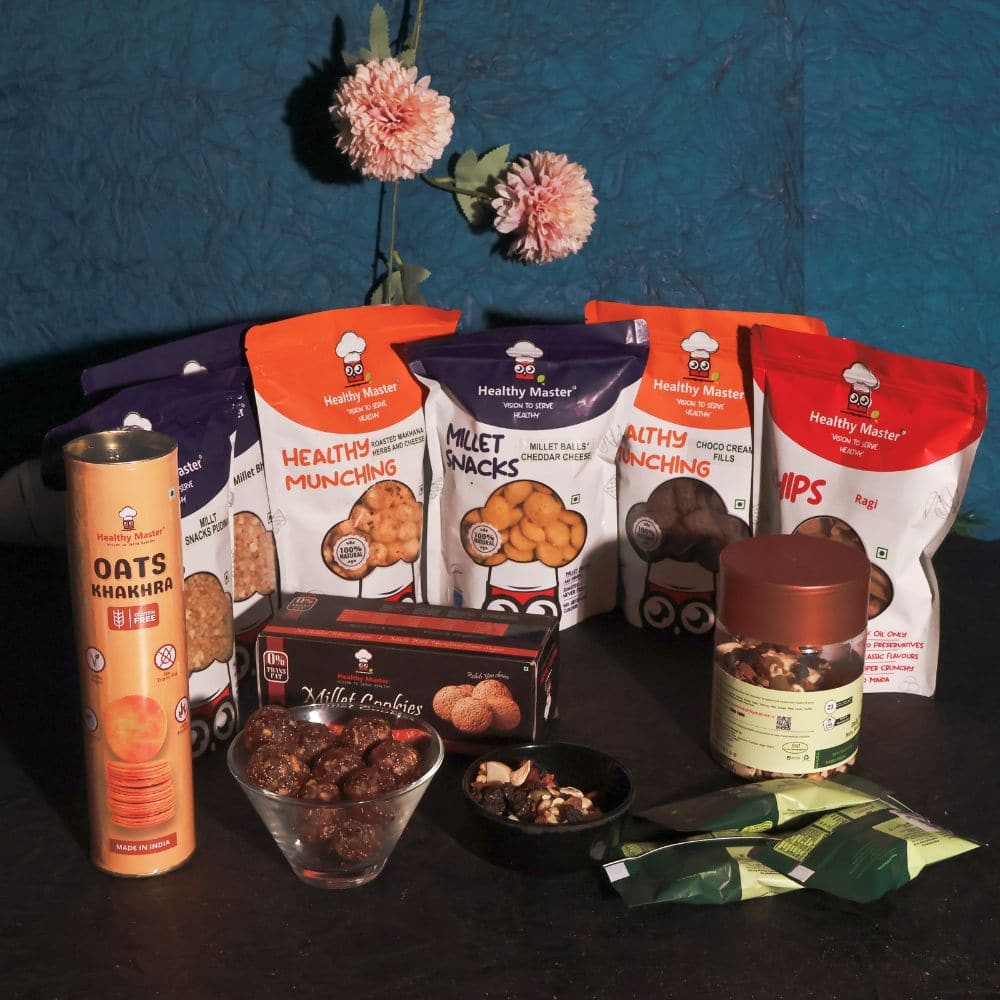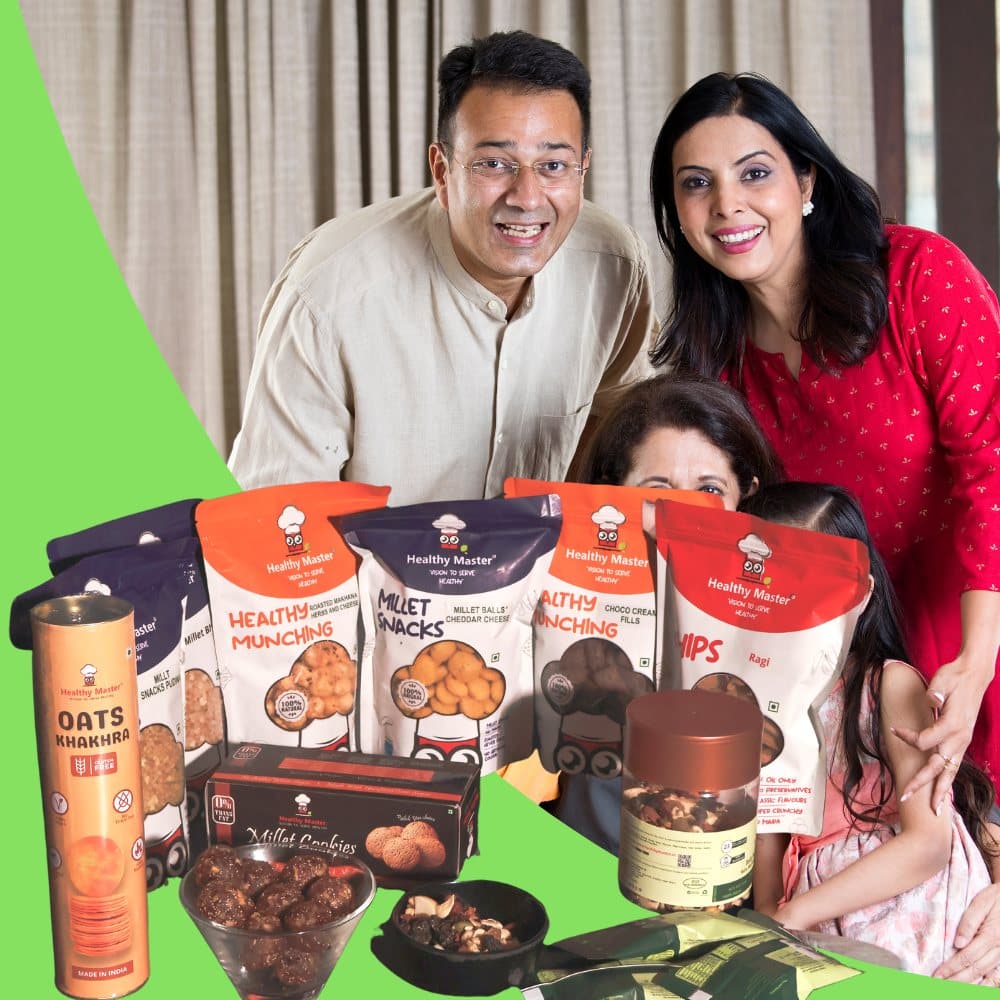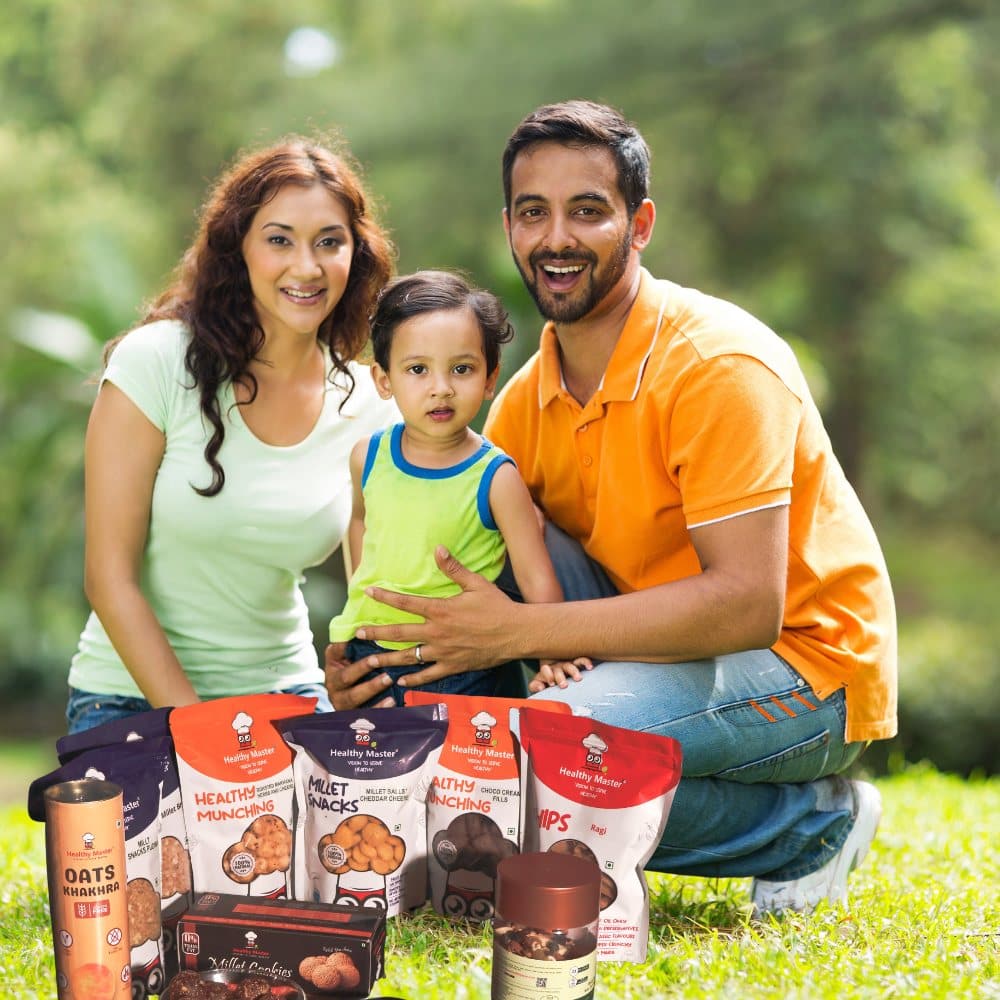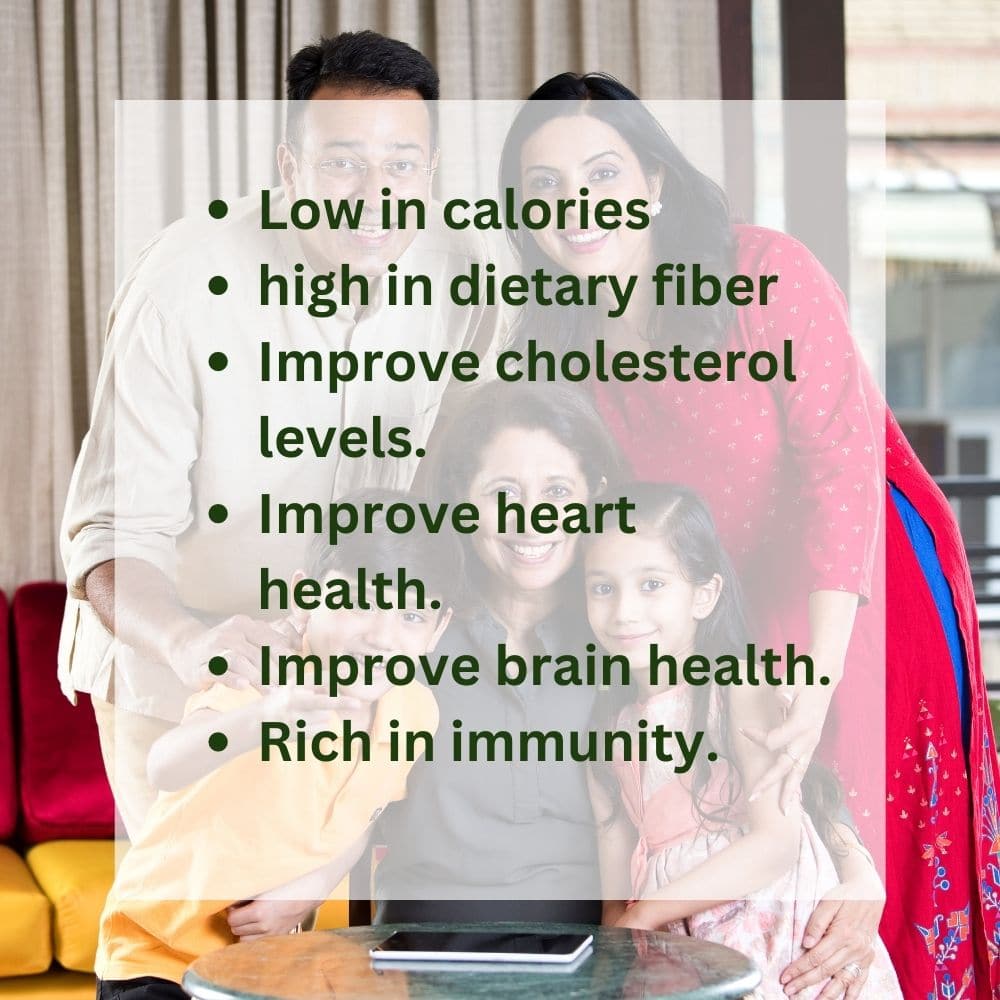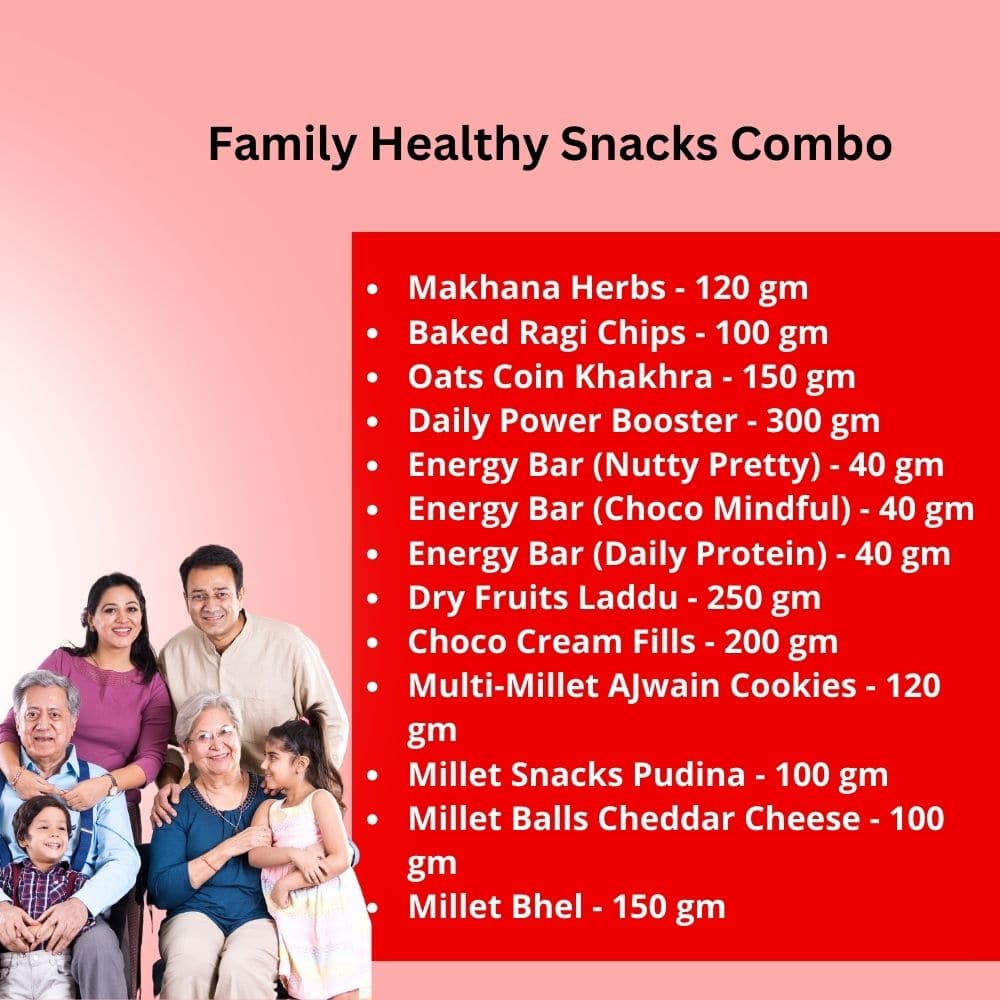 Family Healthy Snacks Combo
155 people are viewing this right now
Sale price
₹ 2,308.00
Regular price
₹ 2,769.00
Tax included.
20% OFF on first order with code HELLO10
Freebies on orders above Rs. ₹700
Free delivery on all orders above ₹699
Extra Flat 5% OFF on online payment
Refer and Earn Rs. 100

Guarantee safe & secure checkout
PAN India Free Shipping : On all orders over 699
Family Healthy Snacks Combo
Sale price
₹ 2,308.00
Regular price
₹ 2,769.00
Healthy family snacks are the perfect combination of tasty and nutritious options for everyone. Our combo of Daily Power Booster, Cookies Pearl, Chiwada Khatta Mitta, Seed and Berry Sprinkle, Brazil Nut, and Almonds is the ideal solution for busy families who want to stay healthy and energetic. Dilly Power Booster is loaded with vitamins and minerals that are essential for overall well-being. Cookies Pearl is the perfect treat for a sweet tooth and is packed with wholesome ingredients. Chiwada Khatta Mitta is a tangy snack that will keep you satisfied for hours. Seed and Berry Sprinkle is a great source of fiber, protein, and essential fatty acids. Brazil Nut is rich in selenium and magnesium, while Almonds are a good source of healthy fats and protein. With this healthy family snack combo, you'll have everything you need to stay energized and satisfied!
<p><br /><strong>Family Healthy Snacks ComboBenefits</strong> <br />1.Provides a boost of energy if several hours pass between meals and blood glucose levels drop,<br /> 2. Helps curb your appetite to prevent overeating at the next meal,<br />3.Can help maintain adequate nutrition if one has a poor appetite but cannot eat full meals, such as due to an illness ,<br />4.These snacks enhances productivity by increasing ones energy levels and allows brain to stay alert.<br />5.These healthy snacks gives food fuel performace in the body ,the fuel that providesin the form of glucose in the body makes body energetic instantly&nbsp;with&nbsp;freshness.</p>
<p><strong>Healthy Snacks Combo consists of</strong></p>
<ul>
<li>Herbs makhana -120 gm</li>
<li>Baked ragi chips - 100 gm</li>
<li>Oats coin&nbsp;khakhra&nbsp;-150 gm</li>
<li>Daily power booster - 300 gm</li>
<li>Energy bar Nutty Pretty - 40 gm</li>
<li>Energy bar choco mindfull - 40 gm</li>
<li>Energy bar dalily protein - 40 gm</li>
<li>Dry fruits laddu - 250 gm</li>
<li>Choco cream fills - 200 gm</li>
<li>Ajwain cookies - 120 gm</li>
<li>Millet snack pudina -100 gm</li>
<li>Millet Balls Cheddar Cheese - 100 gm</li>
<li>Millet bhel - 100 gm</li>
</ul>
<p><br /><strong>Q.1 what is this combo consist of?</strong><br />Ans. Makhana Herbs - 120 gm</p>
<p>Baked Ragi Chips - 100 gm</p>
<p>Oats Coin Khakhra - 150 gm</p>
<p>Daily Power Booster - 300 gm</p>
<p>Energy Bar (Nutty Pretty) - 40 gm</p>
<p>Energy Bar (Choco Mindful) - 40 gm</p>
<p>Energy Bar (Daily Protein) - 40 gm</p>
<p>Dry Fruits Laddu - 250 gm</p>
<p>Choco Cream Fills - 200 gm</p>
<p>Multi-Millet AJwain Cookies - 120 gm</p>
<p>Millet Snacks Pudina - 100 gm</p>
<p>Millet Balls Cheddar Cheese - 100 gm</p>
<p>Millet Bhel - 100 gm</p>
<p><strong>Q.2 Are all these snacks are healthy ?</strong><br />ANS. YES they are actually super healthy .<br /><strong>Q.3 Are these snacks is perfect for all age group?</strong><br />Ans. yes .these snacks consist of choco fills for kids,grandmas hand made laddu,moms seeds mix,papas millet mixture,grandpa ka khakara ,aunty ka makhana and&nbsp;many&nbsp;more...</p>
Party time snacks
Perfect choice for the family party time kids to aged person all loves the taste and flavour and increases the energy level
BRILLIANT CHOICE
Wonderful taste with so many flavours damn sure everyone loves this combo
WONDERFUL COMBO
On my wedding anniversary our family enjoyed this healthy combo pack tommorrow going to order more
SIMPLY AWESOME
With this healthy family snack combo, you'll have everything you need to stay energized and satisfied
FABULOUS COMBO
Perfect combination of tasty and nutritious options for everyone