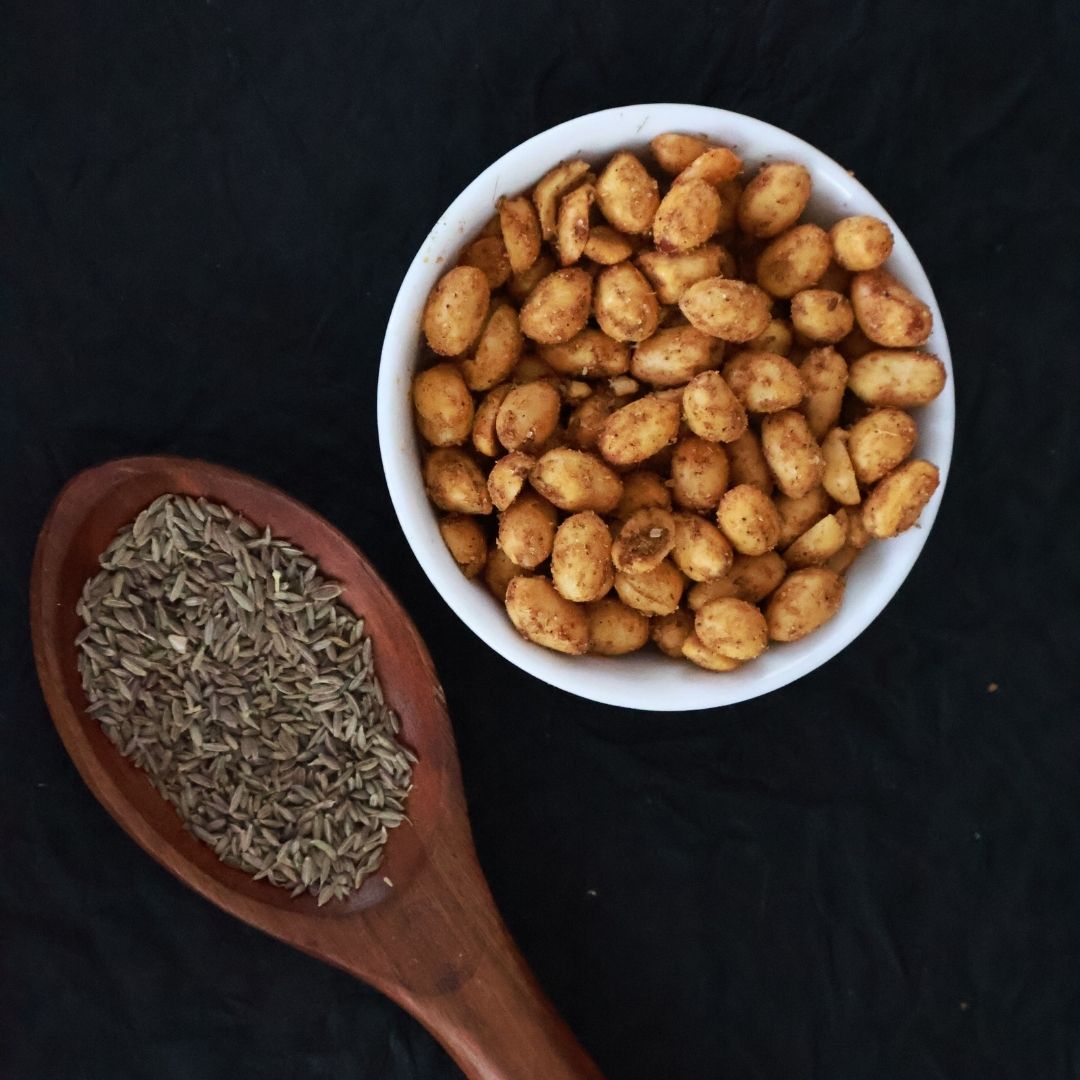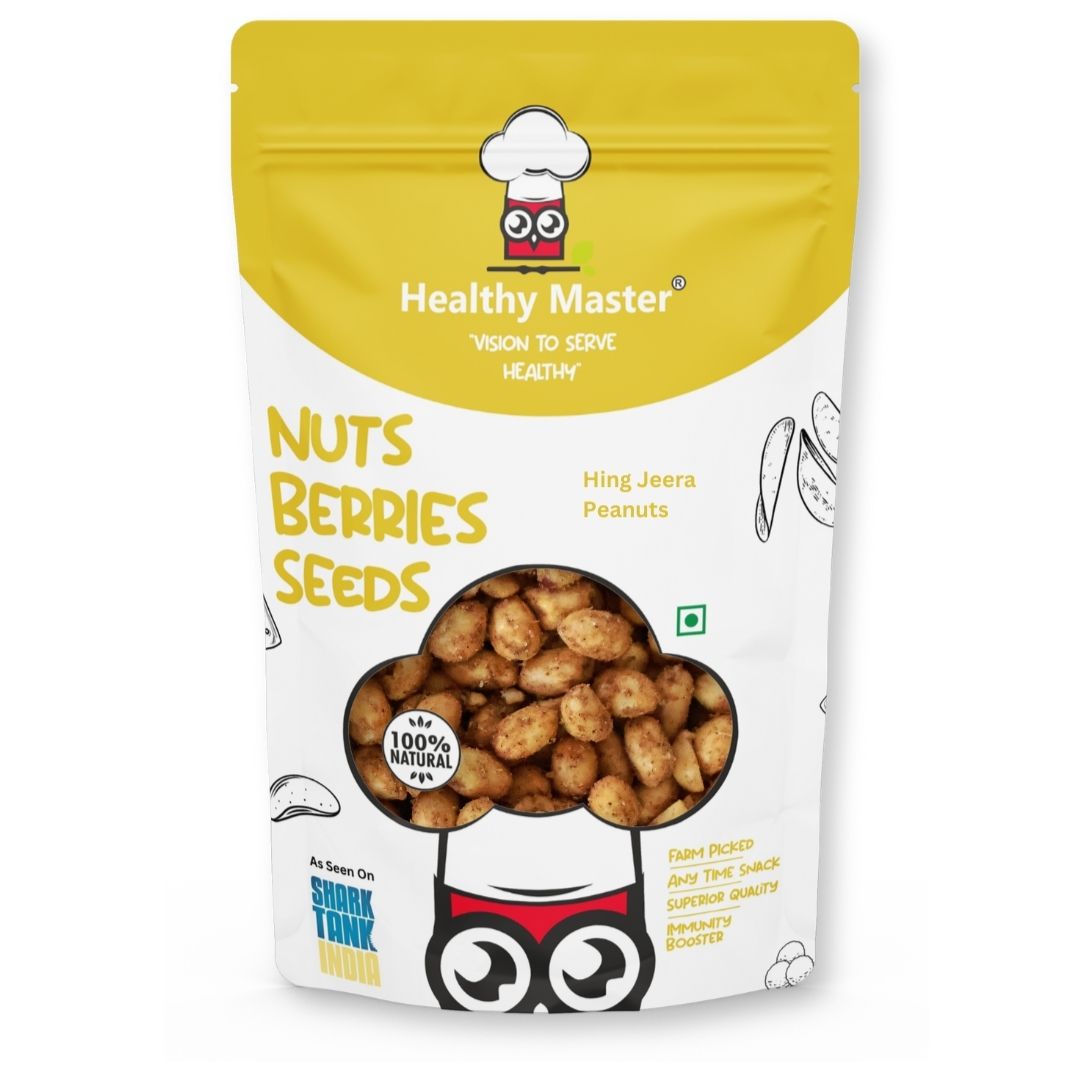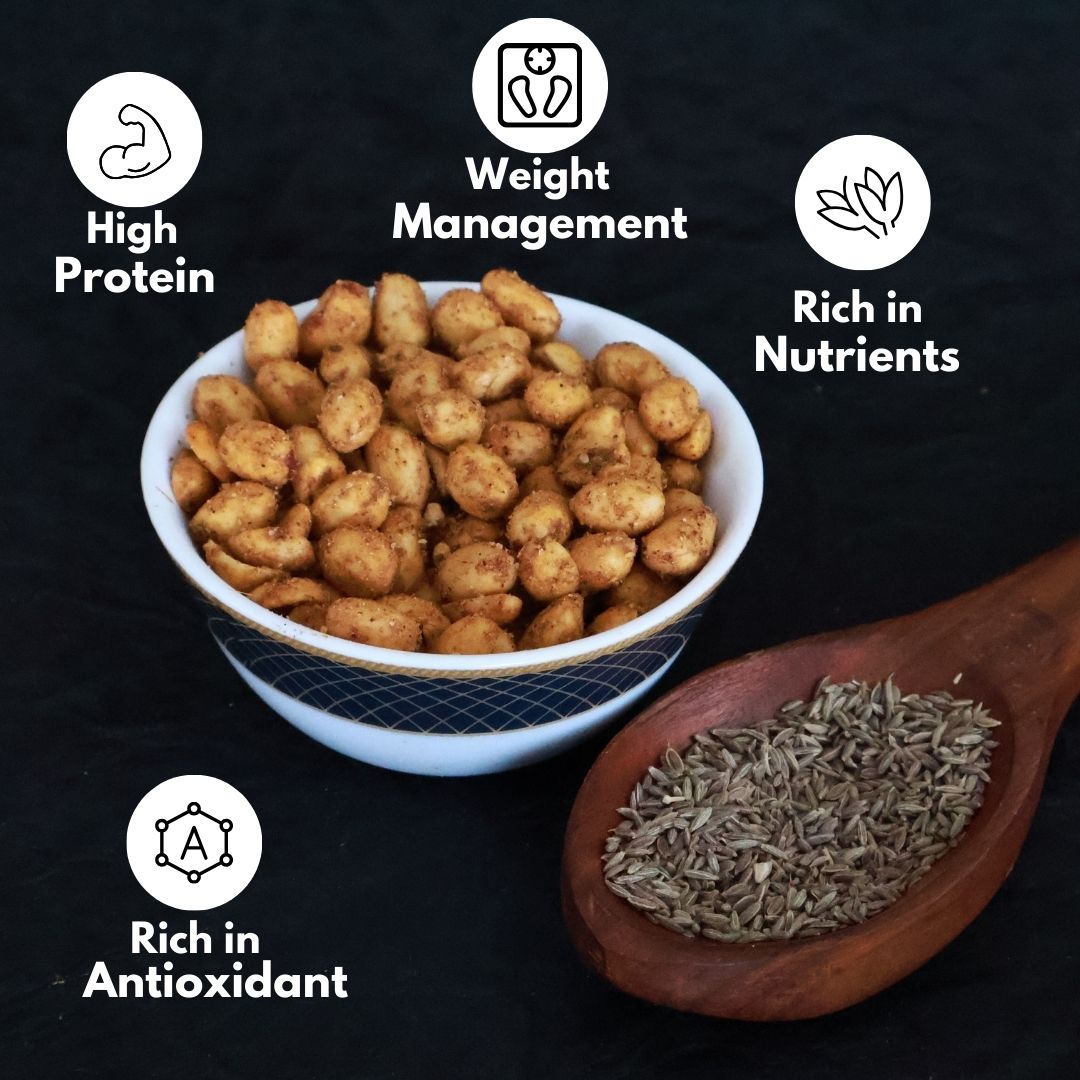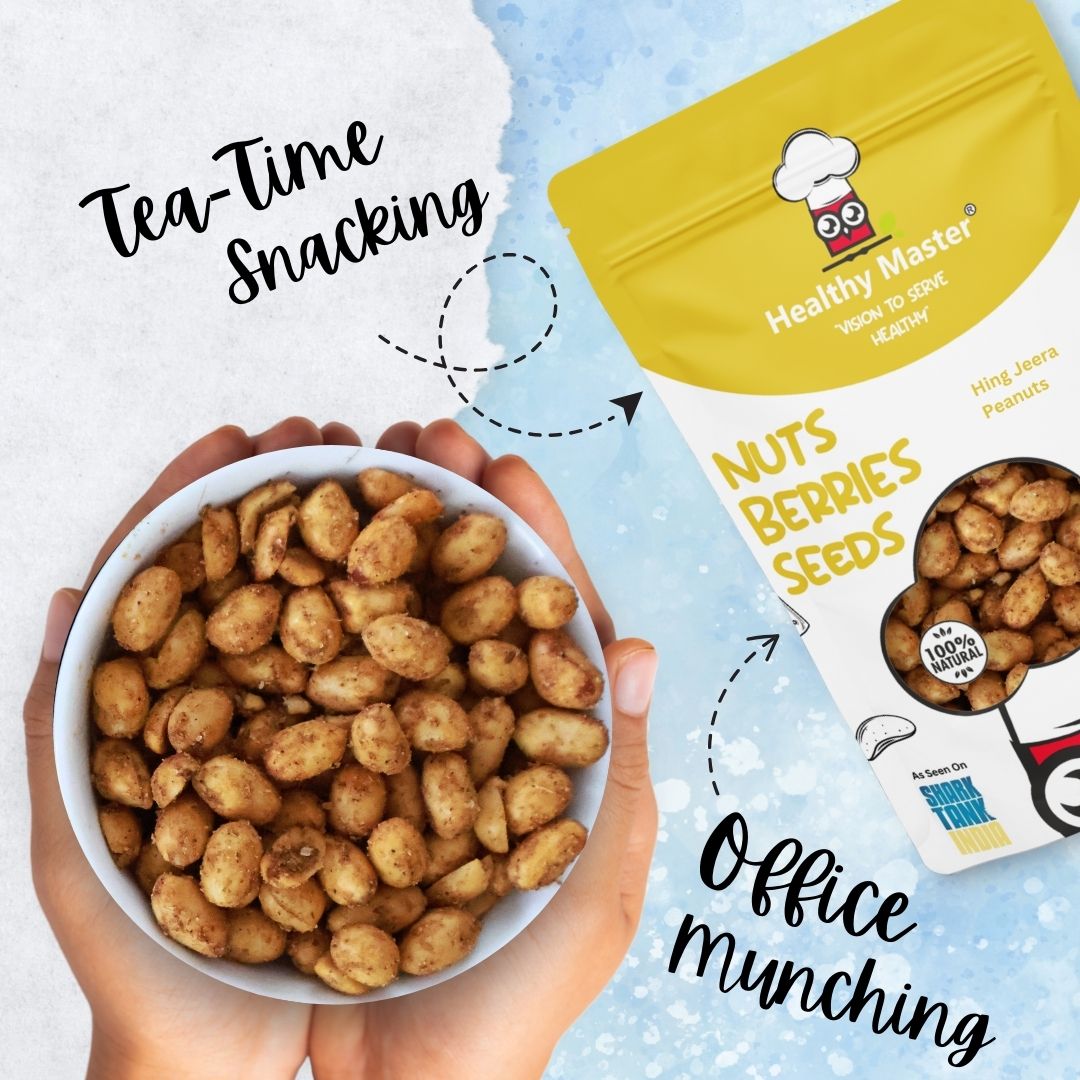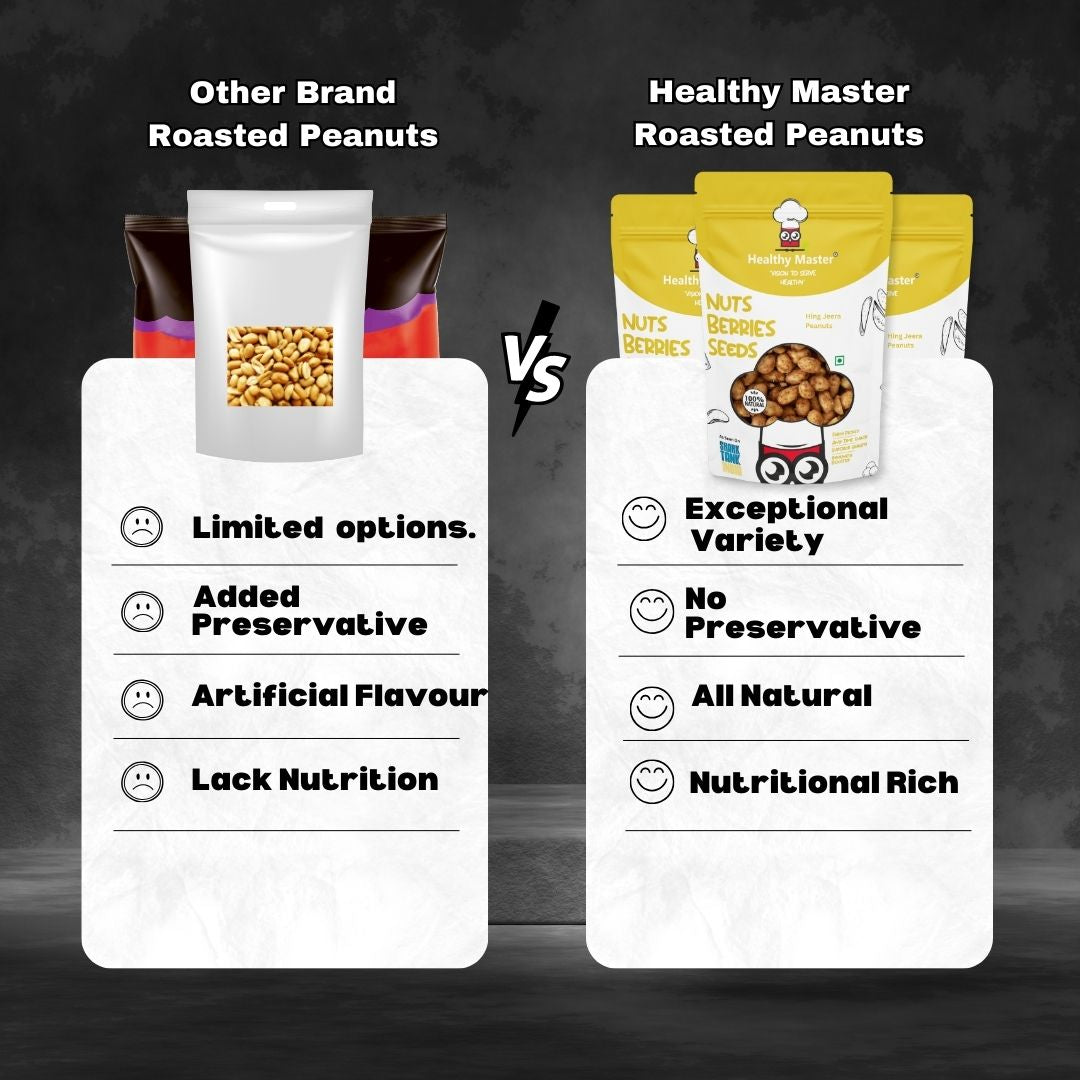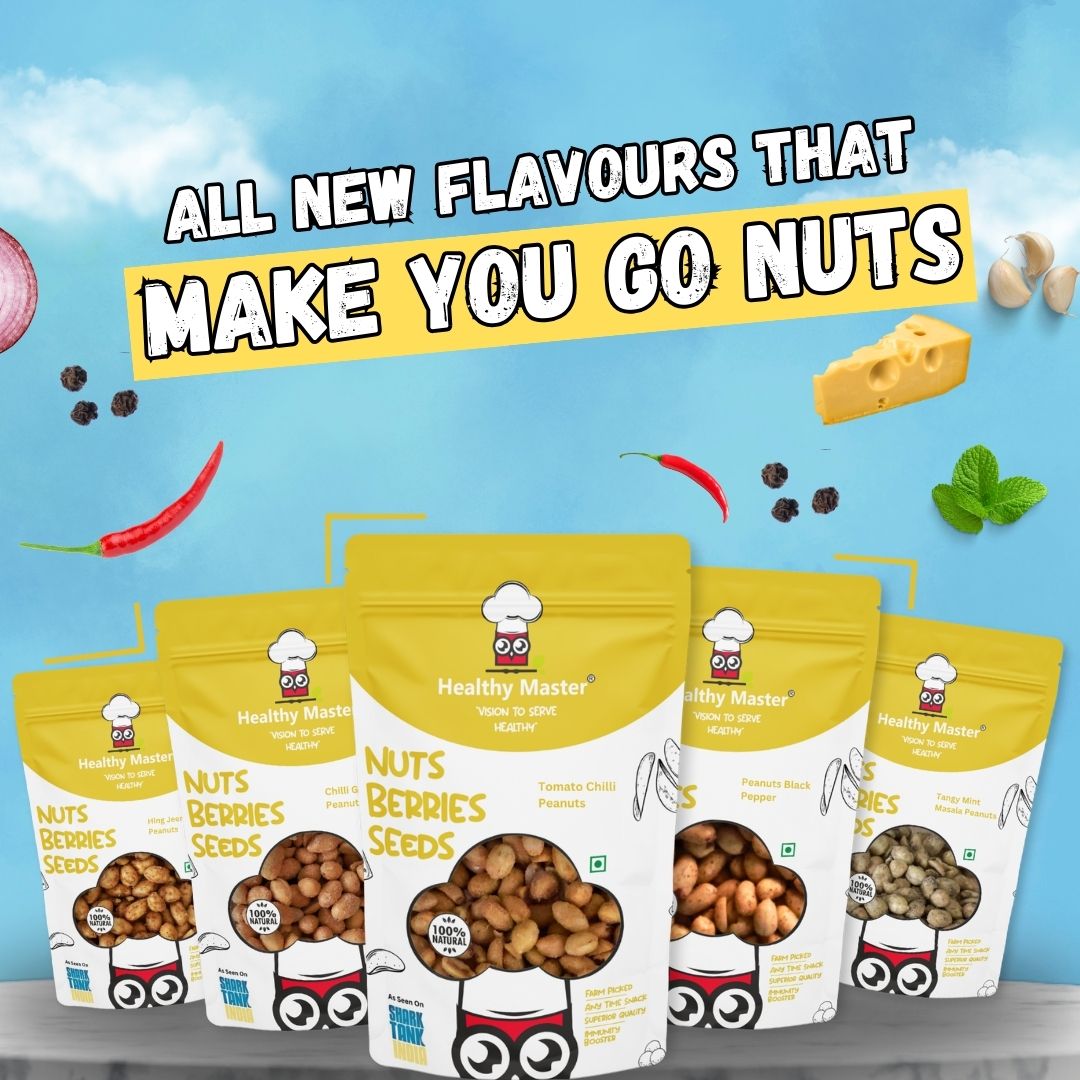 165 people are viewing this right now
Sale price
₹ 140.00
Regular price
₹ 210.00
Tax included.
20% OFF on first order with code HELLO10
Freebies on orders above Rs. ₹700
Free delivery on all orders above ₹699
Extra Flat 5% OFF on online payment
Refer and Earn Rs. 100

Guarantee safe & secure checkout
PAN India Free Shipping : On all orders over 699
Discover the exotic fusion of flavor and nutrition with Healthy Master's Hing Jeera Peanuts. These unique peanuts combine the nuttiness of peanuts with the aromatic spices of hing and jeera, offering a satisfying and wholesome snacking experience. Gluten-free and additive-free, they're perfect for any occasion. Elevate your snacking game today with Healthy Master!
🌟 Unique Flavor Fusion
🥜 Nutrient-Rich Snacking
🚫 Gluten-Free & Additive-Free
🍽️ Versatile & Delicious
🥇 Quality Assurance
<ul>
<li>
<strong>Unique Flavor Fusion:</strong> Our Hing Jeera Peanuts offer an exotic blend of nuttiness, earthy cumin, and the subtle garlic-like essence of hing (asafoetida), creating a distinctive and satisfying flavor.
</li>
<li>
<strong>Nutrient-Rich Snacking:</strong> Packed with protein, fiber, and essential vitamins, these peanuts provide a satisfying and nutritious snack option.
</li>
<li>
<strong>Gluten-Free & Additive-Free:</strong> Enjoy a wholesome snacking experience with no artificial additives or preservatives.
</li>
<li>
<strong>Versatile & Delicious:</strong> Perfect for snacking, party platters, or salad toppings, these peanuts are a versatile delight.
</li>
<li>
<strong>Bulk Purchase Options:</strong> Planning a special event, corporate gathering, or just want to stock up? We offer bulk purchasing options to accommodate your needs. Contact our customer support for pricing and details.
</li>
</ul>
<h2>Ingredients:</h2>

<ul>
<li>Peanuts</li>
<li>Cottonseed oil</li>
<li>Mixed Spices</li>
</ul>
<h2>Nutritional Facts (Per 100g)</h2>

<table>
<tr>
<th>Nutrient</th>
<th>Amount per 100g</th>
</tr>
<tr>
<td>Energy</td>
<td>590.7 Kcal</td>
</tr>
<tr>
<td>Total Protein</td>
<td>20.3 g</td>
</tr>
<tr>
<td>Total Fat</td>
<td>42.8 g</td>
</tr>
<tr>
<td>Saturated Fat</td>
<td>20.5 g</td>
</tr>
<tr>
<td>Trans Fat</td>
<td>0 g</td>
</tr>
<tr>
<td>Cholesterol</td>
<td>0 mg</td>
</tr>
<tr>
<td>Total Carbohydrates</td>
<td>31.1 g</td>
</tr>
<tr>
<td>Dietary Fiber</td>
<td>7.5 g</td>
</tr>
<tr>
<td>Sodium</td>
<td>894.0 mg g</td>
</tr>
</table>
<ol>
<li>
<h3>What is the flavor of Hing Jeera Peanuts?</h3>
<p>Our Hing Jeera Peanuts offer a unique fusion of nuttiness, earthy cumin, and the subtle garlic-like essence of hing (asafoetida), creating a distinctive and satisfying flavor.</p>
</li>
<li>
<h3>Are these peanuts gluten-free?</h3>
<p>Yes, our Hing Jeera Peanuts are gluten-free, making them an ideal snack choice for individuals with gluten sensitivities or dietary restrictions.</p>
</li>
<li>
<h3>Do these peanuts contain any artificial additives or preservatives?</h3>
<p>No, we are committed to providing a wholesome snacking experience. Our Hing Jeera Peanuts are free from artificial additives or preservatives, ensuring a natural and flavorful taste.</p>
</li>
<li>
<h3>How can I enjoy these peanuts?</h3>
<p>These Hing Jeera Peanuts are versatile and can be enjoyed straight from the pack for a satisfying snack. They also make a delightful addition to party platters and can be used as a flavorful topping for salads.</p>
</li>
<li>
<h3>Can I purchase these peanuts in bulk for special events or occasions?</h3>
<p>Yes, we offer bulk purchasing options for our Hing Jeera Peanuts. Whether you're planning a special event, corporate gathering, or simply want to stock up, we can accommodate your bulk order needs. Please contact our customer support for pricing and details.</p>
</li>
</ol>