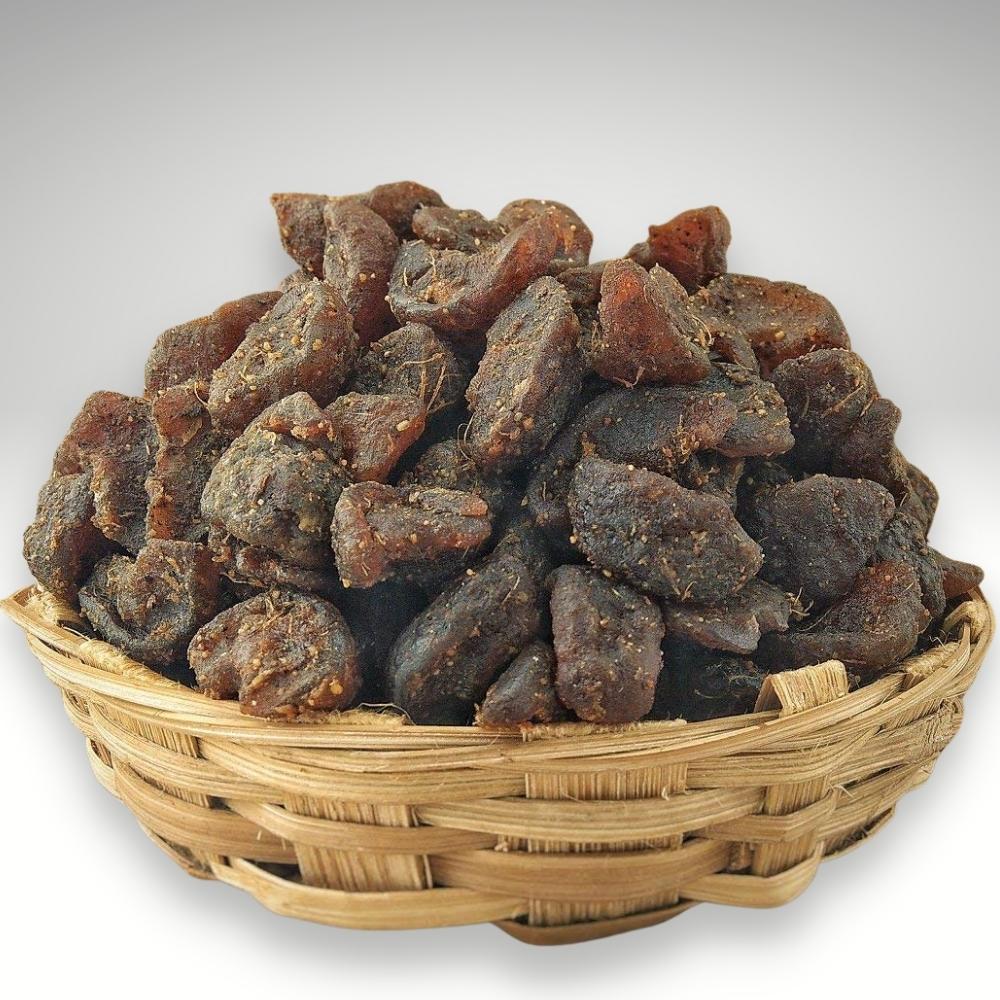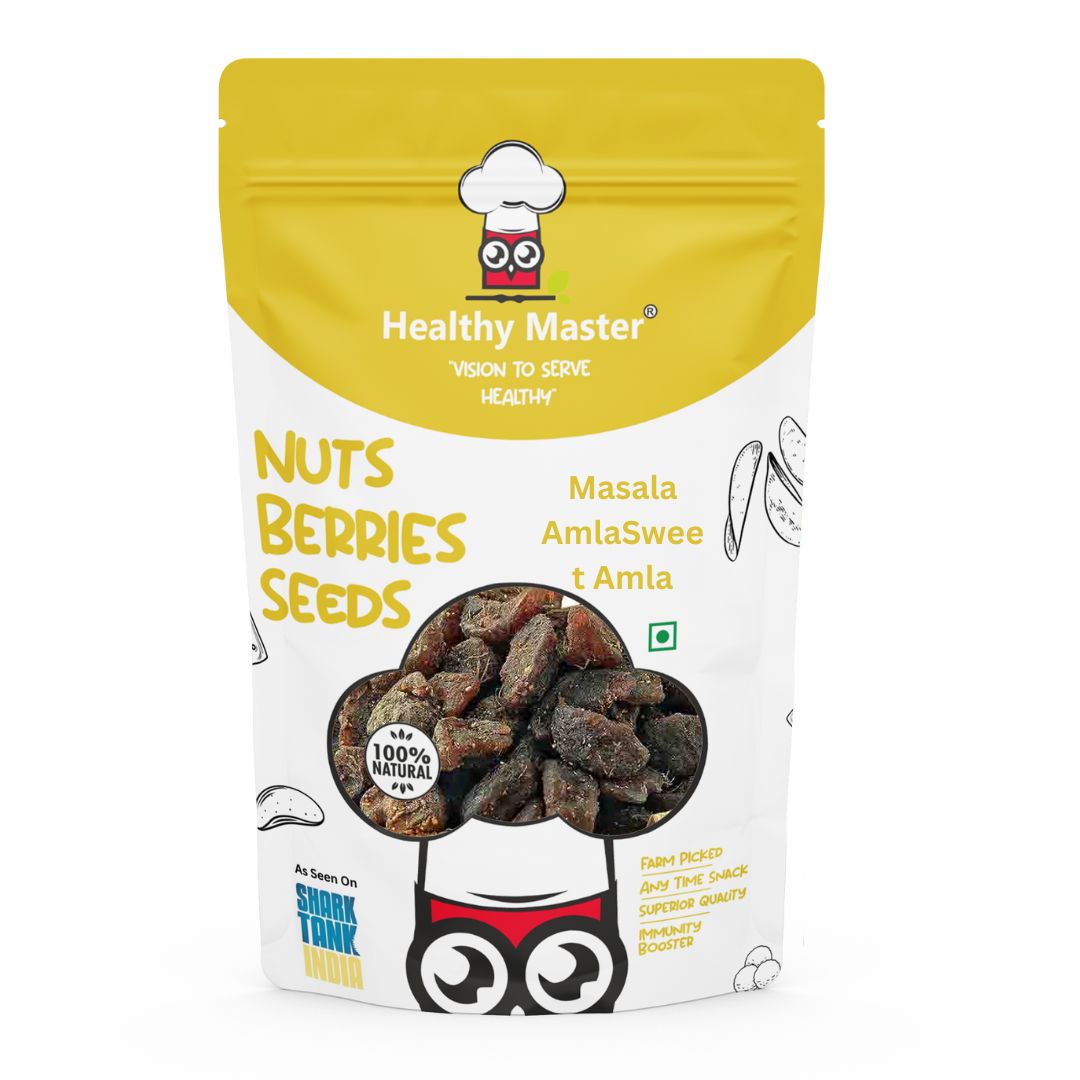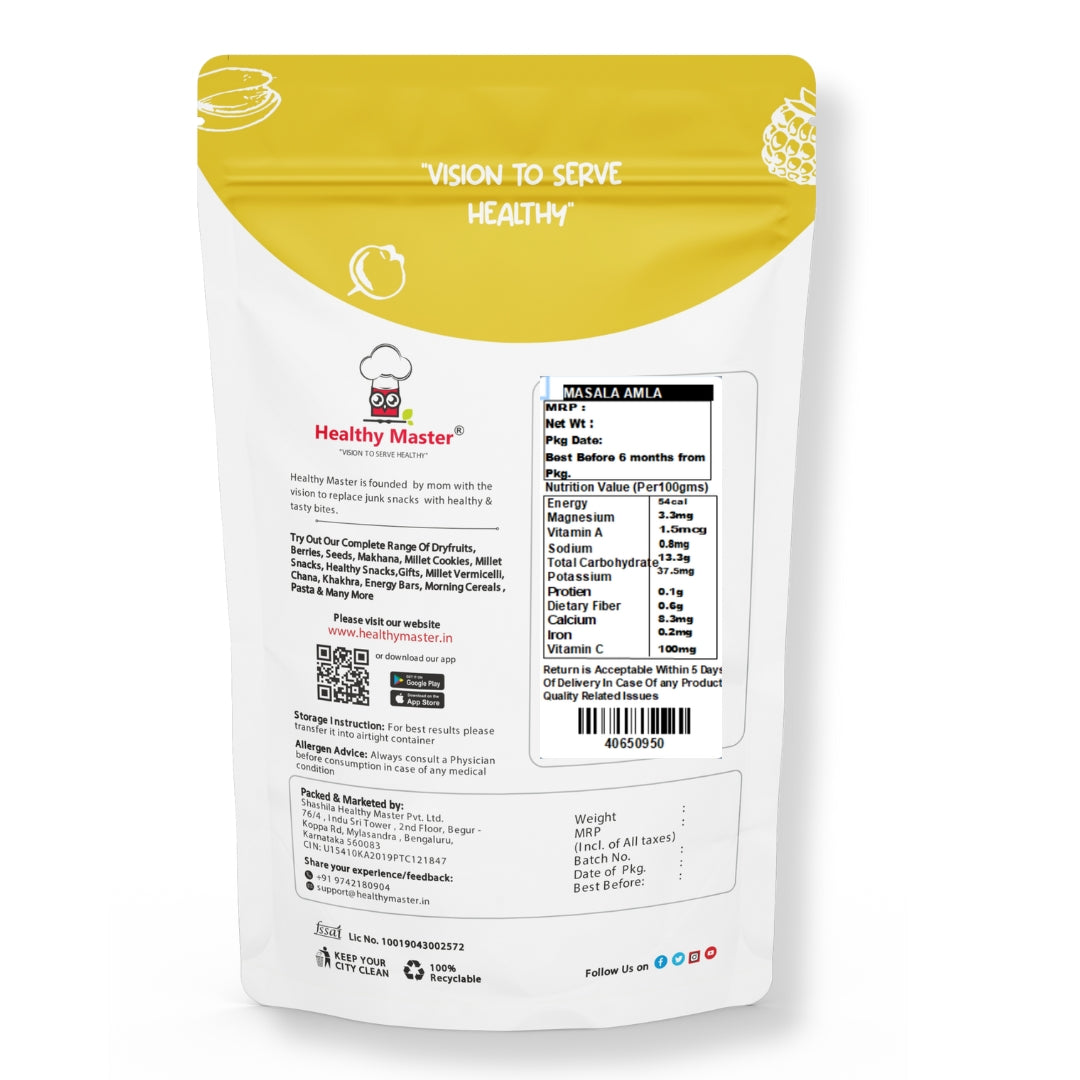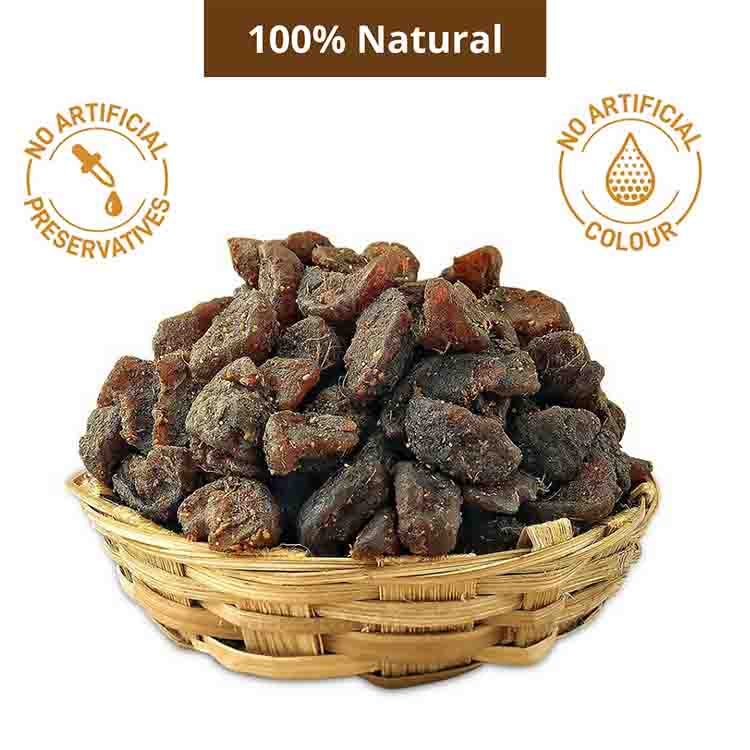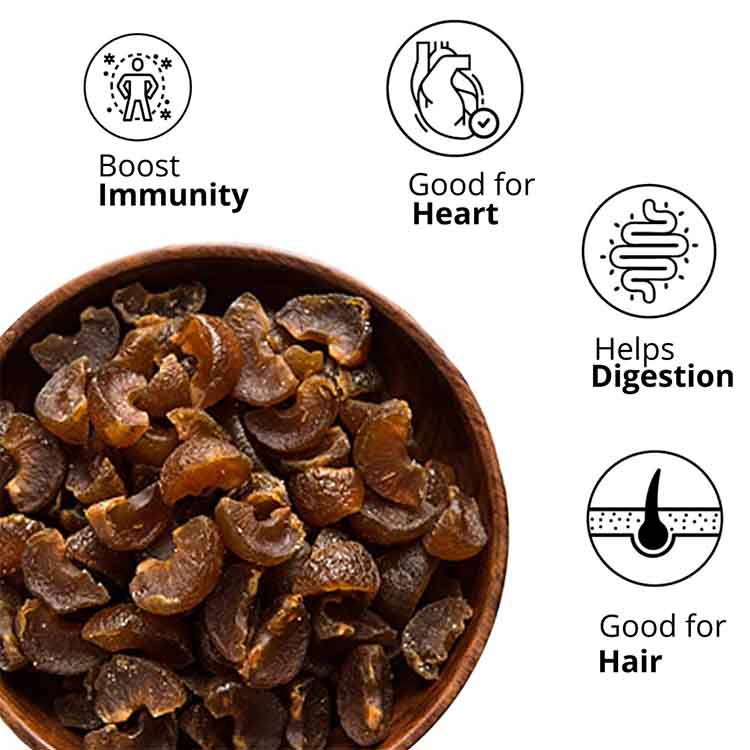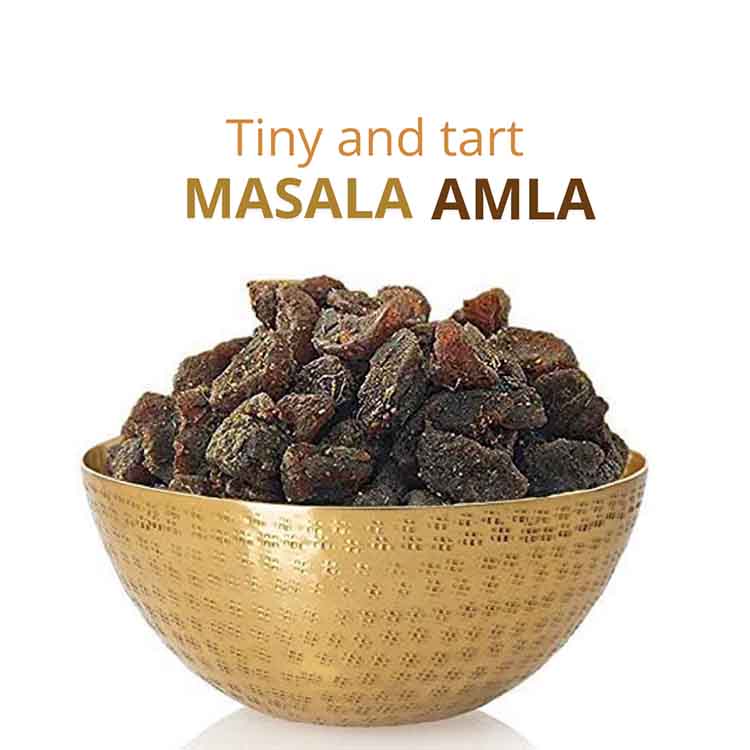 153 people are viewing this right now
Sale price
₹ 175.00
Regular price
₹ 210.00
Tax included.
Get 25% Off upto ₹300 on Flavoured Nuts, Min. Order Value ₹699
10% discount on first order using code HELLO10, Min. Order Value ₹699 *Not Aplicable in Dryfruits and Gift Boxes
Freebies on orders above Rs. ₹700
Free delivery on all orders above ₹699

Guarantee safe & secure checkout
PAN India Free Shipping : On all orders over 699
Masala Amla is an amazing product with a unique taste, composed of naturally occurring polyphenols and anthocyanins that are the most powerful antioxidants in the plant kingdom. Amla is packed with the free-radical fighting antioxidants naturally occurring in the plant to help you live life to the fullest. The medicinal properties of amla help address a number of health conditions such as diabetes, jaundice, anemia, and high cholesterol levels. Buy Masala Amla Online from Healthy Master.
In the traditional Ayurveda, amla is considered one of the most powerful herbs for preventing many chronic diseases such as cardiovascular disorders, diabetes, cancers, and joint pains. It adds some healing power to your hair care routine with respect to hair fall and dandruff too. All these qualities make it the nutrition superstar in nature with multiple health benefits. It is a great source of Vitamin C and Vitamin B1 and other nutrients. Eating this amazing fruit helps in preventing and even curing numerous health ailments. The benefits of Amla can be availed to maintain health and stamina in the body. Masala Amla Online supplements help to keep our hair, skin, liver etc. healthy by addressing the problems at their root level.
<p><strong>H<u>ealth Benefits Of Masala Aml</u>a:</strong></p>
<p><strong>&nbsp;</strong></p>
<ul>
<li><strong>Rich in vitamin C </strong></li>
<li><strong>Accelerates hair growth </strong></li>
<li><strong>Rich source of natural nutrients </strong></li>
<li><strong>It benefits the heart, skin eyes stomach and helps in maintaining the overall health of the body</strong></li>
<li><strong>Improves digestion</strong></li>
<li><strong>Weight management</strong></li>
<li><strong>Boosts liver health</strong></li>
<li><strong>Improves digestion</strong></li>
<li><strong>Reduces the risk of heart disease</strong></li>
</ul>
<p>&nbsp;</p>
<p><strong><u>Ingredient</u>:</strong></p>
<ul>
<li><strong>Masala Amla&nbsp;</strong></li>
</ul>
<p>&nbsp;</p>
<p><strong>&nbsp; &nbsp; &nbsp; &nbsp; &nbsp; &nbsp; &nbsp; N<u>utrional Values: per 100</u>g&nbsp;</strong></p>
<table border="1" cellspacing="0" cellpadding="0">
<tbody>
<tr>
<td><strong>Energy</strong></td>
<td><strong>54 cal</strong></td>
</tr>
<tr>
<td><strong>protein </strong></td>
<td><strong>0.1g</strong></td>
</tr>
<tr>
<td><strong>carbohydrates </strong></td>
<td><strong>13.3g</strong></td>
</tr>
<tr>
<td><strong>fiber </strong></td>
<td><strong>0.6g</strong></td>
</tr>
<tr>
<td><strong>fat </strong></td>
<td><strong>0g</strong></td>
</tr>
<tr>
<td><strong>cholesterol </strong></td>
<td><strong>0mg</strong></td>
</tr>
<tr>
<td><strong>calcium</strong></td>
<td><strong>8.3mg</strong></td>
</tr>
<tr>
<td><strong>Iron</strong></td>
<td><strong>0.2mg</strong></td>
</tr>
<tr>
<td><strong>magnesium</strong></td>
<td><strong>3.3 mg</strong></td>
</tr>
<tr>
<td><strong>phosphorus</strong></td>
<td><strong>0mg</strong></td>
</tr>
<tr>
<td><strong>Sodium</strong></td>
<td><strong>0.8mg</strong></td>
</tr>
<tr>
<td><strong>potassium</strong></td>
<td><strong>37.5mg</strong></td>
</tr>
<tr>
<td><strong>zinc</strong></td>
<td><strong>0mg</strong></td>
</tr>
<tr>
<td><strong>vitamin A</strong></td>
<td><strong>1.5mg</strong></td>
</tr>
<tr>
<td><strong>vitamin C</strong></td>
<td><strong>100mg</strong></td>
</tr>
<tr>
<td><strong>Vitamin B9</strong></td>
<td><strong>0.1mg</strong></td>
</tr>
</tbody>
</table>
<p><br /><br /></p>
<p><strong>1)What is the storage and Shelf life of Masala Amla?</strong></p>
<p>Once it is opened pack it in an airtight container and refrigerate to store for a longer time up to 3months</p>
<p><strong>2)How many Amla can be eaten a day?</strong></p>
<p>3 to 4 pieces</p>
<p><strong>3)Can Diabetics consume Masala Amla?</strong></p>
<p>Yes</p>
<p><strong>4)What is the best time to consume Masala Amla?</strong></p>
<p>It can be eaten at any time of the day</p>
<p><strong>5)How it tastes like?</strong></p>
<p>It tastes a little spicy.</p>
<p><strong>6)What is the specialty of Healthy Master&rsquo;s Masala Amla?</strong></p>
<p>It is naturally sun-dried without any preservatives added to it</p>