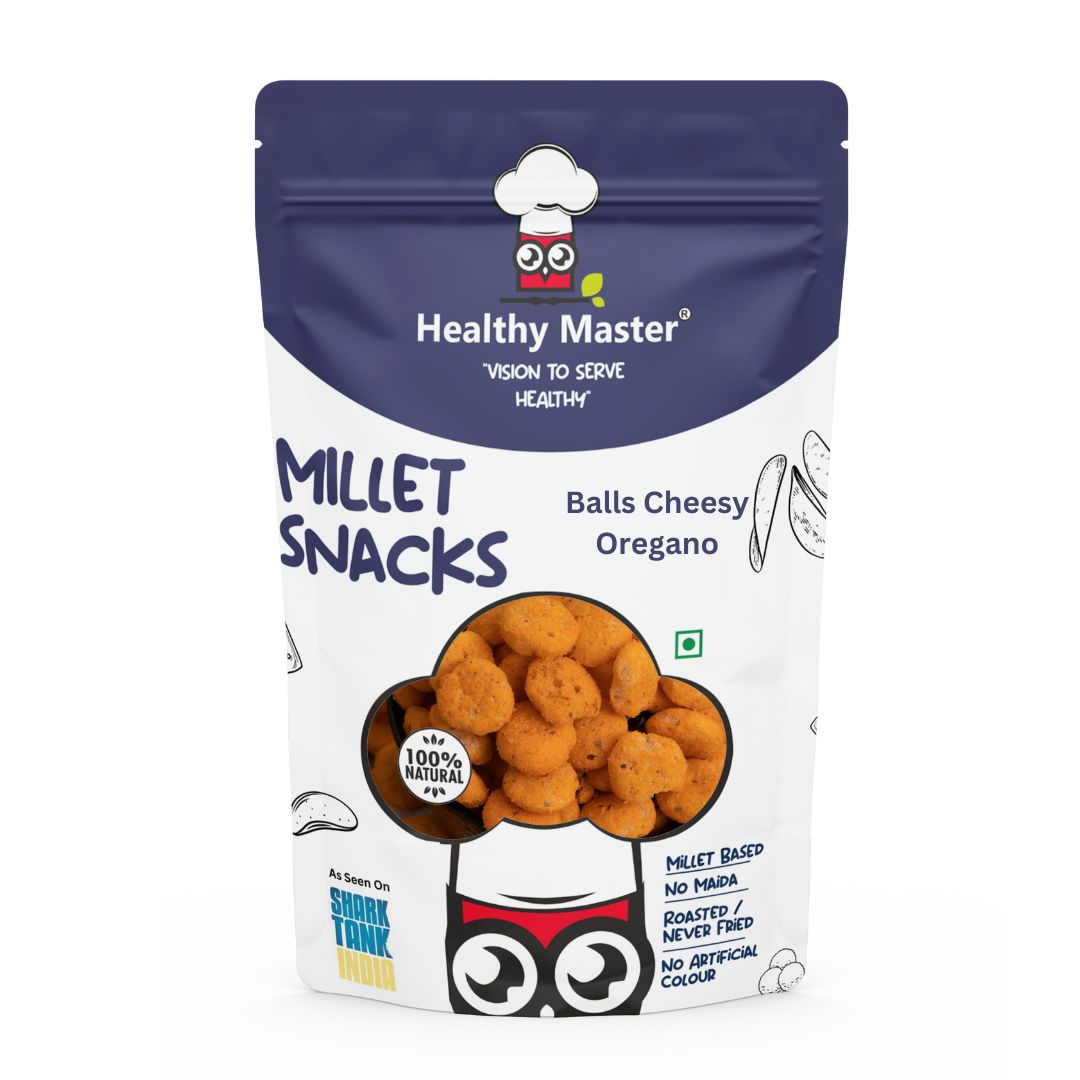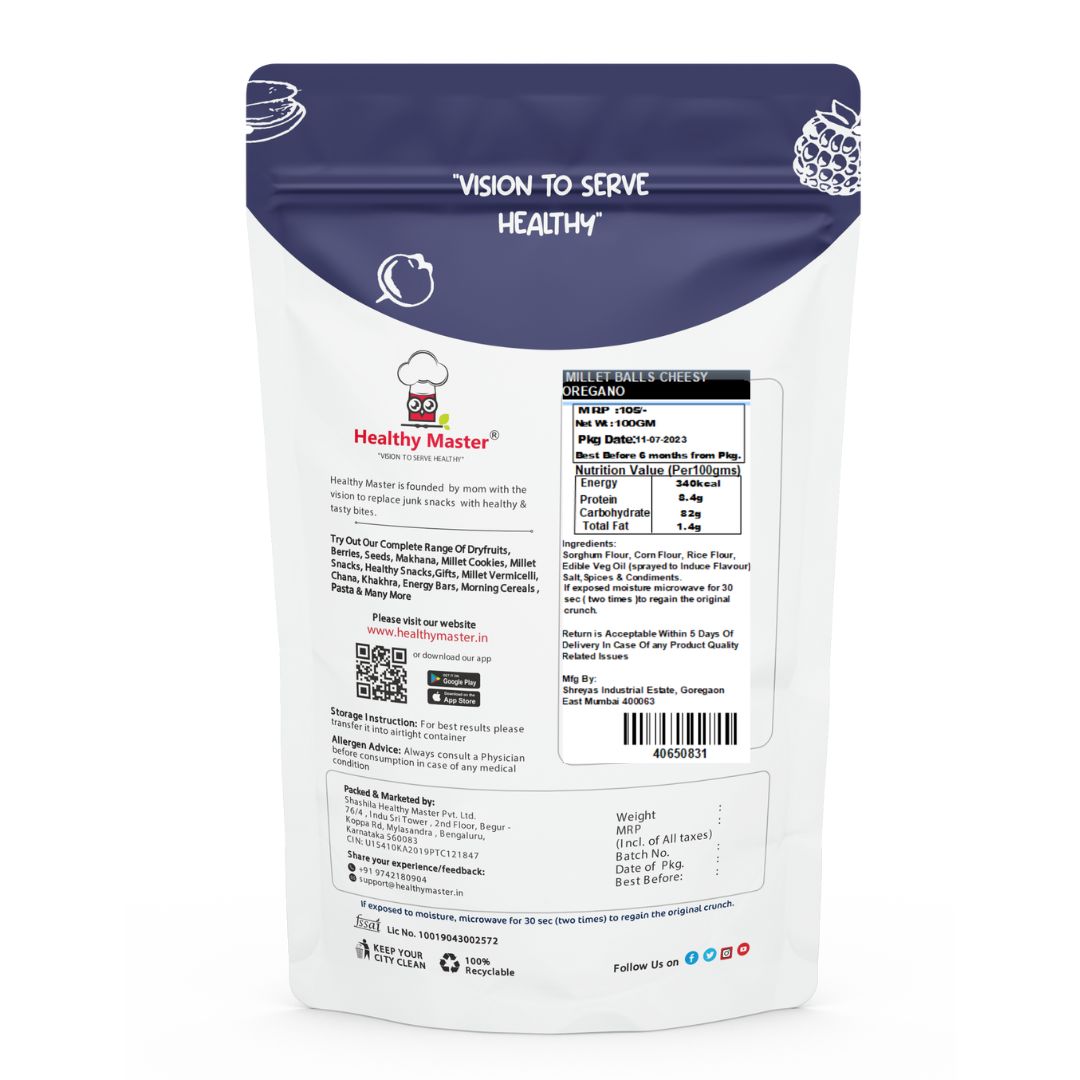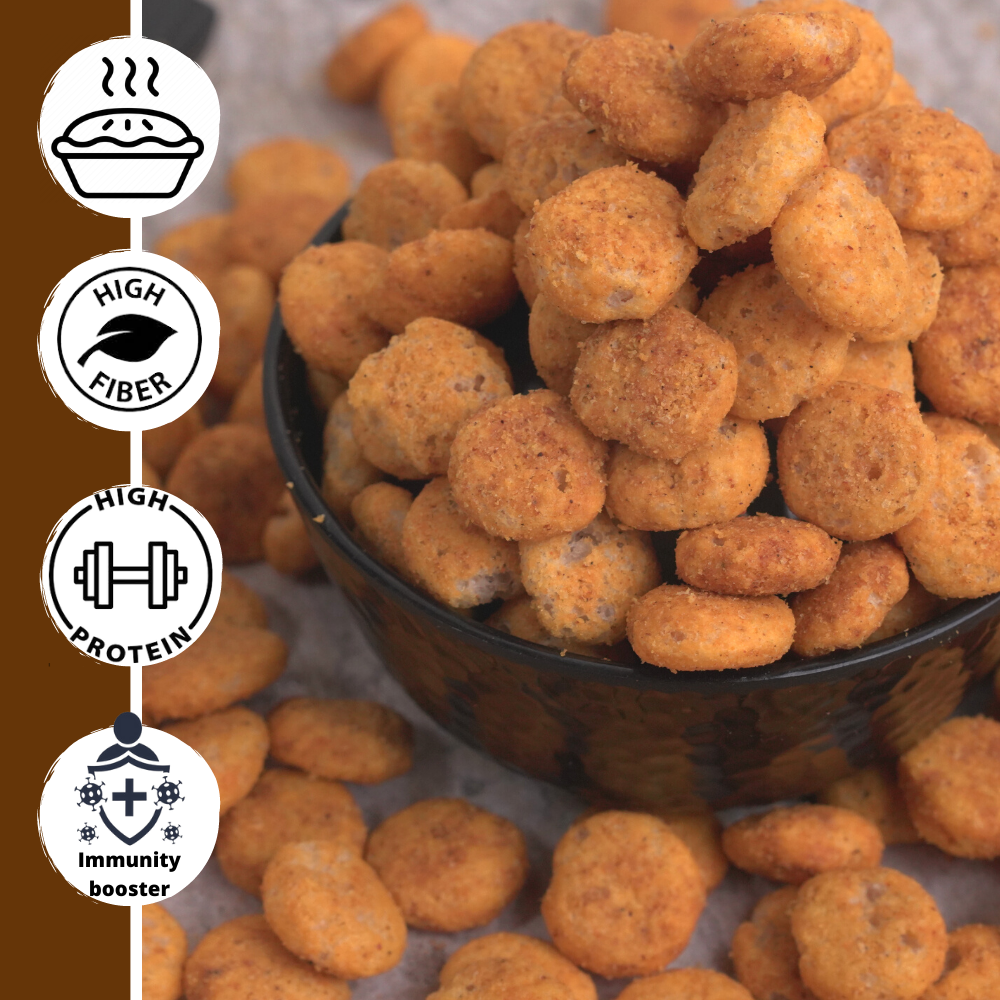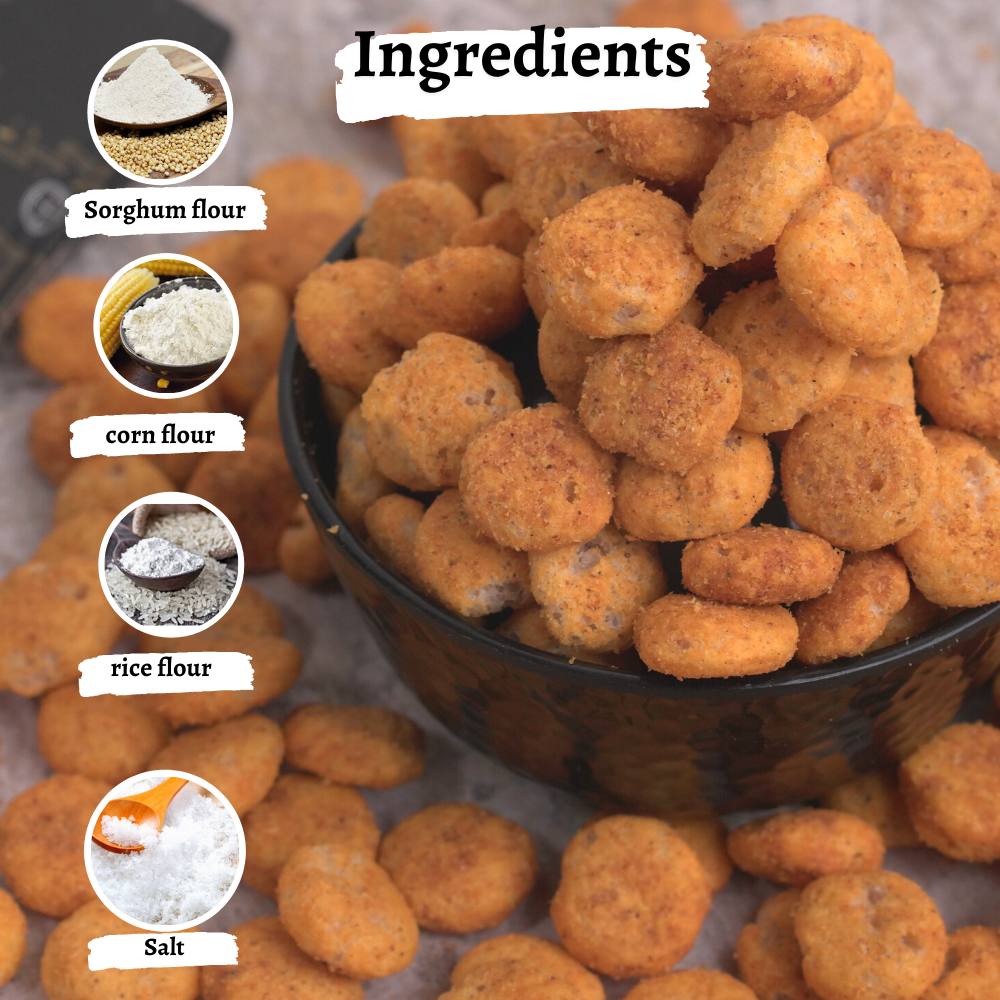 Millet balls Cheesy Oregano
133 people are viewing this right now
Sale price
₹ 90.00
Regular price
₹ 105.00
Tax included.
Get 25% Off upto ₹300 on Flavoured Nuts, Min. Order Value ₹699
10% discount on first order using code HELLO10, Min. Order Value ₹699 *Not Aplicable in Dryfruits and Gift Boxes
Freebies on orders above Rs. ₹700
Free delivery on all orders above ₹699

Guarantee safe & secure checkout
PAN India Free Shipping : On all orders over 699
Perfectly baked with homemade cheese sauce and oregano, they are the ultimate comfort food mashup. These bite-size balls are individually portioned, ready to eat, and perfect for parties, special occasions, or as fun snacks. As they are very low in fat and calories they make an ideal addition to any diet. Snap out the hunger pangs instantly when you enjoy this crispy snack. Taste it and make in-your-mouth-water moments in no time. Get the Millet Balls Cheesy Oregano in India from the Healthy Master.
Millet is one of the best and most nutritious ingredients in the world. It provides you with a lot of benefits and tastes in each and every bite. It also prevents and treats many diseases and keeps your blood pressure under control, cholesterol low, weight under control, increases the strength of bones, skin glow, etc. Buy Best Millet Snacks and avail of great benefits.
<p><strong>&nbsp; H<u>ealth Benefit of&nbsp;Millet balls Cheesy Oregano</u>:</strong></p>

<ul>
<li><strong>Helps in Weight Loss and prevents obesity.&nbsp;</strong></li>
<li><strong>Low in calories and high in dietary fiber.&nbsp;</strong></li>
<li><strong>Controls Diabetes and blood pressure.&nbsp;</strong></li>
<li><strong>Good Source of Antioxidants.</strong></li>
<li><strong>Rich in antioxidants.</strong></li>
<li><strong>Help fight bacteria.</strong></li>
<li><strong>Reduce viral infection.</strong></li>
<li><strong>Easy to add to your diet.</strong></li>
<li><strong>Help manage diabetes.</strong></li>
<li><strong>Improve heart health.</strong></li>
</ul>
<p><strong>I<u>Ingredients:</u></strong></p>
<ul>
<li><strong>Sorghum flour</strong></li>
<li><strong>Corn flour</strong></li>
<li><strong>Rice flour</strong></li>
<li><strong>Edible Sunflower Oil(sprayed to induce flavour)</strong></li>
<li><strong>Salt</strong></li>
<li><strong>Spices &amp; condiments.</strong></li>
<li><strong>Includes Onion Garlic</strong></li>
</ul>
<p>&nbsp;</p>
<p><strong>&nbsp; &nbsp; &nbsp; &nbsp; N<u>utritional Values : (Per100g)</u></strong></p>
<table border="1" cellspacing="0" cellpadding="0">
<tbody>
<tr>
<td><strong>Energy</strong></td>
<td><strong>340Kcal</strong></td>
</tr>
<tr>
<td><strong>Fat </strong></td>
<td><strong>1.4g</strong></td>
</tr>
<tr>
<td><strong>Carbohydrates </strong></td>
<td><strong>82g</strong></td>
</tr>
<tr>
<td><strong>Protiens </strong></td>
<td><strong>8.4g</strong></td>
</tr>
</tbody>
</table>
<p><strong>1)What is the storage and shelf life of&nbsp;Millet balls Cheesy Oregano?</strong></p>
<p>It can be stored in an airtight container for up to 4months.&nbsp;</p>
<p><strong>2)What is special about Healthy Master's Millet balls Cheesy Oregano?</strong></p>
<p>It is natural,non-fried without any preservatives with A2 Cheese.</p>
<p><strong>3)Is it gluten-free?</strong></p>
<p>Yes</p>
<p><strong>4)Is it Vegan?</strong></p>
<p>No</p>
<p><strong>5)Is it Diabetic Friendly?</strong></p>
<p>YES</p>
<p><strong>6)Can this be given to Kids?</strong></p>
<p>Yes, It is loved by kids for the cheesy flavor and best for all age groups.</p>
Dieters use
Low in calories rich in fibre best to add in our daily diet . Prevents obesity also
Best buy
Buy this healthy snack and avail great benefits in your health
SUPERB
Dont need to look for anything else just go for it it increase our bone strength this is my best opinion
YUMMY TASTE
I always best buy now also i bought best snack which is tasty and rich in nutrients