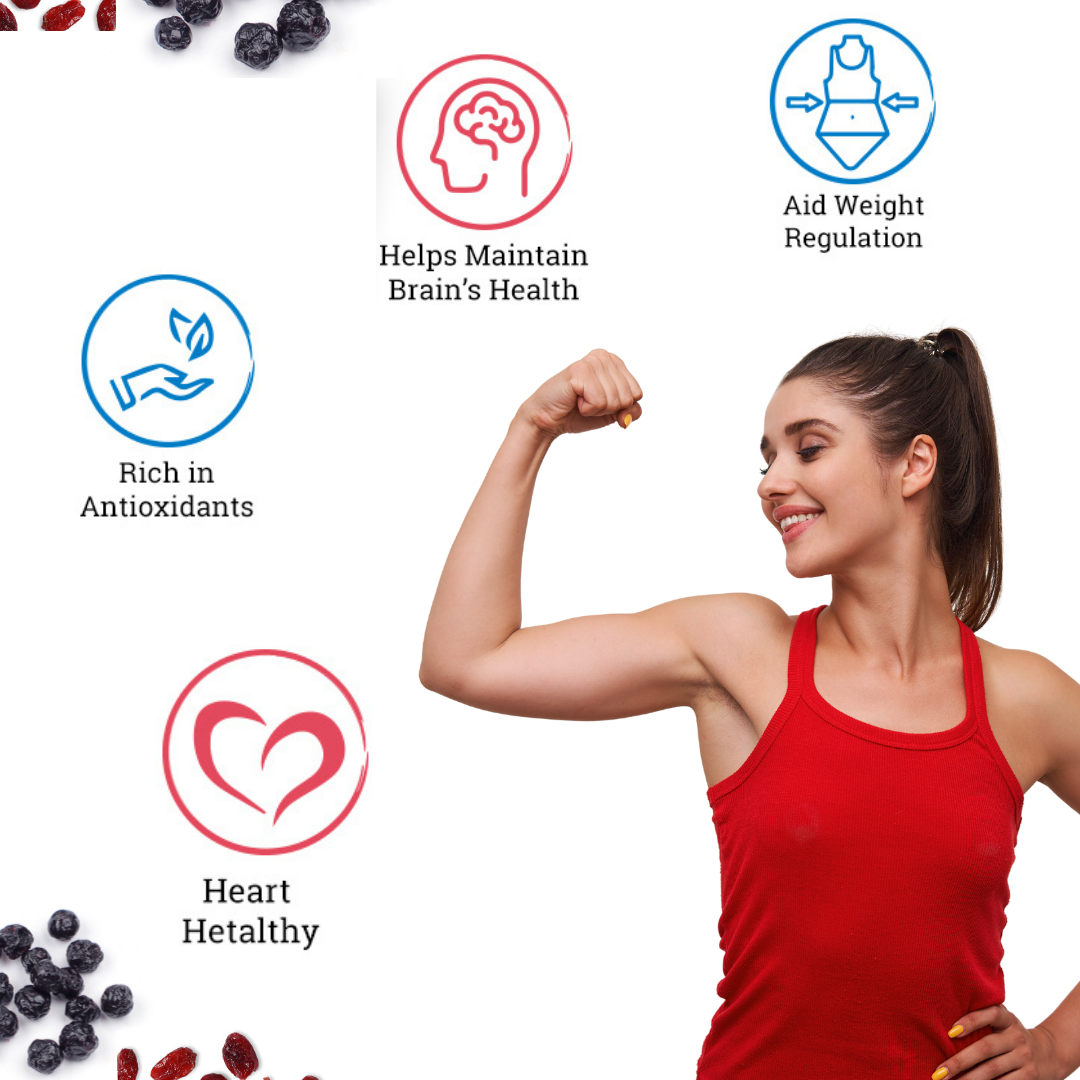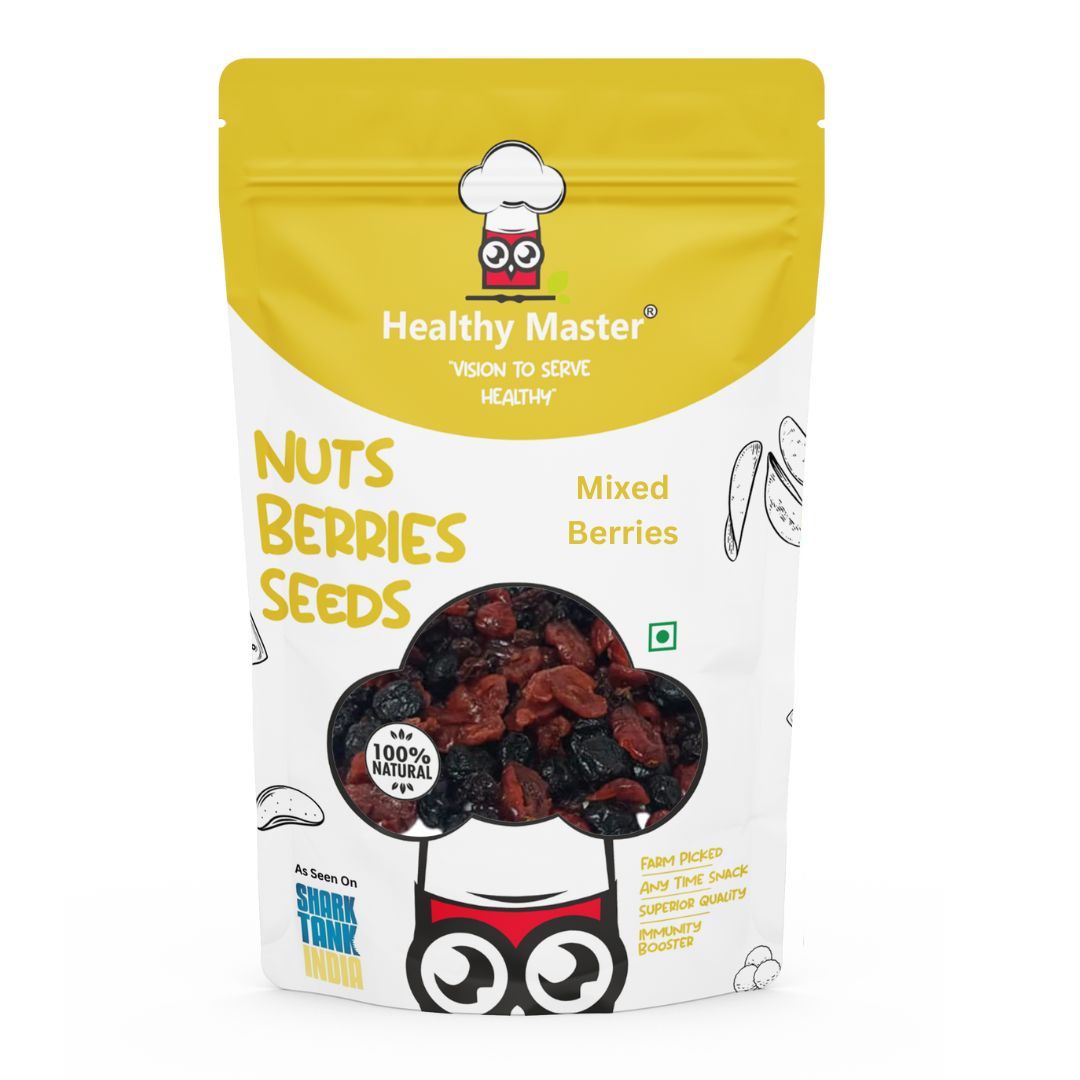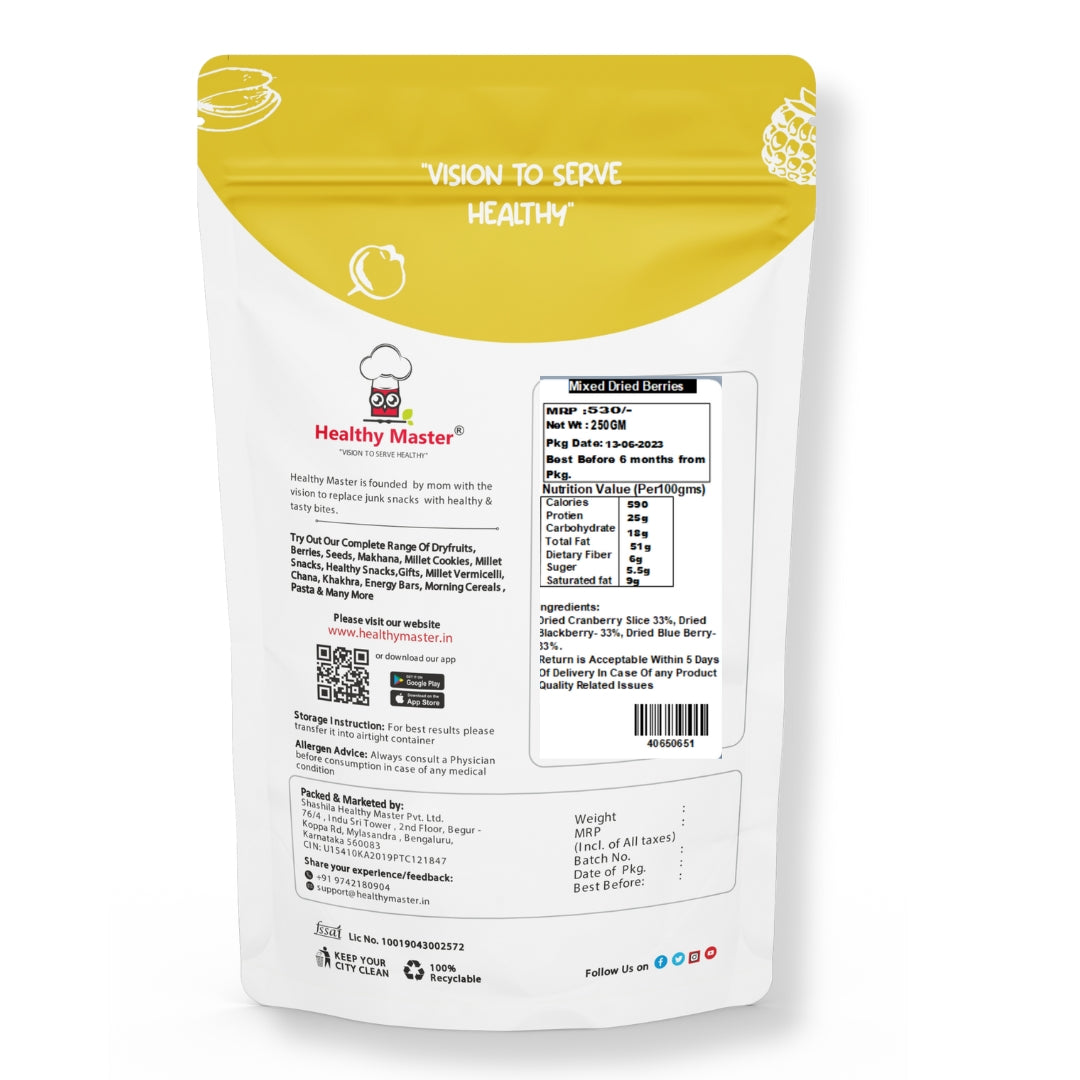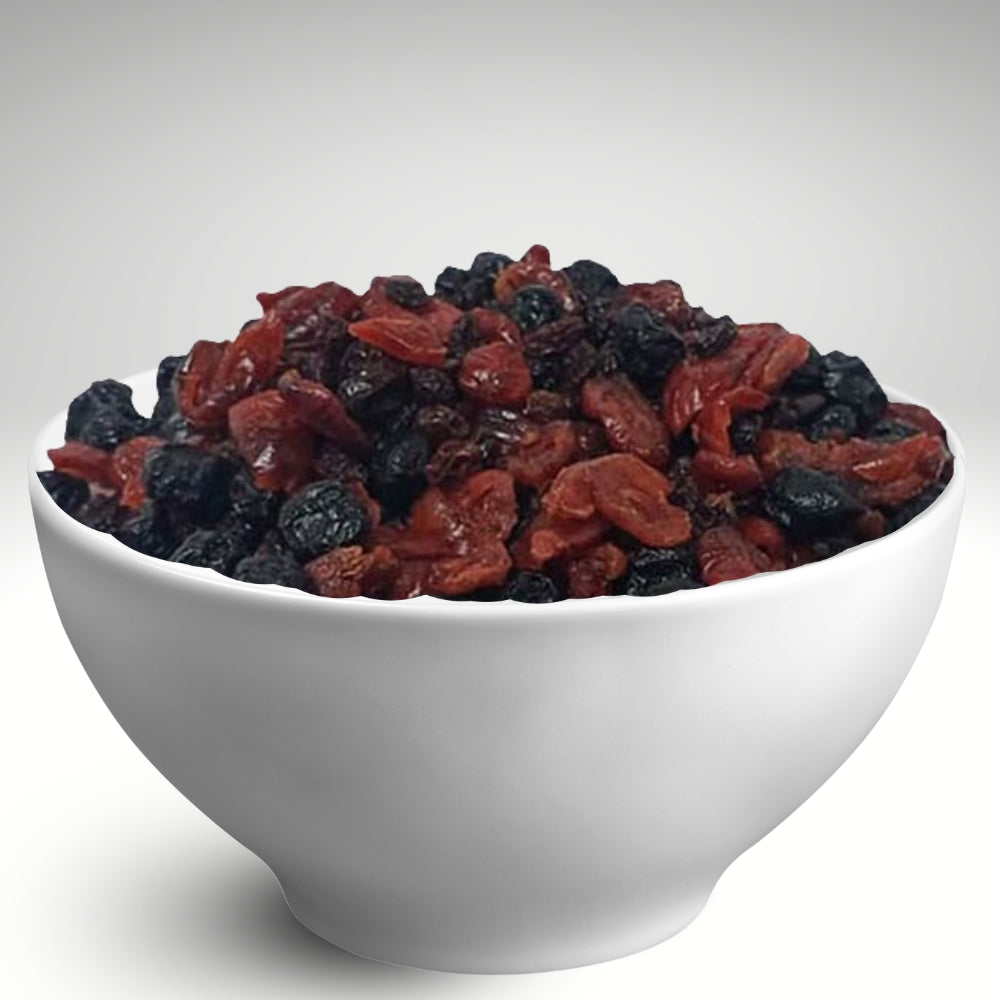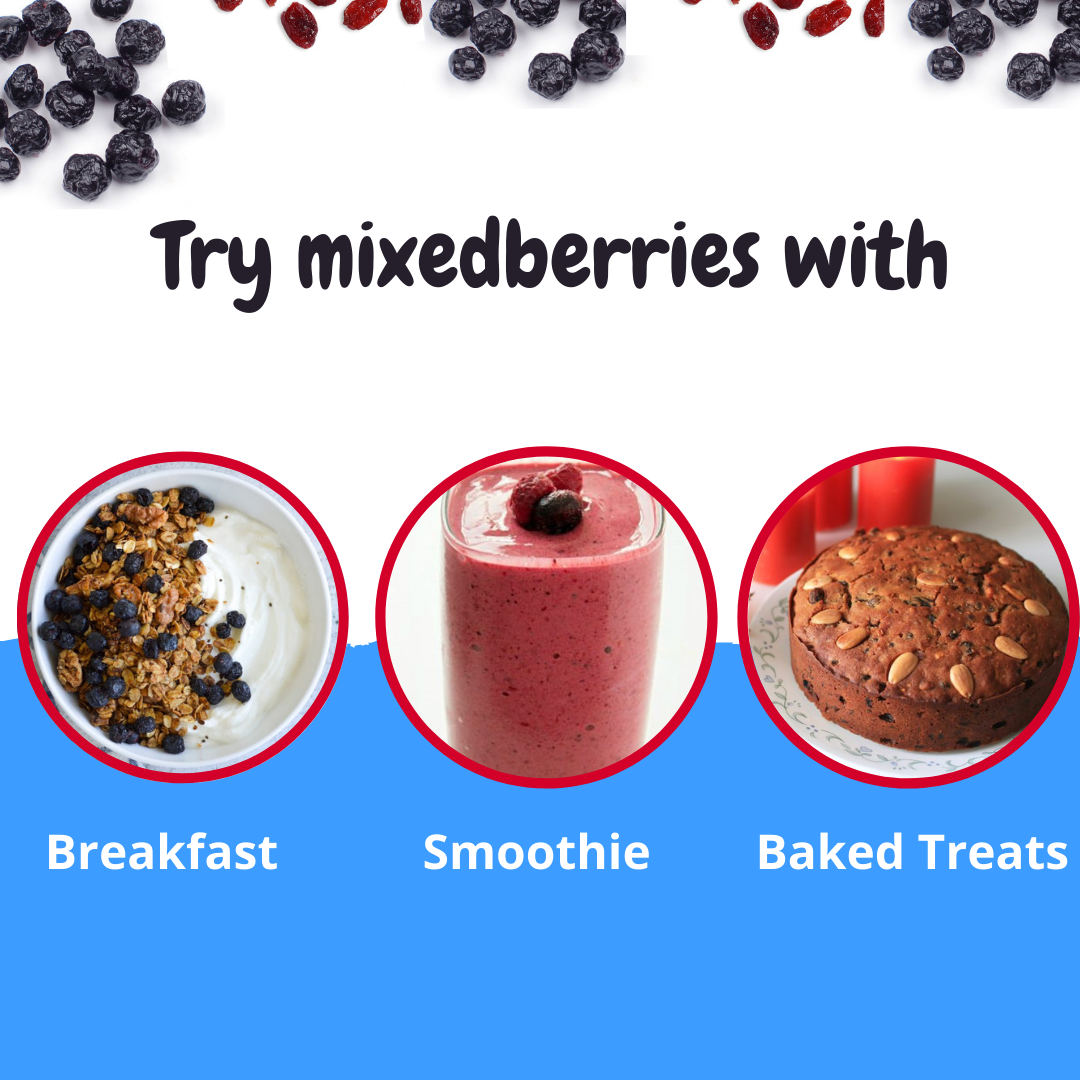 159 people are viewing this right now
Sale price
₹ 499.00
Regular price
₹ 530.00
Tax included.
20% OFF on first order with code HELLO10
Freebies on orders above Rs. ₹700
Free delivery on all orders above ₹699
Extra Flat 5% OFF on online payment
Refer and Earn Rs. 100

Guarantee safe & secure checkout
PAN India Free Shipping : On all orders over 699
Buy Mixed Berries at Healthy Master
Made from deliciously sweet, fresh sun-dried berries, this mix is a combination of blueberries, blackberries and cranberries. This mix is the perfect healthy snack at any time of day.
Healthy Master's mixed dried berries are packed with antioxidants and phytonutrients which is highly recommended by nutritionists to include in our daily diet. They lower the risk of heart disease, cancer.
Nutritions in Mixed Berries
They are low in calories, loaded with vitamins, minerals, fiber and several essential nutrients. Besides these nutritional properties, berries have attractive colour and sweet tangy flavours which makes them a delicious addition to shakes, smoothie bowls or various dessert recipes. Check mixed berries price online at Healthy Master.
<p><strong>H<u>ealth Benefits Of Mixed-Dried Berrie</u>s:</strong></p>
<p>&nbsp;</p>
<ul>
<li><strong>Loaded with antioxidants. </strong></li>
<li><strong>Known to prevent UTIs -Urinary Tract Infections. </strong></li>
<li><strong>High in dietary fiber </strong></li>
<li><strong>Helps to maintain a healthy digestive system. </strong></li>
<li><strong>Great source of Vitamin C </strong></li>
<li><strong>Boosts the immune system.</strong></li>
<li><strong>Keep you mentally sharp</strong></li>
<li><strong>Help you maintain weight</strong></li>
<li><strong>Lower blood pressure by boosting blood vessel function with berries</strong></li>
</ul>
<p><strong>&nbsp;I<u>ngredient</u>s:&nbsp;</strong></p>
<ul>
<li><strong>Dried Cranberry Slice- 33%</strong></li>
<li><strong>Dried BlackBerry- 33%</strong></li>
<li><strong>Dried BlueBerry- 33%</strong></li>
</ul>
<table>
<tbody>
<tr style="height: 23px;">
<th style="height: 23px;">Nutritional Value</th>
<th style="height: 23px;">(per 100g approx)</th>
</tr>
<tr style="height: 23px;">
<td style="height: 23px;">Calories&nbsp;</td>
<td style="height: 23px;">590 Kcal</td>
</tr>
<tr style="height: 23px;">
<td style="height: 23px;">Protein</td>
<td style="height: 23px;">25g</td>
</tr>
<tr style="height: 23px;">
<td style="height: 23px;">Carbohydrate&nbsp;</td>
<td style="height: 23px;">18g</td>
</tr>
<tr style="height: 23px;">
<td style="height: 23px;">Total Fat</td>
<td style="height: 23px;">51g</td>
</tr>
<tr style="height: 23px;">
<td style="height: 23px;">Sugar</td>
<td style="height: 23px;">5.5g</td>
</tr>
<tr style="height: 23px;">
<td style="height: 23px;">Saturated Fat</td>
<td style="height: 23px;">9g</td>
</tr>
</tbody>
</table>
<p><strong>1)What are the Storage and Shelf Life of&nbsp;Mixed Dried Berries?</strong></p>
<p>It can be stored in an airtight container or refrigerated for up to 6 months.</p>
<p><strong>2)What are the features of Healthy Master&rsquo;s Mixed Dried Berries?</strong></p>
<p>No preservatives, Gluten-Free, Non-GMO, vegan, and &nbsp;naturally sun-dried</p>
<p><strong>3)What is Mixed Dried Berries?</strong></p>
<p>It is a mix of Cranberry slices, blackberries and blueberries</p>
<p><strong>4)What is the best way to consume dried berries?</strong></p>
<p>It can be added in baked goods like cookies, on top of your&nbsp;<strong>morning oatmeal or porridge</strong>, in trail mix, or by the handful as a snack.&nbsp;</p>
<p><strong>5)Is it Diabetic Friendly?</strong></p>
<p>YES,can be consumed in moderate quantity.</p>
The rightproduct brand that was truly relished
These brand (of berries)were great compared to a recent similar purchase