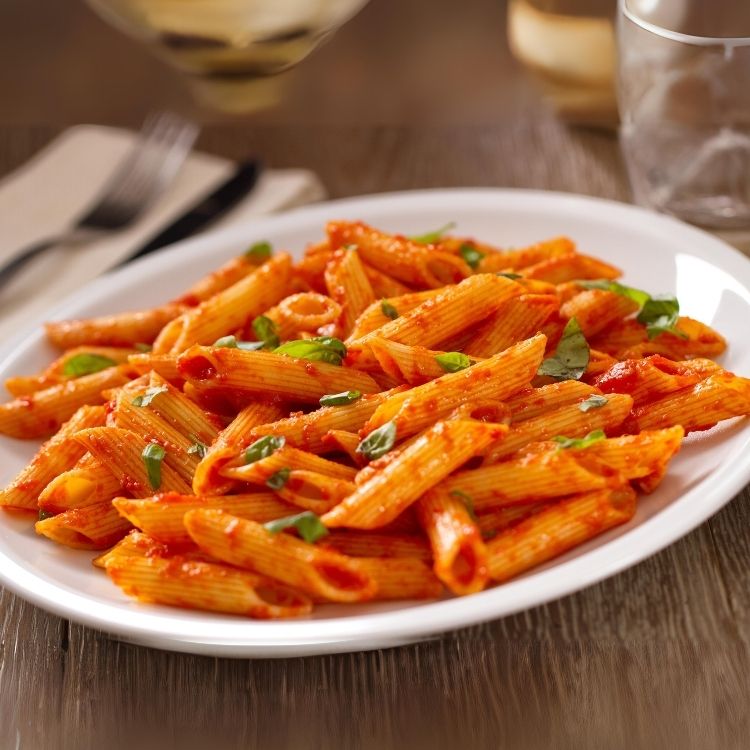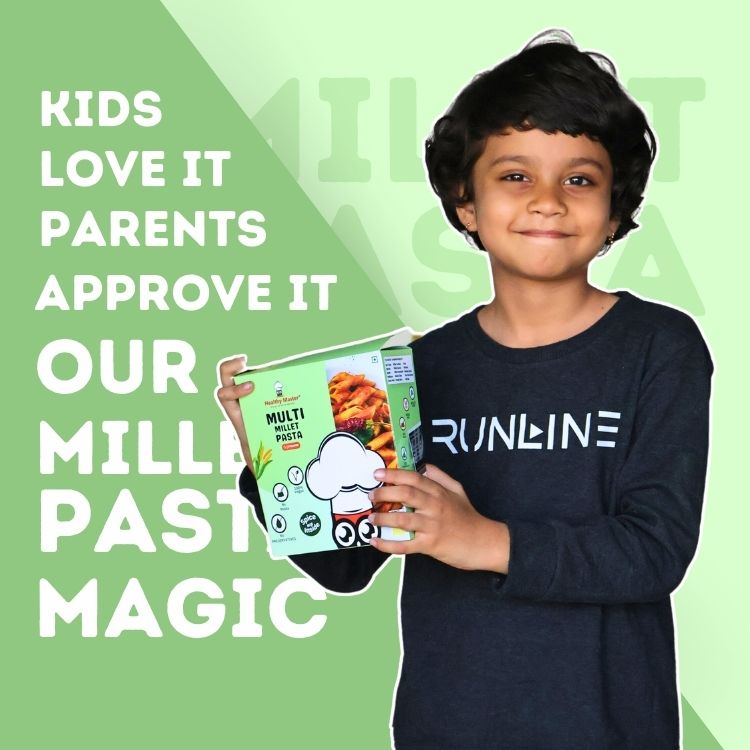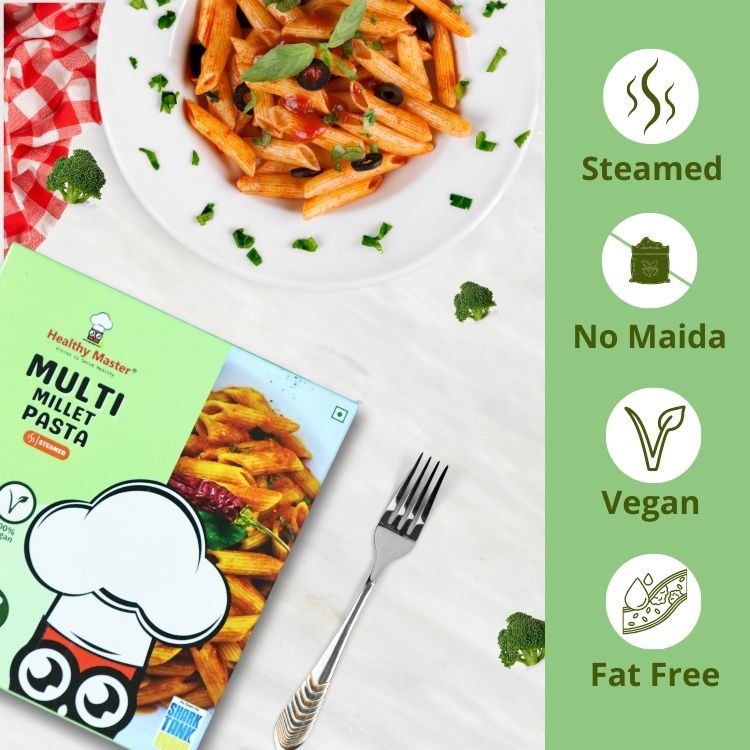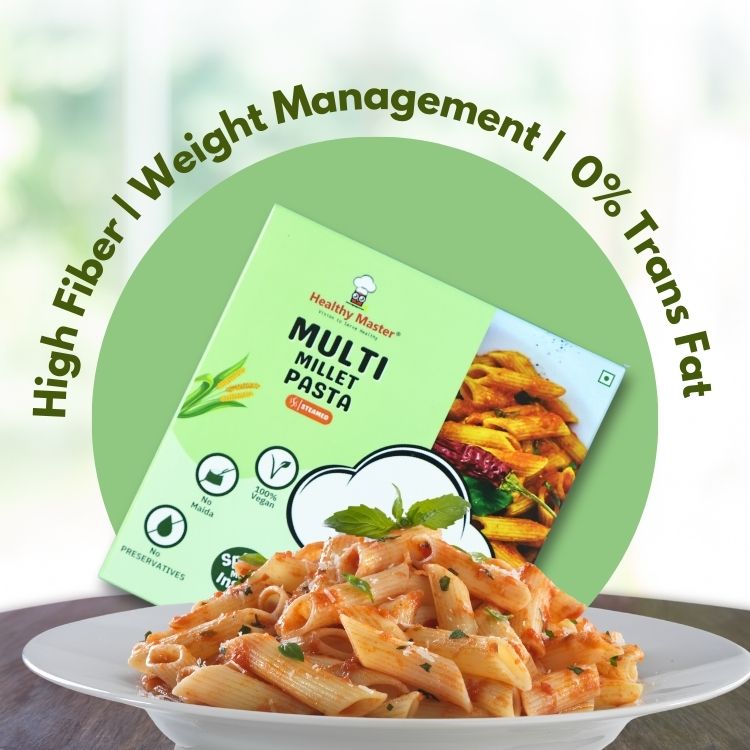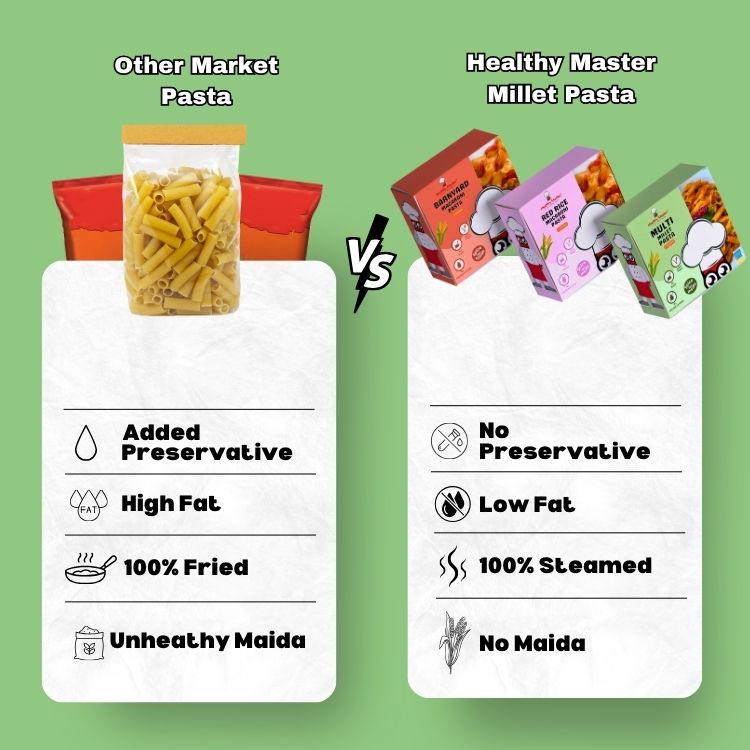 123 people are viewing this right now
Sale price
₹ 199.00
Regular price
₹ 250.00
Tax included.
Get 25% Off upto ₹300 on Flavoured Nuts, Min. Order Value ₹699
10% discount on first order using code HELLO10, Min. Order Value ₹699 *Not Aplicable in Dryfruits and Gift Boxes
Freebies on orders above Rs. ₹700
Free delivery on all orders above ₹699

Guarantee safe & secure checkout
PAN India Free Shipping : On all orders over 699
Introducing our new Multi Millet Pasta - a delicious and nutritious twist on traditional pasta! Our unique blend of ingredients includes a variety of wholesome millet flours (Finger millet, Pearl millet, Kodo millet, Barnyard millet, Little millet, Foxtail millet, Sorghum millet) and whole wheat flour. To enhance the pasta's flavor and texture, we've also added besan gram flour and cluster bean powder. Finally, a touch of iodized salt rounds out the taste, making our Multi Millet Pasta a delightful and wholesome choice for health-conscious pasta lovers. Enjoy the goodness of multiple millets in every bite!
<ul>
<li>Improved digestion</li>
<li>Enhanced heart health</li>
<li>Weight management support</li>
<li>Increased energy levels</li>
<li>Lowered cholesterol levels</li>
<li>Reduced risk of chronic diseases</li>
</ul>
<ul>
<li>Multi grain blend, (Finger millet flour, Pearl millet flour, Kodo millet flour, Barnyard millet flour, Little millet flour, Foxtail millet flour, Sorghum millet flour, and Whole wheat flour)</li>
<li>Whole Wheat Flour</li>
<li>Besan Gram Flour</li>
<li>Cluster Bean Powder</li>
<li>Iodized Salt</li>
</ul>
<h2> Nutritional Facts Per 100g</h2>
<table border="1">
<tr>
<th>Nutrient</th>
<th>Amount</th>
</tr>
<tr>
<td>Energy (Kcal)</td>
<td>381.2</td>
</tr>
<tr>
<td>Carbohydrates (gm)</td>
<td>79.58</td>
</tr>
<tr>
<td>Sugar (gm)</td>
<td>1.17</td>
</tr>
<tr>
<td>Fat (gm)</td>
<td>0.78</td>
</tr>
<tr>
<td>Protein (gm)</td>
<td>11.26</td>
</tr>
<tr>
<td>Fiber (gm)</td>
<td>13.24</td>
</tr>
<tr>

</table>
<ul>
<li>
<strong>Q: What is the main ingredient in Multi Millet Pasta?</strong><br>
A: Our Multi Millet Pasta is primarily made from a blend of nutritious millet flours, including Finger millet, Pearl millet, Kodo millet, Barnyard millet, Little millet, Foxtail millet, Sorghum millet, and Whole wheat flour.
</li>
<li>
<strong>Q: Is this pasta gluten-free?</strong><br>
A: While our Multi Millet Pasta contains millet flours, it also includes Whole Wheat Flour, so it is not gluten-free. However, it offers a blend of grains for added nutritional benefits.
</li>
<li>
<strong>Q: What is the unique quality of this pasta?</strong><br>
A: The unique quality of our Multi Millet Pasta lies in its diverse millet blend, offering a nutty and earthy flavor profile along with the benefits of multiple whole grains, making it a wholesome and tasty choice.
</li>
<li>
<strong>Q: Can I find this pasta in different flavors or sizes?</strong><br>
A: Currently, our Multi Millet Pasta is available in its original blend. We offer various packaging sizes to suit your needs.
</li>
<li>
<strong>Q: How can I purchase this product?</strong><br>
A: You can purchase our Multi Millet Pasta from our website or visit our authorized retailers. We also offer convenient online ordering and delivery options.
</li>
</ul>