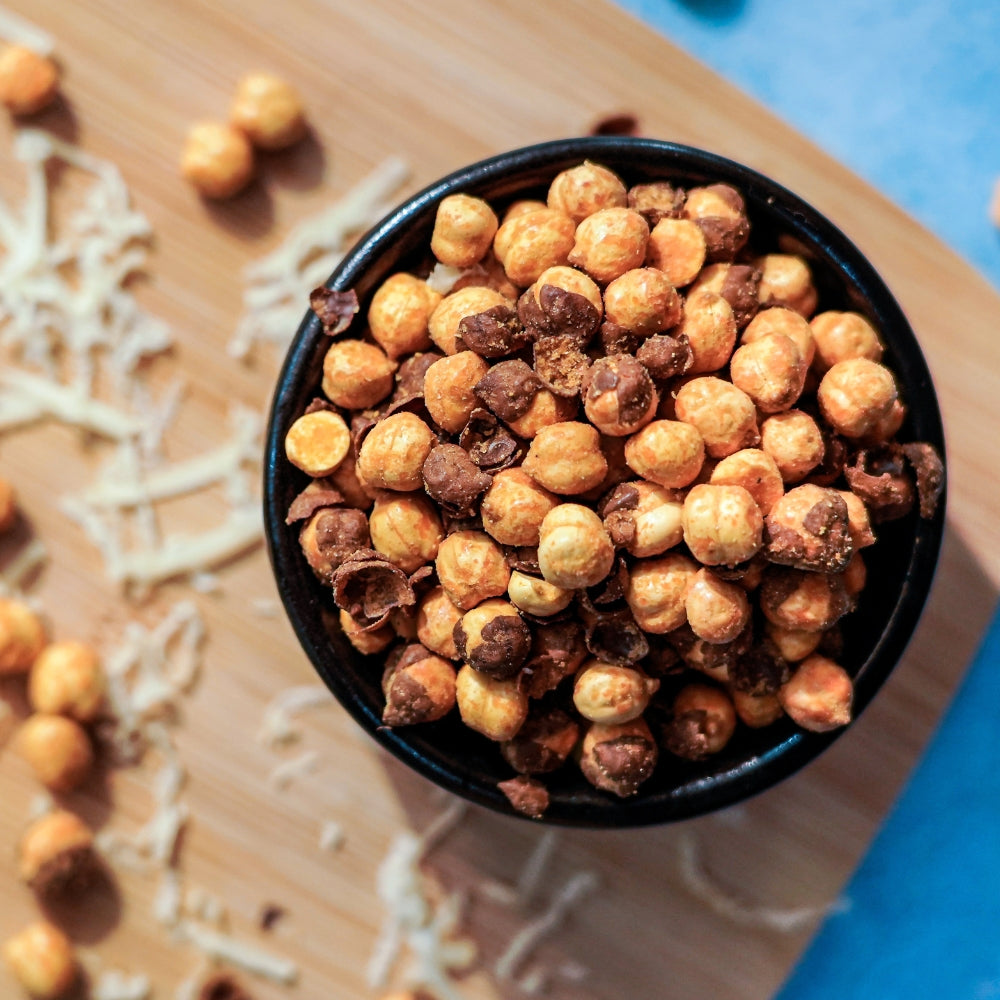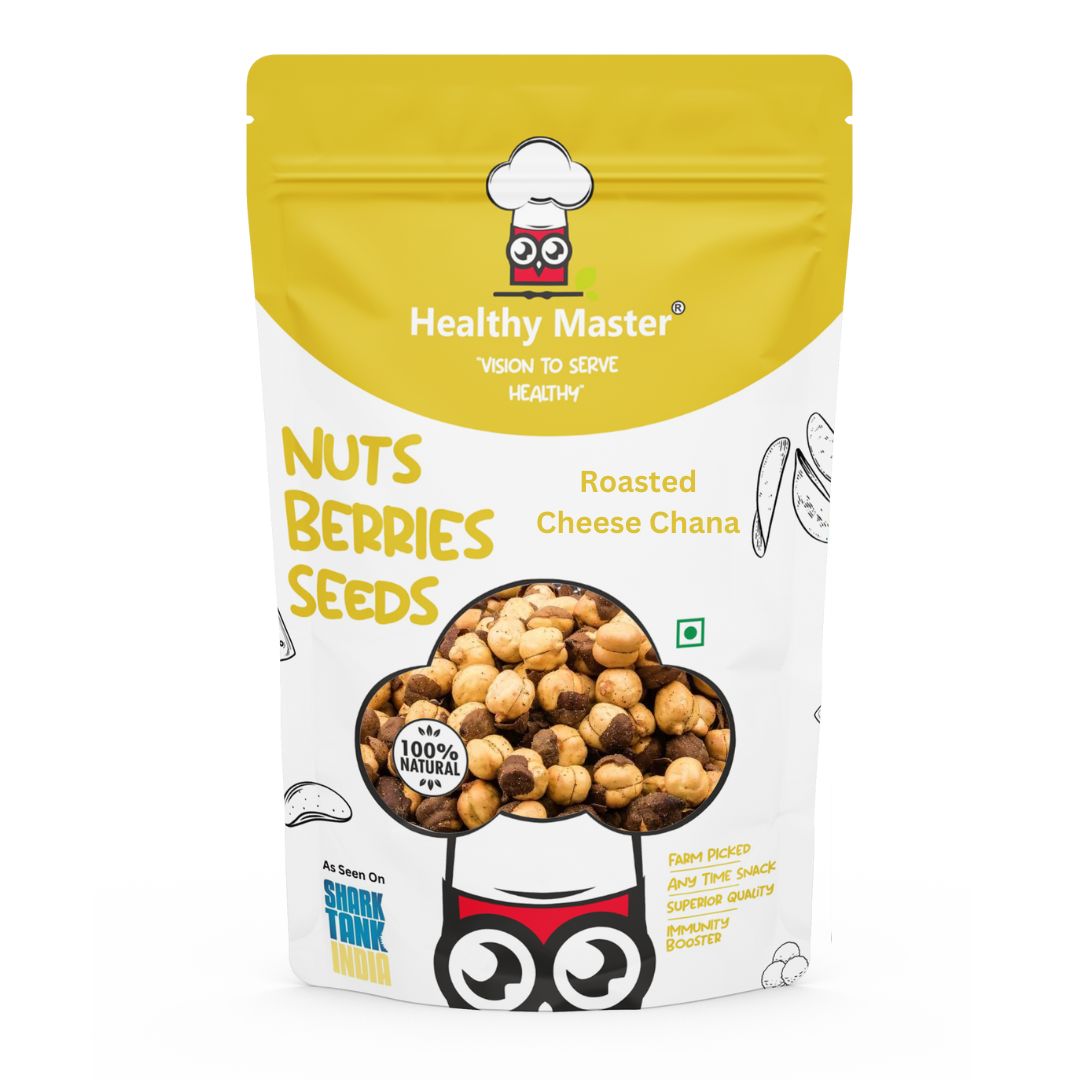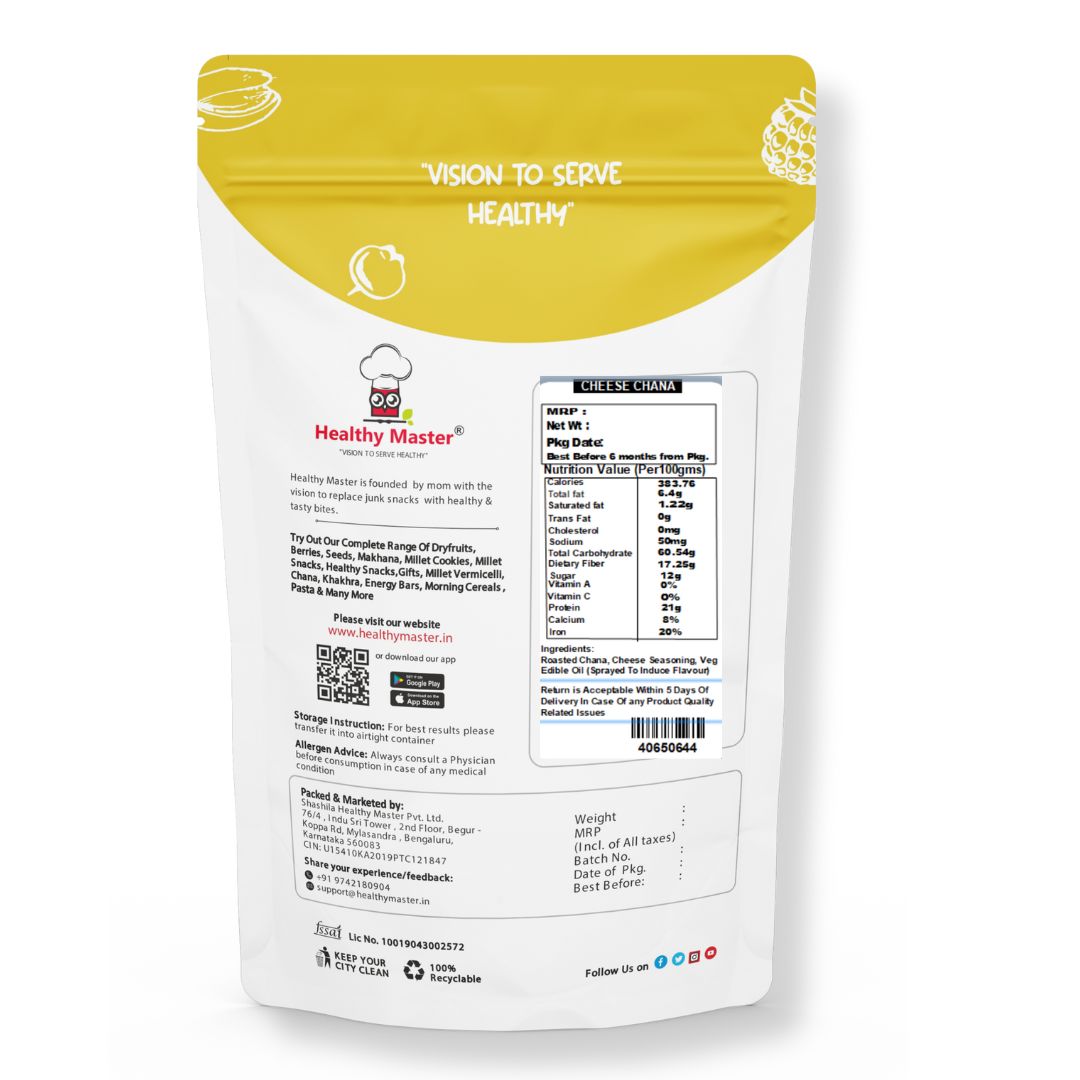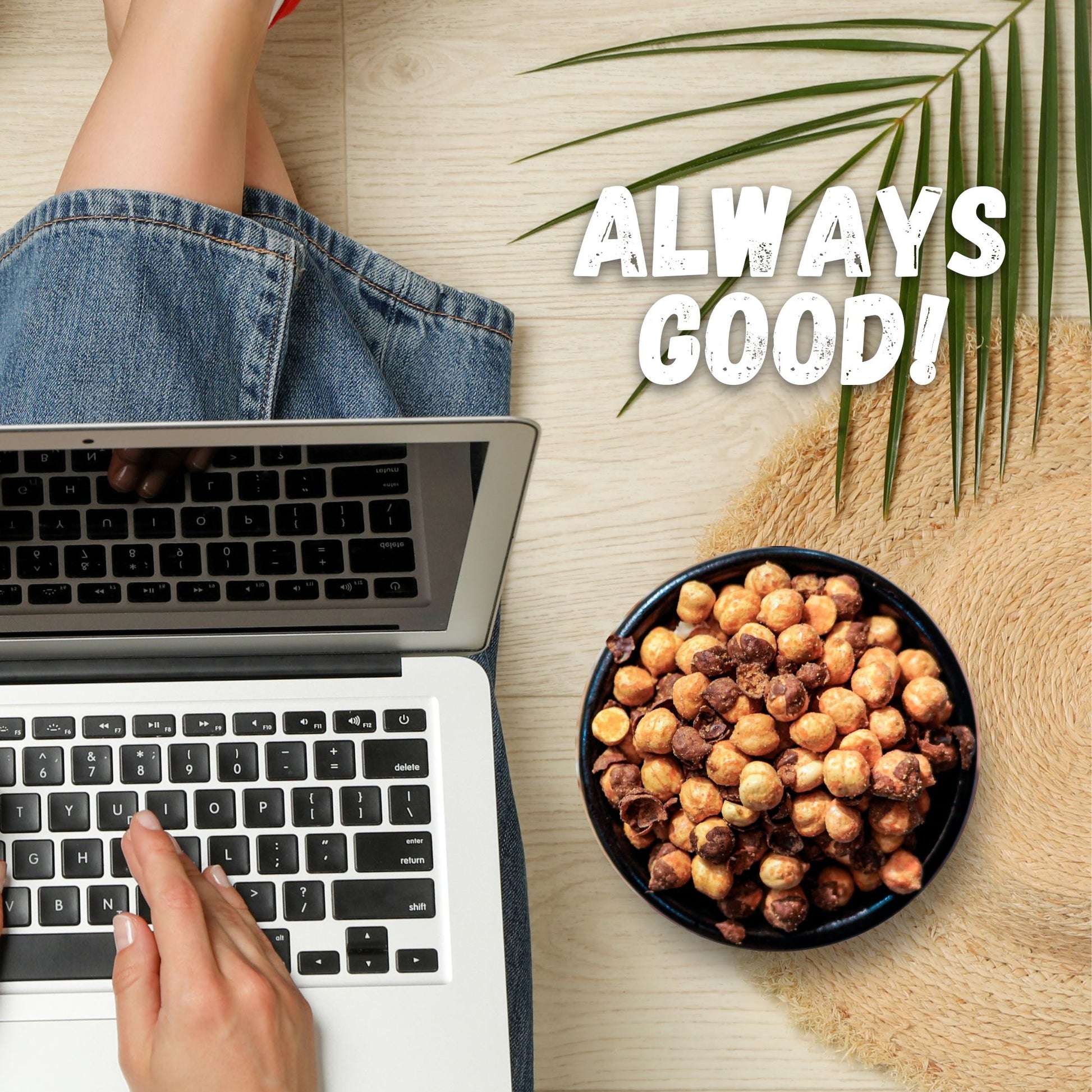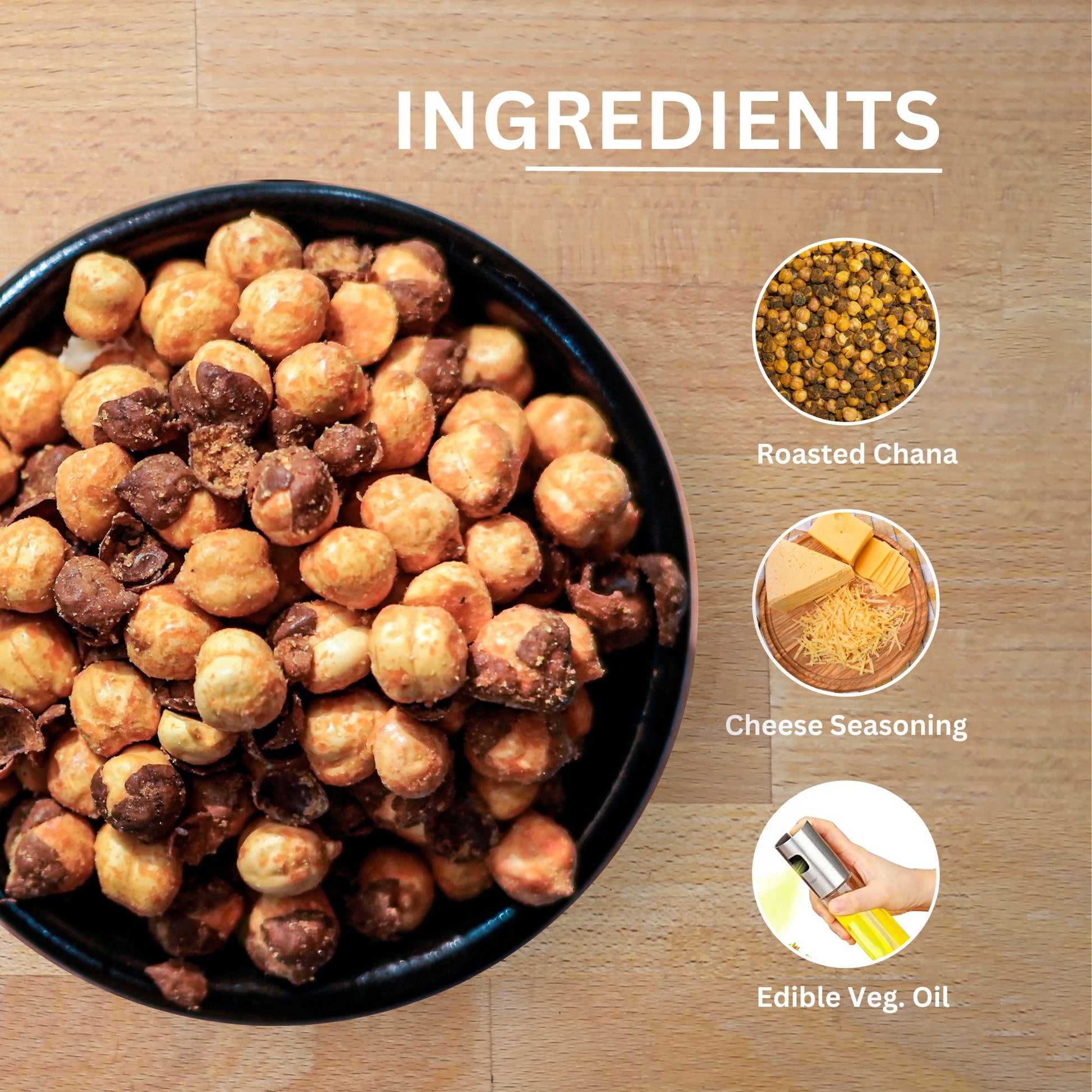 151 people are viewing this right now
Sale price
₹ 99.00
Regular price
₹ 110.00
Tax included.
20% OFF on first order with code HELLO10
Freebies on orders above Rs. ₹700
Free delivery on all orders above ₹699
Extra Flat 5% OFF on online payment
Refer and Earn Rs. 100

Guarantee safe & secure checkout
PAN India Free Shipping : On all orders over 699
Cheese Chana is a snack made by combining roasted chana (chickpeas) with cheese seasoning and edible vegetable oil. The roasted chana is considered to be a healthy and nutritious snack in India, as it is a high-protein, low-calorie food that is packed with nutrients. Dry roasting the chana on low heat helps to preserve their crispness, freshness, and improve their flavor. The cheese seasoning adds a delicious and creamy flavor to the snack, making it a perfect snack for cheese lovers. The use of edible vegetable oil instead of deep frying makes it a better option as it is considered healthier than deep-fried snacks. All of these ingredients make Cheese Chana a tasty and nutritious snack that can be enjoyed as a quick snack or appetizer.
<p><B>BENEFITS OF ROASTED CHANA CHEESE</B><br />1.Chickpeas are good for brain development,<br />2.chickpeas reduces risk of serious disesases like heart attack,cancer etc.,<br />4.helps in weight loss,<br />5.Good for Diabeties,<br />6.Fibre rich ,low calorie density chickpeas helps to feel fuller for long,<br />7.Regular intake helps to improve digestion and get rid of constipation&nbsp;naturally</p>
<p><strong>Ingredients</strong></p>
<ul>
<li>Roasted Chana</li>
<li>Cheese Seasoning</li>
</ul>
<table>
<tbody>
<tr style="height: 22px;">
<th style="height: 22px;">Nutritional Value</th>
<th style="height: 22px;">(per 100g approx)</th>
</tr>
<tr style="height: 22px;">
<td style="height: 22px;">Calories</td>
<td style="height: 22px;">383.76 kcal</td>
</tr>
<tr style="height: 22px;">
<td style="height: 22px;">Total Fat</td>
<td style="height: 22px;">6.4 g</td>
</tr>
<tr style="height: 22px;">
<td style="height: 22px;">Saturated Fat</td>
<td style="height: 22px;">1.22 g</td>
</tr>
<tr style="height: 22px;">
<td style="height: 22px;">Cholesterol</td>
<td style="height: 22px;">0 mg</td>
</tr>
<tr style="height: 22px;">
<td style="height: 22px;">Sodium</td>
<td style="height: 22px;">50 mg</td>
</tr>
<tr style="height: 22px;">
<td style="height: 22px;">Total Carbohydrates</td>
<td style="height: 22px;">60.54 g</td>
</tr>
<tr style="height: 22px;">
<td style="height: 22px;">Dietary Fiber</td>
<td style="height: 22px;">17.25 g</td>
</tr>
<tr style="height: 22px;">
<td style="height: 22px;">Sugar</td>
<td style="height: 22px;">12 g</td>
</tr>
<tr style="height: 22px;">
<td style="height: 22px;">Protein</td>
<td style="height: 22px;">21 g</td>
</tr>
<tr style="height: 22px;">
<td style="height: 22px;">Calcium</td>
<td style="height: 22px;">8%</td>
</tr>
<tr style="height: 22px;">
<td style="height: 22px;">Iron</td>
<td style="height: 22px;">20%</td>
</tr>
</tbody>
</table>
<p><B><br />1.IS IT GOOD TO HAVE CHANA EVERYDAY?</B><br />ANS... YES,VERY GOOD..If one eats chana everyday it helps to prevent from serious disease like heart attack,cancer...<br /><B>2.IS CHANA GOOD FOR STOMACH?</B><br />ANS...Eating chickpeas regularly improves digestion and one get rid of constipation and indigestion naturally.<br /><B>3. DOES CHANA REDUCE ACIDITY?</B><br />ANS... Roasted chana,sprouts,fruits are superb to get rid of acidity and make your mid meal full of vitamins&nbsp;and&nbsp;minerals.</p>
value for money
Healthy snacks. Tried other brands also but this one is best
Diabetic friendly
Good for diabeties people and not only in healthy wise taste also so good
Its good
As the chickpeas are good for brain develoment we can give for kids as best snacks
Properly roasted
Perfectly roasted and the cheese add delicious and creamy flavour to the snack
Healthy chana
Very nutritious product and taste too good . Everyone love this I am going to order again and again