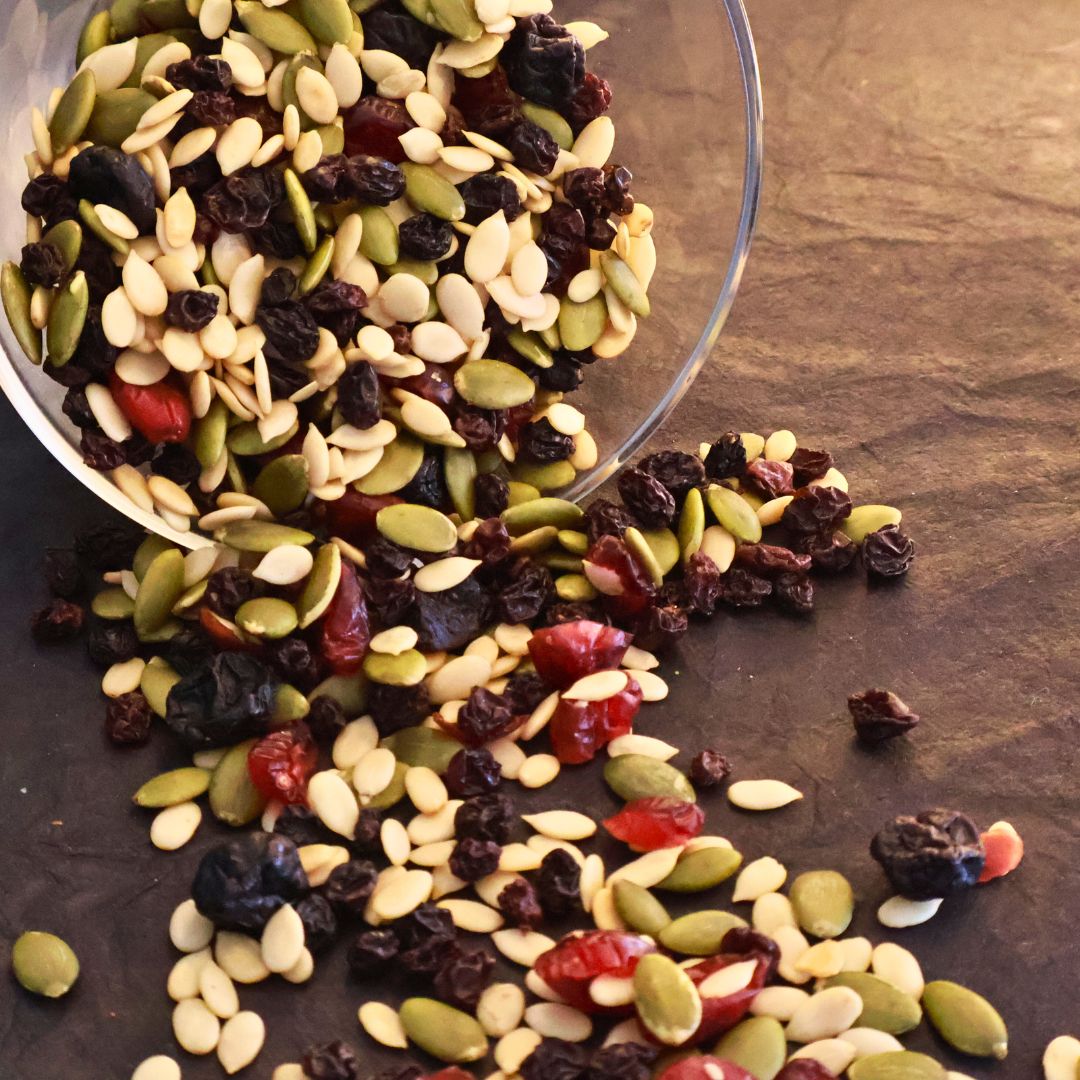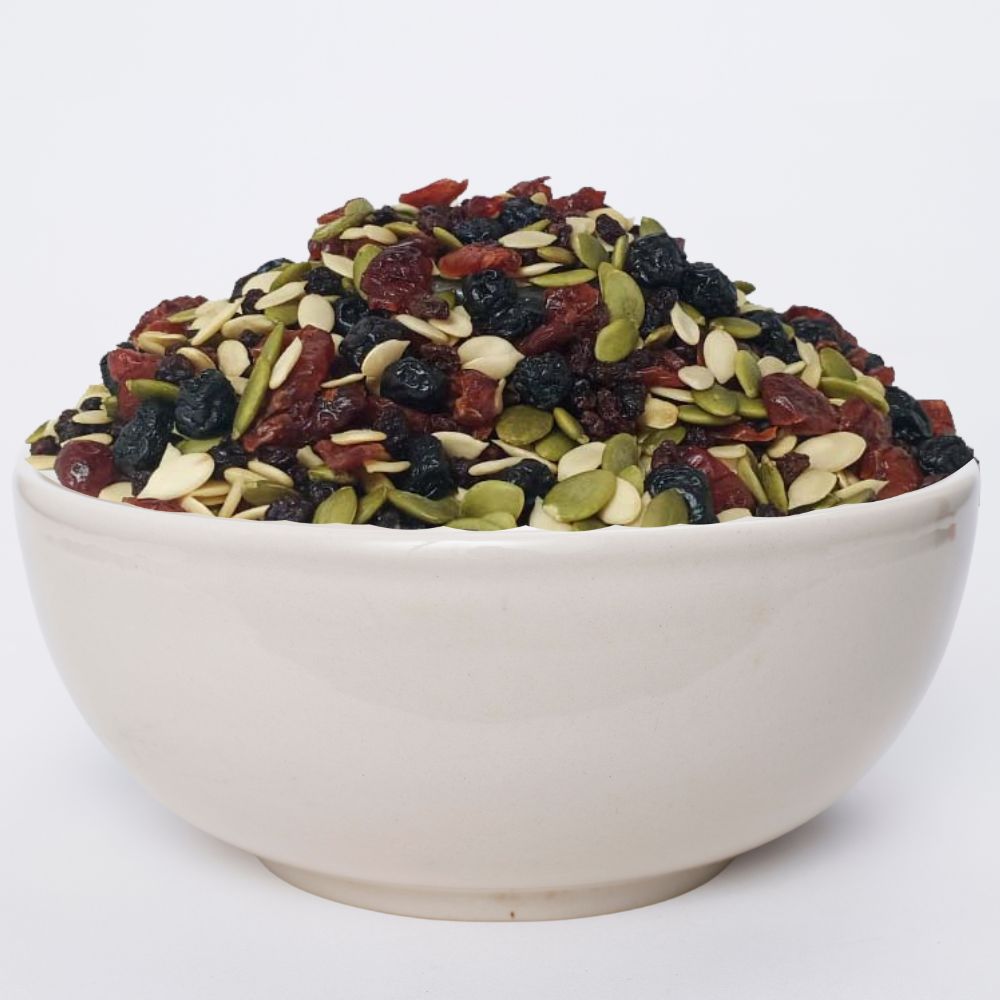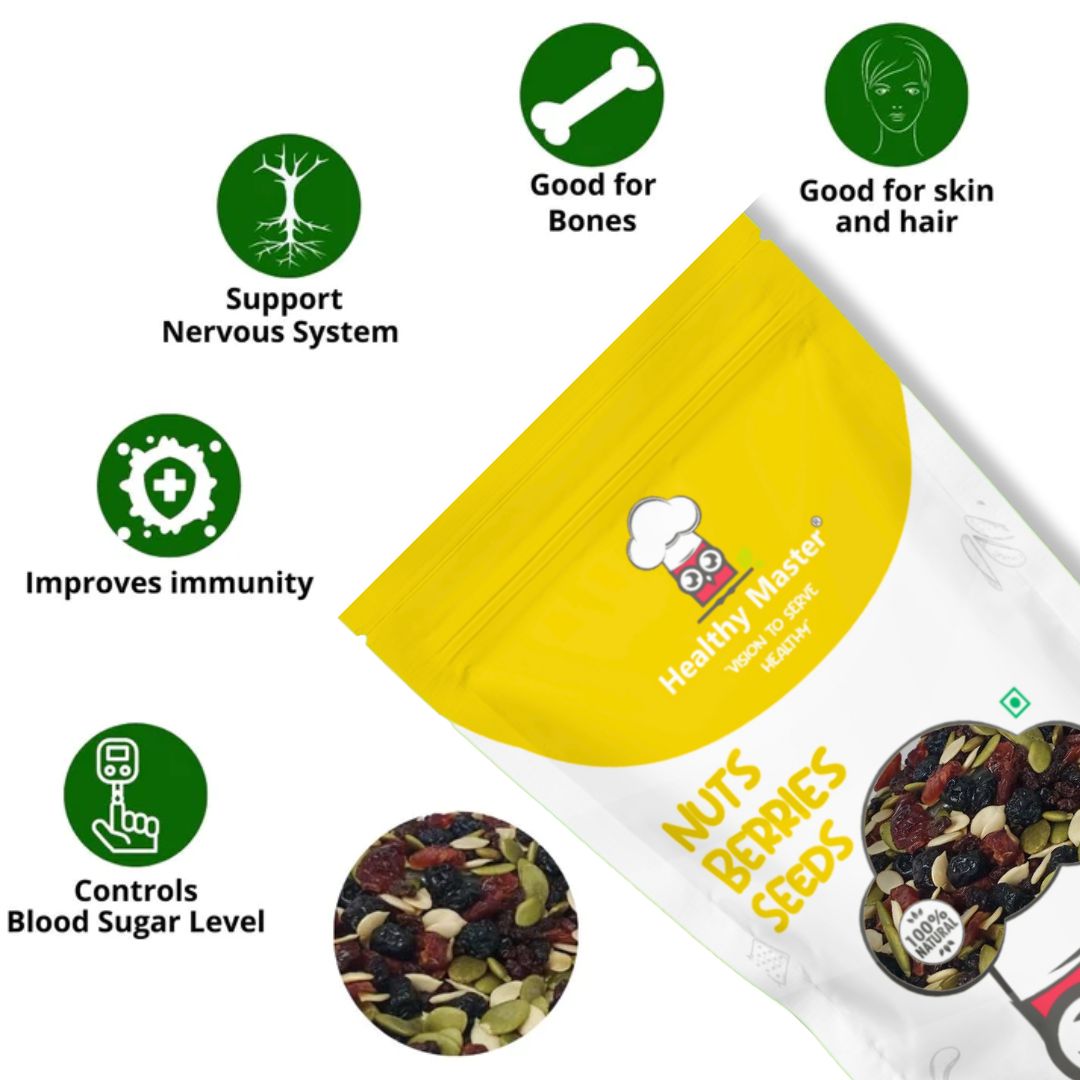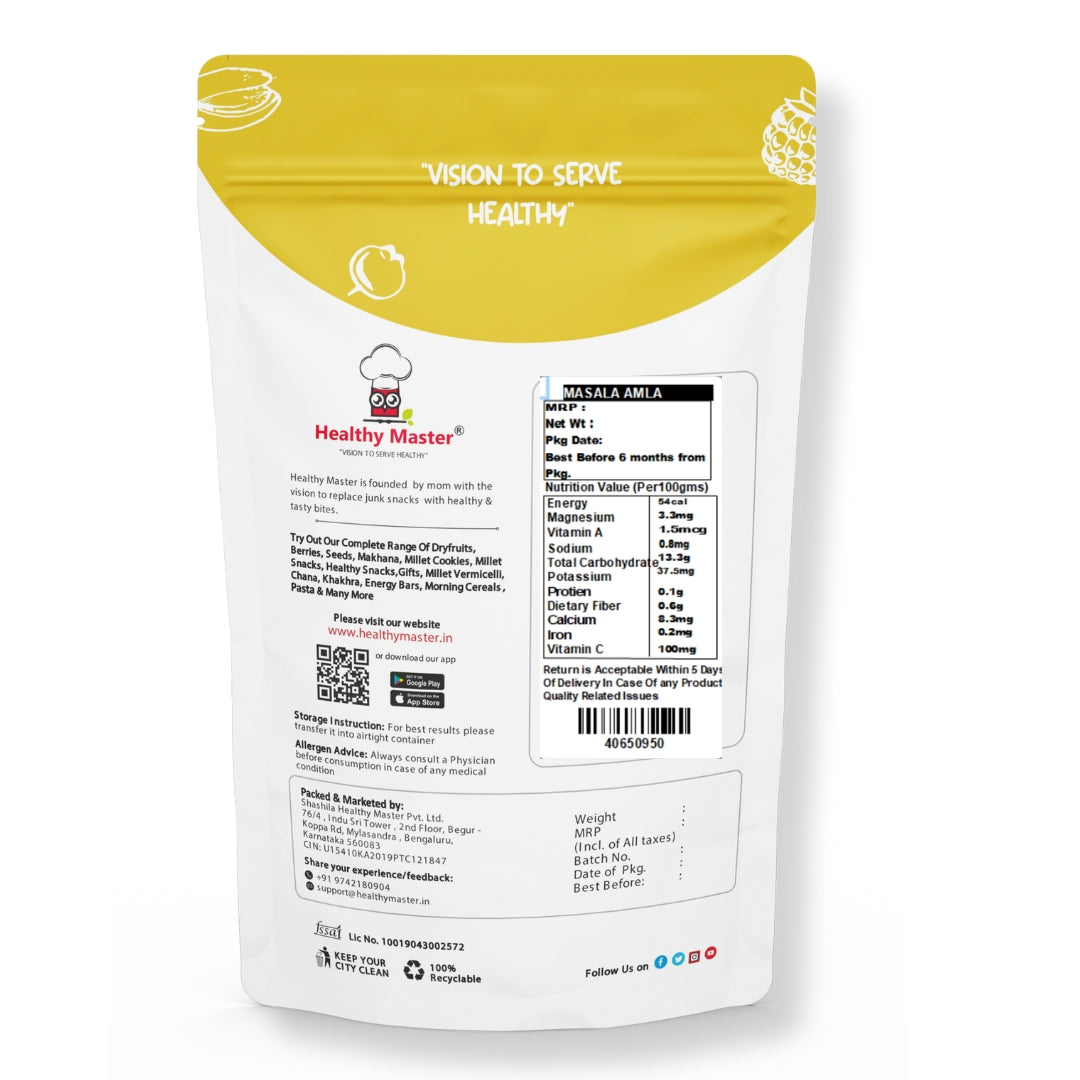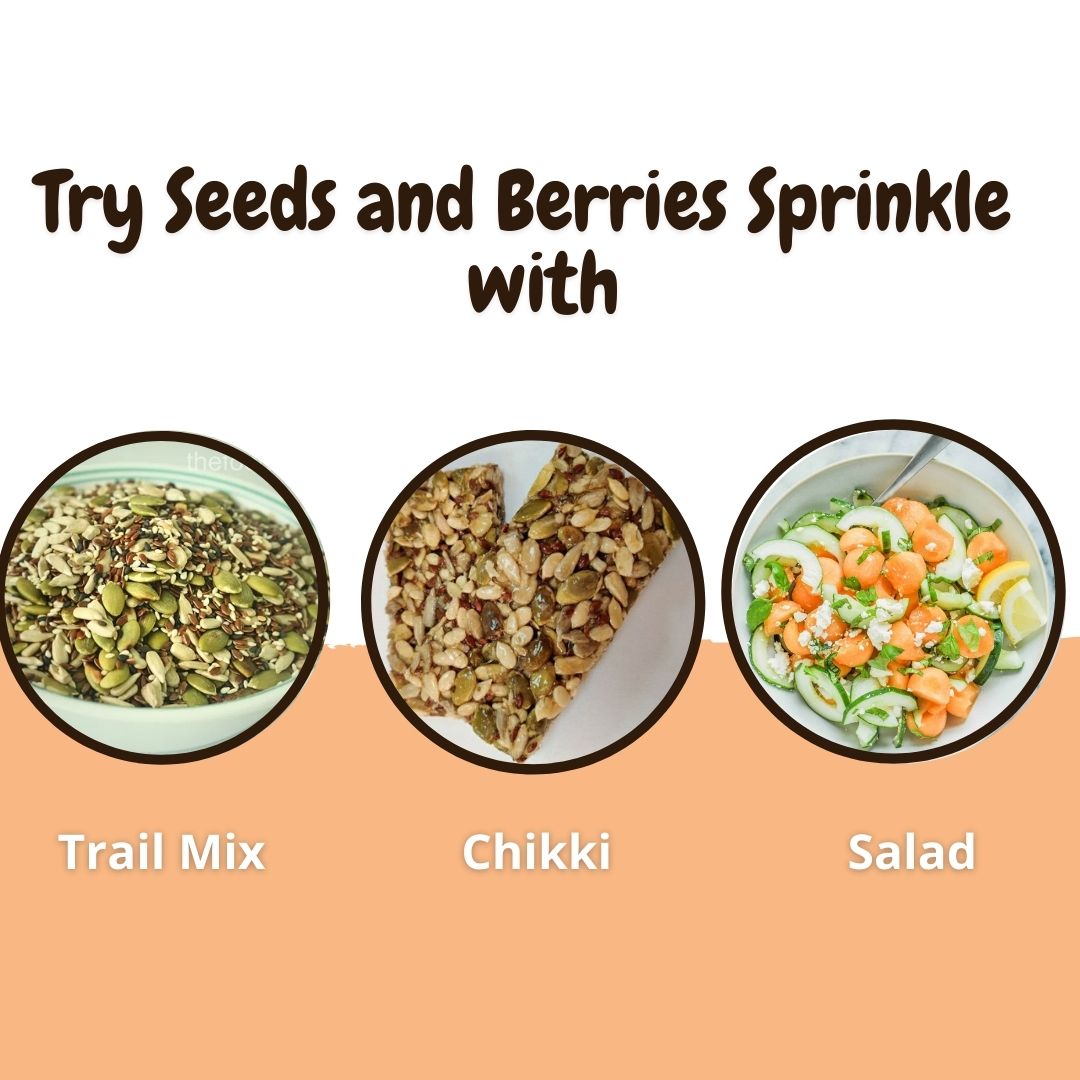 Seeds and Berries Sprinkle
155 people are viewing this right now
Sale price
₹ 385.00
Regular price
₹ 440.00
Tax included.
Get 25% Off upto ₹300 on Flavoured Nuts, Min. Order Value ₹699
10% discount on first order using code HELLO10, Min. Order Value ₹699 *Not Aplicable in Dryfruits and Gift Boxes
Freebies on orders above Rs. ₹700
Free delivery on all orders above ₹699

Guarantee safe & secure checkout
PAN India Free Shipping : On all orders over 699
Seeds and Berries Sprinkle, made with ingredients like pumpkin seeds, and berries bring the delicious crunch that is perfect for your daily recharge. This product is gluten-free and vegan friendly, has been verified by dieticians, and contains no artificial colours or flavours. Seeds and berries are rich in vitamins, minerals, and antioxidants. They add crunch, flavour, texture, and thickness to many dishes and snacks. Sprinkles of seeds and berries can also enhance the presentation of your food. Buy Seeds and Berries online at Best Price in India from the healthy master.
Whether you're getting your day off on the right track or you just need a midday burst of energy, these powerhouse seeds and berries can help you be healthier, feel better and achieve more throughout your day. They are packed with vitamins, minerals, fiber, antioxidants, and essential fatty acids among many other nutrients. Seeds and berries provide health benefits against common ailments. Only a handful of people take advantage of their powerful nutritional values. Get Premium and Organic Seeds & Berries Online in India.
<p><strong>H<u>ealth Benefits Of Seeds and Berries Sprinkle:</u></strong></p>
<ul>
<li>&nbsp;<strong>Loaded with antioxidants. </strong></li>
<li><strong>&nbsp;Lowers Cholesterol and manages diabetes.</strong></li>
<li><strong>&nbsp;High in fiber. </strong></li>
<li><strong>&nbsp;Perfect mid-day snacking and a great addition to porridge and smoothies.</strong></li>
<li><strong>Provide many nutrients</strong></li>
<li><strong>Good for your skin</strong></li>
<li><strong>Can be enjoyed on nearly all types of diets</strong></li>
<li><strong>Help keep your arteries healthy</strong></li>
<li><strong>Help fight inflammation</strong></li>
<li><strong>Lowering blood pressure.</strong></li>
</ul>
<p><strong>I<u>ngredient</u>s:</strong></p>
<ul>
<li><strong>Mixture of Cranberries</strong></li>
<li><strong>Blue berries</strong></li>
<li><strong>Black berries</strong></li>
<li><strong>WaterMelon Seeds and</strong></li>
<li><strong>Pumpkin seeds.</strong></li>
</ul>
<p>&nbsp;</p>
<p>&nbsp;</p>
<p><strong>&nbsp; &nbsp; &nbsp; &nbsp; &nbsp;N<u>utrition values: Per 100g</u></strong></p>
<table border="1" cellspacing="0" cellpadding="0">
<tbody>
<tr>
<td><strong>Calories</strong></td>
<td><strong>194 </strong></td>
</tr>
<tr>
<td><strong>Energy</strong></td>
<td><strong>159kcal</strong></td>
</tr>
<tr>
<td><strong>Total Fat</strong></td>
<td><strong>14gm</strong></td>
</tr>
<tr>
<td><strong>Saturated Fat</strong></td>
<td><strong>3gm</strong></td>
</tr>
<tr>
<td><strong>Poly un Saturated Fat</strong></td>
<td><strong>0gm</strong></td>
</tr>
<tr>
<td><strong>Mono un Saturated Fat</strong></td>
<td><strong>0gm</strong></td>
</tr>
<tr>
<td><strong>Cholesterol</strong></td>
<td><strong>0mg</strong></td>
</tr>
<tr>
<td><strong>Calcium</strong></td>
<td><strong>0mg</strong></td>
</tr>
<tr>
<td><strong>Sodium </strong></td>
<td><strong>28mg</strong></td>
</tr>
<tr>
<td><strong>Potassium</strong></td>
<td><strong>137mg</strong></td>
</tr>
<tr>
<td><strong>Manganese</strong></td>
<td><strong>3%</strong></td>
</tr>
<tr>
<td><strong>Carbohydrate</strong></td>
<td><strong>51gm</strong></td>
</tr>
<tr>
<td><strong>DietaryFiber</strong></td>
<td><strong>3gm</strong></td>
</tr>
<tr>
<td><strong>Sugar</strong></td>
<td><strong>33gm</strong></td>
</tr>
<tr>
<td><strong>Protein</strong></td>
<td><strong>10gm</strong></td>
</tr>
<tr>
<td><strong>Vitamin-K</strong></td>
<td><strong>4%</strong></td>
</tr>
<tr>
<td><strong>Vitamin A</strong></td>
<td><strong>6IU</strong></td>
</tr>
<tr>
<td><strong>Copper</strong></td>
<td><strong>0gm</strong></td>
</tr>
<tr>
<td><strong>Iron</strong></td>
<td><strong>1%</strong></td>
</tr>
<tr>
<td><strong>Trans Fat</strong></td>
<td><strong>0gm</strong></td>
</tr>
</tbody>
</table>
<p><br /><br /></p>
<p><strong>1)What are the Storage and Shelf Life of&nbsp;Seeds and Berries Sprinkle?</strong></p>
<p>It can be stored in an airtight container or refrigerated for up to 6months.</p>
<p><strong>2)What are the features of Healthy Master&rsquo;s Seeds and Berries Sprinkle?</strong></p>
<p>No preservatives, Gluten-Free, Non-GMO, vegan, and naturally sun-dried</p>
<p><strong>3)What is Seeds and Berries Sprinkle?</strong></p>
<p>It is a mix of Cranberries</p>
<p>Blue berries</p>
<p>Black berries</p>
<p>Watermelon Seeds and</p>
<p>Pumpkin seeds.</p>
<p><strong>4)What is the best way to consume Seeds and Berries Sprinkle?</strong></p>
<p>It can be added in baked goods like cookies, on top of your&nbsp;<strong>morning oatmeal or porridge</strong>, in trail mix, or by the handful as a snack.&nbsp;</p>
<p><strong>5)Is it Diabetic Friendly?</strong></p>
<p>YES,can be consumed in moderate quantity.</p>
Very good product and testy
Seed review
Very good quality, fresh, good packaging and tasty too, but slightly over priced, hence I don't think it is good value for money
Super
Love all the snacks that I order from you..It's the best I've ever had
Seeds and Berries Sprinkle