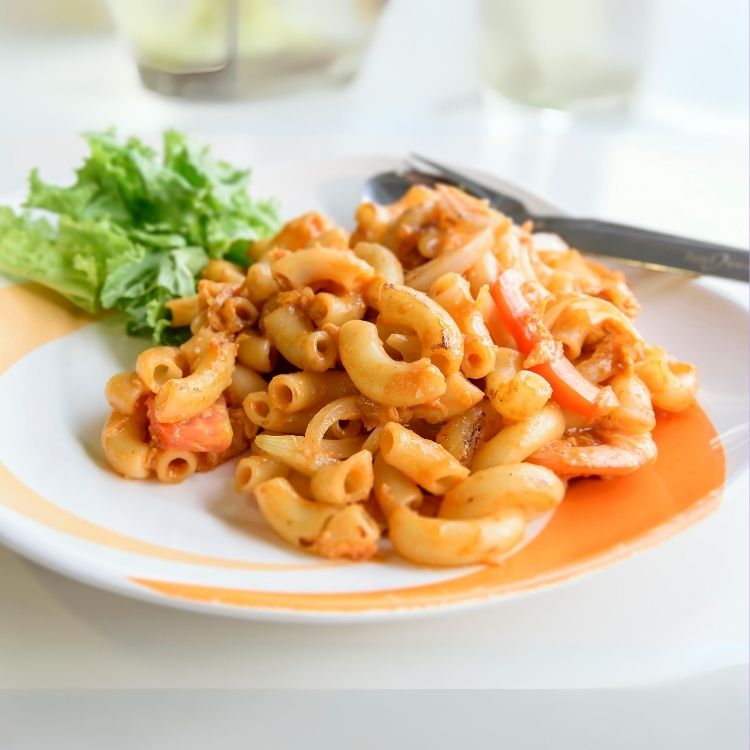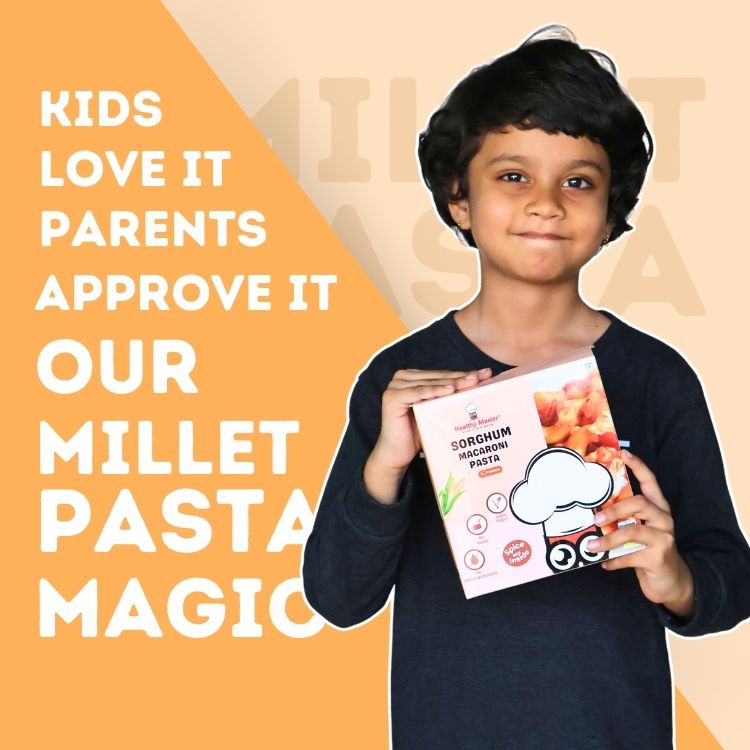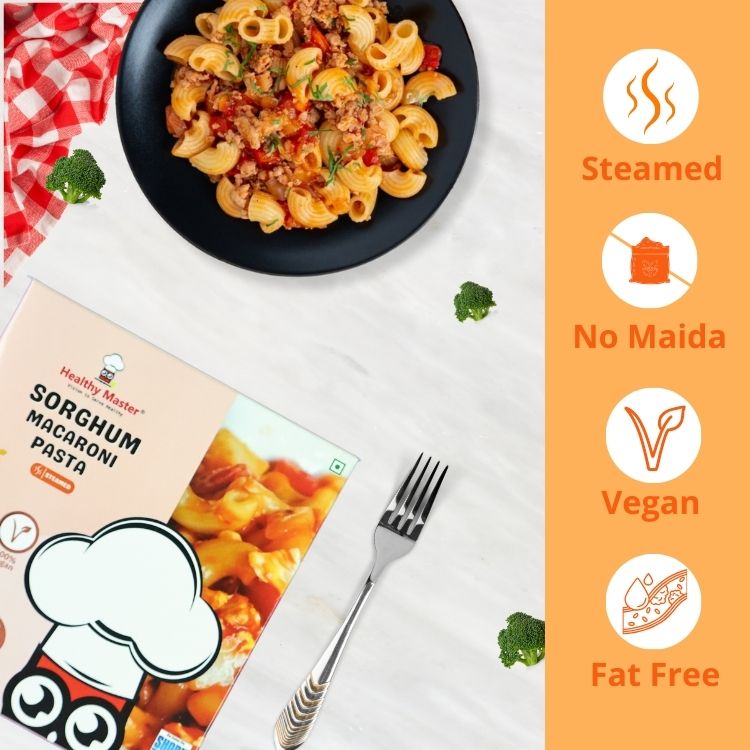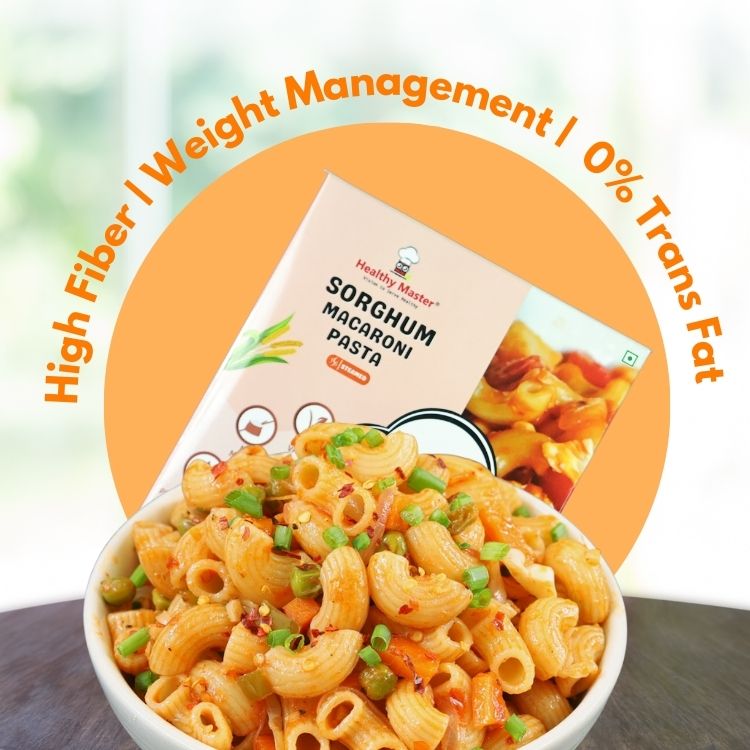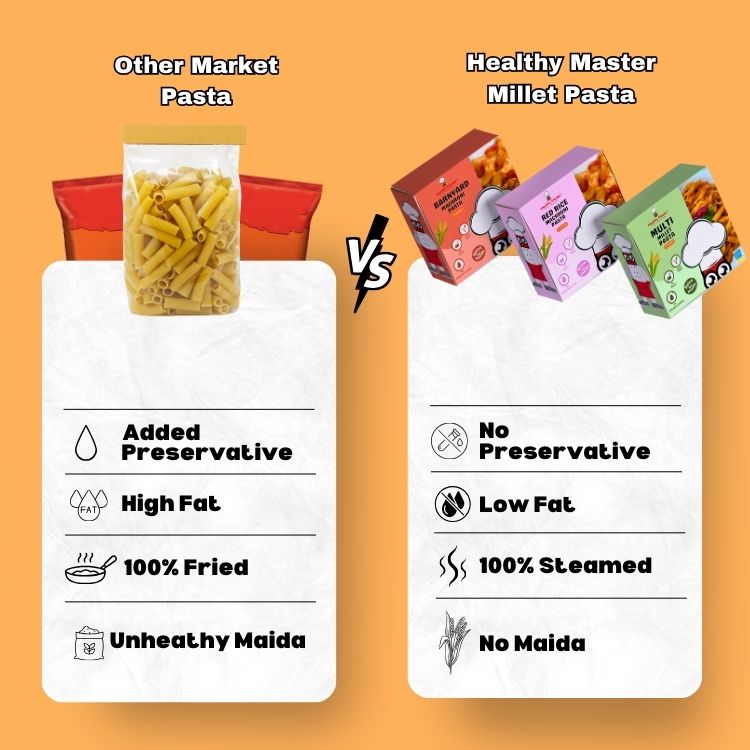 148 people are viewing this right now
Sale price
₹ 199.00
Regular price
₹ 250.00
Tax included.
Get 25% Off upto ₹300 on Flavoured Nuts, Min. Order Value ₹699
10% discount on first order using code HELLO10, Min. Order Value ₹699 *Not Aplicable in Dryfruits and Gift Boxes
Freebies on orders above Rs. ₹700
Free delivery on all orders above ₹699

Guarantee safe & secure checkout
PAN India Free Shipping : On all orders over 699
Introducing our Sorghum Macaroni Pasta, a wholesome twist on traditional macaroni! Crafted with a unique blend of Sorghum Flour, Whole Wheat Flour, Besan gram flour, and a touch of Cluster bean powder, our pasta offers a delightful nutty flavor in the classic macaroni shape. To enhance the taste, we've added a pinch of iodized salt. Savor the deliciousness of this healthier pasta option without sacrificing the beloved macaroni experience. Enjoy the goodness of Sorghum in every bite!
<ul>
<li>1. <strong>Nutrient-Rich:</strong> Our pasta is made from a blend of Sorghum Flour, Whole Wheat Flour, and Cluster bean powder, providing essential nutrients for your well-being.</li>
<li>2. <strong>Low in Fat:</strong> With only 0.71g of fat per 100g, it's a low-fat option that complements a balanced diet.</li>
<li>3. <strong>Protein Source:</strong> Offering 11.32g of protein per 100g, it's an excellent choice for those looking to meet their protein needs.</li>
<li>4. <strong>High in Fiber:</strong> With 11.54g of fiber per 100g, it supports digestive health and helps you feel full and satisfied.</li>
<li>5. <strong>Energy Booster:</strong> At 382.56 Kcal per 100g, our pasta provides a satisfying boost of energy for your daily activities.</li>
</ul>

<ul>
<li>Sorghum Flour</li>
<li>Whole Wheat Flour</li>
<li>Besan Gram Flour</li>
<li>Cluster Bean Powder</li>
<li>Iodized Salt</li>
</ul>
<table>
<tr>
<th>Nutritional Facts (Per 100g Approx)</th>
<th>Amount</th>
</tr>
<tr>
<td>Energy (Kcal)</td>
<td>378.25</td>
</tr>
<tr>
<td>Carbohydrates (gm)</td>
<td>78.46</td>
</tr>
<tr>
<td>Sugar (gm)</td>
<td>1.25</td>
</tr>
<tr>
<td>Fat (gm)</td>
<td>1.35</td>
</tr>
<tr>
<td>Protein (gm)</td>
<td>12.35</td>
</tr>
<tr>
<td>Fiber (gm)</td>
<td>11.58</td>
</tr>
</table>

<ul>
<li>
<strong>Q: Is Sorghum Macaroni Pasta gluten-free?</strong><br>
A: No, our Sorghum Macaroni Pasta contains Whole Wheat Flour and Besan gram flour, so it is not gluten-free. However, it offers a unique and nutritious macaroni option.
</li>
<li>
<strong>Q: How do I cook Sorghum Macaroni Pasta?</strong><br>
A: Cooking instructions can be found on the packaging, but typically, you can boil it in salted water until it's al dente, usually around 8-10 minutes.
</li>
<li>
<strong>Q: Where can I purchase Sorghum Macaroni Pasta?</strong><br>
A: You can find our Sorghum Macaroni Pasta at select retailers, or you can conveniently order it from our website for home delivery.
</li>
<li>
<strong>Q: What sets this macaroni apart from others?</strong><br>
A: The unique blend of Sorghum Flour, Whole Wheat Flour, and Cluster bean powder gives our macaroni a distinct nutty flavor and a delightful texture.
</li>
<li>
<strong>Q: Can I use this macaroni in various recipes?</strong><br>
A: Absolutely! Sorghum Macaroni Pasta is versatile and can be used in a variety of dishes, from classic macaroni and cheese to creative culinary creations.
</li>
</ul>