Blog
Revamped Recipe: Tempting Makhana Chaat Delight
by internal bsocial on Aug 11, 2023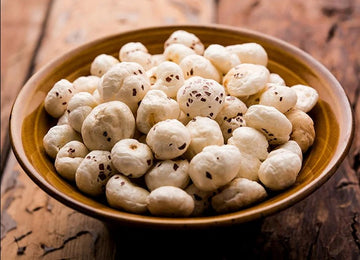 Makhana has been used in India and other Asian countries as part of cuisines since ancient times. It is eaten regularly but is also considered an excellent supplement for medicinal purposes. There are several benefits of makhana that exist. These include the ability to aid digestion, help with diabetes, protect heart health and promote eye health. this is rich in protein, Vitamin A, C, and E, proteins, minerals, and fiber. It has a high amount of zinc which helps in boosting the immune system and improves the ability to heal fast. Makhana is very good for anti-aging as it increases collagen production in the body. It contains a lot of iron that reduces anemia, making it easier to transport oxygen throughout the body.

Steps to Make healthy makhana chat

1. Take plain healthy master makhana and roast it for a minute.
2. Now, add diced tomatoes, onion, green chili, roasted cumin powder, salt, red chili powder, chopped coriander leaves, chat masala.
3. Add 1 tbsp green chutney, 1 tbsp tamarind chutney, 3 tbsp curd, and mix it well. Garnish it with sev and chopped coriander leaves.