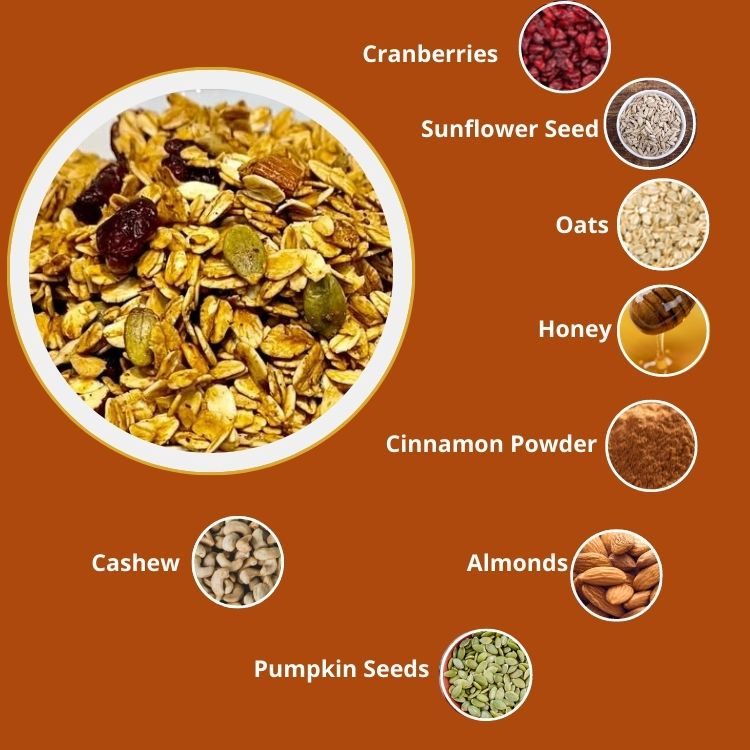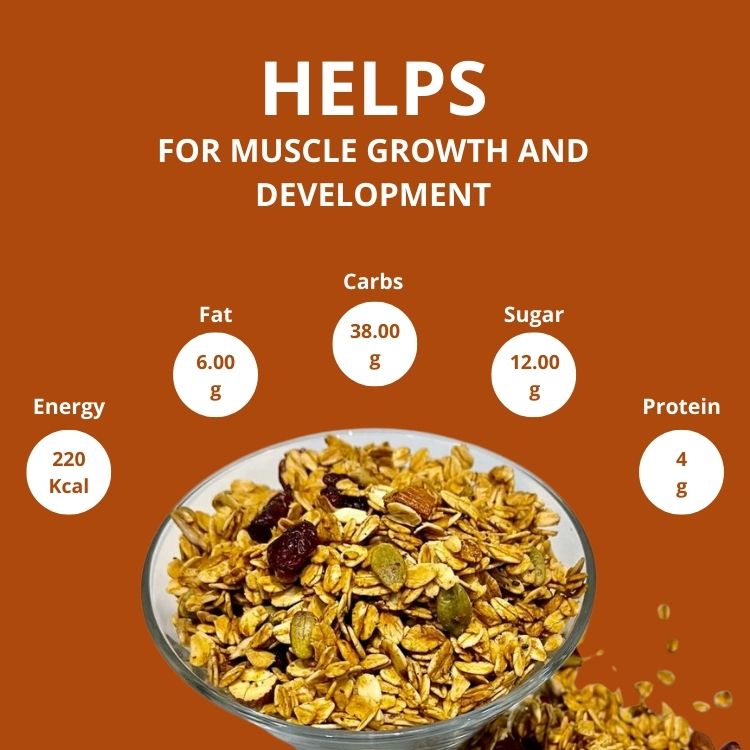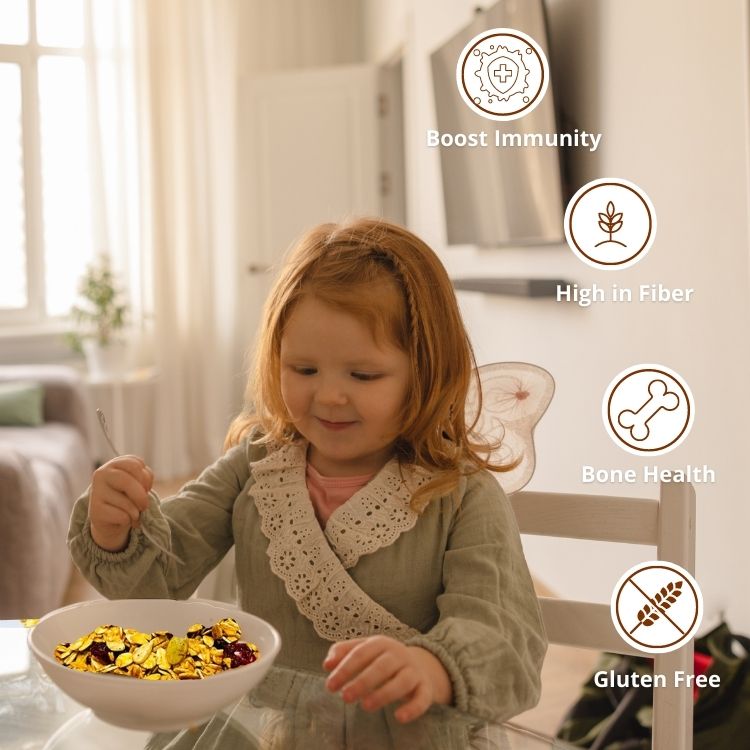 Nuts & Berry Oats Granola
139 people are viewing this right now
Sale price
₹ 580.00
Regular price
₹ 599.00
Tax included.
Get 25% Off upto ₹300 on Flavoured Nuts, Min. Order Value ₹699
10% discount on first order using code HELLO10, Min. Order Value ₹699 *Not Aplicable in Dryfruits and Gift Boxes
Freebies on orders above Rs. ₹700
Free delivery on all orders above ₹699

Guarantee safe & secure checkout
PAN India Free Shipping : On all orders over 699
Our Nuts & Berry Oats Granola features a blend of sweet and crunchy granola made from oats, nuts, and berries. This granola packs all the delicious flavour of a bowl of your favorite mixed-up bowl of oatmeal with dried berries that are rich in antioxidants. Fortified with 12 essential vitamins and minerals, this granola is a wholesome way to fuel your day. It will refresh your morning breakfast or snack throughout the day. It's a great way to start your day!
The firm texture of this granola makes it delightfully crunchy and perfect for snacking. Each chewy bite is an excellent source of protein. This granola has a subtle sweetness and tastes great on its own or as a snack with milk. Whether you eat it on its own or with yogurt or milk, Nuts & Berries is a delicious way to start your day. This delicious granola makes a simple and healthy snack that will give you energy to start your day. It is high in protein and rich in flavour to keep you going strong, and will even boost your concentration when you're hitting the books.
<p><u><strong>Health Benefits of Nuts &amp; Berry Oats Granola Granola:</strong></u></p>
<ul>
<li><strong>Great source of fiber, protein &amp; vitamin E.&nbsp;</strong></li>
<li><strong>Improve blood pressure.</strong></li>
<li><strong>Good for Digestion.</strong></li>
<li><strong>Aid in weight loss.</strong></li>
<li><strong>Decreases cholesterol level.</strong></li>
<li><strong>Reduces high blood sugar.</strong></li>
<li><strong>Boosts gut health.</strong></li>
<li><strong>Increases antioxidant levels.</strong></li>
</ul>
<p><u><strong>Ingredients:</strong></u></p>
<ul>
<li><strong>Cranberries slice</strong></li>
<li><u><strong>Rolled oats</strong></u></li>
<li><u><strong>Honey</strong></u></li>
<li><u><strong>Salt</strong></u></li>
<li><u><strong>Cinnamon powder</strong></u></li>
<li><u><strong>Almond</strong></u></li>
<li><u><strong>Cashew</strong></u></li>
<li><u><strong>Chia seeds</strong></u></li>
<li><u><strong>Sunflower Seeds</strong></u></li>
<li><u><strong>Pumpkin Seeds</strong></u></li>
</ul>
<p>&nbsp;</p>
<p>&nbsp; &nbsp; &nbsp; &nbsp; &nbsp;<u><strong>Nutritional Value:</strong></u></p>
<p>&nbsp; &nbsp;</p>
<table border="1" cellspacing="0" cellpadding="0">
<tbody>
<tr>
<td><strong>Calories</strong></td>
<td><strong>220g</strong></td>
</tr>
<tr>
<td><strong>total fat</strong></td>
<td><strong>6g</strong></td>
</tr>
<tr>
<td><strong>saturated fat</strong></td>
<td><strong>0.5g</strong></td>
</tr>
<tr>
<td><strong>total carbohydrates&nbsp; &nbsp; &nbsp; &nbsp; &nbsp; &nbsp;</strong></td>
<td><strong>38g&nbsp; &nbsp; &nbsp;&nbsp;</strong></td>
</tr>
<tr>
<td><strong>dietary fiber</strong></td>
<td><strong>3g</strong></td>
</tr>
<tr>
<td><strong>total sugar</strong></td>
<td><strong>12g</strong></td>
</tr>
<tr>
<td><strong>Trans fat</strong></td>
<td><strong>0g</strong></td>
</tr>
<tr>
<td><strong>Cholesterol</strong></td>
<td><strong>0g</strong></td>
</tr>
<tr>
<td><strong>sodium</strong></td>
<td><strong>&nbsp; &nbsp;10mg&nbsp; &nbsp; &nbsp; &nbsp; &nbsp; &nbsp; &nbsp;</strong></td>
</tr>
<tr>
<td><strong>protein</strong></td>
<td><strong>4g</strong></td>
</tr>
</tbody>
</table>
<p><strong>1)What is the storage and shelf life of&nbsp;Nuts &amp; Berry Oats Granola?</strong></p>
<p>It can be stored in an airtight container. Shelf Life is 4 Months</p>
<p><strong>2)What is special about Healthy Master Nuts &amp; Berry Oats Granola?</strong></p>
<p>It is natural,non-fried without any preservatives, rich in fibre and protein that serves as a healthy breakfast option.</p>
<p><strong>3)What are the ingredients of <strong>Nuts &amp; Berry Oats Granola?</strong></strong></p>
<ul>
<li><strong>Rolled Oats</strong></li>
<li><strong>Honey</strong></li>
<li><strong>Salt</strong></li>
<li><strong>Cinnamon powder</strong></li>
<li><strong>Almond</strong></li>
<li><strong>Cashew</strong></li>
<li><strong>Chia seeds</strong></li>
<li><strong>Sunflower Seeds</strong></li>
<li><strong>Pumpkin Seeds</strong></li>
<li><strong>Cranberries</strong></li>
</ul>
<p><strong>4)Is it gluten-free?</strong></p>
<p>Yes</p>
<p><strong>5)Is it Keto friendly?</strong></p>
<p>Yes</p>
<p><strong>6)How to consume Nuts &amp; Berry Oats Granola?</strong></p>
<p>It can be consumed after soaking in warm milk for 20min .</p>
super healthy
It's good for healthy breakfast, sufficient amount of seeds