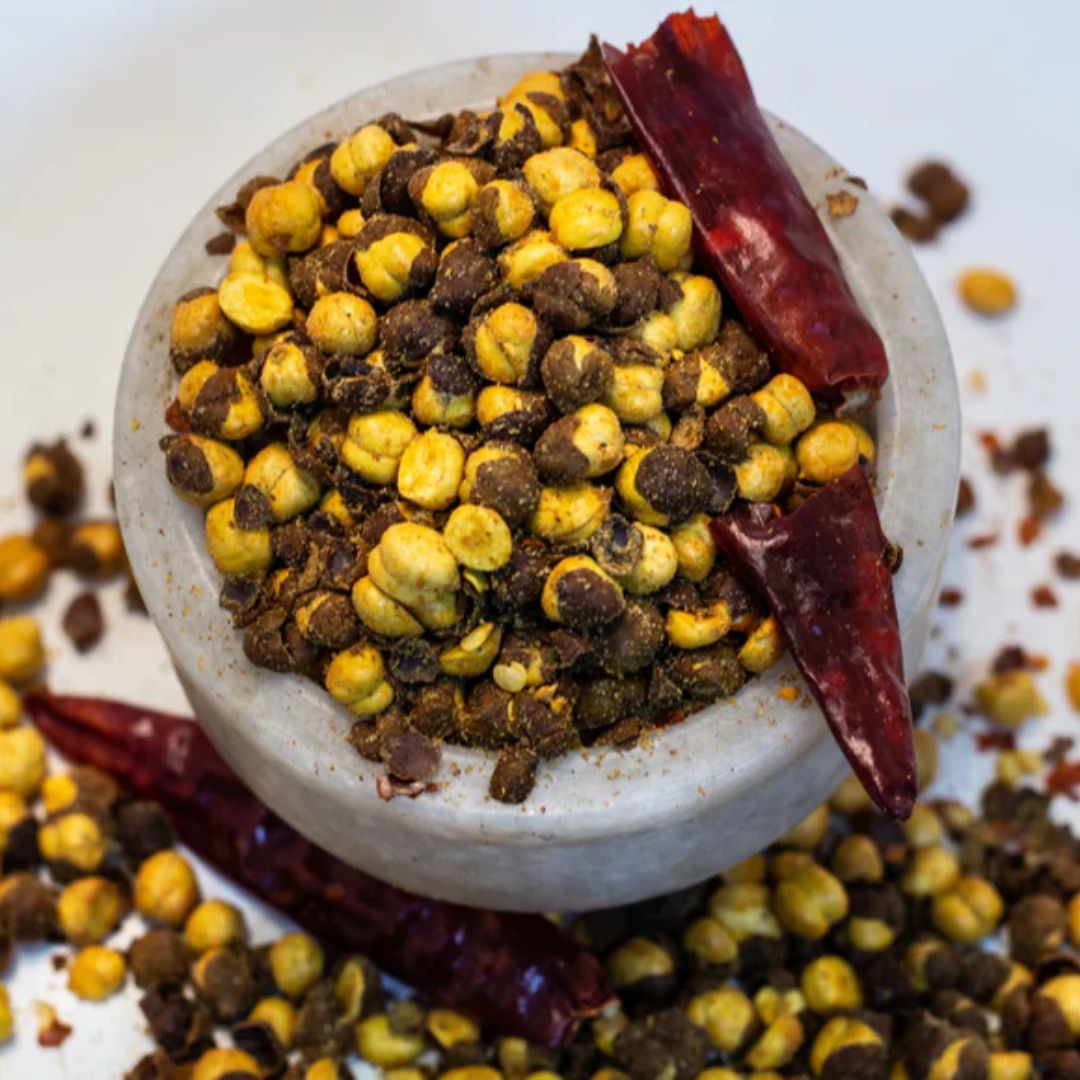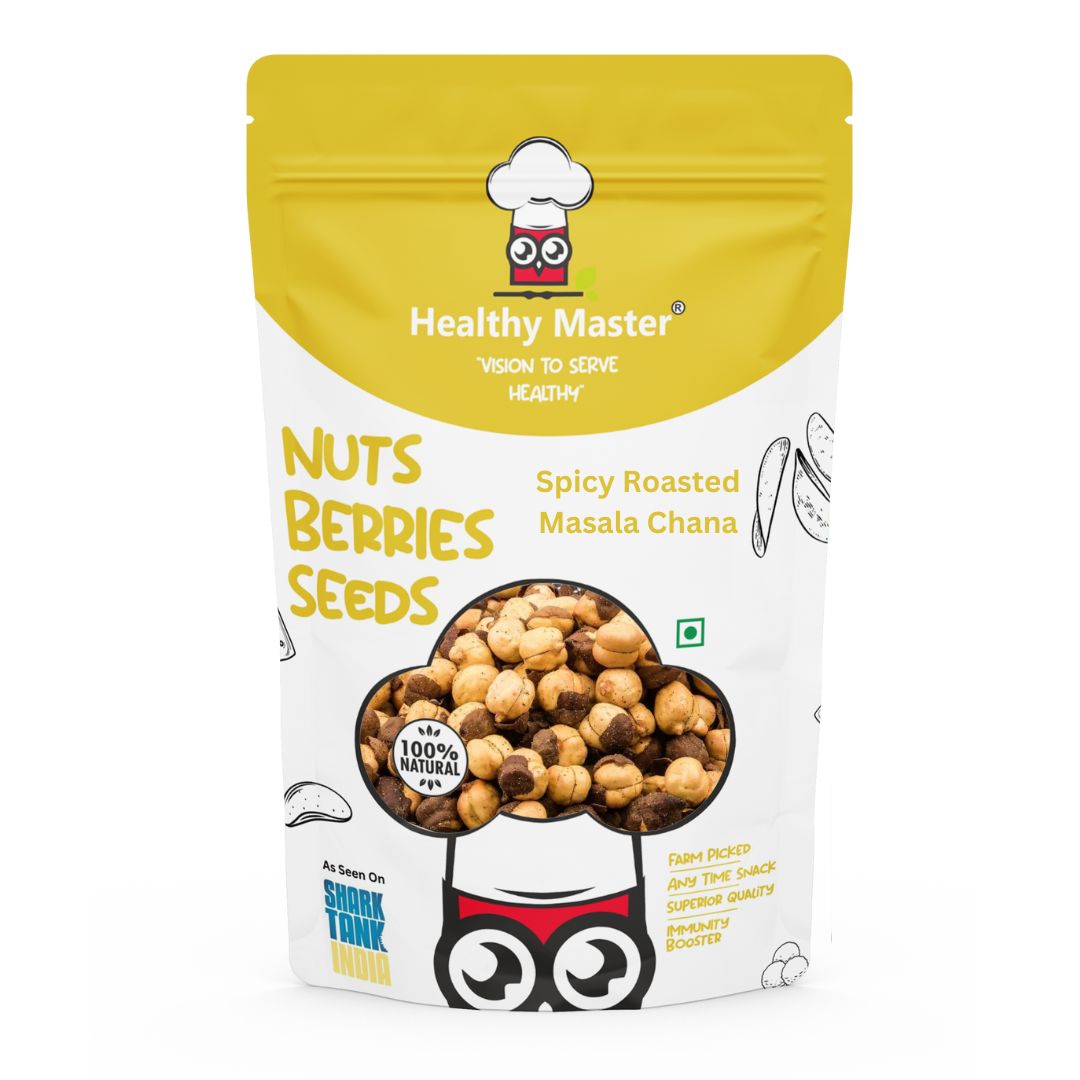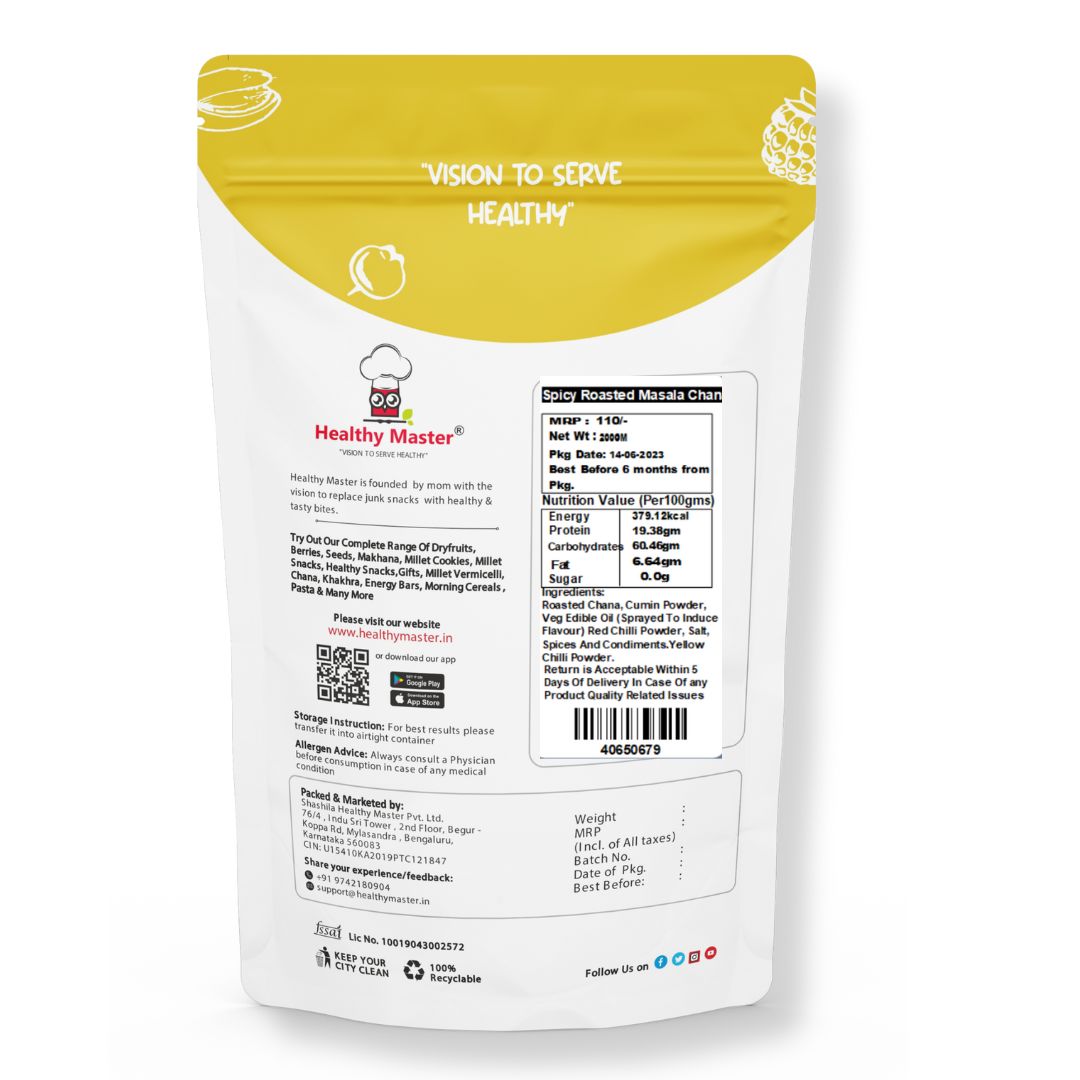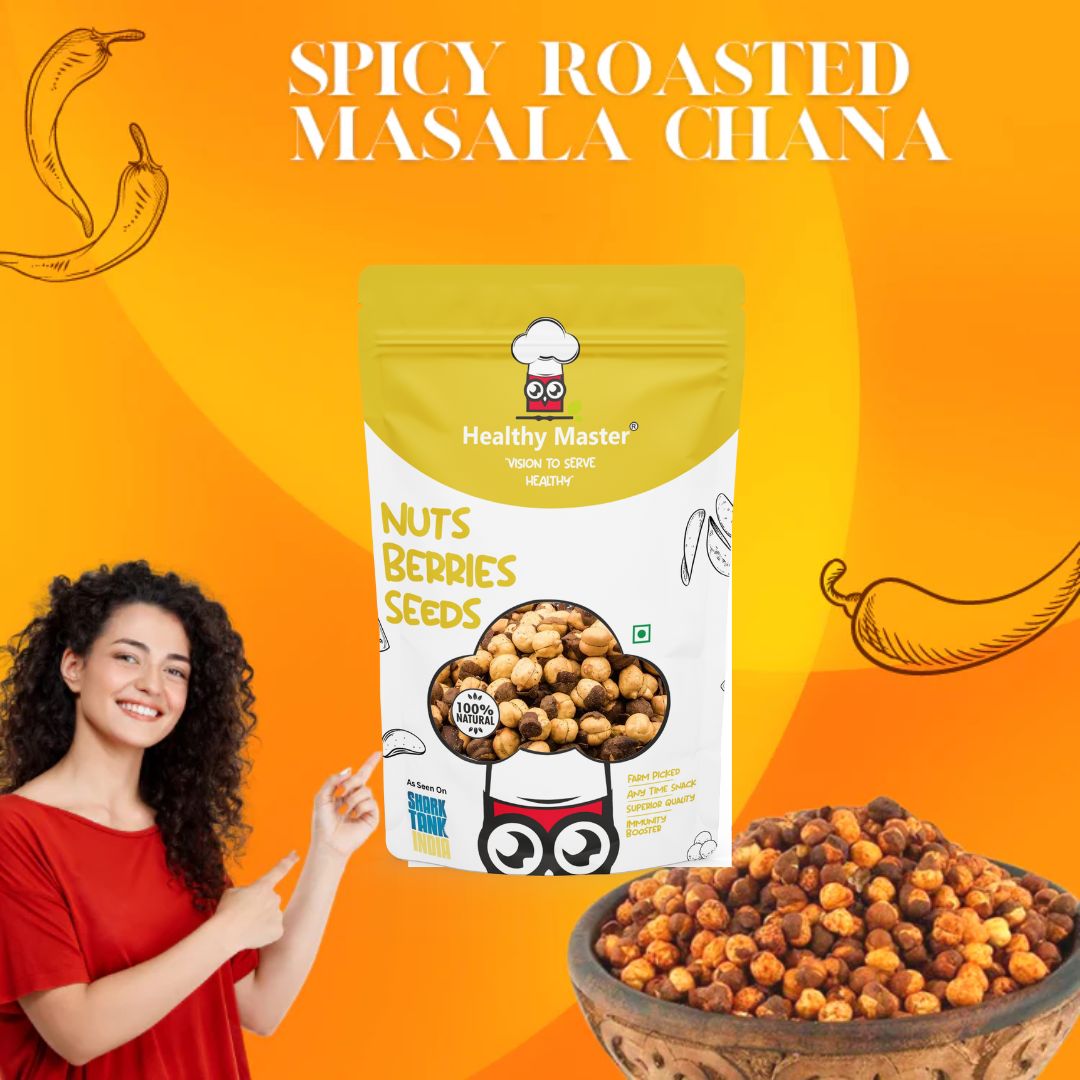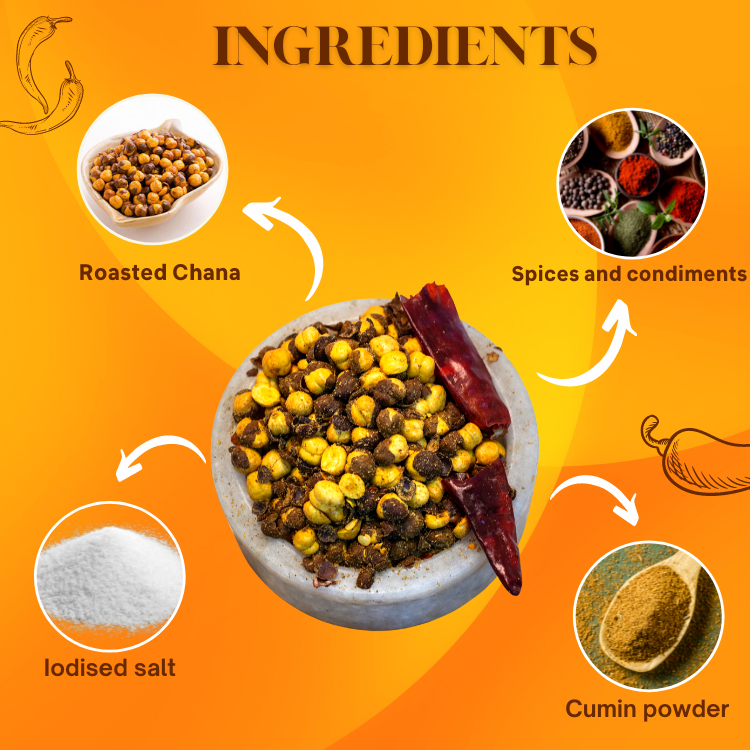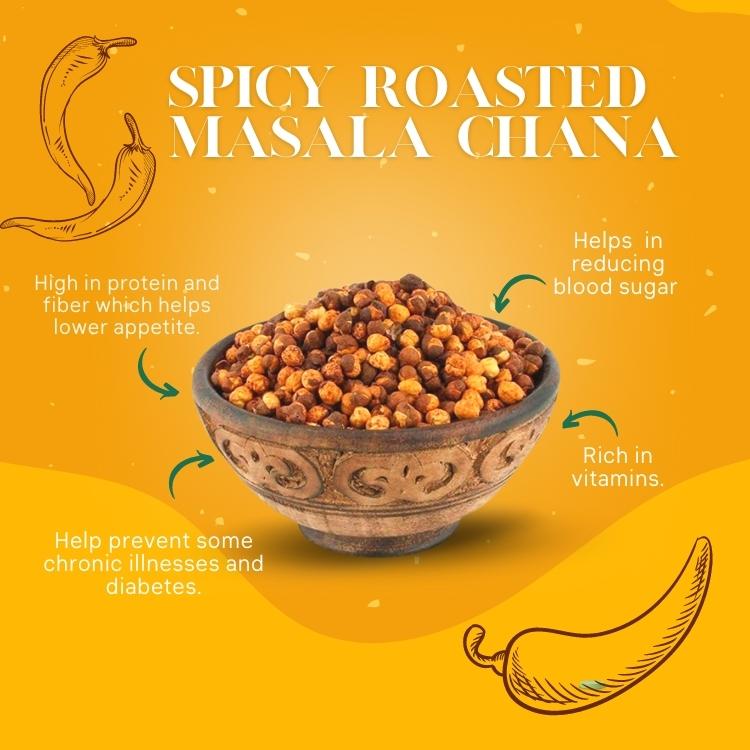 Spicy Roasted Masala Chana
169 people are viewing this right now
Sale price
₹ 99.00
Regular price
₹ 110.00
Tax included.
20% OFF on first order with code HELLO10
Freebies on orders above Rs. ₹700
Free delivery on all orders above ₹699
Extra Flat 5% OFF on online payment
Refer and Earn Rs. 100

Guarantee safe & secure checkout
PAN India Free Shipping : On all orders over 699
The Spicy Roasted Masala Chana are dried chickpeas. The Spicy Roasted Masala Chana is rich in fiber that helps to maintain a balanced diet low in saturated fats. They also have a high content of proteins, carbohydrates of complex, vitamin C and B vitamins of group B. Spicy Roasted Masala Chana offers a wide variety of health benefits. These include several benefits for your digestive system, including helping you feel more satiated after every meal, reducing cholesterol levels, and protecting against colon cancer.
Chana is a rich source of protein and fiber. It also contains carbohydrates for energy for the body. Chana has a low glycemic index and is known to reduce blood sugar in diabetic patients. It contains essential minerals such as magnesium, calcium, iron, and manganese, thus helping to keep bones and heart healthy. It is the richest source of Omega-3 fatty acid which helps in reducing risks of cardiovascular diseases and diabetes.
<p><u><strong>Health Benefits Of Chana </strong></u></p>
<ul>
<li>&nbsp;<strong>High in protein and fiber which helps lower appetite.</strong></li>
<li><strong>&nbsp;Support healthy blood sugar control. </strong></li>
<li><strong>&nbsp;Improves digestive health. </strong></li>
<li><strong>&nbsp;Help prevent some chronic illnesses and diabetes.</strong></li>
<li><strong>Manage your weight.</strong></li>
<li><strong>Promote brain health.</strong></li>
<li><strong>Easy to add to your diet.</strong></li>
<li><strong>Improving immunity.</strong></li>
<li><strong>Rich in vitamins.</strong></li>
</ul>

<p><u><strong>Ingredients:</strong></u></p>
<ul>
<li><strong>Roasted Chana</strong></li>
<li><strong>Salt</strong></li>
<li><strong>Red chilli powder</strong></li>
<li><strong>Cumin powder</strong></li>
<li><strong>Yellow chilli powder</strong></li>
<li><strong>Spices and condiments</strong></li>
</ul>
<p>&nbsp;</p>
<p>&nbsp; &nbsp; &nbsp; &nbsp; &nbsp; &nbsp; &nbsp; &nbsp;<u><strong>Nutritional Values: Per100g</strong></u></p>
<table border="1" cellspacing="0" cellpadding="0">
<tbody>
<tr>
<td><strong>Energy</strong></td>
<td><strong>379.12kcal</strong></td>
</tr>
<tr>
<td><strong>carbohydrates</strong></td>
<td><strong>60.46g</strong></td>
</tr>
<tr>
<td><strong>fat</strong></td>
<td><strong>6.64g</strong></td>
</tr>
<tr>
<td><strong>protein</strong></td>
<td><strong>19.38g</strong></td>
</tr>
<tr>
<td><strong>sugar</strong></td>
<td><strong>0.0g</strong></td>
</tr>
</tbody>
</table>
<p><br /><br /></p>
<p><strong>1)What is the storage and shelf life of&nbsp;Spicy Roasted Masala Chana?</strong></p>
<p>It can be stored in an airtight container. Shelf Life is 4 Months</p>
<p><strong>2)What is special about Healthy Master Spicy Roasted Masala Chana?</strong></p>
<p>It is non-fried, roasted without any preservatives, and a natural source of&nbsp;protein</p>
<p><strong>3)Is it gluten-free?</strong></p>
<p>Yes</p>
<p><strong>4)Is it Keto-friendly?</strong></p>
<p>Yes</p>
<p><strong>5)How it taste like?</strong></p>
<p>It is spicy&nbsp;and serves as perfect munch all time of the day</p>
regular customer
very regular customer of healthy master and this is my most favourite snack
guilt free enjoy on diet
fat free,healthy snack..one can enjoy on diet also guilt free
ready to eat
these are ready to eat ...no process is required before munching these
super packaging
these chanas comes in superb packaging ...mindblowing packaging
very fresh and nice
chana roasted are very fresh and pure from artificial flavours or chemicals...spiced up with natural indian spice