Blog
Pregnancy Diet Guide: Are Dates Good for Pregnancy? - Healthy Master
by Bsocial Consultant on Dec 22, 2022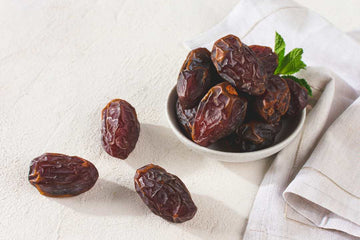 Explaining why dates are good for pregnant women and how to add dates in your pregnancy diet. Also know is there any side effects of eating dates during pregnancy.
The pregnancy journey is a roller coaster ride for a woman. One day you feel active, and the next day you feel anxious and unable to get out of bed. One day you feel pukish at the sight of food, and the next day you have cravings for sweets. Therefore, during pregnancy, you have to give more essential nutrients and vitamins to your body so that you feel better mentally and physically. One of the pregnancy friendly dry fruits that you must add to your diet is Dates, also known as Khajoor in Hindi, which are loaded with vitamins and minerals that are beneficial for mother-to-be and fetus. 
Do you know that by eating 4 dates, you get 6.7 grams of dietary fibre which fulfils approximately 25% of the recommended daily requirement of 20 to 35 grams.
Health Benefits | Why Dates Are Good Pregnancy? 
Relief from constipation: Dates are a great source of fibre, which helps with bowel movements and provides relief from pregnancy-related constipation. Moreover, dates help in maintaining weight. 
Control blood pressure: Dates are rich in potassium, which helps in regulating blood pressure and also avoids muscle cramps. The deficiency of this mineral in pregnancy could pose the risk of high blood pressure and cardiovascular diseases. 
Promote baby development: Dates are loaded with magnesium, which is an essential mineral for the formation of teeth and bones in the baby. In addition, dates are rich in vitamin K, which improves muscle and nerve function in the fetus. 
Avoid birth defects - As per the WHO, during pregnancy women must consume folate-rich foods, as folates help in the prevention of birth defects and congenital disabilities. Dates are one of the best folate-rich dry fruits.
Boost energy - Dates are rich in iron and by consuming iron-rich foods during your pregnancy, you will boost your energy levels and also combat anemia. 
Also Read: 5 Health Benefits of Cashews in Pregnancy
When Should You Eat Dates During Pregnancy?
Many pregnant women don't know at what stage of pregnancy they should eat dates. Dates can be eaten at any stage of pregnancy. However, you have to be cautious about the amount. 
In the first trimester, you must eat dates to overcome the constipation, which is a common problem in the first trimester of pregnancy. However, you should eat them in moderation if you have a blood sugar level problem. Moreover, morning sickness and nausea, which are common problems in the first trimester of pregnancy, can be reduced by eating dates, as they are rich in vitamin B6. 
According to the study, eating dates in the final few weeks of pregnancy may help with labour and delivery. Consuming dates eliminate the need for prostaglandins and oxytocin to start labour. Dates' high sugar content can provide you with energy during childbirth. Eating dates may shorten labour and lower the risk of postpartum bleeding.
Also Read: 6 Health Benefits of Walnuts in Pregnancy
What is the Best Date for Pregnancy?
Medjool dates are the best for a pregnant woman, as all the nutrients a pregnant woman needs are present in this variety of dates. They also contain less fat and are a great source of carbs. This is one of the better forms of dates you can eat while pregnant because it is high in protein and fibre. Folate, niacin, pantothenic acid, pyridoxine, riboflavin, thiamine, and other vitamins like A, C, and K are all abundant in Medjool dates.
Medjool dates are high in iron content which lowers harmful cholesterol and promotes heart health. Free radicals are eliminated by antioxidants, and they also fight cancer. You can buy the premium quality medjool dates from Healthy Master.  
Also Read: 6 Health Benefits of Apricots in Pregnancy
Side Effects of Eating Dates in Pregnancy
Eating dates during pregnancy is excellent for the health of the mother-to-be and fetus. However, you must eat them in moderation. The overeating of dates during pregnancy can lead to-
Weight gain
Risk of gestational diabetes
Increase in glucose levels
Conclusion
Dates are loaded with vital nutrients. They have been the go-to snack for pregnant women since time immemorial. ‍From reducing the cholesterol level in pregnant women to promoting the growth and development of the fetus, you must add dates in your pregnancy diet. However, it is also advisable to consult your doctor, before adding dates to your diet. Buy the premium quality dates from Healthy Master.
Also Read: 10 Must-Have Healthy Snacks in Pregnancy