Blog
6 Fun Snacks for Kid's Birthday Party at Home - Healthy Master
by Bsocial Consultant on Feb 17, 2023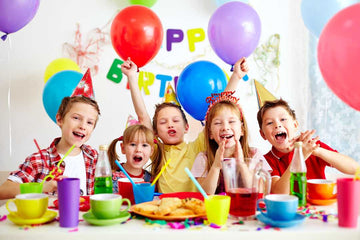 Kid's birthday parties are fun, but they also involve lots of work. From decorating the home to deciding the snacks for the birthday party, a lot goes into arranging a successful birthday party for kids. In a birthday party, every kid looks for two things - games and food. In this blog, we will wash off your burden of deciding the menu for a kid's birthday party. Here are the 6 best birthday party snack ideas that you must have on the menu. 
6 Best Birthday Party Snacks Ideas for Kid's Party
Mini Veggies Idlis


Idlis are an easy-to-carry and eat snack that is enjoyed by kids. On the upcoming birthday party of your kids, give a twist to plain idlis by adding veggies in idli mixture. Veggies idlies look tempting to eyes and taste buds. They are delicious, healthy, and light on the stomach. Don't forget to add veggie idlis to your menu list.

Millet Noodles 


A kid's birthday party is incomplete without noodles. However, you want to offer lip-smacking yet health-friendly noodles. Nothing can be better than millet noodles that not only offer health benefits but also taste good.
The flavorful and aromatic millet noodles will be loved by every kid, for sure. You can order a 200-gram pack of millet noodles online from Healthy Master. 
Popcorns


One of the must-have birthday snacks at every kid's party is popcorn. You can make it fun by serving them with other flavours of popcorn like caramel, chocolate, cheese, and plain salted popcorn. 

Smiley Sandwiches


Recently, smileys have become every kid's favourite due to their tempting texture. You can give a new twist to smileys by serving them in the form of a sandwich. You can place cabbage, onion, and other veggies between two smileys. To make a healthy version of it, fry smileys in the air fryer basket. Smiley sandwiches are one of the best birthday party snack ideas that every kid at a party will ask for again and again. 

Baked Ragi Chips


Deciding the menu for a kid's birthday party is a challenging task. One of the finger-licking snacks for a birthday party at home is chips. Serve the soft drinks to your guests with chips. Make sure to serve a healthy form of chips with a nice veggie dip. You can substitute fried chips with baked ragi chips. Order premium-quality ragi chips from Healthy Master. 

Pav Bhaji 


Pav Bhaji, one of the most popular Indian snacks among children, is a great snack choice for a kid's birthday party at home. You can make it as nutritious and delicious as possible by adding colourful veggies. Serve it with hot pavs on the upcoming birthday party of your child. 
Conclusion 
Choosing a menu for a kid's birthday party, that children will enjoy is particularly challenging. Kids enjoy snacks that draw their interest because only when the snack seems appetising will they be initially enticed to taste it. Try out the above-mentioned amazing and delicious snacks for your child's upcoming birthday party. You can get healthy and delicious kid's snacks from Healthy Master. 
Also Read: 6 Healthy School Snacks for Kids